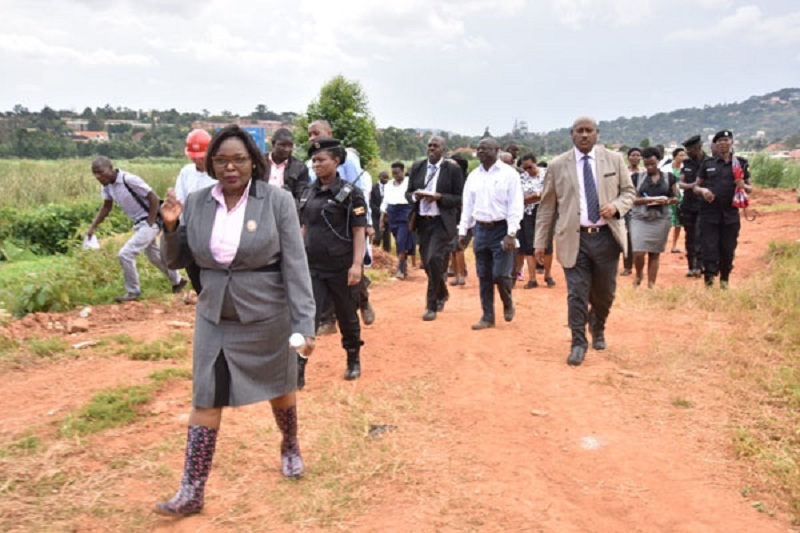 The Commission of Inquiry into Land Matters has halted the eviction of more than 2,000 families from four villages in two sub-counties in Mityana District pending investigations into ownership disputes.
During a fact-finding inspection, the Justice Catherine Bamugemereire-led commission on Wednesday halted eviction of people from a 242-acre piece of land at Kisigala-Busembi Village in Kalangaalo Sub-county.
Accompanied by police detectives and investigators, the team also halted the eviction of residents from a two-square mile piece of land in Banda, Miggo and Seeta villages in Kabule Sub-county.
"We want you to keep calm, we do not want to hear any incident of violence. All the claimants of these pieces of land should cease your activities and first leave people where they are for now. This commission (of inquiry) is handling the matter," Justice Bamugemereire ordered.
The judge also directed the secretary of the commission, Dr Douglas Singiza, to formally write to all parties claiming ownership of the disputed land to stop them from disturbing the occupants.
In Kalangaalo Sub-county, residents occupying the land have accused a land broker, Mr Alex Muhairwe, of torturing and forcefully evicting them from the areas they have occupied for more than five decades.
Mr Eramu Kato Bayizi, one of the complainants, told the probe team that Mr Muhairwe bought the disputed land and started forcing them to sell their bibanja interests to him at a low cost and that when they declined, he embarked on destroying their food and killing animals.
"People are forced to sell their bibanja and they are paid little money, for instance, a seven-acre plot at Shs900,000. Our coffee is cut, animals are poisoned and killed, food is destroyed and harvested as well as burning our houses," Mr Bayizi said.
"We even reached the office of the Inspector General of Police but we have not been helped, all these police officers are his (Muhairwe's) and he says he has power from Kampala. That is why we petitioned this commission to be helped," Mr Bayizi added.
Evidence presented to the land probe shows that Mr Muhairwe brokered the purchase of the disputed land from a one Solomon Tamale at Shs105m, but the real buyer is identified as Ms Peace Kembabazi, a resident of US.
However, Mr Muhirwe insisted that he bought the disputed land and found only 14 families out of which seven have since been fully compensated. He also denied allegations of destruction of property.
Ms Judith Nabakooba, Mityana District Woman MP appealed to the land inquiry to expeditiously handle the dispute to save people from grabbers.
–Daily Monitor