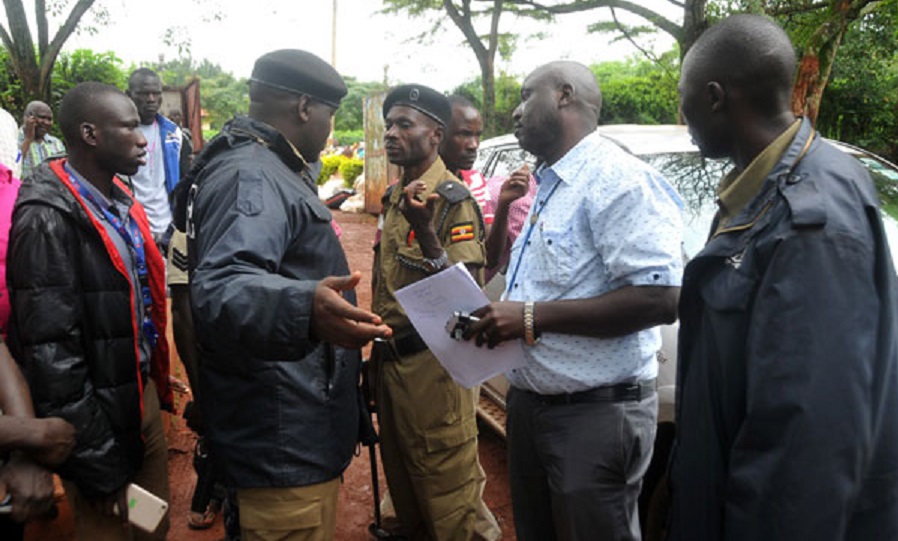 Jinja. On the morning of March 20, Mr Peter Kalibbala was in Lugazi Municipality on his way to Kampala when he received a call. "John is being evicted," the caller told him.
"There must be some kind of mistake," Mr Kalibbala thought, but still turned and sped back to Jinja District.
It was unthinkable that his associate, John Kirkwood, with whom they run the charity organisations; Tofta Education Trust, was being evicted from a property they had acquired in 2006 from the family of the late former Mayor of Jinja, J.B Lubandi.
Bailiffs had arrived at Plot 19 Wilson Avenue to effect the eviction. One Amina Negesa presented a title issued by the Lands registry on December 21, 2017, had a special certificate demanding Shs20m in rent, eviction of Mr Kirkwood and costs of the application.
That sparked off a legal battle that went from the Chief Magistrate's Court to the High Court which on May 10 ruled in favour of Mr Kalibbala, allowing him to retake charge of the premises.
"It was a nightmare. One wonders how someone could simply show up with fake documents and lay claim to a property that she knew was not hers. I still find it hard to understand," Mr Kalibbala says.
In Igombe Trading Centre in Buwenge Sub-county, Mr Fred Kiyuba and his family of 10 have been living as Internally Displaced Persons after being hounded out of their home by a former tenant, Mr Kato Kaziba, the NRM secretary general, in Jinja.
On November 29, 2011, he was detained at Buwenge Police Station for alleged trespass. Mr Kaziba claimed to have bought the house, but kept the agreement with Mr Kiyuba.
Since then, Mr Kiyuba has answered several cases, including assault and theft brought against him by Mr Kaziba.
In another case, Mr Moses Abdallah is battling Lt Col Frank Kyakonye who has declined to vacate a house on Plot 35 Madhvani Road in Jinja.
The house was repossessed on July 22, 1992 by Mohamedbhai Mitha who sold it and transferred its ownership to the names of Mr Moses Abdallah in July 2006.
Mr Abdallah asked the occupants to hand over the house, but Lt Col Kyakonye refused to vacate on grounds that it had been allocated to him by the Ministry of Defence.
This prompted Mr Abdallah to approach the army leadership.
On May 18, 2009, Lt Col Kyakonye signed an agreement before the then Chief of Staff of Land Forces, Brigadier, now Lt Gen Charles Angina, committing himself to leave the house within a month but did not.
The aforementioned cases, however, highlight the bigger challenge of land and property grabbing in Jinja over the last 25 years.
In the case of Wilson Road saga, the Permanent Secretary of the Ministry of Lands, Housing and Urban Development, Ms Dorcus Okalanyi, told Daily Monitor in an interview that: "An error could have occurred and it will be corrected if it happened, but such cases will certainly be wiped out by the computerisation of the land registry." Some police officers have also been accused of siding with land grabbers.
Four senior police officers, Julius Twinomujuni, Edgar Nyabongo, Apollo Kateeba and Felix Mugizi have been on suspension from the Force since July 2017 for their role in the illegal demolition of a government building in Jinja Town.
However, police spokesperson Emillian Kayima says they act on orders.
"Property fights are quite tricky so the police have to play by the book. The Force supports a system. It acts on orders from the courts and in the presence of bailiffs. It does not matter whether we like you or not," Mr Kayima says.
Most of the property fights have been centered on properties formerly under the Departed Asians Property Custodian Board (DAPCB).
The board has continued issuing "temporary allocations" even when properties were either sold or repossessed. Property owners are as a result caught up in ownership disputes with former tenants.
The Minister of Finance, Mr Matia Kasaija, acknowledges that DAPCB has been beset by problems, but adds that they are being addressed.
"We are taking stock of what is at DAPCB. There have been so many irregular transactions. I expect the report to be out by December. That should help us decisively end talk of temporary allocations and other irregularities," Mr Kasaija says.
Source: Daily Monitor