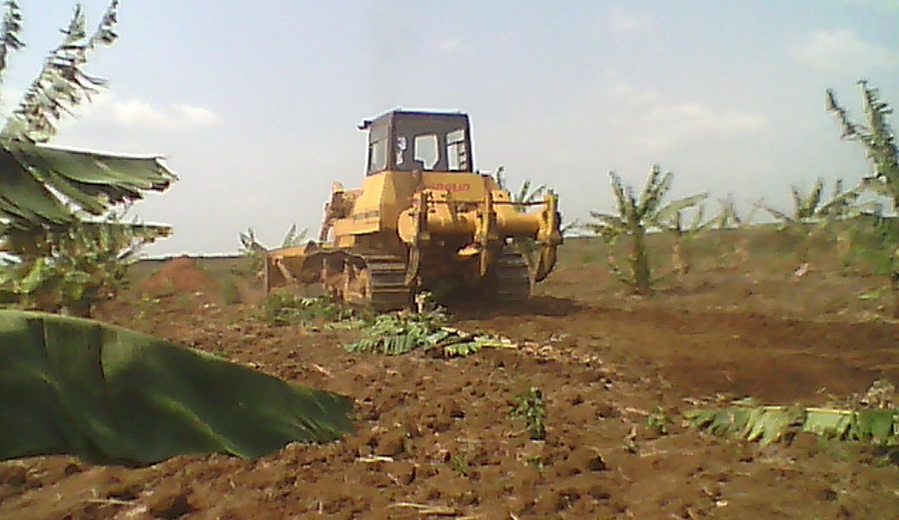 By witnessradio.org Team
Tears, hopelessness and pain is what fills the hearts of over 30,000 people that are being evicted by three private firms in Kiryandongo.
The said land formerly hosting government ranches was leased out to large scale agricultural companies after a decision made by the National Resistance Council in 1995.
The land had already attracted several settlers majority of whom were survivors of the Lord's Resistance Army (LRA) insurgency.
The companies have since 2018 started evicting the settlers without consultation and proper compensation despite an agreement by government to have all of them compensated.
Janat, a resident of  Kisaranda Village in Kitwala sub-county in Kiryandongo district is one of the victims who lives in fear after all her neighbors were evicted.
The mother of six who stays in a grass- thatched house has to walk over 15 kilometers to access any services after all schools, shops, toilets and water sources were destroyed during the illegal eviction exercise.
"Like you can see, all the children are home because the school they used to go to was demolished. We don't have access to any services and we no longer cultivate anything. I have to burn charcoal to get money to feed my family," Janat narrates
Her house is isolated and in the neighborhood are graders leveling the land where thousands had already been evicted. The children are visibly dirty since they cannot access water as a basic need.
Janat who breaks down as she narrates her story has only one prayer, "to be rightly compensated so she can leave peacefully".
Her story is not any different from that of Mzei David Isingoma aged 80 who was given 4days to vacate.
"They came here and told me to sign for 12 million shillings as compensation and of course I rejected it because it was unfair. I have over 600 acres of land and I have different crops and granaries on this land. Is that amount fair?" The angry Mzei Isingoma asked.
Mr. Isingoma says he has been a resident on the land since 1937 and has nowhere to go.
Many of the residents have already tasted the wrath of the workers of the private firms who allegedly beat them up whenever they find them cultivating their land.
They blame police for siding with their tormentors and in turn acting as brokers by cohensing citizens into signing for less money for their land and property.
Mr.William Katusiime who also owned a school that was demolished says 14 schools were demolished, including Kabyanga memorial school that had over 232 pupils. He also says many people continue to be arrested and forced into either signing for low compensation or stay in police custody.
In an interview with witnessradio, Kiryandongo district Resident commissioner, said the people were illegally on the land and they were implementing a directive by president Museveni to have the encroachers evicted.
"Those are government ranches and we leased them out, the people who settled there have all been compensated apart from a few who wanted to double deal". The RDC said.
On violation of human rights, the RDC disputes this saying they have not received any complaints.
Relatedly the district police commander, Mr. Joseph Bakaleke appeals to the victims to report and have the cases investigated. He denies reports that the police is working with the companies to harass people.