35,000 left homeless as private firms share Kiryandongo land
Helpless. Family members in front of their grass-thatched hut that faces demolition in Kiryandongo District last Wednesday. PHOTO BY BILL OKETCH 
More than 35,000 people from 20 villages are homeless after being evicted from about 9,300 acres of land in Kiryandongo District to pave way for large scale farming.
No one seemingly knows the exact year when the government allegedly gave the land to agricultural companies for large scale farming.
The government says the contentious territory was empty space and unoccupied public land but residents claim they hold it under customary ownership.
The resident district commissioner (RDC), Mr Peter Debele, said "encroachers took advantage of the empty space" to settle in the vast fertile ranches.
"They went there on their own without being allocated. So, government has come out and allocated the land for serious farming activities," the RDC said last week.
Mr Debele added that the government also directed the developers to compensate those who were found on the land. However, he did not reveal how much money was paid out as compensation.
"I am not sure if we should call it compensation, but it was goodwill," he said.
But the evicted residents claim President Museveni allowed them to settle on the land in 2012.
So far, Agilis Partners, a US company, Great Season, a firm owned by Sudan nationals, and Kiryandongo Sugar Limited have acquired the land under leasehold, Daily Monitor has established.
Agilis Partners is currently preparing the land to grow simsim (sesame), maize, sunflower, and soybean. Kiryandongo Sugar Limited is planting and producing sugar and Great Season is growing coffee.
Mr David Isingoma, 83, who has been evicted from Kisalanda Village in Mutunda Sub-county, said he has lived in the area all his entire life.
The father of 25, who owns cattle, among other properties on his 100-acre land, said the whole village has been fenced off and all villagers ordered to leave.
Ms Janet Akello and her family of nine said they have also lived in the area for the last 15 years.
"The land has all been dug out and we don't have anywhere to plant our own crops for survival," Ms Akello said.
"The situation here is worsening each and every day. …We have been blocked from accessing water sources and I have been told that my house is going to be graded any time," she added.
Mr Joseph Walekula said area leaders have kept a deaf ear as residents are being evicted.
"Our rights are being violated to the extent that our women and children cannot even go and fetch water, there is no food; tractors have surrounded our homes and nobody is helping," he said.
What residents say
The evictions commenced last year without consent from residents, according to human rights activists.
Residents and human rights activists said tractors are currently pulling down schools, churches, banana plantations and homes. They said the evictions, which are being carried out with the help of police, do not have any court order.
So far, 14 primary schools, 20 churches and eight private health units have been demolished by the company, according to residents.
However, Mr Wycliffe Birungi, a lawyer for Great Season, said they followed "the right procedures" in acquiring their two-square mile farmland.
"For us, we acquired land from people. The acquisition was done two years back and we have been already in business. It as a fully-pledged commercial farm venture but we have neighbours – there is a big farm called Agilis, there is also some other big farm," he told Daily Monitor on phone yesterday.
Daily Monitor was unable to speak to officials from the two other companies.
Witness Radio, an NGO, noted that the negative consequences of Kiryandongo land giveaway include; "forced evictions, human rights violations, lost livelihoods, broken families, rising food insecurity and, ultimately, increased poverty."
Mr Geoffrey Wokulira, executive director of Witness Radio, said that children caught up in the fracas are no longer going to school.
"Hundreds of young girls are engaged in early marriages because ideally they have no future and there is no responsibility these companies are showing," he said.
Mr Wokulira said 19 people have been arrested by police in an attempt to weaken, intimidate and cause fear among the evicted residents.
But the RDC denied violation of human rights during eviction.
"People here are very quick in doing wrong and when we swing into action, they begin making wrong accusations," he said.
What government says
Mr Debele also accused the residents of trying to attack security operatives because "they don't want to move and yet there is a presidential order on that matter."
He added: "So, you even find a situation where some of them, empty-handed or with pangas, they want to go and attack armed men who are officially on duty. What do you do with such a person?"
Mr Joseph Bakaleke Gwaido, the district police commander, described the allegations labelled against the police as an insult.
"….a question where somebody asked that the security organs engaged in the abuse of human rights of individuals is an insult. … This is the most difficult society I have served," Mr Bakaleke said.
"Down there in the ranches, we have people who belong to all the ranches and they are being compensated," he added.
Efforts to get a comment from State minister for Agriculture Aggrey Bagiire were fruitless as his known phone numbers were unavailable by press time.
Ms Judith Nabakooba, the minister of Information, Communication Technology and National Guidance, neither answered our repeated calls nor replied our text message to her mobile number.
Land challenges
The Land Act 1998 recognises four categories of land tenure systems, including customary, freehold, mailo and leasehold. It states that all Uganda citizens owning land under customary tenure may acquire a certificate of ownership in a manner prescribed by Parliament. Judicial officers have proposed that soldiers be barred from carrying out evictions in the country. They also recommend that the role of police should be limited to observing evictions in addition to keeping law and order during lawful evictions.
Breaking: Mwanga II Court grants bail to two defenders and a Project Affected Person (PAP).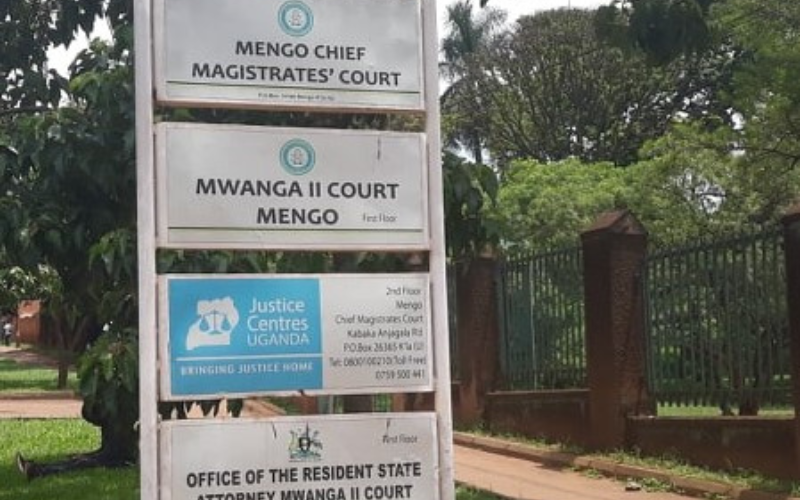 By Witness Radio team
A Magistrate court sitting at Mwanga II road in Kampala has granted a cash bail to two community land rights defenders and a project-affected person after spending 24 and 21 days on remand respectively.
Defenders; Kabugo Michael and Kasozi Paul Ssengendo and a project-affected person, Charles Sserugo, were charged with conspiracy and obtaining money by pretense before being sent to Luzira prison.
Before being charged and remanded to prison, Kabugo and Kasozi, on several occasions, had been in and out of Old Kampala Police on orders of the Deputy Resident City Commissioner (D/RCC) in charge of Lubaga Division in Kampala Kampala.  RCC is a title given to the president's representative at either district or division levels.
Both defenders have been mobilizing project affected community in Kawaala, Zone II, to resist forced evictions orchestrated by the Kampala Capital City Authority (KCCA) and demand justice for all project-affected persons. The project is implemented with funding from the World Bank.
KCCA acquired a loan of over USD 175 from the World Bank and the International Development Association (IDA) in 2015 for the second Kampala Institution and Infrastructure Development (KIIDP-2) project. Part of this money (USD 17.5 million, which is 63 billion Uganda shillings) is to construct the Lubigi Drainage Channel.
Before granting them bail, the court gave stringent conditions namely; each of the accused had to pay paid cash of two million Uganda Shillings (equivalent to 535.06 US Dollars); attend court whenever summoned; directed them not to leave the country; and keep off the prosecution's investigations.
Section 309 of the Penal Code Act Cap. 120 states that the charge of conspiracy takes three (3) years imprisonment on conviction while the maximum sentence of obtaining money by pretense, according to Section 305 of the Penal Code Act Cap. 120, is a punishment of five years imprisonment on conviction.
His Worship, Byaruhanga Adam, relied on the submissions filed by the defense lawyers, which included presenting substantial sureties. Their sureties were conditioned with 50 Million Uganda Shillings (equivalent to 13,376.50 US Dollars) non-cash.
The Court will resume on the 4th of April 2023 at 10: 00 am East African standard time.
The ruling of bail applications for the two community defenders and a project-affected person of Kawaala zone is happening today.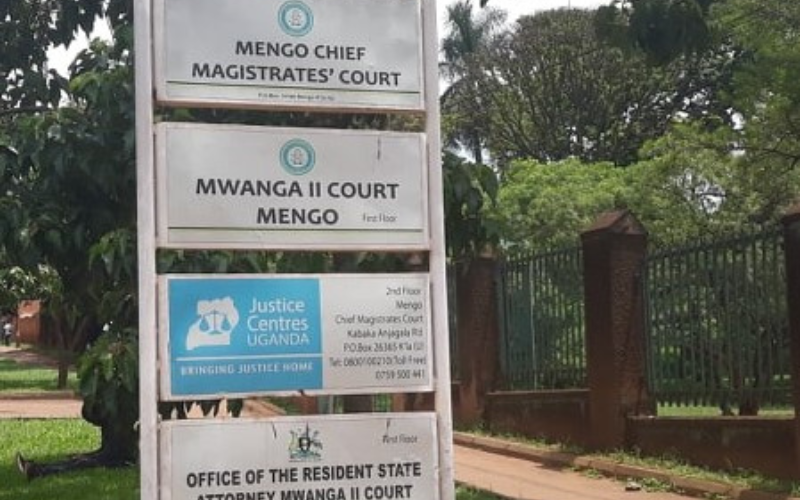 By Witness Radio team.
Mwanga II Magistrate Court in Mengo, in Kampala is hearing bail applications for the two community land rights defenders and a project-affected person (PAP) of Kawaala zone II, in Rubaga division who have been on remand for 14 and 11 days respectively, this morning.
Mwanga II Grade I one Court charged the two community defenders, Mr. Kabugo Micheal and Kasozi Paul Ssengendo, and a project-affected person Mr. Sserugo Charles with conspiracy and obtaining money by pretense and remanded them to Luzira Government prison.
Mr. Kasozi and Sserugo were arrested on Wednesday, 15th February 2023, whereas Mr. Kabugo was arrested on Saturday 18th, 2023 in a morning raid.
Last week, the hearing of the bail applications that had been scheduled to take place on Wednesday, 22nd of February 2023 failed to take off due to the absence of the trial magistrate. Court said he (the trial magistrate) was nursing a sick person.
On the same day, all three appeared the second time before the Grade one Magistrate because the Magistrate His worship Byaruhanga Adam with jurisdiction to hear their case was attending to his sick mother.
According to their lawyers, they sought permission from the grade one magistrate to enter an oral bail application on record which he permitted but denied granting them bail. His Worship Magezi Amon said his Court does not have jurisdiction to grant bail to the accused and requested them to wait for a bail ruling when the trial magistrate returns. 
Section 309 of the Penal Code Act Cap. 120 states that the charge of conspiracy takes three (3) years imprisonment on conviction while the maximum sentence of obtaining money by pretense, according to Section 305 of the Penal Code Act Cap. 120, is a punishment of five years imprisonment on conviction.
The two defenders have been facing reprisals for leading their community to push back a forced eviction by a World Bank Project implemented by KCCA.
All the three who are expected to appear in Court today, are residents of Kawaala Zone II, Lubaga Division, Kampala district, an area Kampala Capital City Authority (KCCA) intended to forcefully evict locals and construct a drainage channel, a project funded by the Word bank.
KCCA acquired a loan of over USD 175 from the World Bank and the International Development Association (IDA) in 2015 for the second Kampala Institution and Infrastructure Development (KIIDP-2) project. However, part of the money (USD 17.5 million, which is 63 billion Uganda shillings) was meant for construct the Lubigi Drainage Channel.
His Worship Byaruhanga Adam is expected to return this morning, 1st March 2023, Wednesday to deliver the ruling of bail applications.
A Court in Kiryandongo releases two community land rights defenders and eight farmers on bail.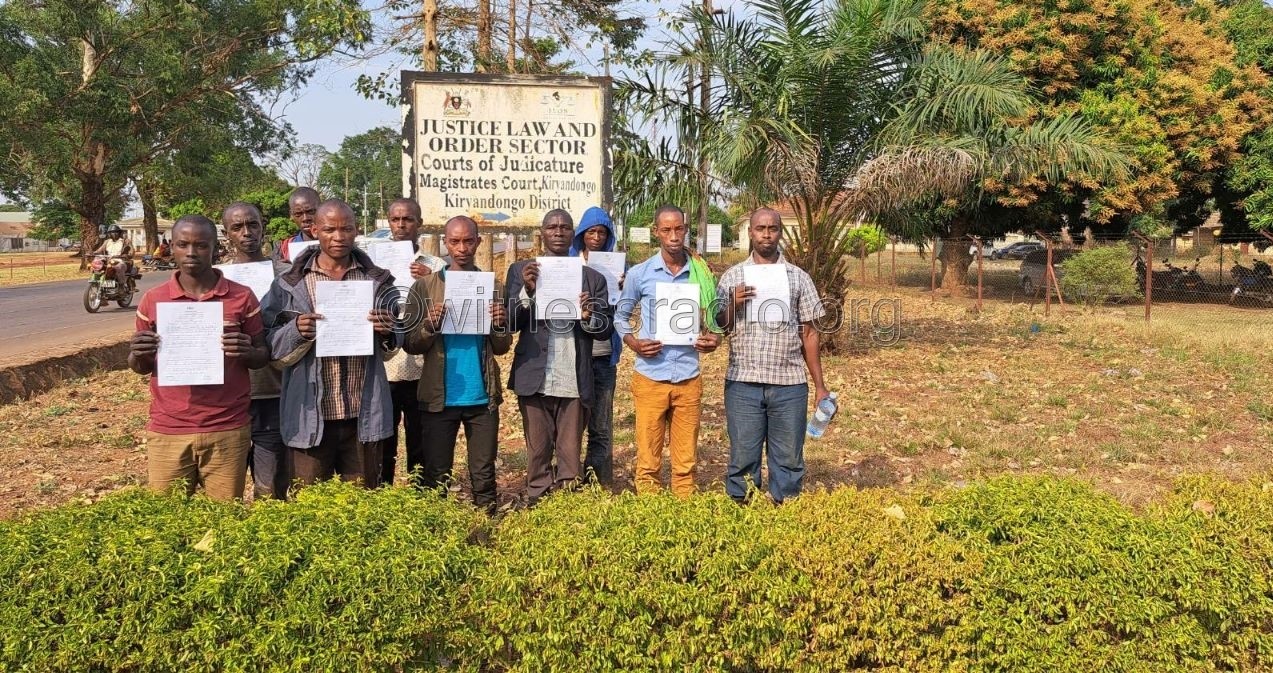 By Witness Radio team
The Magistrate Court in Kiryandongo District has granted bail to the two (2) community land rights defenders and eight (8) farmers of Nyamutende village, Kibeka Parish, Kiryandongo sub-county in Kiryandongo District who were charged with three counts of threatening violence.
All the ten accused were released on a non-cash bail of 500,000 UGX equivalent to 135.4 USD, while the sureties were conditioned with 2,000,000 Million Uganda shillings (541.6 USD) non-cash. The defense lawyers presented 12 sureties.
The two community defenders and eight farmers had spent 13 days on remand at Kigumba prison. On 8th February 2023, the District Police Commander (DPC) Muhangi Edson invaded homes in the wee hours and violently arrested two land rights defenders and ten farmers plus two minors. The minors were later released from Kiryandongo police cells.
Among the persons granted bail include Mulekwa David and Mulenga Jackson (community land rights defenders). At the same time, local farmers released are Kanunu Innocent, Musabe Steven, Munyankole Enock, Lokong Gabriel, Ntambala Geoffrey, Kagenyi Steven, Mukombozi Frank, and Kuzara Frank.
On 09th/02/2023, the ten (10) were charged by the Magistrate Court in Kiryandongo with three counts of threatening violence, and all entered a plea of not guilty. Threatening violence takes a punishment of four years imprisonment upon conviction.
The prosecution alleges that the victims on 01/02/2023 threatened to injure, assault, or kill Wakoko Robert, Kilenda David, and Kato Francis. The trio is a laborer of Somdium Limited, which is forcefully evicting locals off their land without compensation, and resettlement.
The prosecution led two other witnesses totaling five namely the investigative officer of Kiryandongo police Businge Patrick, and Balute Isaac, the Somdiam Company Limited manager.
Before the bail was granted, the prosecution first claimed that they were not served with documents of the sureties despite the defendants' lawyers having proof. This forced the defendant's lawyers to ask for leave of court to settle the matter.
The prosecution further told the Court, in their reply submission that the sureties were not substantial, asking for the court not to grant them bail.
The defendant's lawyers submitted their rejoinder which was relied on by the magistrate to give the accused bail stating that the sureties are substantial and the case is bailable.
The imprisonment of the community defenders and farmers came after their continued resistance to leave their land which accommodates over 1000 homesteads.
According to information gathered by Witness Radio Uganda, Somdiam Company Limited was incorporated in Uganda in 2011 and deals in imports of assorted food commodities among these are rice, sugar, vegetable cooking oil, biscuits, salt, tomato paste, powdered milk, pasta & spaghetti and are well established with professional operations is interested in growing sugar canes in Kiryandongo district.
The Court was adjourned to the 21st of March 2023 at 9:00 am East African Standard time.