Startling Revelations About 213 Titles Government Returned To Mengo Emerge at Land Commission of Inquiry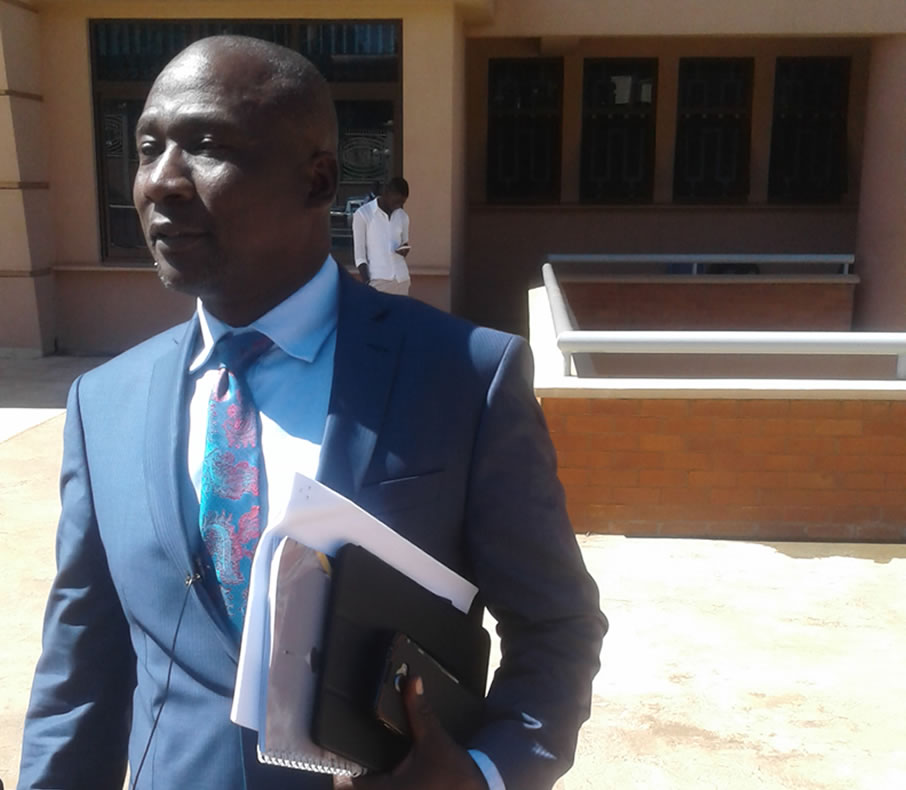 By witnessradio.org team
A revelation by officials of Buganda Land Board (BLB), a professional body that Buganda King Ronald Muwenda Mutebi II to manage land and properties returned under the restitution of Assets and properties Act 1993, that only 8 out of 213 land titles returned by Central Government to Mengo in 2013 had been transferred to Kabaka's name so far raised eyebrows in the session of the inquiry investigating into land management in Uganda.
Comprised of Justice Catherine Bamugemereire, Olive Kazarwe, Rutagaaza Suuza, Freddie Ruhindi, Robert Ssebunya, Mary Oduka Ochan, Joyce Habasa, Dr Rose Nakayi, George Bagonza Tinkamanyire and Douglas Singiza, the Commission heard on Friday afternoon that the Ministry of Lands was yet start processing the transfer of the remaining 205 titles to Kabaka Mutebi's names three years later.
"In 2013, we received 213 titles from government through the president, it's about three years now, but they [government] have transferred few of them into Kabaka's name," said Kyewalabye Male, the Chief Executive Officer of Buganda Land Board.
Kyewalabye explained that "we have been approaching the Ministry of lands to transfer these titles, but we don't know why they are delaying the process yet the president gave a directive to transfer these titles. So, we play that this matter is expedited for the benefit of the tenants and the landlord [Kabaka] so as our work can continue."
Although they didn't make conclusive remarks on the issue, many of the Commission members looked astonished, promising to do something about it in their report.
TIME BOMB
Buganda Land Board officials led by Martin Kasekende, the chairman Board of Directors, Buganda Land Board and Minister of Lands, Agriculture and Environment in Buganda Kingdom, Barnabas Ndawula, Head legal department, Bashir Kizito, Head Physical Planning, survey and research, among others, the Board said that Uganda is sitting on time bomb, warning that the way computerization of land Information System was handled could be a recipe for disability in Uganda.
"The way computerization of land system has been made, has not followed the best standards which has reduced people's land measurements and it can spark off trouble in the country just in case the land owners opted for opening of their boundaries," said Kyewalabye.
When the commission tasked the Buganda Land Board officials to share their views of the possible causes of falsehoods that lead to creation of multiple titles on the same piece of land, officials faulted Ministry of Lands officials for applying weak methods of surveying land.
They thus appealed to government to strengthen its departments of; Department of Surveys and Mapping and office of titles to ensure that all due processes are being followed before issuing titles.
Between 2010 and 2013, Government contracted IGN France International to digitalize land titles and in 2013, the company handed over the first phase of digitalized 592,000 land title records to the ministry of Lands.
However, the ongoing system has since faced fierce criticism with a section of Ugandans saying that the new system is full of falsified land titles thus escalating land grab crisis in the country.
OPPOSED TO COMPULSORY LAND ACQUISITION
Buganda Land Board officials, also used their interface in the committee to vehemently oppose the proposal by Government to amend article 237 (1) of the constitution to provide for compulsory acquisition of land by government without compensation to the affected land owner.
"We oppose it [land amendment] because the law in Uganda provides that land belongs to people. Secondly, many people keep their money in land. So, when you say that you will compulsorily take their land on which their houses were built, where will they sleep?" Kyewalabye said.
He said that even with the current plain constitutional provision, government has reneged to the extent that it has used some of Kabaka's land without payments before road constructions.
"We have many cases where Kabaka's land has been grabbed by government in the process of constructing roads without compensating Kabaka up to now, if government can grab Kabaka's land what about the peasants?" said Kyewalabye.
"Therefore, we out rightly oppose that bill because we believe it will promote unfairness and land grabbing in the country with impunity," he added.
According to Kyewalabye, the projects in which Kabaka has been affected, Kibuye-Entebbe road, completed in 1998, Kampala northern bypass extension, Entebbe Express Highway ,Munyonyo Spur, Mpigi-Maddu-Ssembabule and Mukono-Kyetume-Katosi, comprising 70-acres and worth more that Shs 10bn.
Article 237(1) of the constitution stipulates that "land in Uganda belongs to the citizens of Uganda and shall vest in them in accordance with the land tenure systems provided for this constitution."
Industrial Park Development in Buikwe is dispossessing hundreds of Native Families…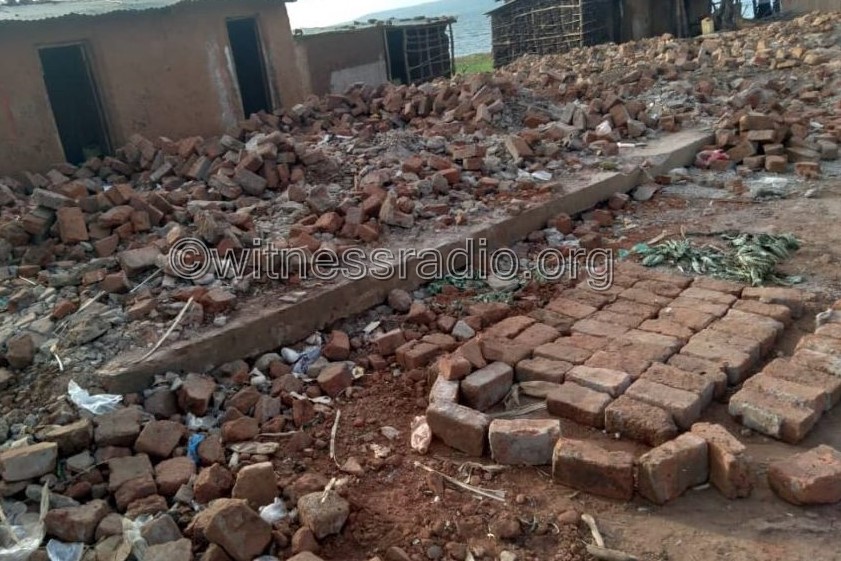 Structures of houses demolished by G.M Sugar in Namabere village, Buikwe District.
By witnessradio.org Team.
Buikwe – Uganda – Close to 1000 families in Namabere landing site, Buikwe District are forcefully being evicted off their land to give way for an industrial park, witnessradio.org has learned.
The industrial park which measures approximately 329.5 Ha, along the shores of Lake Victoria, is the brainchild of Magan Patel, the head of Nile Group of Companies. It is not clear whether the park authorities obtained the social and environmental impact assessment from environmental regulatory bodies as it is adjacent to the lake.
witnessradio.org findings indicate that so far the park has attracted about 26 companies amongst others include; Nile Agro Ltd; Nile Aluminum Ltd; Nile Batteries Ltd; Nile Wheat Ltd; Auro Meera Paper Ltd; Modern Distillers Ltd; Modern Laminates Ltd; Nile GM Plastics Ltd; Modern Rubber Ltd; and Cable Ltd and many others.
According to the affected persons, GM Sugar Company one of the companies targeting their land, since November 2020 with the help of Buikwe police has been forcing natives to receive payment in form of transport on a gunpoint to vacate the land. The payment ranges from 100,000 – 200,000 Ugandan shillings to residents of the area to vacate their land.
"Imagine at a gunpoint, someone is paid Uganda Shillings 100,000, his/her properties get destroyed and your forced to vacate where you earn a living. How do you feel? Do you know how hard this is?" angrily asked a 45-year-old Bayati Kafuuko.
Bayati, a mother of six (6) said that she has nowhere to go and left with nothing to feed her family since all her property was destroyed by the armed men.
"What can that money do, it can't even meet transport costs," added Bayati.
Several affected persons revealed that before the eviction, there was neither consultation and concession to the project nor valuation and fair compensation of their property.
"Ever since the attack started we live in fear, we cannot sleep because most of our houses were pulled down. All our fish was taken by soldiers, we have nothing to eat," said a 58-year-old Francis Obiire.
He added that he cannot accept being illegally evicted on land he has lived on since his birth.
"My father has lived on this land since 1950. I was born here in 1962. With this little money, which land do they expect me to buy," Obiire added.
The chairman of Namabere village Mr. Ochen Peter said his people are being intimidated without due process is followed. He further said that workers of the investors under the protection of police carry out daily patrolling of the area just to intimidate residents.
When witnessradio.org contacted Ssekamatte Musa, one of the GM Sugar company managers, he declined to speak.
"I am busy, I will call you," he said.
Two Witness Radio members, 26 others have been released on bail after spending close to 3 years in jail…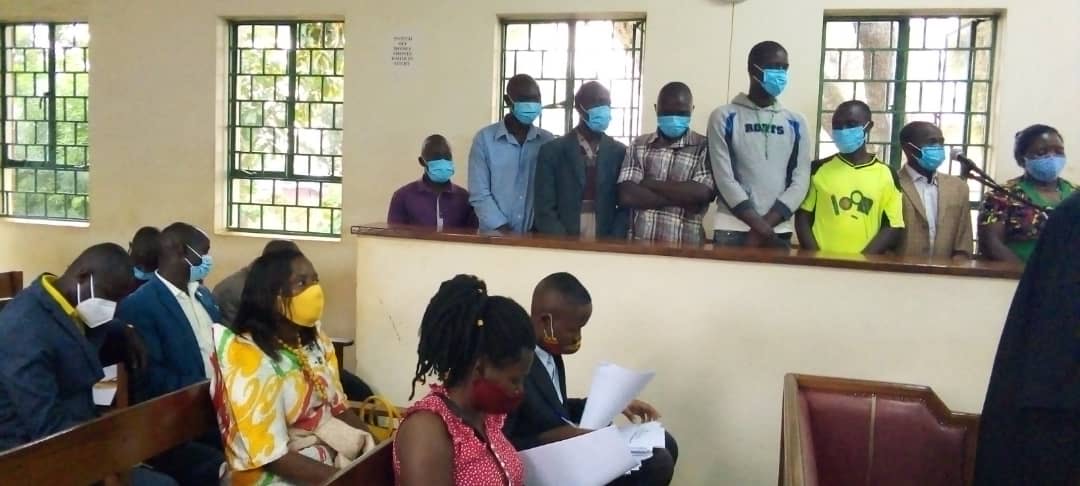 By witnessradio.org Team
Mubende – Uganda – the High Court in Mubende has released two Witness Radio members and 26 others on bail after spending 28 months in prison. In late 2018, all the 28 were targeted and arrested because of their role in empowering the community to lawfully desist an illegal eviction, charged with 9 counts including murder and aggravated robbery, and remanded.
This was the second bail attempt after the 2019 bail for two Witness Radio members Grace Nantubiro and Ronald Mugwabya was rejected by the then Mubende High Court resident Judge Justice Joseph Murangira on pretty flimsy excuses.
Before the arrest of Grace Nantubiro and Ronald Mugwabya, the duo had used the media platforms local radio stations, and community meetings to call upon Mubende district authorities to intervene and stop an illegal and forceful eviction of 3500 inhabitants off five villages namely; Kambuye, Kikono, Kyabaana, Kanseera, and Lwensanga in East Division in Mubende municipality by one Kaweesi George.
Also in the line of fighting for the protection of the community's land, Grace Nantubiro, Ronald Mugwabya, and some members of the press at one point were waylaid and kidnapped by laborers of the businessman. Mubende police rescued them but the perpetrators remained scot-free.
Due to public pressure, the situation was arrested by the then Mubende district police commander Martin Okoyo and other leaders, stopped the eviction, and ordered the withdraw of the businessman's casual laborers from the community's land until the land matter is resolved.
Shortly after the withdrawal, the laborers were secretly returned on the conflicted land in the wee hours in the following night and a fight ensued between businessman's laborers and some locals. In a process, the life of one Yunusu Tabu was lost. Tabu was a manager of laborers.
The deadly scuffle introduced the criminalization of land rights defense and caused a random arrest that targeted Grace Nantubiro and Ronald Mugwabya because of their work. Some of the activists namely; Mugisha Focus, Ssekamana Kaloli, Mwikirize Keleti, Ssewanyana Kizza John, Tumwine Moses, Bigirwa Gilbert, Mulindwa Tadeo, Kayesu Patrick, Kyalimpa Tobias, Mugisha Stephen, Mwesigye John, Kiiza John Bosco, Byakatonda Aroon, Manirikiza Elidefunce, Tabalamule William, Kobwemi Christopher,  Kiwanuka Emmanuel, Senkula Charles, Ssemombwe George, Musinguzi Paul, Biryomumisho Fred, Maniriho Forodis,  Habimana Ernest, Byaruhanga Emmanuel, Mwesigye Julius, and Kezaala Saul were severely beaten and tortured by Mubende police during the arrest and as result, some still have visible scars all over their bodies.
The ill-planned arrest and conduct by Mubende police facilitated a land grab of more than 322.5 hectares, registered on Block 168; Plots 19, 22, and 23 in Mubende Municipality, Mubende district.
While appearing before Mubende High Court Judge Justice Isaac Muwata, all the 28 were released on a cash bail of 100,000 Uganda Shillings (one hundred thousand shillings) equivalent to about US dollars 28 while sureties were conditioned UGX 2 million not cash.
Other conditions, the 28 are required to report to the Mubende High Court registrar's chambers every first Monday of the month.
Renewing demand for justice; the 28 land rights defenders have applied for bail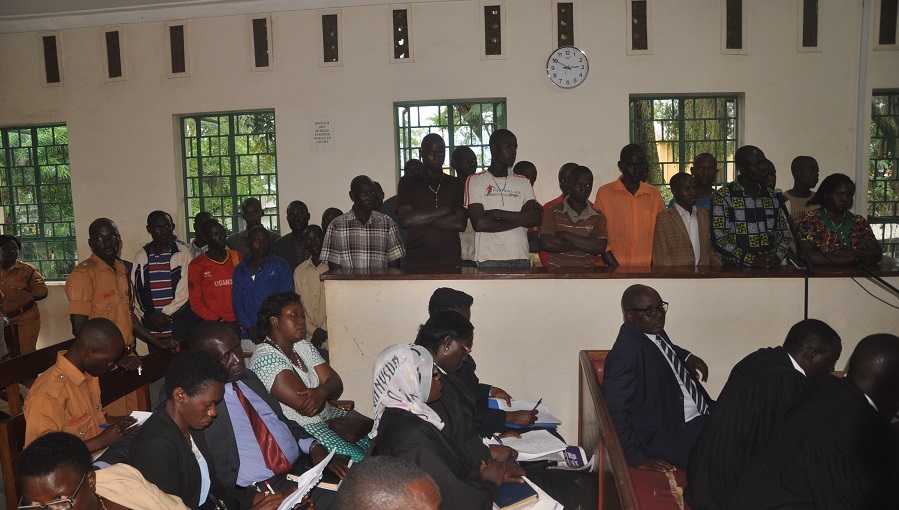 By witnessradio.org Team
Mubende – Uganda – the defense lawyers of the 28 community land rights defenders have filed new applications for bail at Mubende High Court after spending 3 years in prison.
The 28 include two staff members of Witnessradio.org's Nantubiro Grace and Mugwabya Ronald.
Others are; Mugisha Focus, Ssekamana Kaloli, Mwikirize Keleti, Ssewanyana Kizza John, Tumwine Moses, Bigirwa Gilbert, Mulindwa Tadeo, Kayesu Patrick, Kyalimpa Tobias, Mugisha Stephen, Mwesigye John, Kiiza John Bosco, Byakatonda Aroon, Manirikiza Elidefunce, Tabalamule William, Kobwemi Christopher,  Kiwanuka Emmanuel, Senkula Charles, Ssemombwe George, Musinguzi Paul, Biryomumisho Fred, Maniriho Forodis,  Habimana Ernest, Byaruhanga Emmanuel, Mwesigye Julius and Kezaala Saul.
They are facing 9 counts including murder, and aggravated robbery among others.
The prosecution alleges that on October 12, 2018, the accused at Kambuye-Kanseera, Mubende district, killed and robbed Yunus Kasajja Tabu of his three mobile phones.
Late Tabu allegedly died during a fight with land grab affected community whose assailants are still unknown. Tabu was a manager of local businessman one Kaweesi George, under the protection of police grabbed 322.5 hectares and violently evicted over 3500 lawful occupants on Block 168; Plot 19, 22 and 23 covering five villages namely; Kambuye, Kikono, Kyabaana, Kanseera and Lwensanga in East Division, Mubende Municipality, Mubende district. The land is adjacent to Kaweeri Coffee Plantation is covering on.
However, police carried out a random arrest and targeted land rights defenders and activists that were mobilizing and empowering the landgrab affected community to resist an illegal and forceful eviction.
In January 2019, the attempt to get bail for witnessradio.org's Nantubiro Grace and Mugwabya Ronald was denied High Court in Mubende's justice Joseph Mulangira.
According to officials at Mubende High Court, bail applications will be heard this afternoon.