JLOS under-use to criminalize land defenders in Uganda.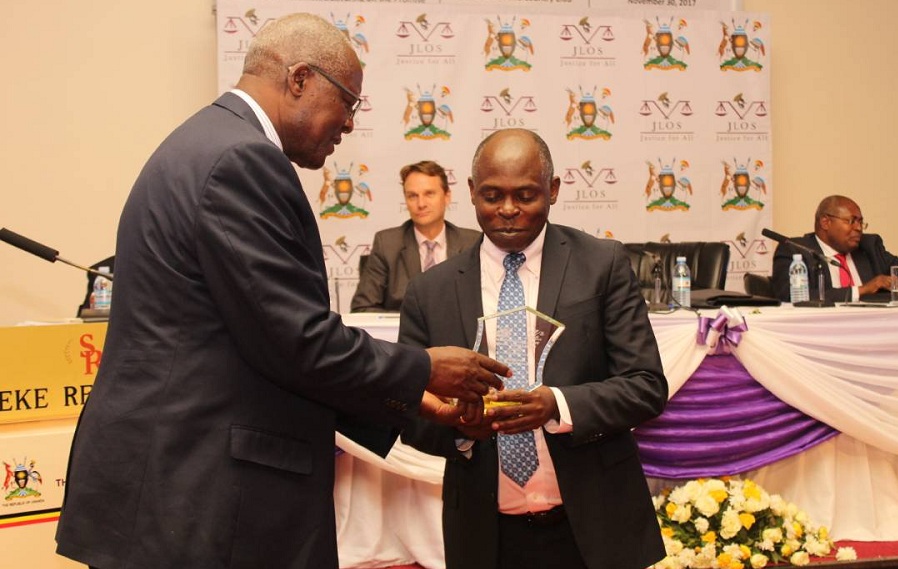 By witnessradio.org Team
Key members of Justice, Law and Order Sector (JLOS) are being targeted and used by land speculators and grabbers to frame frontline land defenders with criminal charges to harass, intimidate with intention to silence critical voices, witnessradio.org can reveal. JLOS is a sector wide approach adopted by the Government of the Republic of Uganda.
JLOS brings together 18 institutions with closely linked mandates of administering justice and maintaining law and order and human rights including Ministry of Justice and Constitutional Affairs (MOJCA); Ministry of Internal Affairs (MIA); The Judiciary; Uganda Police Force (UPF); Uganda Prison Service (UPS); Directorate of Public Prosecutions (DPP); Judicial Service Commission (JSC); The Ministry of Local Government (Local Council Courts); The Ministry of Gender, Labor and Social Development (Probation and Juvenile Justice); The Uganda Law Reform Commission (ULRC); The Uganda Human Rights Commission (UHRC); The Law Development Centre (LDC); The Tax Appeals Tribunal (TAT); The Uganda Law Society (ULS); Centre for Arbitration and Dispute Resolution (CADER), The Uganda Registration Services Bureau (URSB) and the National Identification and Registration Authority (NIRA)
The key members being targeted and used by land speculators and grabbers include Uganda Police Force; Judiciary; Directorate of Public Prosecution; and Uganda Prisons Services.
Witnessradio.org has recorded patterns of land defenders' harassment tracking over one and half decades majorly manifesting in central (Buganda) and mid-west (Bunyoro) sub regions due to minerals and geographical positioning to international and national markets.
Land defenders (community leaders elected by natives facing eminent eviction threats, such people help communities to engage lawyers, both technical and political leaders at all levels; local council chairpersons; councillors at lower and districts' councils; and NGOs among others) are being targeted with charges ranging from criminal trespass, theft, incitement to violence, aggravated robbery, to murder among others.
The JLOS under-use institutions have orchestrated torture, longterm imprisonments, deaths, disappearance of files, intimidation and harassment that have costed local families' livelihood and survival, destroyed their (natives) sense of belonging, caused school dropouts and early marriages among teenage girls whose breadwinners are in prisons for refusing to surrender their land for land based investments.
In 2014, a Nyamasoga local council One (1) chairperson Ologa died in Masindi Central Prison while serving his three (3) year jail sentence. Late Ologa in his early 70s was convicted alongside with six (6) others of assault and malicious damage to property. In Mid 2013, Buliisa district police aided the arrest of late Ologa, maliciously charged and prosecuted him with assault and malicious damage to property charges. Ologa was being punished for refusing to collaborate with a 'rich-man' to grab a piece of land in his village (Nyamasoga) hosting quarry-stone deposit. According to sources, 'a rich-man' had developed interests in a quarry-stone deposit, which he planned to sell to contractors of Hoima – Wanseko road. Because Bunyoro sub-region land is customary and communally owned (people have no land titles), its very easy for a wealthy person to emerge from nowhere to claim land ownership as long as he/she has got interests in a particular land. These and other issues have caused land wrangles and a number of people have ended up in prisons.
On October 9th 2018, police aided an eviction without a court order of over 3,500 people who have lawfully been occupying five villages namely, Kambuye, Kikono, Kyabaana, Kanseera and Lwensanga in East Division, Mubende Municipality, Mubende district. The targeted land is registered on Block 168, Plot 19, 22 and 23 covering over 322.5 Ha claimed to owned by one Kaweesi George. In a process of reacting to save the poor people from fraudulent eviction, 14 land defenders including Municipal council councilors namely; Nantubiro Grace representing Busaale Ward and Mugwabya Ronald representing Kaweeri ward on Mubende Municipal council (Local council 4). They were arrested, charged with nine (9) counts including aggravated robbery and remanded to Muyinayina government prison. They are expected to return to court on 5/12/2018.
In 2009 shortly after the oil drilling started in Bunyoro sub region, the Kasenyi Local Council One (1) Kaliisa Julius Nange plus his three brothers were arrested, kept in police cells for 45 days, later charged and sentenced to two years in prison because they protested against a rich man from grabbing their family land, which hosted the first oil well (Ngiri-1). "A rich-man came and asked me to sign documents that would certify that he rightfully owned land where Ngiri-1 oil well was located. I vehemently refused and asked him to approach my grand father who would sanction his ownership. Shortly after, the rich-man with impunity brought iron sheets and poles on the land and constructed a three bedroomed house to seal his land ownership bid. I petitioned the office of the Resident District Commissioner (RDC) who later advised us to go to court that her office had nothing to do with our case" Said Kaliisa. He further explained in 2012/13, Ngiri-4 and Ngiri-7 wells were also drilled on their land and our campaign to expose the rich-man was enhanced. "During that time, I got arrested by Buliisa police, kept in cells before being transferred to Masindi Chief magistrate Court, which is 70 kilometers from Buliisa and later I was remanded to Masindi Central Prison for two months. I was later granted and stayed on a court bail for one year but I was conditioned to report every after three weeks for a full year before I and other suspects got convicted" Kaliisa narrated. He added that he suffered intimidation, harassment and psychological torture.         
A High Court sitting in Mubende convicted and sentenced 5 community land defenders to 34 years imprison over murder and aggravated robbery, ordered to pay UGX 10 million. The imprisonment came after 1000 native families had lost 10-square mile covering thirteen (13) villages including; Kaziragoma, Nakasozi, Butoro, Kyedikyo, Kamagwa, Kicucuulo, Namayindi, Kiguluka, Kabuwuka, Kaswa, Kitebi, Kyabbogo and Kisiigwa located in Maddudu and Butoloogo sub counties in Mubende district. The families were displaced and land dispossessed by a Chinese company, Formasa Tree-Planting Company.
The 2007/8 economic crisis effects to Uganda is causing extreme socio-economic inequality which is becoming more acute. Uganda's middle class (a few) which has access to power and money in terms of control over land is making the situation both unjust and unsustainable to majority native communities.
Statement: The Energy Sector Strategy 2024–2028 Must Mark the End of the EBRD's Support to Fossil Fuels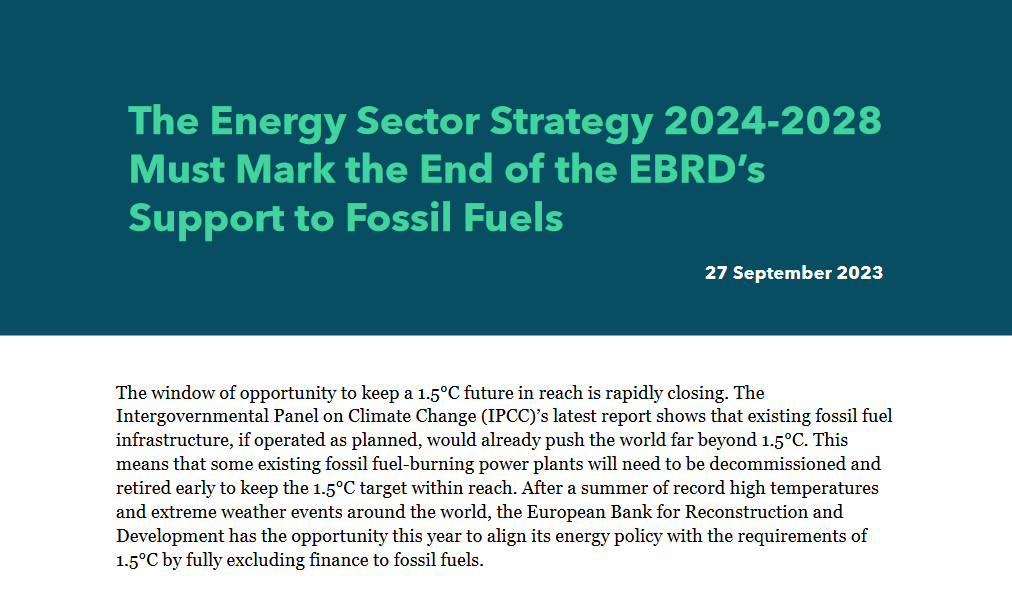 The European Bank for Reconstruction and Development (EBRD) is due to publish a new Energy Sector Strategy before the end of 2023. A total of 130 civil society organizations from over 40 countries have released a statement calling on the EBRD to end finance for all fossil fuels, including gas.
From 2018 to 2021, the EBRD invested EUR 2.9 billion in the fossil energy sector, with the majority of this support going to gas. This makes it the third biggest funder of fossil fuels among all multilateral development banks, behind the World Bank Group and the Islamic Development Bank.
The EBRD has already excluded coal and upstream oil and gas fields from its financing. The draft Energy Sector Strategy further excludes oil transportation and oil-fired electricity generation. However, the draft strategy would continue to allow some investment in new fossil gas pipelines and other transportation infrastructure, as well as gas power generation and heating.
In the statement, the civil society organizations point out that any new support to gas risks locking in outdated energy infrastructure in places that need investments in clean energy the most. At the same time, they highlight, ending support to fossil gas is necessary, not only for climate security, but also for ensuring energy security, since continued investment in gas exposes countries of operation to high and volatile energy prices that can have a severe impact on their ability to reach development targets. Moreover, they underscore that supporting new gas transportation infrastructure is not a solution to the current energy crisis, given that new infrastructure would not come online for several years, well after the crisis has passed.
The signatories of the statement call on the EBRD to amend the Energy Sector Strategy to
fully exclude new investments in midstream and downstream gas projects;
avoid loopholes involving the use of unproven or uneconomic technologies, as well as aspirational but meaningless mitigation measures such as "CCS-readiness"; and
strengthen the requirements for financial intermediaries where the intended nature of the sub-transactions is not known to exclude fossil fuel finance across the entire value chain.
Source: iisd.org
Download the statement: https://www.iisd.org/system/files/2023-09/ngo-statement-on-energy-sector-strategy-2024-2028.pdf
Complaint against unprofessional conduct of the DPC Kiryandongo district for aiding and abetting land grabbing in kiryandongo district.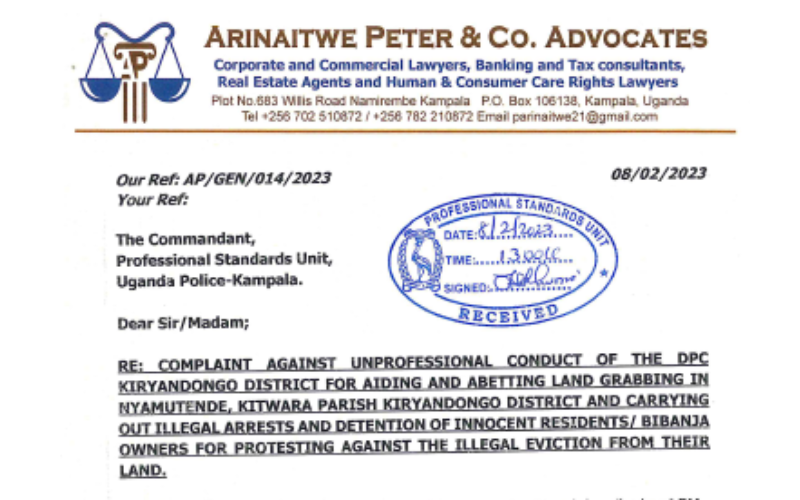 The Commandant,
Professional Standards Unit, Uganda Police-Kampala.
Dear Sir/Madam;
RE: COMPLAINT AGAINST UNPROFESSIONAL CONDUCT OF THE DPC KIRYANDONGO DISTRICT FOR AIDING AND ABETTING LAND GRABBING IN NYAMUTENDE KITWARA PARISH KIRYANDONGO DISTRICT AND CARRYING OUT ILLEGAL ARRESTS AND DETENTION OF INNOCENT RESIDENTS/ BIBANJA OWNERS FOR PROTESTING AGAINST THE ILLEGAL EVICTION FROM THEIR LAND.
We act for and behalf of the Lawful and bonafide occupants of Land described as LRV MAS 2 FOLIO 8 BLOCK 8 PLOT 22 (FORMERLY KNOWN AS RANCH 22).
Our Clients are residents of Nyamutende Village, Kitwara Parish in Kiryandongo District where they have lived for more than 30 years and sometime in 2017, they applied for a lease of the said Land to Kiryandongo District Land Board through the Directorate of Land Matters State House.
As they were still awaiting their Application to be processed, they were shocked to establish that the said land had been instead leased to and registered in the names of Isingoma Julius, Mwesige Simon, John Musokota William, Tumusiime Gerald, Wabwire Messener Gabriel, Ocema Richard and Wilson Shikhama, some of whom were not known to the Complainants. A copy of the Search is attached hereto
Our clients protested the above action and appealed to relevant offices, but were shocked to discover that the above persons had gone ahead and sold the same to a one Maseruka Robert.
Aggrieved by these actions, the Complainants appealed to the RDC who advised them to institute proceedings against the said persons, and assigned them a one Mbabazi Samuel to assist them to that effect. The said Mbabazi accordingly filed Civil Suit Noa 46 of 2019 against tne said registered proprietors at Masindi High Court challenging the illegal and fraudulent registration, sale and transfer of the subject land to Maseruka Robert.
While awaiting the progress of the case mentioned hereinabove, the Complainants were surprised to find that the said Mbabazi, instead of assisting them, he went into a consent settling the said suit on their behalf without their knowledge or consent. A copy of the Consent is attached hereto.
Among the terms of the said consent Judgment was that the residents would be compensated without specifying how much and would in return vacate the Land.
As if that was not enough, Maseruka Robert and Mbabazi Samuel are going ahead to execute the said Consent Judgment by forcefully evicting the occupants without compensation which has prompted the complainants to challenge the said Consent by applying for its review and setting aside at Masindi High Court which is coming up for hearing on the 29th March 2023. A copy of the Application is attached hereto.
Sensing the imminent threat of eviction, we also filed an application for interim stay of execution of the said consent to avoid rendering their application for review nugatory but unfortunately the same could not be heard on the date it was fixed for hearing (6th February 2023). A copy of the Application is attached hereto
On Thursday last week, three tractors being operated by 6 workers of a one Mbabazi Samuel [the very person who had been entrusted to represent our Clients to secure their Land through Civil Suit No.46 of 2019] encroached close to 50 acres of our Clients' land and started ploughing it but our Client's protested and chased them away.
We have however been shocked to receive information from our Clients that on Sunday at Mid night, 3 police patrols invaded the community in the night and arrested community members; Mulenje Jack, Steven Kagyenji, Mulekwa David, Ntambala Geoffrey, Tumukunde Isaac 15 years, Kanunu Innocent, Mukombozi Frank, Kuzara, Rwamunyankole Enock, and took them to Kiryandongo Police Station where they are currently detained.
We strongly protest the illegal arrests and detention of our Clients as this is a carefully orchestrated land grabbing scheme by Maseruka Robert and Mbabazi Samuel who are  receiving support from the DPC Kiryandongo.
The purpose of this Letter therefore is to request your good office to investigate the misconduct, abuse of office and unprofessionalism of the said DPC Kiryandongo District and all his involvement in the land grabbing schemes on land formerly known as Ranch 22.
Looking forward to your urgent intervention,
C.C The Head Police Land Protection Unit Police Head Quarters Naguru
CC The RDC Kiryandongo District
CC The Chairman LCVKityadongo District
CC The Regional Police CommanderAlbertine Region
The Executive Director of Witness Radio Uganda talks about the role played by Witness Radio in protecting communities affected by large-scale agribusinesses in Kiryandongo district in an interview with the ILC.