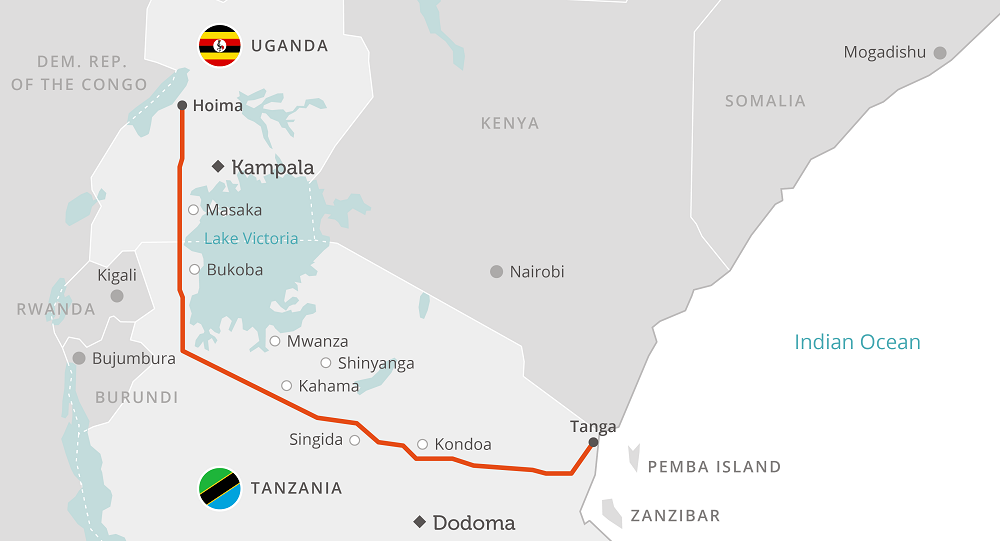 More than 100 civil society organizations have petitioned the President of the African Development Bank, Mr. Akinwumi Adesina, warning against financing the East African Crude Oil Pipeline.
The proposed 1,445-kilometer pipeline from Hoima, Uganda to the port of Tanga in Tanzania would be the longest heated pipeline in the world.
Now the organizations in a petition to the African Development Bank say that the project is "exceptionally risky".
The organizations from Africa as well as Europe, the United States and Asia expressed grave concern over a request from the governments of Uganda and Tanzania to the African Development Bank for funding of the pipeline project, which they say poses global climate risks, local environmental harms and threatens the livelihoods of millions of people in East Africa.
"We urge the African Development Bank to reject Uganda and Tanzania's request to help finance the East Africa Crude Oil pipeline. The bank should be seeking opportunities to fund renewables that can contribute to the region's energy needs in a clean and rights-compatible manner instead," said Diana Nabiruma, Senior Communications Officer of the Africa Institute for Energy Governance (AFIEGO), based in Uganda.
The organizations assert that if the African Development Bank approved the funding request for the pipeline, it would be acting against its commitment to meet the Paris Agreement goals as well as its commitment to support the transition to renewable energy.
"At a time when the world needs to come together urgently to decarbonize our energy and transport sectors, the last thing that Africa's premier development bank should be considering is the financing of a massive  oil pipeline," said  Eugenie Cha, Africa Program Director for Inclusive Development International.
Between 9,500 and 14,500 farms would be affected by the pipeline's construction and nearly a third of its length will be constructed in the basin of Africa's largest lake, Lake Victoria.
If constructed, the pipeline would be the longest heated pipeline in the world, traversing heavily populated districts in both Uganda and Tanzania and carrying an estimated 216,000 barrels of crude oil per day (10.9 million metric tons per year).
The pipeline is under development by three oil companies: Tullow, Total and CNOOC in partnership with the Ugandan and Tanzanian state-owned oil companies.
South Africa's Standard Bank (via its subsidiary Stanbic Bank Uganda), Sumitomo Mitsui Banking Corporation of Japan and China's ICBC are reported to be the project's financial advisors.
Debt financing for the pipeline is expected to amount to approximately USD 2.5 billion.