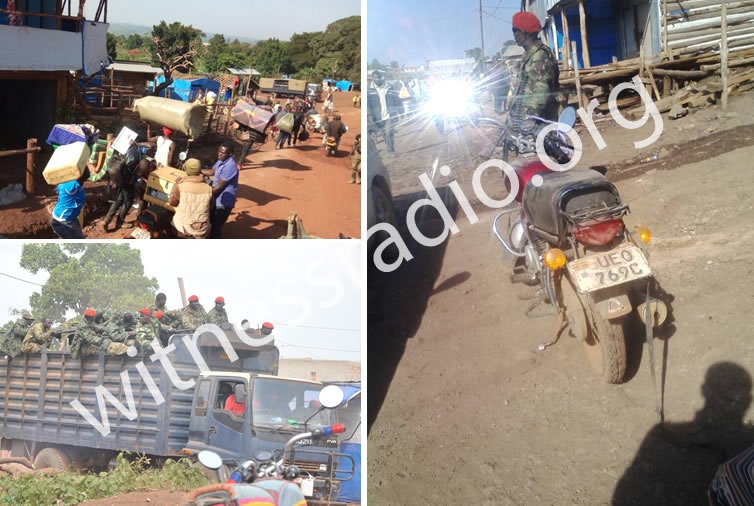 By Witnessradio.org Team
"On August 4th 2017, at 8am, police and army surrounded the mines and started demolishing any standing structures including restaurants, shops, among others," Robert Ssempewo, the chairperson of Mubende gold mining grounds recounted to witnessradio.org during a recent visit to the highly guarded 12-square mile land that hosts gold deposits.
The two-day operation under the command of Colonel Joseph Balikuddembe, the UPDF 1st Division commander, followed an order by Energy ministry's Permanent Secretary, Stephen Isabalija who reportedly been ordered by president Museveni to kick-out of over 50,000 artisanal miners off gold mining land.
Three companies under the directorship of Gertrude Nanyunja Njuba, a state house director on land matters namely; M/S Gemstone International, A.U.C Mining Company, and Kamalenge Mining Company forcefully evicted people at a time when their mining license had expired.
In a recent interview with local media, Njuba said she has had gold mining interests in the area since 1987. In 1994, Njuba said that she obtained a mining lease for 207 square kilometers in an area which straddles two sub-counties namely; Bukuya and Kitumbi in Mubende district.
But according to available documents, Njuba's mining license has been expiring, but get renewed under mysterious circumstances whose actions are inconsistent with the mining act, 2003.
An anonymous expert in the mining sector, contends that it's difficult to know how Njuba's license has been renewed on several occasions over the last 23 years yet technically, she has never complied with the mining act.
A review of the mining act 2003 by witnessradio.org, discovered that Section 47 (1) of the mining act stipulates that "the holder of a mining lease may apply to the Commissioner for the renewal of his or her lease in respect of all, or of part of the mining area not later than one year before the expiry of such lease." The same law goes ahead to state that if the mining lease expires, the lease holder "relinquish at least 50 per cent of the land as they apply for a renewal" before submitting a renewal application.
Witnessradio.org findings reveal that by the time Njuba evicted the artisanal miners, her mining lease had expired two years prior to the eviction.
Ssempewo, also confirms that Njuba's lease had expired. He said that "I have information that investor's exploration license had expired and it's in the law that if the license expires, you relinquish half of your exploration area."
He added; "but for over 30 years now, this investor has been operating in the exploration area without relinquishing any part. According to what I know, this investor single-handedly operates the huge exploration area measuring 288 square kilometers."
When it comes to making application for the mining license, the procedures are well laid down under article 42 (2) of the mining act, 2003.
"An application for a mining lease shall be advertised in the Gazette and copies of the accompanying plan shall be displayed at the relevant district and sub-county headquarters and such other place as the Commissioner may specify," article 42 (2) states.
Clause (3) of the same article states that "the applicant shall show written proof that he or she has reached an agreement with the landowner of the area he or she intends to mine."
To tame unreasonable greed, 43 (3) (a) of the mining act provides that "the area of land over which the lease is sought is not in excess of the area reasonably required to carry out the applicant's programme of proposed mining operations."
Recognizing the rules, above, Njuba who stretched her exploration area to evict artisanal miners from the neighboring mines flouted the law.
"We are not totally objectionable to the investor because she has her area, but we want our area to be returned because we are also Ugandans," Ssempewo said, "we want our portion of just 5-square miles so that we can also restore our source of livelihoods."
The experts asserted that "it is not clear how these mining leases have been renewed yet there is no clear demonstration of mining activities."
According to this expert, Njuba's practice is clear indicator of speculation that has dogged Uganda's mining sector for decades.
During its July 2017 report titled; Uganda: Undermined, a London-based Global Witness revealed that pervasive corruption in Uganda's mining sector allows crooked officials and investors they partner with to profit at the expense of country's "economy and people."
The report exposed the way how well connected individuals including those with close ties to president Museveni trade political influence for financial economy.
"…rather than fulfilling its mandate to work for the benefit of the Ugandan people, the Directorate of Geological Survey and Mines [DGSM] is controlled by a hidden alternative power structure and decision making process or 'shadow system' which benefits predatory investors and politically powerful Ugandans," the report reads in a part.
To achieve her aspiration, Njuba used both police and Uganda People's Defence Forces (UPDF) soldiers to violently evict people which led to gross loss of property. To this date, the contested land is still under tight guard of armed security personnel who have vehemently denied the indigenous people an opportunity to rescue any of their belongings from the structures that are being razed down by graders.