By Witnessradio.org Team
Respect for global business and human rights standards? Three mining companies have been named in 12 square miles land grabbing scandal that host gold deposits in Mubende district. Mubende district is based in the South Western region of Uganda. Over 120, 000 families that are surviving and living on the land have been given a one week ultimatum to vacate without any settlement plan.
Companies allegedly taking private mile land forcefully with support from government security agencies include Kamalenge Mining Company, A.U.C Mining Company and Gemstone International. Senior officials in state house also have been named in the scam.
The presence of Uganda People' Defence Force (UPDF) and Uganda Police Force (UPF) personnel on the land is putting communities staying on the land in balance.  Well as witnessradio.org has not yet seen the order itself, officials at the district allege that President Museveni reportedly issued the order.
Article 26 (2) of the 1995 Constitution of the Republic of Uganda states that " No person shall be compulsorily deprived of property or any interest in or right over property of any description except where the following conditions are satisfied. (a). The taking of possession or acquisition is necessary for public use or in the interest of defence, public safety, public order, public morality or public health: and (b). The compulsory taking of possession or acquisition of property is made under a law which makes provision for – (i), prompt payment of fair and adequate compensation, prior to the taking of possession or acquisition of the property; and (ii), a right of access to a court of law by any person who has an interest or right over the property".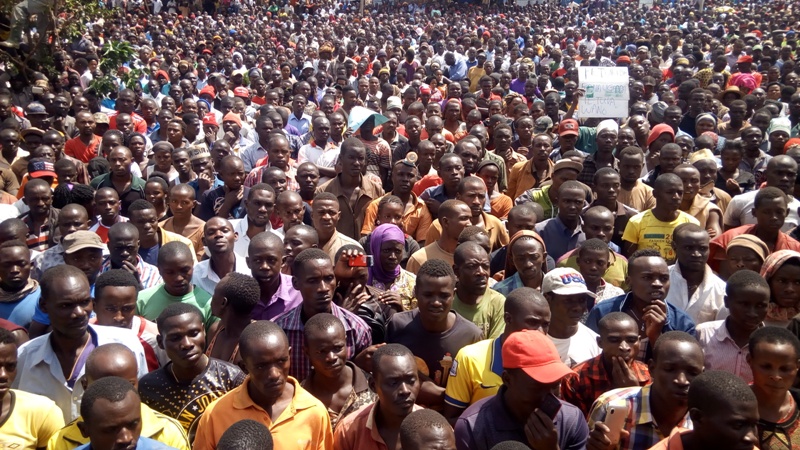 Gold deposits on the land were discovered in 1995 and extraction kicked off in 2001 by artisanal miners. Mining activities since then have boomed attracting different private business companies and individuals who would hire space to dig gold and employ thousands of local youths through using stone crushers, blaring generators, and harmers-making them artisan miners.
Uganda's gold production contributes 30% of foreign tax collections and the mining sector in general contributes 0.4 per cent of the country's GDP, according to the latest projections of 2017/18 fiscal years.
The contested land is located on Lujinji A, Lujinji B, Lujinji C, Kampala, Kayonza and Lubaali villages all found in both Kitumbi and Bukuya sub-counties in Mubende district.
Over six (6) landlords are already accusing government for forcefully grabbing their land, which has been a source of livelihood to hundreds of thousand of indigenous communities. Alex Byaruhanga, 62, a resident of Lujinji claims that he owns over 100 hectares on the same land being forcefully taken away. He says, his land is located on Block 106, Plot 12 in Ssingo County, Mubende district.
He added that he acquired his land title in 2015 and no investor or government official has approached him over the said acquisition.
 The Uganda's Mining Act 2003 states that "Subject to any right granted to any person under this Act, the entire property in and control of all minerals in, on or under, any land or waters in Uganda are and shall be vested in the Government, notwithstanding any right of ownership of or by any person in relation to any land in, on or under which any such minerals are found".