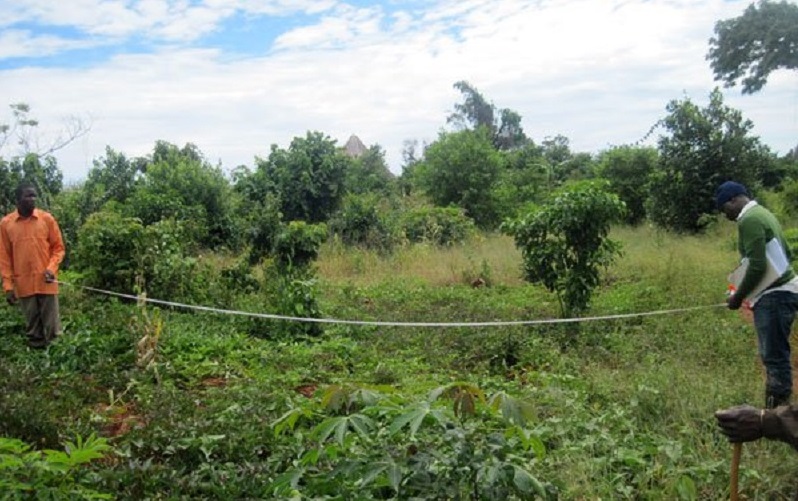 Surveying. A government surveyor measures a piece of land in Busamuzi Sub-county, Buvuma District, last year. PHOTO BY DENNIS SSEBWAMI 
KAMPALA. The Ministry of Lands, Housing and Urban Development has set a target to register at least 50 per cent of all land in Uganda in the next one year, the Ministry spokesperson, Mr Dennis Obbo, has said.
The ministry is currently issuing land titles to individuals, families and communities under a customary tenure system at a minimal fee of Shs10,000 for both registration and receiving. The money is payable at the sub-counties.
"We want to increase land registration from the current 20 per cent to 50 per cent by 2020. This will help fight illegal evictions, stop land grabbing and help resolve land disputes," Mr Obbo said in an interview yesterday.
To register and receive a land title under the customary tenure, one can apply to be registered on the land as an individual, a family or a community.
Districts such as Kasese where customary land registration was first implemented in 2015, have already received 6,000 land titles. Other districts of Nwoya and Pader have also received land titles under the customary land tenure.
Mr Obbo said the Lands ministry already has some parts of Katakwi ready for registration.
About 500 families in Butaleja District are also set to receive land titles under the customary tenure.
Mr Obbo said the Ministry was done with receiving applications in Karamoja and they are currently demarcating the land before going out to print land titles.
Customary land is held basing on particular customs, traditions and norms of people. It is often communal. It is commonly owned by indigenous communities in Uganda.
Such land is found in the northern and eastern parts of the country.