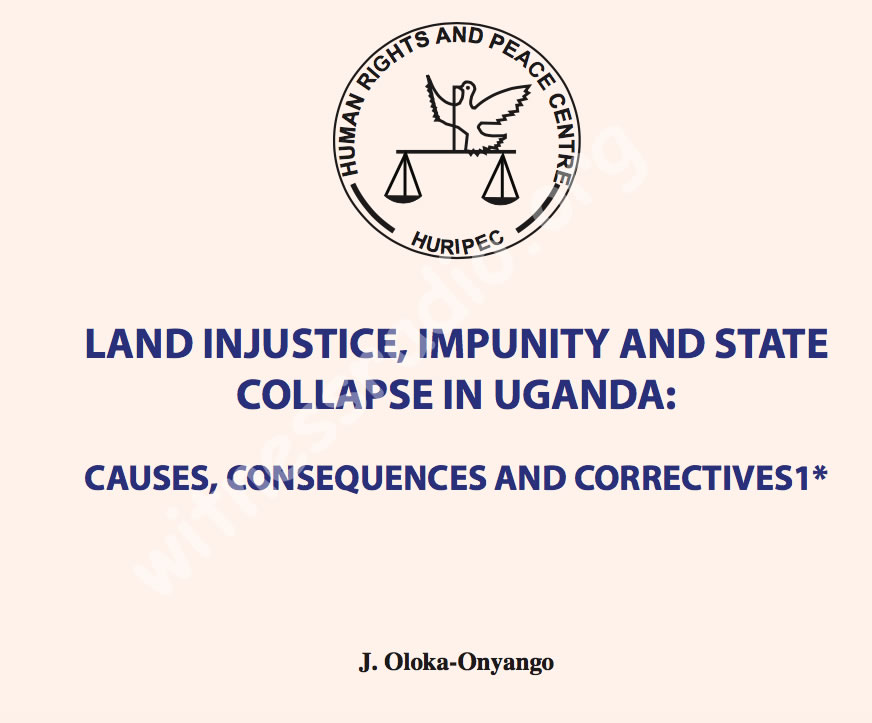 By witnessradio.org team
"Unless the governance crisis is resolved, very little can be done to change the conditions of land injustice in Uganda, Says a new report released by the Human Rights and Peace Centre
The 80 paged-report says, land crisis is intricately connected to the structures and methods of governance introduced with the advent to power of the National Resistance Movement (NRM) government led by President Yoweri Kaguta Museveni. As such, land has become an intricate component of the networks of patronage, nepotism and neo-patrimonial governance which have been instituted since 1986.
Conducted under the Land Justice and Post-Election Governance in Uganda Project, its scope straddled nine districts from three target regions; northern (Amuru, Agago and Otuke districts), western (Kasese, Kabarole and Bundibugyo districts all located in the Rwenzori sub-region) and central (Kayunga, Mukono and Kampala districts) .
The report partly attributed land crisis to colonialism that bequeathed severe historical land inequities within the socioeconomic and political conditions that led to the foundation of Uganda as a state." As a result, Uganda is gripped by an acute cases of Land Injustice.
"While the manifestations of the land crisis are evident in a policy and legal regime which is largely dysfunctional, the roots of the problem lie in the complete lack of transparency around the acquisition of wealth by senior government/public officials, the failure to institute robust mechanisms for ensuring accountability over the acquisition of that wealth and the absence of effective sanctions for those who take advantage of or simply abuse their positions of authority," the report observed.
The report concludes that "the system is rotten, and the rot begins at the top. This not only permeates the mechanisms in place governing the acquisition of public land but it also extends into the arena of the administration of private land, hence the major problems afflicting the system of land registration in the country as a whole."
It's on this finding that the report welcomed the establishment of the Commission of Inquiry into Land Matters in early 2017 largely noting  that it was a necessary and timely intervention. Indeed, the commission could be regarded as a proverbial stitch in time in a bid to save nine, according to this report.
However, the report wonders whether the commission's outcome would make headway in fixing the land question saying that "it is questionable whether the findings and recommendations of the Justice Catherine Bamugemereire-led commission will fundamentally alter the existential crisis related to the land question in Uganda."
From researchers point of view, they note that, while the public hearings of the commission have done much to expose the shenanigans of land "sharks" aided by a network of officially-connected and sanctioned individuals and groups, the fact is that it will do little to transform the coextensive system of patronage and the mechanisms of political control and dominance which have led to the crisis in the first instance.
The report's conclusion remains, that the land question is essentially a product of the political economy of  the country. Above all the researchers assert in their findings, that "land is a governance issue". Unless the politics of the land question is comprehensively addressed, focusing on the reform of law or policy alone will not resolve the problem."