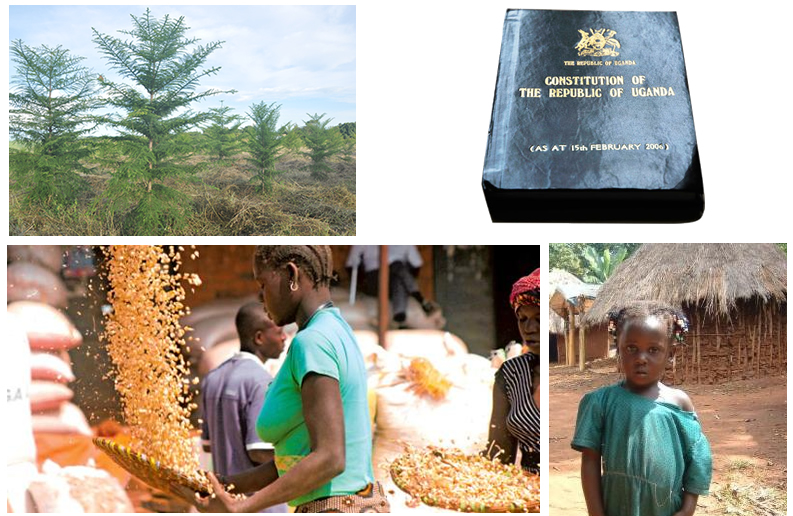 By Witnessradio.org
As Uganda GDP drops to 3.5 from 5%, the latest research is revealing that 73 per cent of Uganda's total population that depend on agriculture are losing their access to land due to Pursuit of Large-Scale Agricultural Investment Projects, Changing Policy and Local Pressures.
The government's available statistics indicate that the percentage of women engaged in agricultural activities is estimated to be even higher at 83 per cent (UBOS, 2005).
A new research titled 'understanding changing land access issues for the rural poor in Uganda' indicates that given the current architecture of Uganda's economy, it is projected that the percentage of the population directly dependent on agriculture is likely to remain the same or even increase in the foreseeable future.
The 86 page report whose lead researchers Godber Tumushabe, the associate director of Great Lakes Institute for Strategic Studies and Alex Tatwagire, a lecturer at the College of Agricultural and Environment Sciences at Makerere University, indicated that "pursuit of large-scale agricultural investment projects has changed the overall economic landscape" which has triggered actual and perceived high returns from land hence increasing demand and driving up land prices making it hard for poor communities to bargain for their land access.
Also, the research reveals that the "changing policy narrative" that has dominated the public policy discussions over the last decade is also responsible for changes in access to land in Uganda. "Policies on poverty eradication, investment and agricultural transformation have elevated land issues to the top of Uganda's national policy agenda," the report noted.
Whereas policies on acquisition of land are in place, the research contends that the processes taking place at local level do "overtake" national reforms aimed at strengthening tenure security for rural households.
"Powerful individuals in a community can effectively constrain reforms on how land is governed," the research says, "the capacity of customary institutional arrangements to deliver clear land rights, and resistance to unlawful evictions."
"Meanwhile, many poor people face severe land access challenges," the research added, "high cost of processing certificates of customary occupancy, the cost of processing land titles, difficulties in securing compensation for their land, and poor protection from illegal evictions."
Other Challenges
The research also found that decentralization policies and the creation of new districts have triggered "many legal cases between communities, districts, and border counties…"
"Poor land valuations and compensations between government and landowners also create tensions, among different ethnic groups," the report notes, elaborating the finding with a land dispute that is still raging in Apa Parish, Amuru area.
"…is at the centre of a power struggle between the Uganda World Life Authority, Amuru district and adjumani district," said the research. Local people in this area, claim these government agencies want to evict them from their ancestral land.
This research focused on two case studies of large-scale land acquisitions from southern and northern regions of the country. In Southern Uganda, researchers visited Kalangala district for it offers context in which large-scale commercial land use is developing and it hosts a major palm oil agricultural development that begun in 1998.
In the northern region, the researchers chose Amuru district where more locally- driven factors are likely to govern land access. In Amuru, where 40Km tract of land is in issue, there is a raging conflict between worrying factions and it has claimed more than five people so far.
Public Policy not favourable
The commitment to invest in commercial agriculture to achieve socioeconomic transformation has got far implications because the impact of the situation goes beyond specific locations, according to the research.
In the end, the research therefore, suggests, "Economic growth and investment policies appear to outweigh land sector-specific policies as drivers of land access change."
The research explains that the "development of infrastructure has the direct effect of opening up previously marginal areas," thus "triggering fresh competition for land."
As more land changes hands through the market, the report says  that "high prices and weak bargaining power may exclude the poorest and marginalized groups in rural as well as urban areas."
The ever increasing commercial interests have "shifted" the modes of land access from traditional means (inheritance, gifts and squatting) to market modes.
According to the report, the above change, "hits some segments of the population hard such as the youth who previously benefited from traditional means of land access."
In our next report, we will bring you the dynamics of how land access is changing from the local features' perspective.