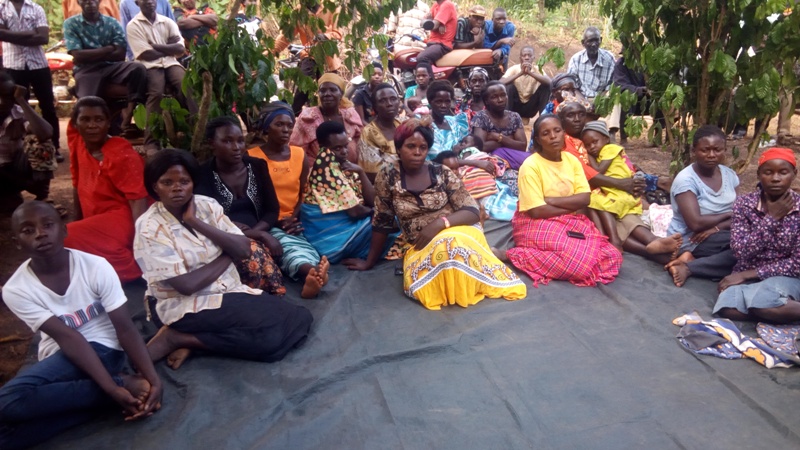 By witnessradio.org team
Muwereza Mugabi owns a kibanja (plot) on the bigger tract of land comprising 2-square miles situated on Block 168 plot 19, 22, 23 covering two villages; Kawula and Kambuye, Kansera ward, East Division Mubende Municipality in Mubende District.
For 38 years, this plot has provided Mugabi and his family with shelter, maize, coffee, bananas, and beans, "everything we can eat." Mugabi said that even his neighbors use the land to graze their domestic animals that are grass-fed.
The plot of land provides his daily subsistence, and farming is the only job he has ever known.
There is nowhere else Mugabi would go, nothing else he can do for survival, than "living here foreverwith my family," until his last days on earth.
But Mugabi has got a problem: Mugabi is among the tens of thousands of subsistence farmers in Mubende district who are either threatened by eviction or evicted daily. Mugabis says that he acquired the land in 1970 when he purchased from E.B Kayiwa and he is a title holder.
And now, three other people; only identified as Waswa, Nabukeera, and Nyanzi seek not only his plot, but the entire 2-square mile tract of land. They all claim to own titles to the disputed land.
It's a familiar story in Mubende district, where land disputes have disrupted lives and livelihoods of thousands of people. Many of the affected are the small-scale farmers who grow their own food.
"Without land, we cannot have means to provide ourselves with the basic requirements for a decent life," a visibly distressed Mugabi said.
Many land feuds in Mubende district begin on paper, but lead to physical fights and at various occasions, the worst have ended in deaths.
Begin on paper, because officers at lands offices in Mubende district issue multi titles on the same piece of land.
"I thought, the land, I live on belonged to E.B Kayiwa who is still alive, but here we are- all these people are claiming it with various titles. I wonder how the District Land Board could issue four titles on the same land," wondered Mugabi.
One of the landlords has ordered all residents to vacate his land with immediate effect or face forceful eviction because he wants to use land for his own production.
Villagers in Mubende, often protest against forced evictions, but they eventually fail when faced with armed police personnel or soldiers.
"All we have are sticks and pangas, but the police who in most cases side with land grabbers have guns," said Antonio Ssemakula, another farmer who is facing eviction.
Like Mugabi, Ssemakula purchased his plot on the same land from E.B Kayiwa in 1995 and he has settled peacefully on the disputed land until recently when claimants emerged to disrupts his and fellow residents' lives.
What is most outstanding these days is that all rich people seeking to evict people from their land in Mubende district use cattle which they graze into the already struggling poor people's gardens-and within few minutes, the gardens are no more.
This trend has exposed these people to extreme hunger because they are being left with nothing like crops that would provide them with food to feed themselves.
At the time of writing this story, the affected persons could hardly do any kind of farming, because wealthy men would unleash their cattle into their gardens to destroy them.
"We are still afraid of working," Mugabi said. Villagers are already hungry and as it is, the villagers eat only twice a day, "morning and evening," Mugabi says.
"For the midday, we don't eat because I don't have enough food." In the aftermath of the richer man's cows destroying of their gardens, often, a piece of maize and cup of dry tea constitutes a meal for most of the residents in these two villages.
Mugabi wonders why wealthy men want their land, but more hurt by the "inability" by their leaders to come to their rescue.
Often, local leaders and security personnel like police, army officers, and other officials in the various government offices side with land grabbers to evict farmers from their land and forcibly.