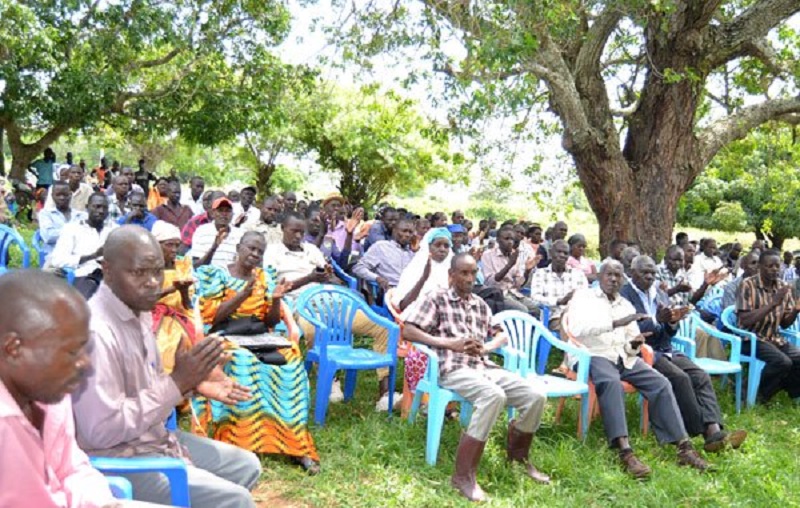 Dialogue. Some of the beneficiaries on Block 125 Plot 18 to 23 land at Ddagala in Kalungi Sub-county attend a sensitisation meeting on Tuesday. PHOTO BY DAN WANDERA

At least 1,300 families in Nakasongola District have a reason to smile after government finalised the process of issuing them free land titles.
The beneficiaries are in eight villages across the sub-counties of Kalungi, Kalongo and Lwampanga.
This comes after government successfully compensated the absentee landlords who owned the land the tenants currently occupy.
The beneficiaries, who settled on an estimated 10.8 square mile piece of land, have reportedly suffered the wrath of a section of absentee landlords through illegal evictions, destruction of property and injustices in land ownership disputes.
However, during a sensitisation tour by officials from Uganda Land Commission (ULC), headed by the chairperson, Ms Beatrice Byenkya, on Tuesday, residents of Kigejjo Village in Kalungi Sub-county, who are occupying Block 128, Plot 19, expressed dismay that some of their colleagues had been duped to pay money to their landlord yet they had already sold land to the commission under the land fund scheme.
"We sold our cows and gave money to our landlord after they promised to give us our respective land titles. We are now in a dilemma after realising that the same land had already been sold to government. We are not sure whether our money can be recovered," Mr Jerome Ssebbaale, a resident of Kigejjo Village, said.
Mr Noah Mutebi Wanzala, the Nakasongola County MP, told ULC officials that at least Shs70m was solicited from sitting tenants on Block 176, Plot 9, yet the land had already been sold to government.
"We want the Commission to follow up this matter so that this money can be recovered from the landlord. We have had a big challenge in Nakasongola District where almost 80 per cent of the residents are squatters. The unending land disputes, evictions and the failure by the land custodians to properly interpret the sensitive sections of the Land Act is the reason many people are landless," he said.
Mr Mutebi lauded government for considering Nakasongola as a special area which was included on the list of districts to benefit from the Land Fund.
He said about Shs5b was used to pay off the absentee landlords on an estimated 10.8 square mile land in Nakasongola to have the affected tenants get their land titles.
Ms Byenkya said ULC was aware of the selfish individuals who are duping sitting tenants and several cases are being investigated.
"We have already noted cases where the commission will deduct the money that has been solicited from tenants from the compensation package to the landlords," she said.
Ms Margaret Komuhangi, the Nakasongola District Woman MP, said about 85 per cent of the families are tenants on land that they have no proper sense of ownership.
"You cannot develop a permanent project on land where the landlord threatens to have you evicted. Some of the tenants have been forced to give in more than 60 per cent of the total land that they own to the landlord to have a land title," she said.
Mr Ivan Sserwambala, an officer in charge of survey and plot demarcation programme at Bukalasa regional land office that also oversees greater Luweero sub-region, said the survey process was underway.
"We are already on the ground with a team of surveyors. These people will soon get their land titles from government," he said.
Ms Betty Amongi, the former Lands minister in her recent handover report to the new minister, Ms Beti Kamya, indicated that the Ministry of Lands had outstanding arrears of about Shs140b to compensate all absentee landlords across the country and effect the presidential directives under ULC.
Other beneficiaries in Nakasongola are settled on land at Junda Village Kalungi Sub-county (Block 128 Plot 19), land at Mayirikiti Town Council on Block 135, land at Kigejjo Village on Block 176 Plot 9, land at Ddagala in Kalungi Sub-county on Block 125 Plot 18 to 23, and land at Zengebe in Lwampanga Sub-county on Block 44 Plot 6 measuring about 640 acres.
2010 land act
Nearly a decade ago, Parliament passed the Land Amendment Act 2010, which government said was to protect tenants from illegal evictions.
However, Buganda Kingdom strongly opposed the legislation, saying a new law was uncalled for since government had failed to enforce the existing laws.
The law gives tenants more rights to resist eviction by landlords. Landlords need a court order to evict tenants and must notify them before selling their land, but some of these conditions are never followed and many tenants are being evicted without court orders.
Source: Daily Monitor