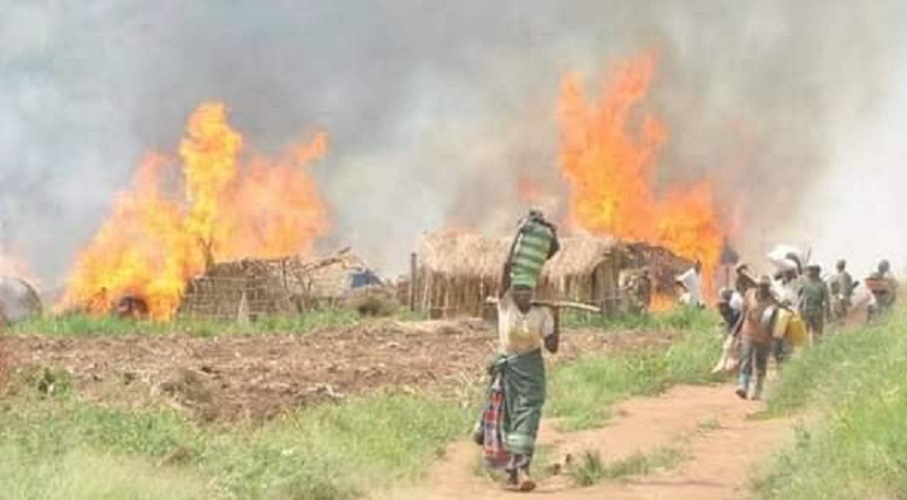 By witnessradio.org Team
Hoima – Uganda – more than 600 families that were forcefully and violently evicted from Kyabisagazi II village in Hoima district, were evicted illegally said a Parliamentary select committee that investigated the matter.
The families were forced out of their 438 Hectares of land on February 13th, 2019 by Uganda Police and Uganda People's Defense Forces (UPDF) soldiers in a condone and search operation which security officials said was aimed at dismantling a militia group that was building its capacities in the area. The land is registered on Volume 1039, Folio 8 Plot 5 Block 6, in Hoima District.
Eyewitnesses said, when the security personnel's raided the village at night, the local residents were injured, arrested and maimed during the operation and their homes were torched.
It has been established by MPs that the so called cordon and search operation was merely a conduit for the security agencies to hand over the grabbed land to one Edgar Agaba for free. Agaba is the former Executive Director of the Public Procurement and Disposal Authority which is a government body.
The committee further disclosed that there are allegations that the women who attempted to collect some foodstuffs from their gardens were ruthlessly raped by the soldiers who were guarding the land on behalf of Mr Agaba while other evictees including children, pregnant mothers and the elderly lost their lives.
"These security persons carried out an illegal eviction under the guise of flushing out a militia/rebel group acting on concocted information of its existence" the report presented to parliament late last year reads in part.
The parliamentary committee chaired by Bukooli North Member of Parliament Gaster Mugoya, ruled that there was a high level of unprofessional conduct by some security personnel's, namely Maj. Gen. Sam Okiding, the Commander Field Artillery, Maj. Esau Mwebembezi, the intelligence officer of the Artillery Division, Mr Kisembo Araali, the District Resident Commissioner, the former DPC, Hoima Mr Etima Twaha who commanded the unlawful/illegal eviction.
However, Hoima Resident District Commissioner (RDC) Samuel Kisembo Araali said that Police and the army did the operation in order to restore law and order in the area after a criminal gang armed with spears, arrows, bows and pangas caused lawlessness in the area.
The Resident District Commissioner being a president's representative at the district level also doubles as a district security committee chairperson.
The committee recommended that the army and the Police officers who participated in this illegal eviction should be held responsible both in their personal and official capacities.
…