Witnessradio.org Sued For Amplifying Voices of Violently Evicted Communities Off 2-Square Mile Land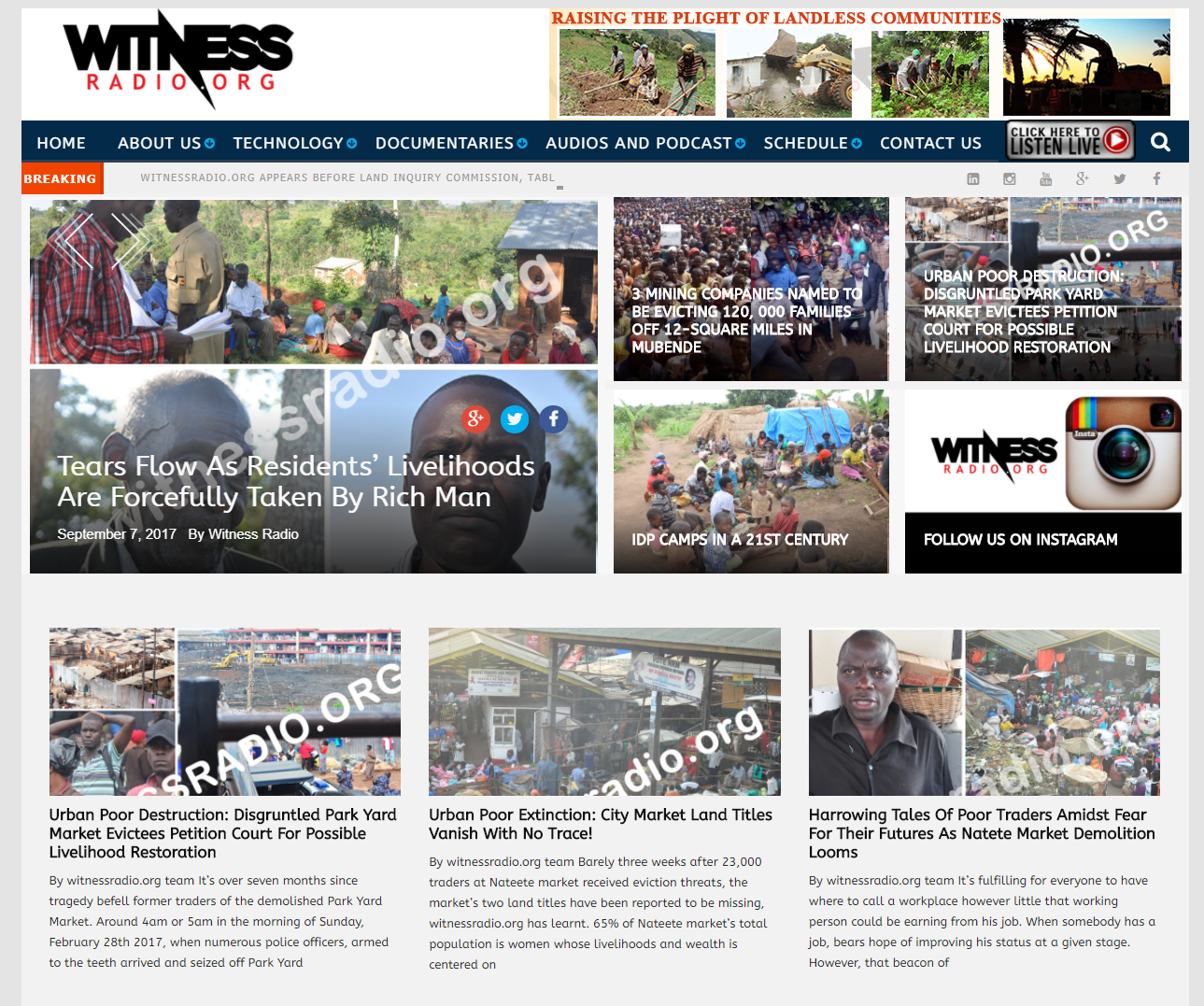 By witnessradio.org team
In an attempt to frustrate efforts to recover communities' land in Mubende district, a businessman Wilfred Bugingo has sued witnessradio.org for defamation.
During the last couple of months,witnessradio.org has been exposing individuals that have unlawfully evicting communities off their land and committed gross human rights abuses including petitioning the Land Inquiry Commission see; https://witnessradio.org/witnessradio-org-appears-before-land-inquiry-commission-tables-evidence-of-severe-torture-destruction-of-homes-and-loss-of-livelihoods-meted-against-poor-residents-in-mubende/
The businessmen are being assisted by police, army and Mubende District Land Board to forcefully evict and grab people's land. Bugingo plus four other businessmen have been accused of unlawful eviction of over 14,000 families off over 30 square miles of land. The victims of the affected communities either inherited from their grandparents or were born on the grabbed land.
Bugingo is being accused of grabbing two (2) square miles of land given to natives by government because they were part of West Mengo Growers Union's seven (7) square miles.
The land is found at Bunakabwa village, Kiteredde parish, Manyogaseka sub-county in Mubende district.
In civil suit No 415 of 2017 in the High Court at Kampala filed on 15th August 2017, Bugingo through his lawyers of Lwere, Lwanyaga & Company insists that he is the owner and registered proprietor of land comprised in freehold register volume HQT 177 Block 427 plot 380 at Lwensolo, ,Mubende district.
"Before the plaintiff acquired the certificate of title to the above said land, he occupied and utilized the same for animal, crop husbandry plus tree planting for a period over ten [10] years," Bugingo's law suit states in part.
Witnessradio.org, an independent and non-partisan organization working towards an equitable land management and advocating for indigenous people's land rights was sued along with Human Right Enforcement Foundation (HUREF).
After dismissing witnessradio.org facts contained in a memoranda before the Land Inquiry Commission as "unfounded allegations," Bugingo wants court to issue the following orders against the defendants;
General/ compensatory damages;
Exemplary or aggravated damages;
A permanent injunction to issue against the defendants restraining them from making any further statements defamatory of the plaintiff;
An order that the defendants cause the publication of an article apologizing to the plaintiff and retracting their defamatory statement and;
Costs of this suit
In its memoranda to the commission of inquiry, witnessradio.org reported that five community leaders; Crespo Buyondo, Abdullah Kasigire, Eldard Tamale, Godfrey Kanamugire and Everest Kibaya Ssekyondwa spent three years without trial before they were forced into a plea bargain on aggravated robbery offence to get an early release.
Despite their involuntary acceptance, leaders who were prosecuted and imprisoned for resisting illegal and forceful eviction, still insist that they never committed the offence but rather their arrest was intended to weaken and isolate communities in order for a powerful businessman Bugingo to grab their 2-square mile land.
In filing this suit against the victims' defenders, Bugingo, as many other economically powerful and politically connected individuals, seeks to use malicious-especially criminal defamation which has to this day remained on the law books perhaps to silence non-violent criticism and opposition to his brutal acts meted on the poor peasants in Mubende district.
Criminal defamation which Bugingo chose to persecute witnessradio.org for amplifying the voices of the vulnerable, is contrary to section 179 and 180(1) of the Penal Code Act and it can land you to prison, even if what was reported about is the truth.
Defamation remains a huge hindrance to media freedom as enshrined in the 1995 Constitution of the Republic of Uganda including article 29, which states that Every person shall have the right to— (a) freedom of speech and expression which shall include freedom of the press and other media;
The African Commission on Human and Peoples' Rights, in November 2010 passed a resolution stating that: "criminal defamation laws constitute a serious interference with freedom of expression and impedes on the role of the media as a watchdog, preventing journalists and media practitioners to practice their profession without fear and in good faith;" The Commission called upon State parties including Uganda, to repeal criminal defamation laws because they impede on freedom of speech.
In 2009, the United Kingdom abolished criminal defamation entirely from their legal books.
Statement: The Energy Sector Strategy 2024–2028 Must Mark the End of the EBRD's Support to Fossil Fuels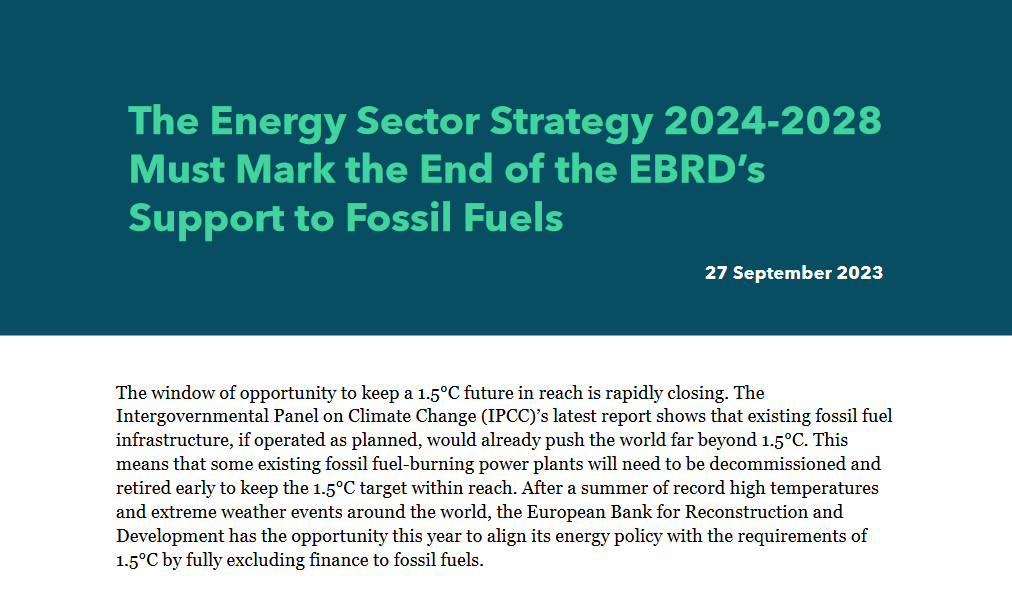 The European Bank for Reconstruction and Development (EBRD) is due to publish a new Energy Sector Strategy before the end of 2023. A total of 130 civil society organizations from over 40 countries have released a statement calling on the EBRD to end finance for all fossil fuels, including gas.
From 2018 to 2021, the EBRD invested EUR 2.9 billion in the fossil energy sector, with the majority of this support going to gas. This makes it the third biggest funder of fossil fuels among all multilateral development banks, behind the World Bank Group and the Islamic Development Bank.
The EBRD has already excluded coal and upstream oil and gas fields from its financing. The draft Energy Sector Strategy further excludes oil transportation and oil-fired electricity generation. However, the draft strategy would continue to allow some investment in new fossil gas pipelines and other transportation infrastructure, as well as gas power generation and heating.
In the statement, the civil society organizations point out that any new support to gas risks locking in outdated energy infrastructure in places that need investments in clean energy the most. At the same time, they highlight, ending support to fossil gas is necessary, not only for climate security, but also for ensuring energy security, since continued investment in gas exposes countries of operation to high and volatile energy prices that can have a severe impact on their ability to reach development targets. Moreover, they underscore that supporting new gas transportation infrastructure is not a solution to the current energy crisis, given that new infrastructure would not come online for several years, well after the crisis has passed.
The signatories of the statement call on the EBRD to amend the Energy Sector Strategy to
fully exclude new investments in midstream and downstream gas projects;
avoid loopholes involving the use of unproven or uneconomic technologies, as well as aspirational but meaningless mitigation measures such as "CCS-readiness"; and
strengthen the requirements for financial intermediaries where the intended nature of the sub-transactions is not known to exclude fossil fuel finance across the entire value chain.
Source: iisd.org
Download the statement: https://www.iisd.org/system/files/2023-09/ngo-statement-on-energy-sector-strategy-2024-2028.pdf
Complaint against unprofessional conduct of the DPC Kiryandongo district for aiding and abetting land grabbing in kiryandongo district.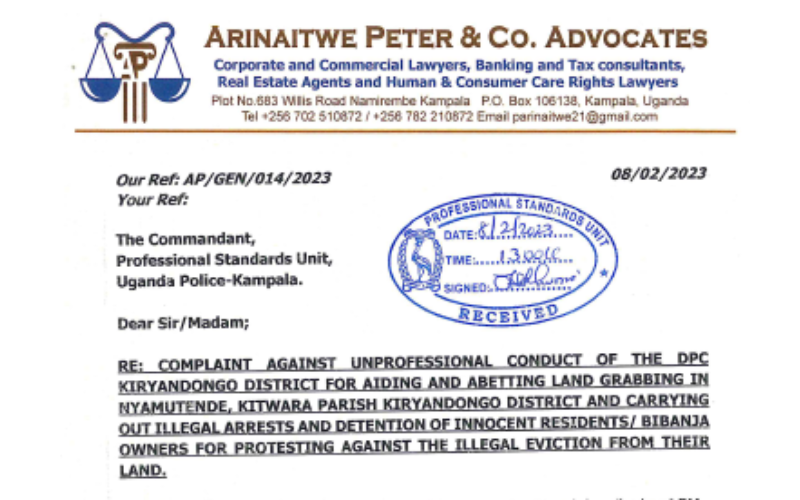 The Commandant,
Professional Standards Unit, Uganda Police-Kampala.
Dear Sir/Madam;
RE: COMPLAINT AGAINST UNPROFESSIONAL CONDUCT OF THE DPC KIRYANDONGO DISTRICT FOR AIDING AND ABETTING LAND GRABBING IN NYAMUTENDE KITWARA PARISH KIRYANDONGO DISTRICT AND CARRYING OUT ILLEGAL ARRESTS AND DETENTION OF INNOCENT RESIDENTS/ BIBANJA OWNERS FOR PROTESTING AGAINST THE ILLEGAL EVICTION FROM THEIR LAND.
We act for and behalf of the Lawful and bonafide occupants of Land described as LRV MAS 2 FOLIO 8 BLOCK 8 PLOT 22 (FORMERLY KNOWN AS RANCH 22).
Our Clients are residents of Nyamutende Village, Kitwara Parish in Kiryandongo District where they have lived for more than 30 years and sometime in 2017, they applied for a lease of the said Land to Kiryandongo District Land Board through the Directorate of Land Matters State House.
As they were still awaiting their Application to be processed, they were shocked to establish that the said land had been instead leased to and registered in the names of Isingoma Julius, Mwesige Simon, John Musokota William, Tumusiime Gerald, Wabwire Messener Gabriel, Ocema Richard and Wilson Shikhama, some of whom were not known to the Complainants. A copy of the Search is attached hereto
Our clients protested the above action and appealed to relevant offices, but were shocked to discover that the above persons had gone ahead and sold the same to a one Maseruka Robert.
Aggrieved by these actions, the Complainants appealed to the RDC who advised them to institute proceedings against the said persons, and assigned them a one Mbabazi Samuel to assist them to that effect. The said Mbabazi accordingly filed Civil Suit Noa 46 of 2019 against tne said registered proprietors at Masindi High Court challenging the illegal and fraudulent registration, sale and transfer of the subject land to Maseruka Robert.
While awaiting the progress of the case mentioned hereinabove, the Complainants were surprised to find that the said Mbabazi, instead of assisting them, he went into a consent settling the said suit on their behalf without their knowledge or consent. A copy of the Consent is attached hereto.
Among the terms of the said consent Judgment was that the residents would be compensated without specifying how much and would in return vacate the Land.
As if that was not enough, Maseruka Robert and Mbabazi Samuel are going ahead to execute the said Consent Judgment by forcefully evicting the occupants without compensation which has prompted the complainants to challenge the said Consent by applying for its review and setting aside at Masindi High Court which is coming up for hearing on the 29th March 2023. A copy of the Application is attached hereto.
Sensing the imminent threat of eviction, we also filed an application for interim stay of execution of the said consent to avoid rendering their application for review nugatory but unfortunately the same could not be heard on the date it was fixed for hearing (6th February 2023). A copy of the Application is attached hereto
On Thursday last week, three tractors being operated by 6 workers of a one Mbabazi Samuel [the very person who had been entrusted to represent our Clients to secure their Land through Civil Suit No.46 of 2019] encroached close to 50 acres of our Clients' land and started ploughing it but our Client's protested and chased them away.
We have however been shocked to receive information from our Clients that on Sunday at Mid night, 3 police patrols invaded the community in the night and arrested community members; Mulenje Jack, Steven Kagyenji, Mulekwa David, Ntambala Geoffrey, Tumukunde Isaac 15 years, Kanunu Innocent, Mukombozi Frank, Kuzara, Rwamunyankole Enock, and took them to Kiryandongo Police Station where they are currently detained.
We strongly protest the illegal arrests and detention of our Clients as this is a carefully orchestrated land grabbing scheme by Maseruka Robert and Mbabazi Samuel who are  receiving support from the DPC Kiryandongo.
The purpose of this Letter therefore is to request your good office to investigate the misconduct, abuse of office and unprofessionalism of the said DPC Kiryandongo District and all his involvement in the land grabbing schemes on land formerly known as Ranch 22.
Looking forward to your urgent intervention,
C.C The Head Police Land Protection Unit Police Head Quarters Naguru
CC The RDC Kiryandongo District
CC The Chairman LCVKityadongo District
CC The Regional Police CommanderAlbertine Region
The Executive Director of Witness Radio Uganda talks about the role played by Witness Radio in protecting communities affected by large-scale agribusinesses in Kiryandongo district in an interview with the ILC.