Privacy Vs Free Expression: Global News Media Implications Of The EU'S General Data Protection Regulation (GDPR)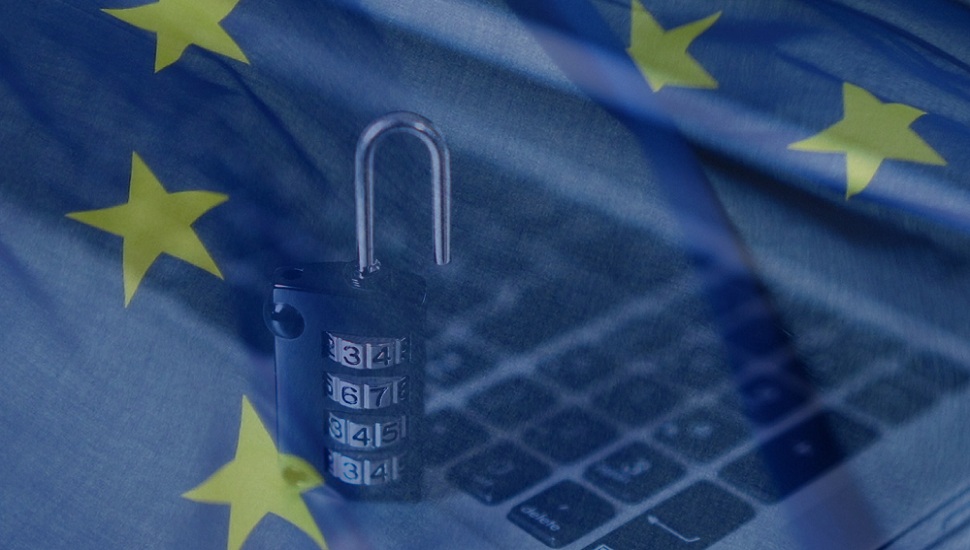 By Ayden Férdeline
Personal data privacy, or the general lack thereof online, has garnered a considerable amount of attention in the past month, especially in the wake of the Facebook-Cambridge Analytica controversy. The European Union's new General Data Protection Regulation (GDPR), which will take effect on May 25 after having been a decade in the making, will fundamentally change how personal data can be collected and processed. Some have even held up this new European privacy regulation as a potential remedyfor corporate neglect of individual privacy. Without a doubt, the impact of this extraordinary revision to European privacy law will be felt by journalists and publishers both inside and outside of Europe as they negotiate news standards that affect how they handle personal information.
The GDPR is playing a decisive role in the ongoing harmonization of global privacy standards by the large tech platforms. This is because the Council of the European Union has advised the European Commission that it cannot negotiate away privacy rights in trade agreements, and so a need to comply with the GDPR in order to do business in Europe will likely incentivize businesses to adopt higher privacy and data protection standards for their entire operations worldwide.
The reach of the GDPR is broad. It applies to all sectors which collect or process the data of people ordinarily resident in the European Union, including the news media. Unusually, its scope is extraterritorial, meaning that it applies irrespective of whether the "data controller" is based in a European Union member state or another country altogether. The data controller is the entity legally responsible and subject to enforcement action. For staff reporters, for example, the data controller would be the media outlet employing them. However, freelance journalists or citizen journalists would be seen as either sole or joint data controllers. The distinction between sole or joint controller is not too important, because in either case, the freelancer would personally absorb the liability for complying with the GDPR.
In order to understand why this is the case, it is helpful to explore the key principles contained within the GDPR. The GDPR applies whenever a journalist (or other entity) collects or publishes information about a living person. The GDPR holds that data subjects are entitled to control over their personal data, that data controllers must be held accountable for their actions, and it says that privacy must be the default setting.
These principles will not, for the most part, present a burden to journalists. If you are honest and transparent with a source and they are aware they are being interviewed on-the-record and disclosing information for publication, you will have met the criteria for consent.
Reassuringly, however, there are some exemptions within the GDPR for the production and publication of legitimate journalistic work where obtaining consent would not be practical. However, this exemption is only for journalists and not for media outlets in general, so the "business side" of a publication must always comply with the GDPR. One lawful condition for the collection and publication of personal data without consent is where the legitimate interests of another party override those of the individual. What this means is vague, but essentially it is saying, the burden is on a journalist to determine that the public interest in collecting and processing personal data outweighs the rights of the individual to privacy.
How such a balancing test should be performed in practice is up to the media outlet, but in keeping with the GDPR's principles, it would seem there should be consideration as to the potential harm that publication could cause to the data subject. Journalists should also consider whether or not the story could be reported in a less intrusive manner.
It is not enough to merely comply with the GDPR. Data controllers must be able to verifiably demonstrate their compliance with the regulation. The supervisory authorities tasked with enforcing the GDPR have the right to obtain a data controller's internal operating procedures for processing and safeguarding personal data. Given this, it would be advisable for publications to have clear, documented policies as to editorial flows and who should sign off on what kinds of stories prior to publication. This audit trail is very important, especially for stories which could be seen as very intrusive and which do not concern public figures. Another good practice would be to ensure journalists undergo basic data protection awareness training, so that publications can demonstrate to supervisory authorities that their personnel can distinguish between personal, sensitive, and non-personal data.
The GDPR requires that personal and sensitive information be kept secure. Journalists must take reasonable steps to prevent their notes and research materials from being lost or stolen. You should be careful when out in public as to whether prying eyes could read your laptop screen or steal data over the Wi-Fi network. A good practice would be to encrypt information and to set up your devices so that they can be remotely wiped, if lost or stolen.
There is a perception that the GDPR is a heavy-handed regulation that is difficult to comply with, and while this is true for some industries and business functions, it should not cause consternation for journalists. Many provisions within the GDPR that have generated headlines are misunderstood and instead constitute best practices in information security. Lawmakers have carved out many safeguards for the exercise of freedom of expression, including within the right to erasure (also known as the 'right to be forgotten'). This right is not absolute and only applies in certain circumstances. Another provision, that data "must be accurate," merely indicates that if an individual disputes the accuracy of information concerning them within a story, the data controller should verify their records and, if necessary, affix a correction to the online archives.
The tussle between the right to privacy and the right to freedom of expression is not new, and not easily resolved, because both are equally fundamental, but the GDPR tries to strike an appropriate balance between the two. The GDPR's fundamental principles of accuracy, security, fairness, and respect for the rights of the individual whose data is being processed are about building trust. In an age where trust in our institutions, and in the media, is on the decline, the GDPR should be seen as an opportunity to institutionalize respect for getting things right – developing practices for handling information securely, keeping the identities of sources safe and confidential, and upholding your reputation. There will be challenges ahead, but there is real value to be derived from the GDPR too.
Extracted from CIMA
…
Statement: The Energy Sector Strategy 2024–2028 Must Mark the End of the EBRD's Support to Fossil Fuels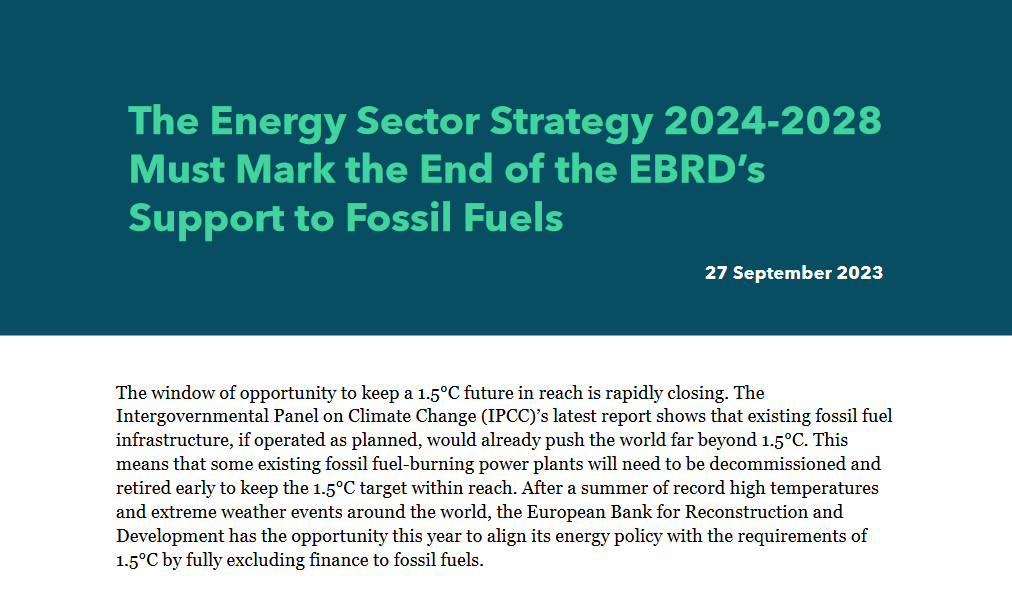 The European Bank for Reconstruction and Development (EBRD) is due to publish a new Energy Sector Strategy before the end of 2023. A total of 130 civil society organizations from over 40 countries have released a statement calling on the EBRD to end finance for all fossil fuels, including gas.
From 2018 to 2021, the EBRD invested EUR 2.9 billion in the fossil energy sector, with the majority of this support going to gas. This makes it the third biggest funder of fossil fuels among all multilateral development banks, behind the World Bank Group and the Islamic Development Bank.
The EBRD has already excluded coal and upstream oil and gas fields from its financing. The draft Energy Sector Strategy further excludes oil transportation and oil-fired electricity generation. However, the draft strategy would continue to allow some investment in new fossil gas pipelines and other transportation infrastructure, as well as gas power generation and heating.
In the statement, the civil society organizations point out that any new support to gas risks locking in outdated energy infrastructure in places that need investments in clean energy the most. At the same time, they highlight, ending support to fossil gas is necessary, not only for climate security, but also for ensuring energy security, since continued investment in gas exposes countries of operation to high and volatile energy prices that can have a severe impact on their ability to reach development targets. Moreover, they underscore that supporting new gas transportation infrastructure is not a solution to the current energy crisis, given that new infrastructure would not come online for several years, well after the crisis has passed.
The signatories of the statement call on the EBRD to amend the Energy Sector Strategy to
fully exclude new investments in midstream and downstream gas projects;
avoid loopholes involving the use of unproven or uneconomic technologies, as well as aspirational but meaningless mitigation measures such as "CCS-readiness"; and
strengthen the requirements for financial intermediaries where the intended nature of the sub-transactions is not known to exclude fossil fuel finance across the entire value chain.
Source: iisd.org
Download the statement: https://www.iisd.org/system/files/2023-09/ngo-statement-on-energy-sector-strategy-2024-2028.pdf
Complaint against unprofessional conduct of the DPC Kiryandongo district for aiding and abetting land grabbing in kiryandongo district.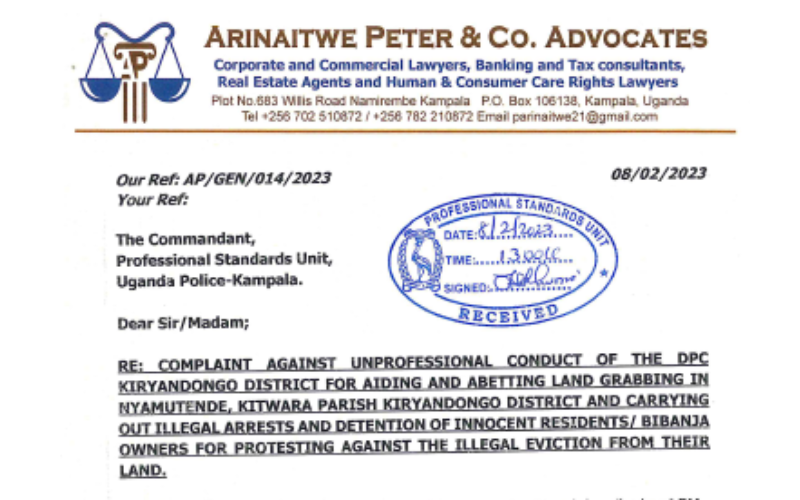 The Commandant,
Professional Standards Unit, Uganda Police-Kampala.
Dear Sir/Madam;
RE: COMPLAINT AGAINST UNPROFESSIONAL CONDUCT OF THE DPC KIRYANDONGO DISTRICT FOR AIDING AND ABETTING LAND GRABBING IN NYAMUTENDE KITWARA PARISH KIRYANDONGO DISTRICT AND CARRYING OUT ILLEGAL ARRESTS AND DETENTION OF INNOCENT RESIDENTS/ BIBANJA OWNERS FOR PROTESTING AGAINST THE ILLEGAL EVICTION FROM THEIR LAND.
We act for and behalf of the Lawful and bonafide occupants of Land described as LRV MAS 2 FOLIO 8 BLOCK 8 PLOT 22 (FORMERLY KNOWN AS RANCH 22).
Our Clients are residents of Nyamutende Village, Kitwara Parish in Kiryandongo District where they have lived for more than 30 years and sometime in 2017, they applied for a lease of the said Land to Kiryandongo District Land Board through the Directorate of Land Matters State House.
As they were still awaiting their Application to be processed, they were shocked to establish that the said land had been instead leased to and registered in the names of Isingoma Julius, Mwesige Simon, John Musokota William, Tumusiime Gerald, Wabwire Messener Gabriel, Ocema Richard and Wilson Shikhama, some of whom were not known to the Complainants. A copy of the Search is attached hereto
Our clients protested the above action and appealed to relevant offices, but were shocked to discover that the above persons had gone ahead and sold the same to a one Maseruka Robert.
Aggrieved by these actions, the Complainants appealed to the RDC who advised them to institute proceedings against the said persons, and assigned them a one Mbabazi Samuel to assist them to that effect. The said Mbabazi accordingly filed Civil Suit Noa 46 of 2019 against tne said registered proprietors at Masindi High Court challenging the illegal and fraudulent registration, sale and transfer of the subject land to Maseruka Robert.
While awaiting the progress of the case mentioned hereinabove, the Complainants were surprised to find that the said Mbabazi, instead of assisting them, he went into a consent settling the said suit on their behalf without their knowledge or consent. A copy of the Consent is attached hereto.
Among the terms of the said consent Judgment was that the residents would be compensated without specifying how much and would in return vacate the Land.
As if that was not enough, Maseruka Robert and Mbabazi Samuel are going ahead to execute the said Consent Judgment by forcefully evicting the occupants without compensation which has prompted the complainants to challenge the said Consent by applying for its review and setting aside at Masindi High Court which is coming up for hearing on the 29th March 2023. A copy of the Application is attached hereto.
Sensing the imminent threat of eviction, we also filed an application for interim stay of execution of the said consent to avoid rendering their application for review nugatory but unfortunately the same could not be heard on the date it was fixed for hearing (6th February 2023). A copy of the Application is attached hereto
On Thursday last week, three tractors being operated by 6 workers of a one Mbabazi Samuel [the very person who had been entrusted to represent our Clients to secure their Land through Civil Suit No.46 of 2019] encroached close to 50 acres of our Clients' land and started ploughing it but our Client's protested and chased them away.
We have however been shocked to receive information from our Clients that on Sunday at Mid night, 3 police patrols invaded the community in the night and arrested community members; Mulenje Jack, Steven Kagyenji, Mulekwa David, Ntambala Geoffrey, Tumukunde Isaac 15 years, Kanunu Innocent, Mukombozi Frank, Kuzara, Rwamunyankole Enock, and took them to Kiryandongo Police Station where they are currently detained.
We strongly protest the illegal arrests and detention of our Clients as this is a carefully orchestrated land grabbing scheme by Maseruka Robert and Mbabazi Samuel who are  receiving support from the DPC Kiryandongo.
The purpose of this Letter therefore is to request your good office to investigate the misconduct, abuse of office and unprofessionalism of the said DPC Kiryandongo District and all his involvement in the land grabbing schemes on land formerly known as Ranch 22.
Looking forward to your urgent intervention,
C.C The Head Police Land Protection Unit Police Head Quarters Naguru
CC The RDC Kiryandongo District
CC The Chairman LCVKityadongo District
CC The Regional Police CommanderAlbertine Region
The Executive Director of Witness Radio Uganda talks about the role played by Witness Radio in protecting communities affected by large-scale agribusinesses in Kiryandongo district in an interview with the ILC.