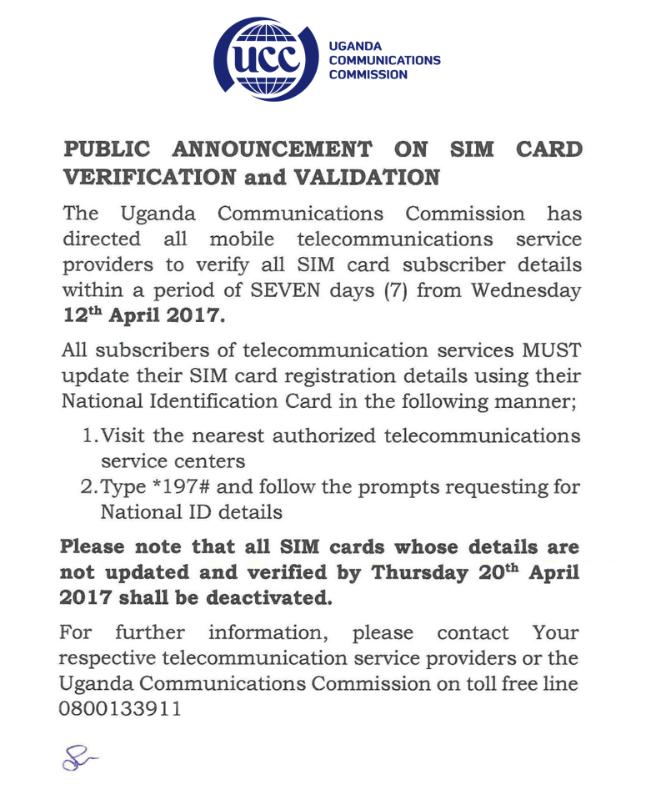 Human rights activists have received with great skepticism an agreement by Government through its line agencies to implement a sarcastic decision to allow private and foreign telecom companies access to National Identification data without an enabling law.
Last Month, a meeting between telecom companies and line government agencies; the Uganda Communications Commission (UCC) which is the telecom regulator, Security and National Identification and Registration Authority (NIRA) which is by law the custodian of the national ID data, hinted on a decision to surrender citizenry ID database ostensibly to validate and ascertain true Sim card ownership.
Despite concerns by rights defenders and citizens themselves regarding the privacy and depriving citizens of freedom to communicate anonymously, Godfrey Mutabaazi, the UCC chief alongside General Kale Kayihura, the Inspector General of Police disregarded the concerns and went ahead to implement the decision that saw telecoms access citizens data.
Secondly, the 'powerful' government chiefs went ahead to dictate a seven-day ultimatum for all Sim Card users to update and verify particulars of their cards short of it, the defiant citizens' Sim cards would be deactivated.
"…please note that all SIM cards whose details are not updated and verified by 20th April 2017 shall be deactivated," said UCC's brief statement issued on 11 April 2017.
Jeff Wokulira Ssebaggala, the Chief Executive Officer of Unwanted Witness-Uganda, a digital rights non-government organization however, insists that the exercise is prone to "misuse" or "abuse."
"The Unwanted Witness is concerned about this exercise as we have recorded data misuse/abuse pattern in Uganda and threatens the right to privacy," Ssebaggala noted.
He added that "we also fear that handling of data without a clear protection framework will have a direct bearing on the work of Human Rights Defenders including journalists whose work rotates around sensitive information and sources and political activists among others."
Unwanted Witness therefore, wants the exercise to be halted amid calling on Parliament to expeditiously pass the shelved Privacy and Data Protection Bill, 2015 to protect citizens' personal information which he contends that is being targeted by security agencies and regulatory bodies.
To update their particulars of the Sim cards, citizens were ordered to use their national IDs or Passports, thus raising activists' eyebrows.