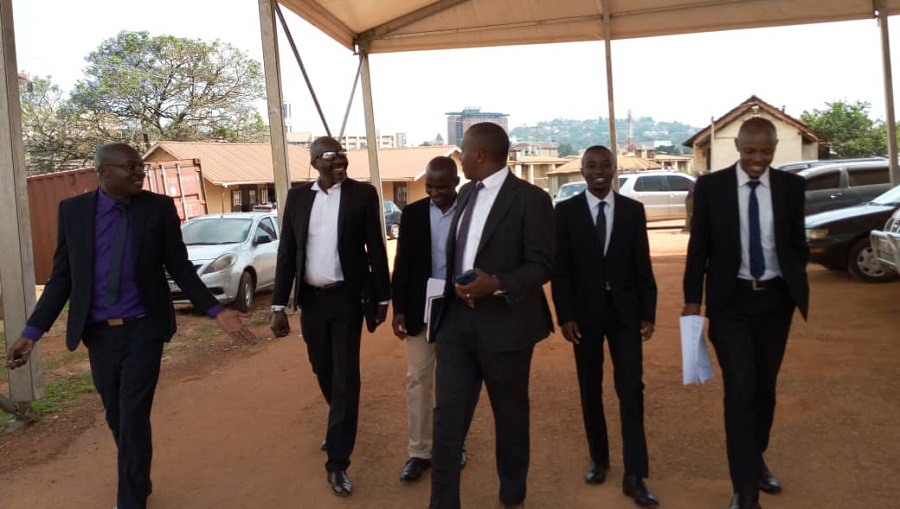 A team of lawyers representing Attorney Eron Kiiza.
By witnessradio.org Team
Kampala/Mubende – The Criminal Investigations Department (CID) of Uganda police has so far developed a cold foot when tasked to disclose a complainant in the libel case it has instituted against Attorney Kiiza Eron.  The lawyer is currently representing over 3000 inhabitants who were forcefully if not violently evicted from their land covering five villages in Mubende municipality- Mubende district.
Kiiza's clients lost their livelihoods to one George Kaweesi and his hoodlums who were being protected by the Mubende police.  The land they lost to Kaweesi was the second to be lost by these victims. In 2001, they lost a huge chunk of land to Kaweeri Coffee Plantation limited owned by Neumann Coffee Group based in German.
Ever since Kiiza and his legal team got instructions to represent vulnerable communities he as received numerous threats.  Ironically, the first threat came from the president of Uganda Law Society, Simon Peter Kinobe, a person who was expected to defend him. Kinobe took exception to Kizza's Facebook posts in which he was demanding Justice Joseph Murangira who is presiding over the case to rescues himself from the case citing bias.  Kinobe ordered the indefatigable Kiiza to pull down his contentious Facebook posts.
Today, Kiiza was supposed to report before the Media Crimes department, which is part of CID at 10:00hrs. However, Kiiza wrote to the head of CID protesting the vagueness of the summons which were concealing vital information blocking his right to know. "I am wondering why I should appear before the police. Am I a suspect, witness or otherwise…" Kiiza questioned in his letter dated September 18, 2019.  The summons for Kiiza to appear before police were issued on September 13, 2019, and signed by one Paul Katto Tumuhimbise on behalf of the Director of Criminal Investigations.
Appearing on behalf of Eron Kiiza before Media Crimes department, a group of lawyers led by Daniel Walyemera pointed out that legally their client has a right to know his complainant(s) and other important details.  The police officers, it appears, had no ready answers. Later, Police said, they will respond to Kiiza's letter on notice.
Noteworthy,  earlier this year,  the Constitutional Court led by Deputy Chief Justice Alfonse Owiny-Dollo,  struck out sections of the Police Act that require suspects to provide evidence to police during questioning.
In an April 18 unanimous decision, the judges also said a penalty provided in the Police Act against suspects who fail to honour summonses or produce documents required by interrogators is unconstitutional.