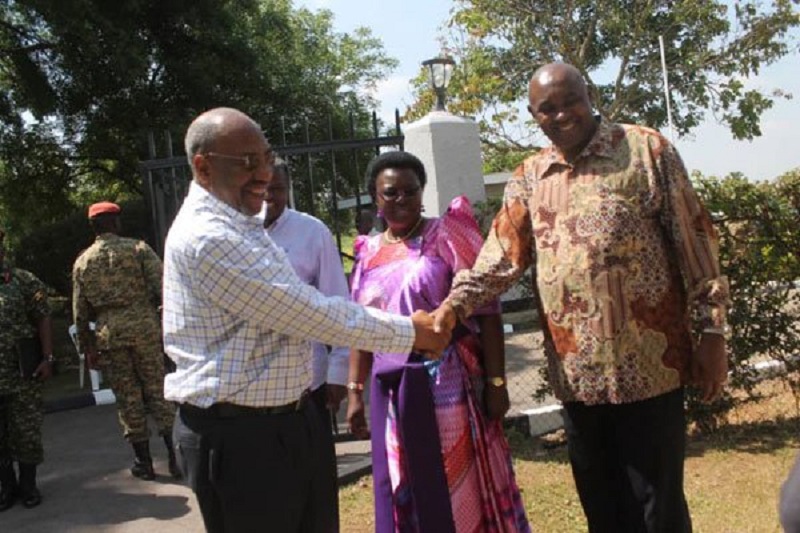 Prime Minister Dr Ruhakana Rugunda greets Chris Baryomunsi who represented the Lands minister Betty Amongi at Gulu state lodge on December 7. Looking on is Ms Grace Kwiyucwiny, Northen Uganda State Minister. PHOTO BY STEPHEN OKELLO 
GULU. An eight-member team from both Acholi region and Adjumani District are today holding the final negotiation meeting to seek an end to the Apaa land conflict.
The third formal negotiation meeting is being chaired by the Prime Minister Dr Ruhakana Rugunda at Gulu State Lodge in Gulu Municipality.
The meeting is an initiative by president Museveni who in August this year called for formation of an eight-member team from both Acholi Region and Adjumani District chaired by Dr Rugunda to discuss his three key recommendations on solving Apaa land disputes.
The recommendations include relocating the settlers to Acholi area and be supported and compensated by government. Others are allowing genuine land owners settle on the land but are restricted from expanding to gazette areas and offering a portion of land nearer the population area in Adjumani Town which is outside gazetted land.
Cross roads
However, in two subsequent negotiation meetings held on 6th and 20th September, both the Acholi and Adjumani teams failed to come up with a harmonized position on the recommendations given by president Museveni.
Whereas the Acholi team have endorsed that government allows genuine land owners to continue settling in Apaa and called for degazettement of the contested land, their counterparts from Adjumani have chosen a total relocation of the locals saying the locals are settling in a gazetted wildlife reserve.
In his opening remarks at the negotiation meeting, Dr Rugunda said he is optimistic that the meeting will yield fruits to end contention over Apaa land.
"The view of the government is that we have now reached final stages of consultation. The two teams have been thorough and candid in expressing their views and we are now in the final stages of harmonizing and building consensus, we are very confident that a way forward is very close," Dr Rugunda said.
He said the outcome of the Friday meeting will be presented to the government delegation who will present a report to the President.
The Prime Minister is expected to deliver final positions of both teams this afternoon in a press briefing at 4th division barracks.
Government officials in attendance are Internal Affairs State Minister Kania Obiga, Northern Uganda State Minister Grace Kwiyucwiny and Chris Baryomunsi who represented the Lands Minister Betty Amongi.
The Technical officials included NFA executive Director Tom Okello Obong, Lilian Aber, the National Youth Council Chairperson and Charles Tumwesigye from UWA.
The Acholi committee is comprised of Kilak North Mp Anthony Akol, former East African Legislative Assembly Speaker Dan Kidega, Walter Okidi Ladwar, Gladys Oyat, Mathew Okello and Amuru district chairperson Michael Lakony.
The Adjumani delegation was composed of the First Deputy Prime Minister Gen Moses Ali, Surubaru Simon, Dr Robert Esurukuri, Sr Dominic Dipio, Adjumani district LCV James Leku, Lawrence Aguti and Moses Kibrai.
-Daily Monitor