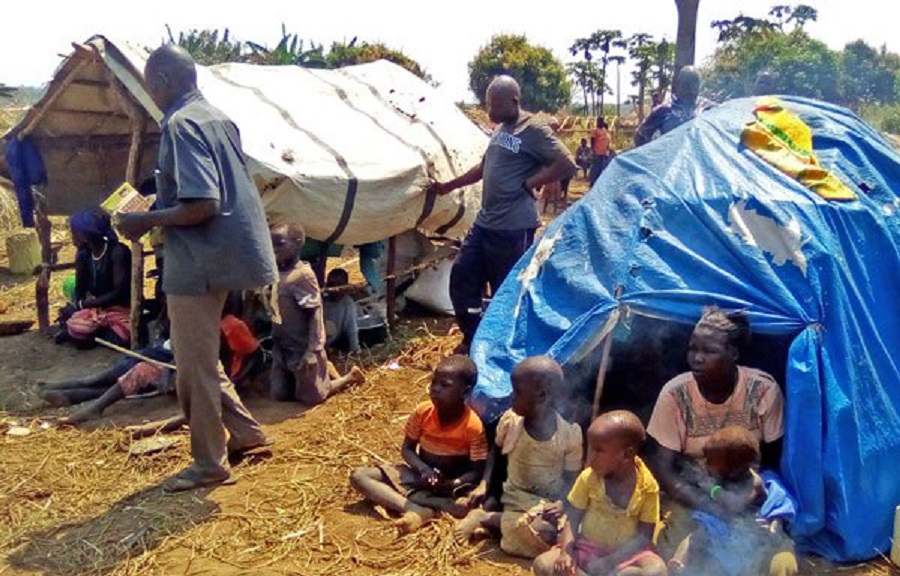 Stranded. Locals camp at Juka Trading Centre after being attacked from the villages of Goro B and Juka in Apaa Parish on Wednesday. PHOTO BY TOBBIAS OWINY
AMURU/ADJUMANI. The 10 people reportedly kidnapped by unknown men armed with bows and arrows from the disputed Apaa land are reportedly being held at Openzinzi Government Prison in Adjumani District.
Sunday Monitor has established that the locals were kidnapped during renewed fights over the contested 40-square kilometre piece of land last week in Juka B Village and taken to Openzinzi in Ukisijoni Sub-county, Adjumani.
Those reportedly kidnapped were named as Justine Owor, Richard Ojok, Geoffrey Otukwo, Godfrey Akena, Michael Ojara, Alfred Kilara, Okot Labalpiny, Walter Komakech and Benson Okot.
This newspaper has also established that upon being kidnapped, the locals were first transported to Adjumani Central Police Station before being sent to the prison.
But the police authorities at Adjumani Central Police Station have denied any knowledge of those said to have been kidnapped.
However, a prison staff at Openzinzi, who on Friday declined to be named, confirmed the prison is holding those said to have been kidnapped and matched their names with their places of residence.
He did not say whether the inmates were already convicted or are only there on remand.
He identified those being held in the prison as Justine Owor, Richard Ojok, Godfrey Akena, Michael Ojara, Alfred Kilara, Okot Labalpiny and Walter Komakech.
Mr David Ayella 35, one of the kidnapped residents of Juka B and was released from Openzinzi prison last week, said they were taken hostage by men armed with bows, arrows and machete while on their way to their banana plantation.
He said the men ordered him and his three colleagues to surrender everything in their possession before they were tied with ropes.
They were later charged at Adjumani Magistrates Court in Aulogo II Headquarters and remanded to Openzinzi prison on charges of theft and robbery, which they did not commit. Mr Ayella said he regained his freedom after his relatives paid Shs500,000 cash bail at the Adjumani magistrate's court.
A total of 48 huts were burnt in the attack reportedly carried by armed men from Adjumani.