Rights activists task UN on Apaa land evictees' plight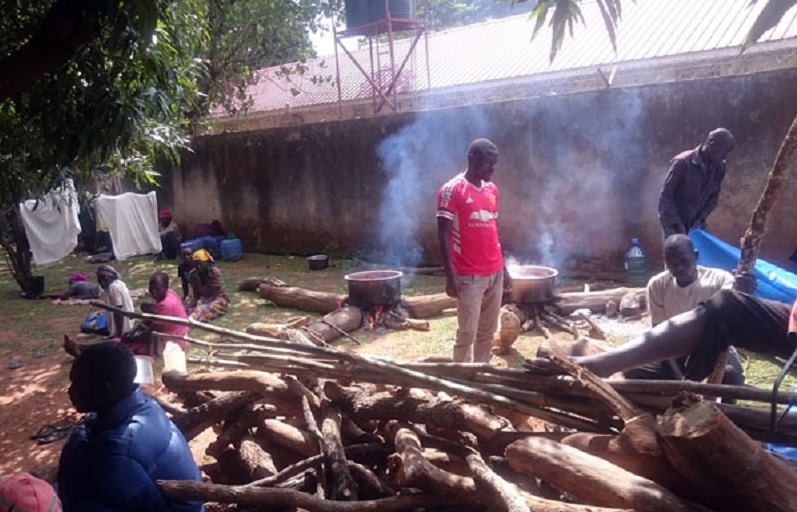 Protest. Some of the residents of Apaa Village in Mungula Parish, Itirikwa Sub-county, Adjumani District pitch camp at the Office of the High Commissioner for Human Rights in Gulu Municipality on Monday. ACTIONAID PHOTO  
GULU. An alliance of civil society organisations have piled pressure on the United Nations (UN) officials and the government to respond to the plight of the Apaa land evictees, who have camped at the Office of the High Commissioner for Human Rights in Gulu Municipality.
More than 200 residents of Apaa village in Mungula Parish, Itirikwa Sub-county, Adjumani District, have pitched camp at the UN compound since July 11, protesting ongoing evictions by government security forces.
The residents demand that the UN human rights body intervenes and stop government security agencies from forcefully evicting them from the contentious land.
But for more than two weeks since they camped at the UN compounds, the residents have not got any feedback from the UN officials on their demand.
Mr Francis Odongyoo, the executive director of Human Rights Focus, while addressing journalists in Gulu Town on Tuesday, said the residents had failed to get justice from government and their camping at the UN offices should have been responded to.
"It is now 13 days since the residents of Apaa have been seeking an answer from the UN on their plight but no response has been made. As CSOs, we feel the displaced locals should get fair justice from the UN on the matters they presented," Mr Odongyoo said.
He noted that despite the residents calling for a halt in the evictions, the government forces comprising of the UPDF and Uganda Wildlife Authority rangers are continuing to torch huts and displace those settled on the disputed land.
According to Mr Odongyoo, investigations carried by CSOs indicate a total of 844 huts were destroyed and more than 2,700 people have since been displaced in the forceful evictions that began early this year.
Mr David Moses Okello, the local rights programme cluster coordinator at Action Aid, noted that government should address the plight of the locals whose lives are being torn apart by the forceful evictions.
According to Mr Okello, CSOs are firmly behind the locals' occupation of the UN offices until they get justice.
In a joint communiqué read by Mr Geoffrey Okello, the coordinator NGO Forum, the CSOs condemned the abuses being committed in Apaa since 2011, including "mass destruction of property, torture, extrajudicial arrests, murders and attempts to seize land".
They also called on government to publicly guarantee the security of the Apaa community from further attacks, ensure removal of road blocks and intimidating security forces and invest in durable solutions, including degazetting the Apaa land.
When contacted on the issue yesterday, Gulu Resident District Commissioner, Maj Santos Okot Lapolo, said the locals had chosen to "embarrass" the government by camping at the UN offices even when President Museveni promised to visit them.
"As government, we cannot issue any statement concerning the plight of people who came without our notice and camped at the UN offices. Let them get the help they want from there, President Museveni has promised to meet them from Apaa, not the UN offices," he said.
When this reporter tried to access the UN offices to get a comment from the officials, he was denied access by the police at the gate, claiming journalists are not allowed in the premises.
Background
Apaa land, measuring approximately 40 square kilometres, is at the centre of dispute between residents and leaders in Amuru and Adjumani districts.
Uganda Wildlife Authority and National Forestry Authority [UWA] claim the land is a protected East Madi Wildlife game reserve and Zoka Central Forest, respectively.
Source: Daily Monitor
2,000 Karimojong flee to Teso in search for food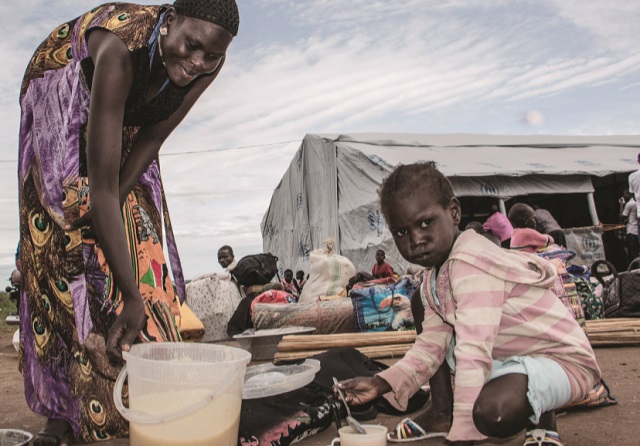 Kampala, Uganda | Several families in Napak district in the Karamoja sub-region have fled their homes into the Teso region to search for casual jobs. This follows the current food shortage which is hitting the region.
Joseph Lomonyang the Napak LC V chairperson says that over 2,000 people mainly from six sub-counties of Matany, Lopei, Lokopo, Lorengechora, Iriiri and Apeitolim have crossed to the neighbouring  Teso districts of Amuria, Katakwi, Kapelebyong and Soroti looking for food.
According to Lomonyang, the number of people to flee the district is most likely to go higher given the current hunger situation.
"Last year, very many people planted crops but all the crops got destroyed by floods making our people vulnerable," he said.
Elijah Lobucel, the Lokopo sub-county chairperson said everyday mothers and their children walk while those who can afford the costs pay for transport to Teso.
"What we are advising them is not to go to Kampala streets, but if its going to Teso for work to get food it is not bad since the Itesot are brothers and sisters under Ateker cluster," he said.
Jimmy Tebenyang, the district councillor for Ngoleriet sub-county in Napak district said many children were getting emaciated as a result of lack of enough food.
"There are families where you find children yawning from morning to evening without eating anything and that is why we are calling the government to come to the rescue of people," he said.
Robert Okitoi, the LC V chairperson Amuria confirmed the presence of Karamoja families in the district and urged the Itesot families to treat the Karimojong as their brothers and sisters.
He also appealed to other district leaders in the Teso region to receive the people of Karamoja with a good heart and share the little they have.
"This is the situation that requires to share, I call upon the people of Amuria and Teso at large that not all the Karimojong are bad people, those who are bad disturbing to raid people of Teso are few and so we should not victimise every one because the law will deal with those raiding but let's support the Karimojong families," he said.
******
Source: THE INDEPENDENT 
A local businessman embroiled in land-grab scandals, is in a new case of illegal land eviction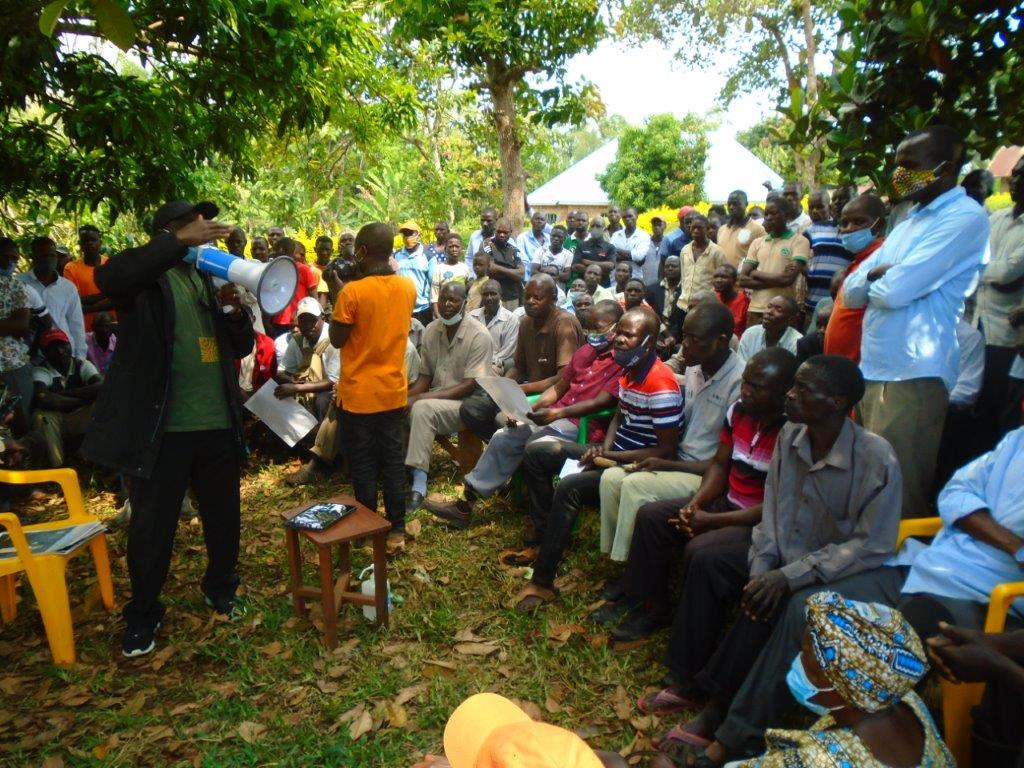 By witnessradio.org Team
Hoima – Uganda – Hoima – Uganda – at least six villages in the Hoima district are on the verge of being grabbed from native communities that have derived their livelihood from the targeted land for decades. The land in contention accommodates more than 10,000 residents.
The affected families are from Kigomba, Kyamucumba, Kalyambuzi, Kyataruga, Kamugembe 1 and 2 villages in Kigorobya Sub County in Hoima district.
Residents accuse a prominent businessman Edgar Agaba of illegally acquiring a title measuring about 438 hectares on which the six villages sit.
The affected learned Agaba's move when the leadership of Kamugembe Church of Uganda, which also seats on the land wanted to title its land.
According to one of the church leaders who preferred anonymity, the Bunyoro – Kitala diocese suggested that all churches in the dioceses should have titles in order to secure their land, however, we were surprised to see the land we have occupied for decades titled in someone else's names.
"It's the district land board that halted our work of registering our land on a condition that we cannot obtain another title on the same land," a source added.
The source also revealed that all developments on the church land have been halted due to fear of eviction.
"We are in fear, stranded and we don't even know what is next. That rich man 2 years back evicted our neighboring communities forcefully, and now he is back for us", says a 68 year old Yedida Nyamwabura a resident of Kamugembe II
Nyamwabura who has been on her 6 acres since her birth calls for help from well-wishers to halt the move.
"We shall have to defend our land, we cannot allow him to evict us, though we are experiencing sleepless nights we know we shall succeed," says Christopher Kirisi, a 60 years old resident from Kigomba village in an exclusive interview.
In an interview with the vice chairperson of Kamugembe II LC I, Mr. Tibananuka Johnson, he refers a move as a tactic by Mr. Agaba to evict the villages.
"Agaba claims his surveyors surveyed a different chunk of land, but how comes he is not aware, we imagine if the church had not started a move, it would have remained in silence," added Mr. Tibananuka.
In our interview with Mr. Agaba, he denied the allegations
"I am not aware of what you are talking about, it seems my surveyors made a mistake" he added.
Mr Agaba has been implicated in several forceful and brutal land evictions in areas of hoima, In February 2019, Agaba with the help of the army and the police, forcefully evicted over 500 families off their 485 acres of land from residents of Kyabisagazi 1 and Kyabisagazi 2 villages in Kyabisagazi parish in Kigorobya Sub County. In the brutal eviction four toddlers were reported dead and others with severe injuries.
The toddlers were identified as Samuel Owuuchi, Stephen Ondizi, Rogers Jalwing and Samuel Awungi.
Biden lists US plans for Africa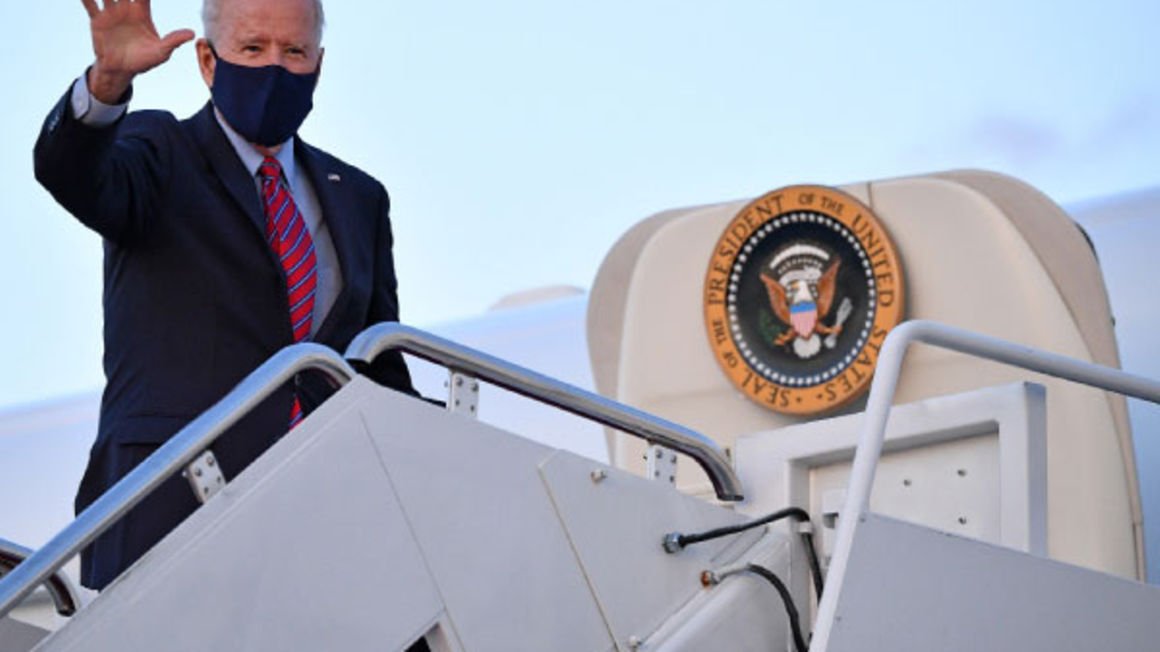 US President Joe Biden waves as he boards Air Force One before departing from Andrews Air Force Base in Maryland on February 5. Mr Biden sent a video message to the African Union leaders last Friday. PHOTO/AFP
The United States President, Mr Joe Biden, has spotlighted promoting democracy and human rights, peace and security, trade and investment as his administration's priorities in Africa.
"… the United States stands ready now to be your partner, in solidarity, support, and mutual respect.  We believe in the nations of Africa, in the
continent-wide spirit of entrepreneurship and innovation," Mr Biden said in advance remarks to the 34th African Union (AU) summit released last Friday.
Leaders of the 55 AU countries met virtually last Saturday and "committed to strengthen the collective response to the crisis, marshalling resources for the benefit of all, and striving to ensure that no country is left behind," the continental bloc said in a press statement.
Some of the thematic points that AU has outlined – responding to crisis and investing for the benefit of all – dovetail with Biden's priority areas such as advancing prosperity for all nations and addressing conflicts costing lives in Africa.
"…my administration is committing to rebuilding our partnerships around the world and re-engaging with international institutions like the African Union. We must all work together to advance our shared vision of a better future," added Mr Biden, who said Washington was rebounding to active international and multilateral engagement.
This would be a marked foreign policy departure from his predecessor Donald Trump whose administration pursued a more insular "America first" strategy that culminated in his withdrawal of the US from, among others, the Paris Climate Accord, the Iran nuclear deal and the World Health Organisation (WHO).
Mr Biden took over office as America's 46th President on January 20 and has signed several executive orders reversing multiple Trump policies, including returning Washington to the climate deal and WHO, as well as lifting the ban on Muslim countries.
Mr Biden has engaged the AU within the third week of his administration, contrasting the disposition to the continent of his predecessor whom the Washington Post quoted in January 2017 to have derogatively branded Haiti and African states as "shithole countries".
Mr Trump never visited Africa during his four-year tenure and his pro-life administration's defunding of abortion and other health programmes crippled many organisations on the continent.
In addition, six of the 13 countries on Mr Trump's travel ban or restricted travel list — Sudan, Somalia, Nigeria, Eritrea, Tanzania and Libya — are from Africa.
Mr Biden lifted the ban, which he called a "moral blight", on the day of his swearing-in and his administration has separately announced fresh funding for multiple women health and rights programmes, and promotion of rights of all, including gays, lesbians and transgender people.
In last Friday's virtual remarks, Mr Biden promised to invest to defeat the Covid-19 pandemic and build capacity to detect, prevent, and respond to future health emergencies .
Original Source: Daily Monitor