Tropical forests in Africa's mountains store more carbon than previously thought—but are disappearing fast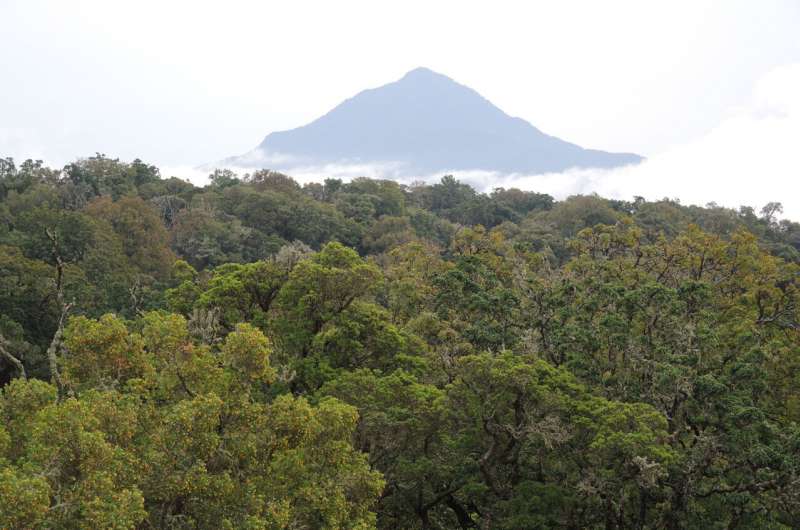 Montane forest in Cameroon
Scientists studying tropical forests in Africa's mountains were surprised to uncover how much carbon they store, and how fast some of these forests are being cleared.
The international study reported today in Nature, found that intact tropical mountain (or montane) forests in Africa store around 150 tons of carbon per hectare. This means that keeping a hectare of forest standing saves CO2 emissions equivalent to powering 100 homes with electricity for one year.
The study found that African mountain forests store more carbon per unit area than the Amazon rainforest and are similar in structure to lowland forests in Africa. Existing guidelines for African mountain forests—which assume 89 tons of carbon per hectare—greatly underestimate their role in global climate regulation.
The international team also investigated how much tropical mountain forest had been lost from the African continent in the past 20 years. They found that 0.8 million hectares have been lost, mostly in the Democratic Republic of the Congo, Uganda and Ethiopia, emitting over 450 million tons of CO22 into the atmosphere. If current deforestation rates continue, a further 0.5 million hectares of these forests would be lost by 2030.
Lead author Dr. Aida Cuni-Sanchez, from the University of York's Department of Environment and Geography and at Norwegian University of Life Sciences, said: "The results are surprising because the climate in mountains would be expected to lead to low carbon forests.
"The lower temperatures of mountains and the long periods they are covered by clouds should slow tree growth, while strong winds and steep unstable slopes might limit how big trees can get before they fall over and die.
"But unlike other continents, in Africa we found the same carbon store per unit area in lowland and mountain forests. Contrary to what we expected, large trees remain abundant in mountain forests, and these large trees (defined as having diameters over 70 cm) store a lot of carbon."
Scientists measured 72,000 trees in 44 mountain sites in 12 African countries, from Guinea to Ethiopia, and south to Mozambique. In each mountain site they established plots where they recorded the diameter, height and species of every tree.
Researchers said that better knowledge about how much carbon mountain forests store is especially important for the ten African nations where the only tropical forests they have are those found on mountains.
"While we know what makes African forests special, we don't yet know why they are different. It is possible that in Africa, the presence of large herbivores such as elephants plays an important role in mountain forest ecology, as these large animals disperse seeds and nutrients, and eat small trees creating space for others to grow larger, but this requires further investigation," Dr. Cuni-Sanchez added.
Co-author Dr. Phil Platts, from York's Department of Environment and Geography and the IUCN's Climate Change Specialist Group, said: "About five percent of Africa's tropical mountain forests have been cleared since 2000, and in some countries the rate exceeds 20 percent. Besides their importance for climate regulation, these forests are habitats for many rare and endangered species, and they provide very important water services to millions of people downstream".
Most African nations have committed large amounts of land to forest restoration under the Bonn Challenge. Although forest restoration is important to mitigate climate change, avoiding deforestation is a greater priority.
Co-author Dr. Martin Sullivan, at the Department of Natural Sciences, Manchester Metropolitan University, added: "Previous carbon estimates for tropical mountain forests in Africa were much lower than the values we report in our study.
"We hope that these new data will encourage carbon finance mechanisms towards avoided deforestation in tropical mountains. As outlined in the Paris Agreement, reducing tropical deforestation in both lowland and mountain forests must be a priority."
Co-author Dr. Gerard Imani, at the Department of Biology, Université Oficielle de Bukavu in DR Congo, added: "Carbon finance mechanisms could help improve conservation interventions on the ground—even within protected areas, deforestation, forest degradation and defaunation remain a challenge."
Offsets don't stop climate change.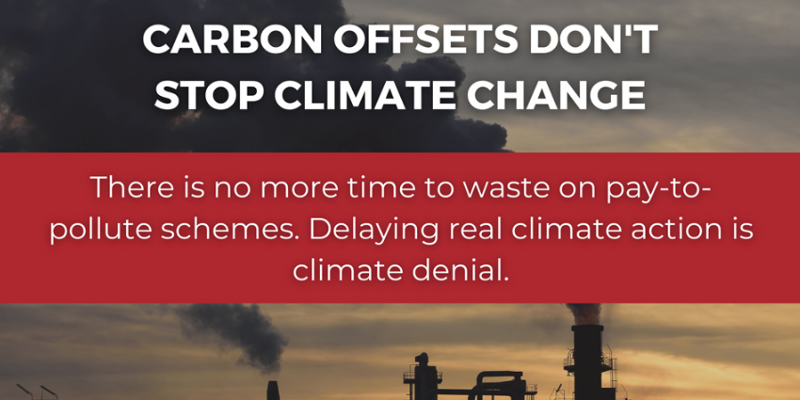 Shortly before COP26, Amazon Watch and more than 170 organisations signed on to a statement under the headline "Offsets don't stop climate change".
The headline is borrowed from a December 2020 letter to the Financial Times in response to an editorial about Mark Carney's Taskforce on Scaling Voluntary Carbon Markets.
The letter, from Doreen Stabinsky (College of the Atlantic, USA), Wim Carton (Lund University, Sweden), Kate Dooley (University of Melbourne, Australia), Jens Friis Lund (University of Copenhagen, Denmark), and Kathy McAfee (San Francisco State University, USA), states that, "Offsets don't stop climate change because they don't stop emissions."
They write that,
In an ideal world, some types of offsets might theoretically balance out emissions with removals. But the whole point of an offset is that one entity gets to keep emitting.
And they explain that the problem is that with continued emissions, CO2 continues "to accumulate in the atmosphere where it resides for hundreds to thousands of years, and the temperature of the planet continues to increase".
They point out that the oil industry is a primary beneficiary of offsetting and Carney's taskforce was stacked with respresentatives of Big Polluters:
All the major oil companies are planning to continue with exploration and new extraction projects. None of them have plans for a managed decline of production that is anywhere near in line with the Paris goal aiming to limit warming to 1.5C. Indeed some fossil fuel majors have even stated their intent to increase exploration and production for at least the next five years. These are hardly decarbonisation goals. All of them intend to rely heavily on carbon offsetting to keep drilling and emitting-as-usual.
They conclude that if Carney were serious about addressing the climate crisis, he would "convene a taskforce on the managed decline of fossil fuels and bring the fossil fuel industry to the table".
It's not controversial to point out that offsetting does not reduce emissions (and therefore does not help address the climate crisis). Even proponents of offsetting will, if pushed, admit this fact:
In a press release about the statement signed by more than 170 organisations, Jim Walsh of Food & Water Watch says,
"Offsets are nothing short of a scam that corporate interests push, allowing them to continue polluting our climate and frontline communities with impunity. The harm does not end there, as these offset schemes displace indigenous communities and prop-up corporate agriculture and factory farming. Addressing the climate crisis means keeping fossil fuels in the ground, rather than pursuing these scams that harm our communities and climate for nothing other than corporate profits."
Here is the statement, "Offsets don't stop climate climate change". The list of signatories is available here:
Offsets don't stop climate changeClimate-driven wildfires, flooding, droughts and other extreme weather events daily impact every corner of the globe.Yet the fossil fuel industry, big utilities, big agriculture, big finance — and their political allies — are pushing carbon offset schemes to allow them to continue releasing the greenhouse gases driving the climate crisis, harming Indigenous, Black, and other already-marginalized communities, and undermining sustainable farming and forestry practices.The science is clear: we need to rapidly phase out fossil fuels and emissions-intensive agricultural practices like factory farming, while protecting forests, wetlands, and other natural carbon sinks. Every delay means greater impacts on our climate and more pollution in historically overburdened communities.[1]We call on leaders around the world to join us in rejecting offset schemes because these pay-to-pollute practices are nothing more than false and harmful solutions to the climate crisis.
We call on global policy makers to reject offset schemes and embrace real climate solutions that will keep fossil fuels in the ground, support sustainable food systems, and end deforestation, while eliminating pollution in frontline communities.
---
[1] IPCC, Global Warming of 1.5°C. International Energy Agency, Net Zero by 2050. IPCC, AR6 Climate Change 2021.
[2] Carton et al. "Undoing Equivalence: Rethinking Carbon Accounting for Just Carbon Removal," Frontiers in Climate, 16 April 2021.
[3] Anderegg, W. et al., Climate-driven risks to the climate mitigation potential of forests, Science 368 (6947) 2020. Mackey, B. et al. 2013., "Untangling the confusion around land carbon science and climate change mitigation policy," Nature Climate Change, 3(6),pp.552-557, 2013.
[4] Food & Water Watch, "Cap and trade: More pollution for the poor and people of color," November 2019 at 1 to 2.
[5] Gilbertson, Tamara, Carbon Pricing: A Critical Perspective for Community Resistance, Indigenous Environment Network and Climate Justice Alliance, 2017.[6] Anderegg, W., "Gambling with the climate: how risky of a bet are natural climate solutions?," AGU Advances, 2021. Coffield, S.R. et al., "Climate-driven limits to future carbon storage in California's wildland ecosystems," AGU Advances, 2021.
[7] Ahmend, N., "World Bank and UN carbon offset scheme 'complicit in genocidal land grabs – NGOs," The Guardian, 3 July 2014. Forest Peoples Programme, The Reality of REDD in Peru: Between Theory and Practice, November 2011.
[8] Institute for Agriculture and Trade Policy, "Why carbon markets won't work for agriculture," January 2020 at 2.
[9] Elgin, B., "A Top U.S. Seller of Carbon Offsets Starts Investigating Its Own Projects," Bloomberg. 5 April 2021.
[10] Hache, F., Shades of Green: The Rise of Natural Capital Markets and Sustainable Finance, Green Finance Observatory, March 2019.
Original Source: Redd-monitor.
NO more GE trees! Open Letter Denouncing Suzano Papel e Celulose's glyphosate-resistant Genetically Engineered (GE) Eucalyptus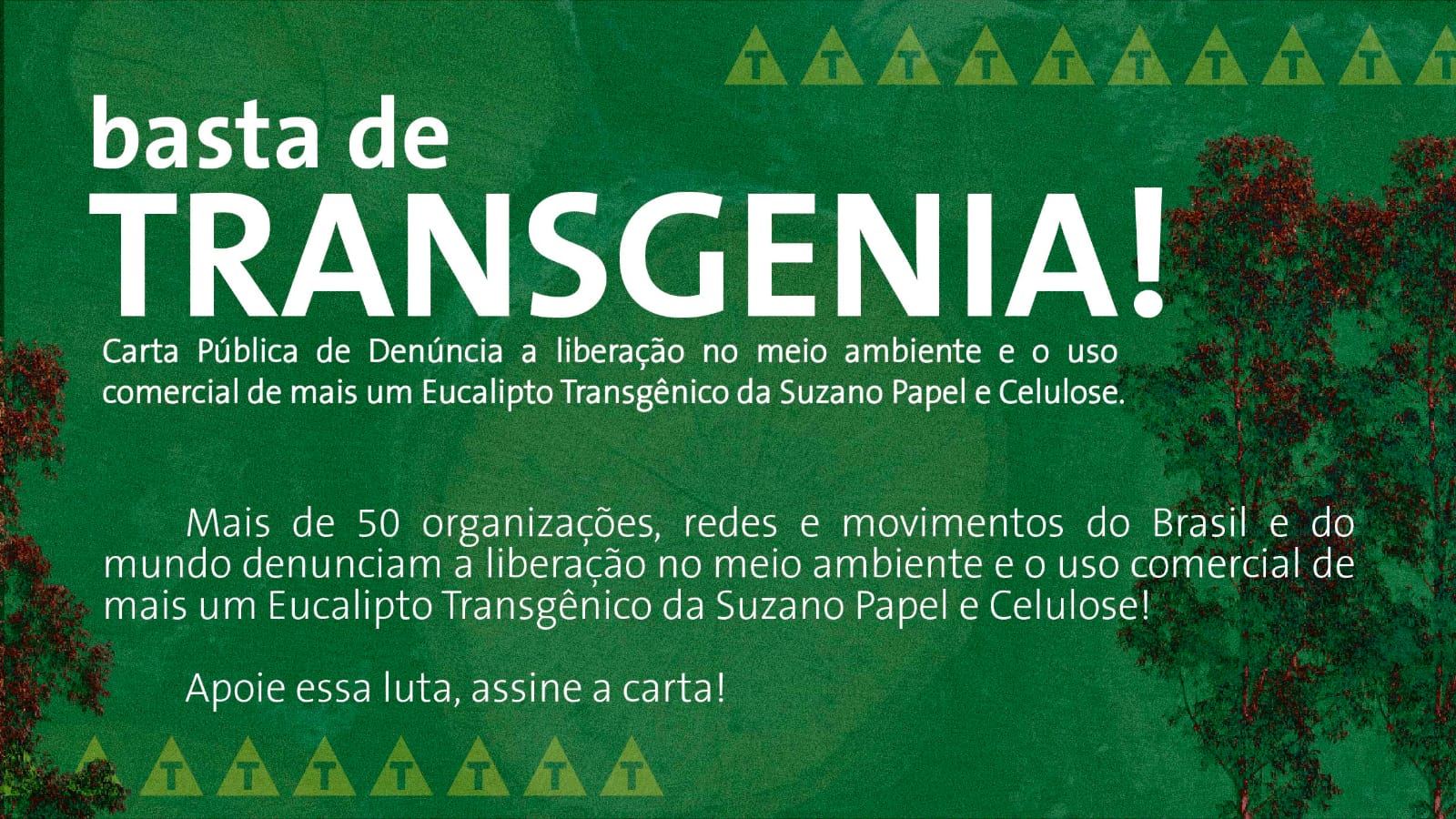 More than 50 organizations, networks and movements from Brazil and around the world denounce the release into the environment and the commercial use of a new transgenic eucalyptus from the Brazilian company Suzano Papel e Celulose!
The approval by the National Technical Commission on Biosafety (CTNBio) of the GE eucalyptus resistant to glyphosate, identified as 751K032, is a serious threat to life, to society and to nature. It was approved without any democratic consultation with Brazilian civil society in general and the neighboring communities of the areas where the plantations will be located in particular. The only concern was granting the license in the benefit of the commercial interests of Suzano Papel e Celulose, instead of the detrimental effect on life.
Organizations denounce the CTNBio decision from November 16, 2021 to approve the release into the environment, commercial use and any other related activities of the new GE eucalyptus developed by FuturaGene, owned by Suzano Papel e Celulose.
The letter ends by demanding the immediate revocation of the license granted for the use of Suzano GE eucalyptus 751KO32, as well as the action and intervention of the Federal Public Prosecution Service to revoke the decision made by the CTNBio, a decision made without a full public debate, especially in regions of Brazil that have been exposed for many years to eucalyptus monoculture.
Read the complete letter here.
Original Source:  Alert Against Green Desert. 
UN seeks increased public finance to protect forests.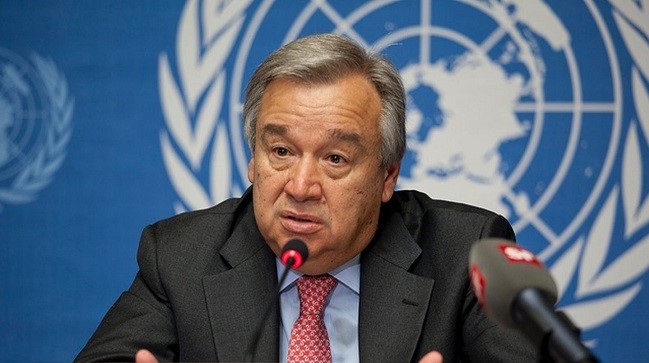 UN Secretary General, Antonio Guterres
Antonio Gutteres, the Secretary-General of the UN, made this call on Monday, May 2, 2022, at the opening of the 15th World Forestry Congress (WFC) in Seoul, South Korea.
The increase in the finance, he said, should include source-based payments and a dearth of environmental swaps to achieve a deforestation-free world.
Gutteres, who spoke through his Deputy, Amina Mohammed, also called for a budget and policy for forestry commitment among global communities.
He said it was unfortunate that about 4.7 billion hectares of forest were being lost annually to deforestation and environmental degradation in the last decade.
The UN chief called for concerted efforts toward achieving deforestation-free supply chains.
"Since the last congress in 2015, recognition of the critical role of forests of all types play in meeting the sustainable development goals and achieving the past agreements has gained much attention.
"The recent classical degradation on forest and land use has further underlined key transform to actions needed to save all forest and advance the 2030 agenda.
"This congress takes place right over the latest report of the intergovernmental panel on climate change.
"The panel warns that the world is dangerously close to irreversible topping point for forestry section, for the health of people, and for the planet," he said.
According to him, this supports resilient livelihood, biodiversity consideration, sustainable economy and climate mitigation and adaptation.
"Forest remained under threat and in the last decade alone, the world has lost 4.7 billion hectares a year.
"We must specially recognise and act on the value of the forest hence the theme of the congress, 'Building a Green, Healthy and Resilient Future with Forest.
"We need all stakeholders to come up with ideas and commitment that can be put into action," he said.
Gutteres explained that forests could also be protected by expanding indigenous governance for forests in the perspectives of youth and women and using the latest scientific evidence and catchy head technology.
"I look forward to the outcome of this congress feeding into climate change and biodiversity negotiation and other policies.
"Together, I believe we can build a green, healthy and resilient future by realising the true value of the forest," the UN scribe said.
In her remark, Princess Sasma Ali, Hashemite Kingdom of Jordan, canvassed a diversified approach to achieving success in building a green, healthy and resilient future with forest.
Ali is also Goodwill Ambassador of the Food and Agriculture Organisation (FAO).
Ali said that 30 per cent of the world's forest had been cleared with another 20 per cent degraded.
She said it would require dedicated political will and the development of policy measures to reverse the tide.
The FAO ambassador also called for the mobilisation of funds in addition to engaging all stakeholders to achieve the target.
"Accordingly, there is no to engage all stakeholders more importantly indigenous people, and local communities' members.
"They possess the knowledge, and the custody of this ecosystem coupled with scientific experts who can monitor the system," she said.
Qu Dongyu, Director-General, FAO, acknowledged some progress in reforestation, particularly in Asia including countries like South Korea, Japan and India.
Dongyu said the congress was an opportunity to make further commitment toward achieving the 2030 deforestation-free world in accordance with the Sustainable Development Goals (SDGs).
By Usman Aliyu
Source: Enviro News Nigeria