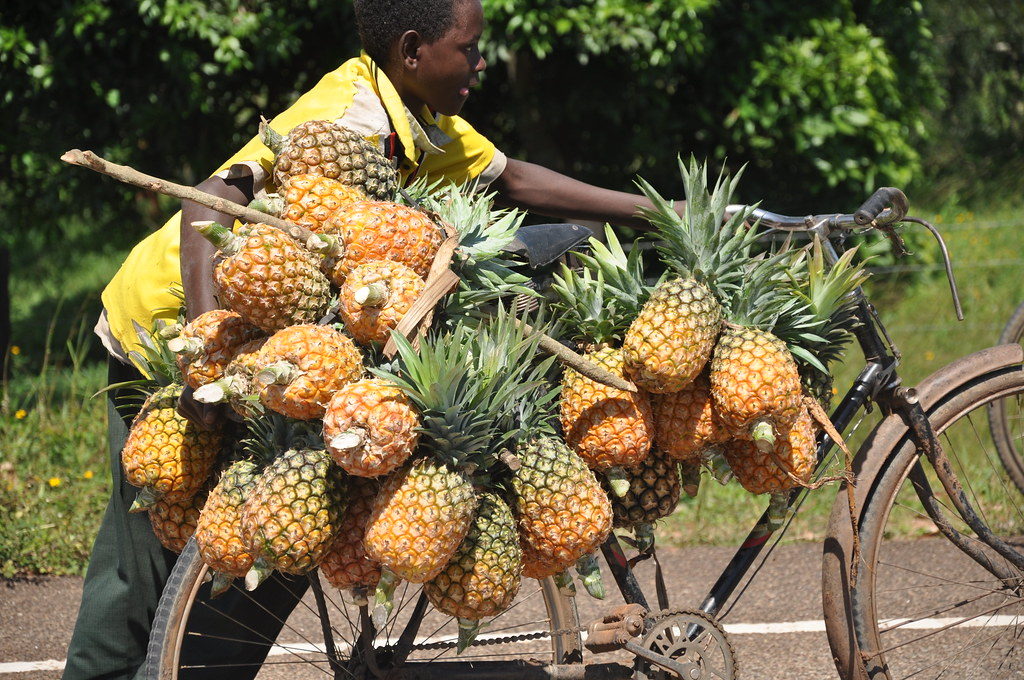 The price of pineapples in Luweero district has dropped from Shs 2,000 to Shs 700 per piece following a bumper harvest.
The price reduction is attributed to increased production as a result of two favourable weather seasons and high distribution of seedlings by Operation Wealth Creation (OWC) programme.
Jimmy Wamala the chairperson of Luweero Pineapple Farmers and Traders' Association says the district experienced two rainy seasons which contributed to bumper harvest starting January this year. Wamala says that as a result farmers have lowered prices to attract more buyers but the available market is small to exhaust the produce.
Wamala explains that in past, they have been selling the pineapples to South Sudan but traders stopped exporting them there due to over instability. He says that they are selling pineapples at Luweero farmers' markets and others in Kampala.
He says that currently hundreds of farmers each with 20-40 acres of pineapples are stuck with produce. Samuel Kayongo a pineapple farmer at Lukeeze village produces 5000 pineapples per day from his 30-acre piece of land. Kayongo says that he is disappointed that in all the investment made in the growing pineapples, the prices have dropped.
Kayongo says he has spent over Shs 4.5 million per acre to grow the pineapples and the returns are so little to match the investment. Joseph Kato a farmer at Nambeere village says that hundreds of pineapples are now rotting in gardens over failure to secure market.
Other farmers said that they were happy when the government pledged to construct a fruit processing plant to add value to the pineapples but this is yet to be fulfilled. Farmers are now crying foul after failing to realise profits to repay the loans borrowed from banks to grow the pineapples.
Abbey Ssozi Bakisuula the Luweero district secretary for production says that they appealed to government to establish a fruit processing plant to add value to abundant crop in vain. Bakisuula says that years they also approached National Agricultural Advisory Services (NAADS) secretariat and Ministry of trade reminding them of the pledge in vain.
According to Luweero agriculture department, there are over 2,000 acres of pineapples in district and 98 per cent of the pineapples are sold without value addition. In February 2008, pineapple farmers in Luweero under the Natural Uganda Cooperative Society Limited petitioned President Museveni demanding for a processing plant, to add value to their organic pineapple.
President Museveni ordered the ministry of Agriculture and Animal husbandry to inject Shs 1 billion into the project. In 2010, the ministry of Finance through the Uganda Development Corporation disbursed 115 million for phase one which was used to buy land to start off the project. The project has since stalled.
The auditor general report for the financial year 2018/19 faulted Uganda Development Corporation for inconsistent funding to the project.
Source: URN