Why coffee prices continue to drop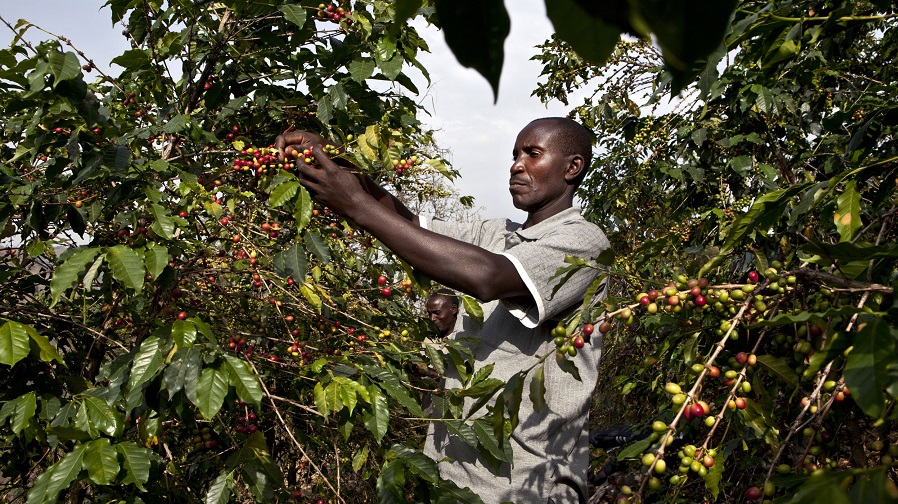 Despite a steady increase in coffee consumption around the world, trade prices have fallen dramatically in the past three years.
Futures on arabica and robusta, the most widespread varieties of coffee, have fallen 40 per cent since 2017 and are now at historically low levels.
This is largely because of bumper harvests in Brazil, the world's main coffee producer.
But at the same time, consumption has grown by an average of 2.1 per cent a year for the past decade, according to the International Coffee Organisation (ICO).
Two billion cups of coffee are drunk every day, according to Fairtrade International, which works to improve the lot of farmers through better pricing and conditions.
The crisis in prices is beginning to create "real structural problems" for producers, said Valeria Rodriguez, a manager at Fairtrade organisation Max Havelaar France.
"The consequences are terrible – they can no longer support themselves, invest in production or prepare for the challenges of climate change," she said.
Supplier woes
In central and south America, many smaller producers in Africa and Latin America are giving up in particular those who grow arabica, which is more difficult to produce than the robusta variety favoured in Asia, according to Jack Scoville, a futures markets analyst with Price Group.
A similar trend is observable in Africa for reasons ranging from high production costs in Kenya to insecurity in significant producers like Cameroon.
Few growers have the money to invest, and access to the kind of fertile land they would need to switch to mechanised processes with economies of scale is limited.
As a result, "origins with a higher cost of production such as Colombia, Honduras and Guatemala are forecast to produce less coffee for the 19/20 season", said Geordie Wilkes, head of research at Sucden Financial.
ICO figures published last week illustrate the trend: South America will see production fall 3.2 per cent in the coming season, compared with 0.9 per cent worldwide.
At the same time, "demand for high quality is very strong", which protects prices for certain varieties and in certain regions, said Carlos Mera, analyst at Rabobank.
Max Havelaar France guarantees its producers a minimum price of $3.10 per kilogramme of coffee, plus a bonus if the coffee is organic.
Price fixing
But Fairtrade represents only a small section of the market, and the vast majority of producers are vulnerable to prices fixed by traders in London or New York.
However, the low prices they set "do not affect consumer prices", said Paul Belchi, also from Max Havelaar France.
This is because the supply chain is long, running from the plateaus of South America to trendy coffee shops in the world's big cities.
When you take into account merchants such as giants Nestle and Lavazza, transportation, real estate prices and staff, the trade price of coffee is only about 10 per cent of what you pay at the counter.
Rarer varieties like Jamaica Blue Mountain, Tarrazu Costa Rica or Bourbon Pointu from Reunion have prices more akin to caviar, negotiated directly between the producer and the merchants.
Some of these varieties change hands at more than $110 per kilogramme, compared with less than $2.20 that arabica fetched Friday November 8 on New York's ICE Futures US. For consumers, Bourbon Pointu is currently selling online for $54 for 125 grams; $432 per kilogramme to be sure.
Source: Daily Monitor
Falling coffee prices, reduced output forecasts rattle Uganda farmers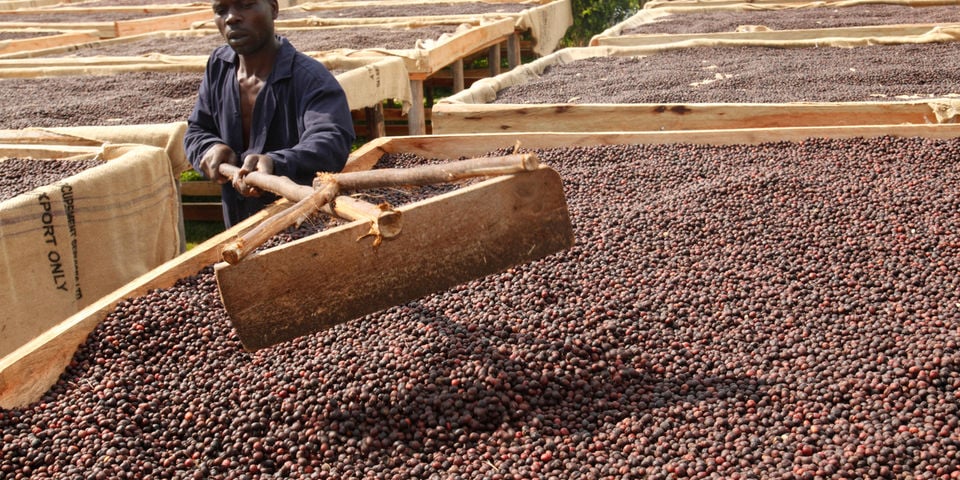 There has been a slump in international coffee prices and shipping costs in the last quarter of 2022
Uganda's coffee industry is walking into a challenging 2023 defined by falling prices and diminished output forecasts following the recent dry spell that hit major growing areas.
While the sector enjoyed a boom between 2020 and 2022 – with surging coffee prices, rising export volumes and considerable incomes for farmers – decline in international shipping costs and improved production forecasts in Brazil triggered a slump in coffee prices in the last quarter of 2022, according to industry players.
International shipping costs dropped from record highs of $10,000 per container charged on certain sea routes in January 2022 to less than $2,000. Shipping fees charged per 20-foot container ferried from Indonesia to North America, for example, are estimated at $800-$1,000 currently.
Consequently, local and international coffee prices have dropped since October 2022.
International robusta coffee prices fell from an average price of $2,400 per tonne to $1,856 per tonne towards the end of last year, according to industry data. Local robusta coffee prices declined from Ush7,200 ($1.9) per kilogramme to Ush5,800 ($1.6) per kilogramme during the second half of 2022 while Arabica coffee prices fell from Ush11,000 ($2.9) per kilogramme to Ush8,000 ($2) per kilogramme in the period.
In 2021, average coffee prices stood at more than Ush15,000 ($4) per kilogramme.
Robusta coffee production accounts for more than 60 percent of Uganda's overall coffee output.
Besides gloomy coffee price forecasts for 2023, a severe dry spell in the past six months could pose a huge threat to coffee production levels. The weather affected major coffee-growing areas like the Central region and risks cutting this year's output to around 5.5 million bags, industry players forecast.
"Brazil and Vietnam are headed for a bumper coffee harvest this year while India and Indonesia have discounted their local coffee prices in a way that has undercut Uganda's growth momentum on the international market," said Robert Byaruhanga, chief executive of local exporter Funzo Coffee Ltd.
Asian and Latin American coffee exporters are regaining dominance in European and North American markets after the lockdown period because of the lower coffee prices, reduced freight charges, shorter port clearance turnaround times and reasonable coffee quality grades, Byaruhanga explained.
Ugandan farmers are now holding onto their coffee produce in anticipation of better prices.
Overall coffee exports stood at 6.26 million bags valued at $862.28 million in 2021/22 compared to 6.08 million bags worth $559.16 million registered in 2020/21, data from the Uganda Coffee Development Authority shows.
An estimated 447,162. 60 kilogramme bags of coffee valued at $64.1 million were exported in November 2022 at an average price of $2.39 per kilogramme — 6 US cents lower than the average price of $2.45 per kilogramme posted in October 2022.
Original Source: Daily Monitor
Over 40 goats die of PPR disease in Madi-Okollo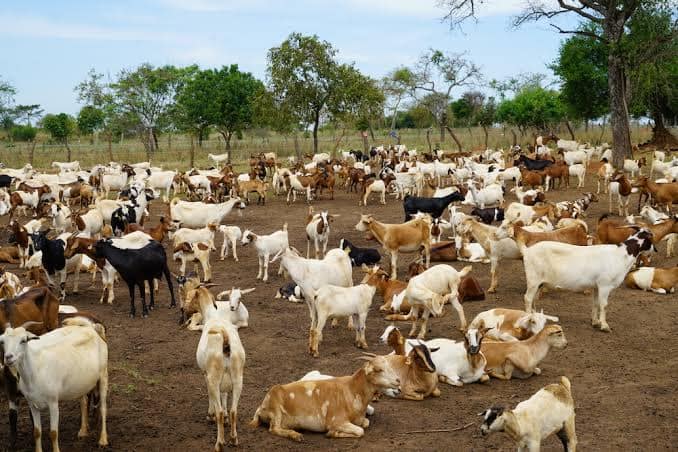 At least 43 goats have died of Peste des Petits Ruminants (PPR) disease, also known as 'goat plague' and several others are undergoing treatment in Madi-Okollo district.
Madi-Okollo district veterinary officer, Dr Charles Onzima, says the viral disease, which is related to rinderpest in sheep as well as goats, has claimed the lives of goats in Olali parish in Ogoko sub-county.
He adds that PPR disease was confirmed in the district after 500 local and 94 Boer goats were supplied to families in Olali parish under a poverty eradication programme that he suspects infected the local goats.
43 of the boar goats died while 10 of the local goats of the communities also died of PPR disease.
Onzima says immediately after receiving information about the disease, the veterinary officers got the goats manifesting the signs of PPR that include sudden onset of depression, fever, discharge from the eyes and nose, sores in the mouth, breathing difficulty and death among others.
He says that they have already had three rounds of vaccination for the available goats in the affected area.
Original Source: New Vision Via harvestmoney.co.ug
Artisanal gold miners defy government on mercury use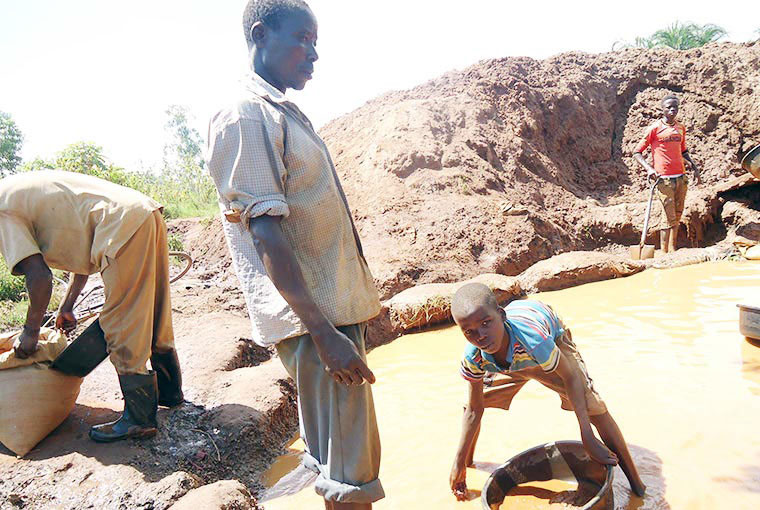 In October, President Museveni signed into the law the Mining and Minerals Act 2022. One of the key provisions in the law is the banning of mercury use in mining activities.
Artisanal and small scale gold miners in Uganda use mercury to separate gold from the ores, a method they say is cost effective, fast and easy to use. During this process, mercury is mixed with gold containing materials to form a mercury gold amalgam which is then heated to obtain the gold from the sediments.
The miners do the processing without wearing any personal protective gear. However, different Non- Government and Civil Society Organizations have over the years warned these miners against using mercury as it poses serious health threats to human life and dangerous to the environment.
But even with the government banning the use of mercury and several warning about the dangers it imposes, gold miners are not yet ready to stop using the substance especially since the government is not providing any viable alternative method they can use.
In Tiira mining site, Tiira town council, Busia district, gold miners expressed their concerns on this ban. Stephen Engidhoh, the Eastern Uganda chairman of Uganda Association of Artisanal and Small Scale Mining (UGAASM) said that mining has created jobs for over 30,000 people in Busia alone and with the government ban on use of mercury, many of them are likely to remain jobless.
He noted that in every sub county in Busia district, there are people during the exploration of minerals but the large gold discoveries here should not be an excuse to eliminate the small-scale miners from the mining sector because these minerals belong to all of them and it where they make a living from.
He added that if government wants this directive to be implemented, it should enforce it gradually and after finding an alternative method the miners can use.
"Government should first sensitize the miners about the dangers of using mercury before eliminating it. By government coming to abruptly ban the use of mercury, it is already creating indirect employment for smugglers to smuggle it into the country than they think they are eliminating," Engidoh said.
Paul Angesu, the chairman on Tiira Landlords and Artisanal Miners Association said that even though they have been told that mercury is dangerous, for all the years they have used, they have never seen anyone experiencing the danger they say it causes.
"The government still needs to carry out thorough investigations on the possible dangers of using mercury so that it presents to the local miners with practical evidence that indeed mercury is dangerous and this will make us to easily stop using it," Angesu said.
He added that sometime back, the Uganda National Association of Community and Occupational Health (UNACOH) came and took samples of mercury from the miners but they were not able to submit in the feedback for them to know if indeed they are indeed being affected by mercury.
An alternative gold extraction method which has been suggested to the artisanal gold miners is the use of borax method' a technique of artisanal gold mining which use borax (a chemical compound) as a flux to purify gold. However, the miners say the government has not taken the initiative of introducing this method to them and training them on how to use it.
"They want us to use borax as an alternative to mercury but most of us don't even know how borax looks like or even how it works. How do they expect us to start using something they have never taken the initiative to introduce to us?" Angesu asked.
Ramadhan Birenge, a gold miner in Namayingo district has tried using borax before after an NGO brought a sample of it to them. He however said that there is no any another way a miner can use to get gold clearly and quickly other than using mercury.
"The borax they are telling us to use is very expensive and not easily accessible to us, we don't even know where it is sold and to get gold through using borax is a very long process yet mercury is a very easy, shorter process and relatively cheap."
John Bosco Bukya, the chairman of Uganda Artisanal Miners Association told The Observer that they are law abiding citizens and since they have tested the consequences of operating in irregularities, they have no big problem with banning of mercury use in mining areas.
But however, before government bans it, it should provide the miners with an alternative processing reagent. He noted that government may not succeed with the ban and not because the miners don't want to stop using mercury, but because the available alternatives must be effective, efficient and affordable.
"We don't know anything about the borax method which they say can be an alternative. We don't know where it is manufactured from, neither its cost or effectiveness. Government should first train the miners of an alternative method, test its effectiveness and efficiency before banning the method currently being used. If it is more efficient, definitely miners will stop using mercury," Bukya said.
He also advised government to first sensitize these miners about the dangers of mercury before enforcing it and then phase it out gradually and not immediately because it is going to affect the livelihoods of Ugandans who are in this sector and yet it is the responsibility of government to make sure that all Ugandans thrive in their businesses.
Mercury is smuggled into Uganda through the porous borders with Kenya by cartels which makes its trade illegal. It is then discreetly sold to artisanal miners in Busia with a Kg costing between Shs 600,000 to Shs 1 million.
According to the World Health Organization (WHO), exposure to mercury, even small amounts may have toxic effects on the nervous, digestive and immune systems and on lungs, kidneys, skin and eyes as well as pose a threat to the development of the child in the womb for pregnant women.
Most of these ailments manifest over time. People who burn the gold usually take in large doses of mercury because they directly inhale the metals but those who may get it after eating food or drinking water that is contaminated with mercury take it in slowly and it accumulates over time.
Mercury also contaminates the soil making it infertile and unable to support agriculture, water and air. Mercury emitted to the air can also circulate around and contaminate water, fish and wildlife far from the mine from which it was released which affects the biodiversity.
Original Source: The Observer