Behind the sugar zoning politics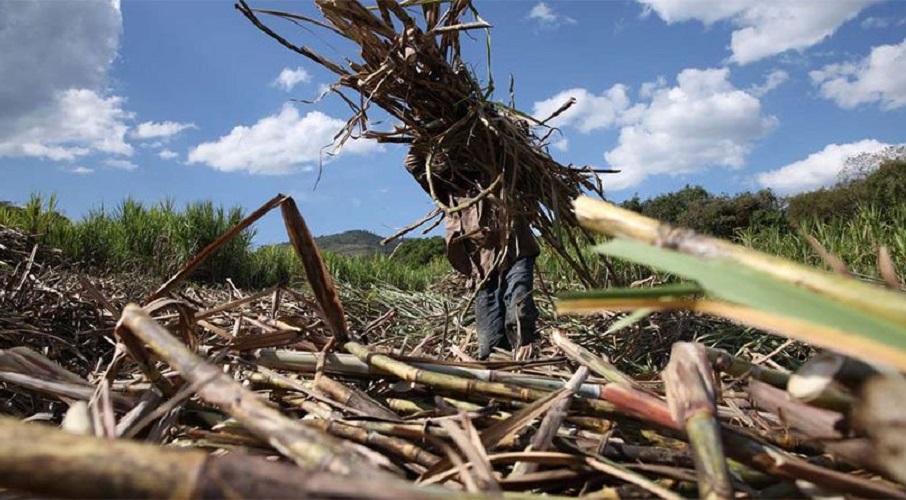 Kampala, Uganda | ISAAC KHISA | Ugandan sugar millers, cane farmers and the government have for sometime been at loggerheads over a proposal to introduce zoning in the sugar cane growing areas.
The proposed Sugar Bill, 2016, seeks to limit establishment of new sugar processing firms in the already existing ones within a radius of 25 kilometres.
It also seeks to force sugar cane farmers or out growers to supply their cane to the sugar processing firm within their zone.
This move is in response to complaints from large sugar producers – Kakira, Sugar Corporation of Uganda Limited (SCOUL) and Kinyara – companies which claim that small sugar producers are involved in buying cane from farmers that they have financed and developed.
The situation has become so tense that on April.30, the ruling National Resistance Movement Caucus chaired by President Yoweri Museveni decided to shelve the controversial Bill as negotiations continue.
Parliament had in November, last year, passed the proposed law but President Museveni refused to assent to it. He, instead, returned it to Parliament arguing that certain clauses, specifically on sugarcane zoning had been omitted in the proposed law.
"The way you (Parliamentarians) are behaving, you are antagonizing our old sugar people and I don't know the relationship you have with small sugar people. Some of you have got a suspicious relationship with the small sugar people and now you are sabotaging my plan," President Museveni is quoted as saying during the National Resistance Movement retreat at the National Leadership Institute in Kyankwanzi in March this year.
Museveni said he had plans to encourage big sugar producers to venture into production of refined sugar to be used in the manufacturing of medicines.
But research by The Independent in sugar producing countries in Africa, Asia and South America shows that sugar cane zoning has either failed, been met with strong resistance from farmers or threatened the existence of the entire sugar industry, in spite of its importance to a number of industries such as medicine, foods and confectioneries, among others.
Faced with such a situation, experts familiar with the industry said the government should not rush to protect the interests of large sugar producers at the expense of sugar cane farmers and the smaller millers.
"To introduce such an arrangement in the sugar industry, all stakeholders have to be involved," Stephen Biraahwa Mukitale, MP for Buliisa and a former procurement administrator at Kinyara Sugar Works, told The Independent in an interview.
"Farmers need to be allowed to own shares in the mills so that their interests are also catered for. Sugar cane farmers also need to have a sense of ownership of the sugar producers for them to succeed."
Fred Muhumuza, an economist based at Makerere University said the government should come up with a regulator that will deal with farmers' contracts they have signed with sugar processing firms instead of coming up with the sugarcane zoning initiative. Muhumuza said this move could end up enslaving and rendering sugar cane farmers poor.
But supporters of the new move led by large sugar processing firms under their umbrella, the Uganda Sugar Manufactures Association (USMA), claim that the regulation and zoning will allow the growth of a fruitful partnership and collaboration between millers and farmers.
Jimmy Kabeho, the chairperson of USMA wrote in the Daily Monitor on May. 16 saying sugar production in Kenya has dropped over the years due to lack of regulation and that a similar situation shouldn't happen in Uganda.
"Why should we reduce the production of one factory by licensing a new factory in the same area? Since 2015, Uganda sugar production has gone down despite having more factories on board. It is, therefore, not the number of factories, but how these factories operate and are managed," Kabeho said.
"We have also seen cane yields go down (20 tonnes per hectare) in the fields while sugar recoveries have dropped from 10 per cent to 6 per cent. This is a lot of sugar lost in production and loss in corresponding revenues, including government tax."
Kabeho said cane prices and sugar prices depend mainly on regional and world sugar markets and that in Uganda prices have been high for consecutive seasons.
Uganda's sugar industry that started way back in the 1920's, now boasts of nearly 20 licensed companies majority of which are located in the south-eastern Busoga region.
However, though the annual sugar production had increased from 140,000 in the 1960s to 240,000 tonnes in 2008 and 400.5 tonnes in 2014, it dropped to 365 metric tonnes in 2017, according to data from the Ministry of Trade, Industry and Cooperatives.
The local consumption of raw sugar stands at around 350,000 tonnes per annum, according to USMA, with the rest exported to neighbouring states.
But critics say sugar producers need to invest in early maturing high yielding canes as well as technologies to increase cane and sugar production rather than blame their woes on the absence of sugar zoning for their woes.
Report links 1,600 deaths to pesticide poisoning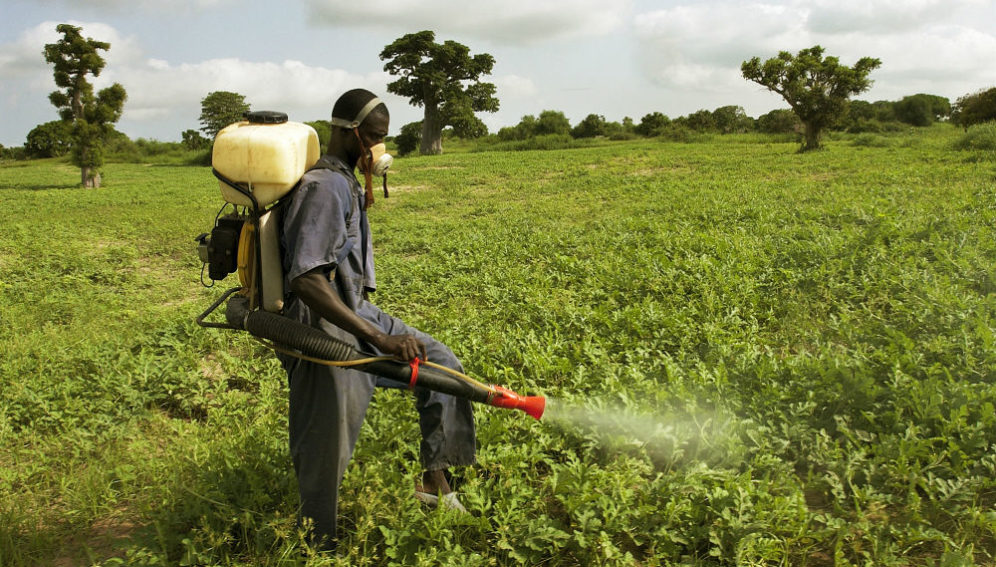 A total of 1,599 deaths between 2017 and 2022 were linked to organophosphate (pesticide) poisoning, researchers from Uganda National Institute of Public Health (UNIPH) and the Health ministry found.This information is in one of the reports presented yesterday during the 9th National Field Epidemiology Conference in Kampala.
The study led by Mr Robert Zavuga was based on the data from the District Health Information System (of the Health ministry), which is received from health facilities across the country."A total of 37,883 (average of 6,314 per year) organophosphate (OP) [health facility] admissions and 1,599 (average of 267 per year) deaths were reported," the report reads.
OP admission was defined by researchers as a hospital stay due to suspected OP poisoning. In contrast, OP poisoning death was defined as inpatient death with OP poisoning listed as the cause of death.The researchers linked the poisoning to the widespread use of OP pesticides by farmers in the country amid limited knowledge of how to use the pesticides safely.
"Uganda has an agricultural-based economy with widespread use of organophosphate-based pesticides. This elevates the risk for OP poisoning in the population," the report reads further.According to the report, the overall average incidence was 15 organophosphate admissions per 100,000 persons.
On areas, sex and age that are most affected, the report indicates, "residents of Ankole Sub-region were more affected while those in Lango Sub-region were least affected.""Males had a higher incidence of organophosphate poisoning than females. Children under 5 years had a higher incidence than persons above 5 years (20 vs 14/100,000)," the report said.
Overall, 1,599 (average of 267 per year) deaths were reported between 2017 and 2022. Residents in Kampala had the highest overall case fatality rate (CFR) while those in Teso had the lowest (CFR: 8.5 percent vs 2.2 percent)," the report reads.
According to the report released yesterday, "there was more than 3-fold decline in incidence of OP poisoning admissions per 100,000 population from 2017-2022," however, the researchers noted, "there was no significant change in the case fatality rate of organophosphate poisoning."
"The incidence of organophosphate poisoning admissions declined throughout the study period. Since 2014, Uganda has implemented periodic public awareness campaigns about safe use of pesticides for small-holder farmers and pesticide dealers," the report says.
"These campaigns have included sensitisation about responsible handling to reduce risk of poisoning and environmental pollution.
Additional campaigns targeting government pesticide regulators, non-governmental organisations, and media have also been implemented to address the dangers of organophosphate poisoning," it adds.
The report says Uganda has also implemented the Agricultural Chemical Control Act to use less toxic pesticides, which may be contributing to the reduction in organophosphate poisonings."To continue this decline, it is important to monitor and strengthen these interventions," the researchers from UNIPH and Health ministry recommended.
Source: Daily Monitor Via msn.com
Statement: The Energy Sector Strategy 2024–2028 Must Mark the End of the EBRD's Support to Fossil Fuels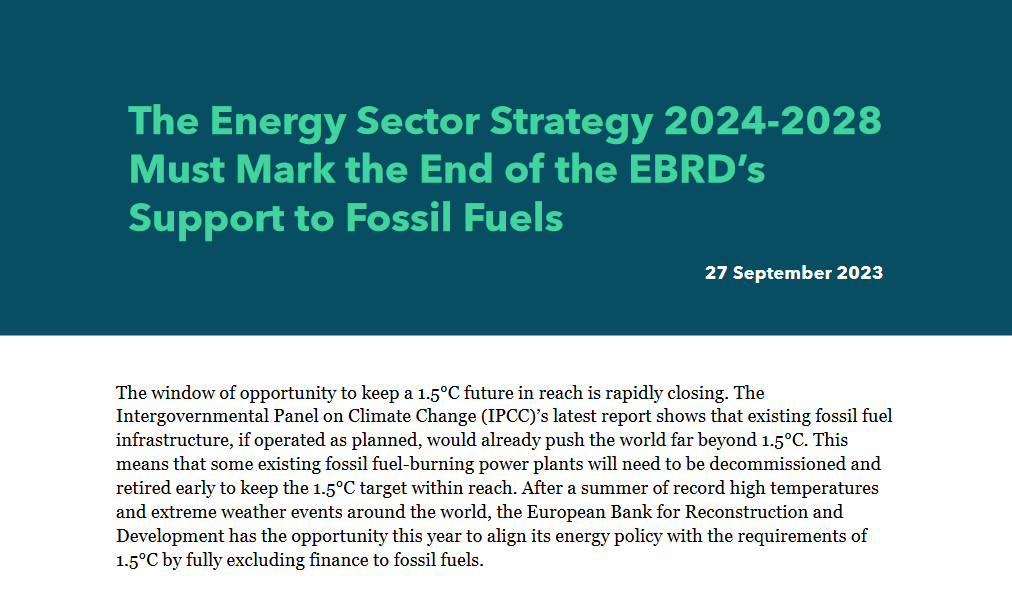 The European Bank for Reconstruction and Development (EBRD) is due to publish a new Energy Sector Strategy before the end of 2023. A total of 130 civil society organizations from over 40 countries have released a statement calling on the EBRD to end finance for all fossil fuels, including gas.
From 2018 to 2021, the EBRD invested EUR 2.9 billion in the fossil energy sector, with the majority of this support going to gas. This makes it the third biggest funder of fossil fuels among all multilateral development banks, behind the World Bank Group and the Islamic Development Bank.
The EBRD has already excluded coal and upstream oil and gas fields from its financing. The draft Energy Sector Strategy further excludes oil transportation and oil-fired electricity generation. However, the draft strategy would continue to allow some investment in new fossil gas pipelines and other transportation infrastructure, as well as gas power generation and heating.
In the statement, the civil society organizations point out that any new support to gas risks locking in outdated energy infrastructure in places that need investments in clean energy the most. At the same time, they highlight, ending support to fossil gas is necessary, not only for climate security, but also for ensuring energy security, since continued investment in gas exposes countries of operation to high and volatile energy prices that can have a severe impact on their ability to reach development targets. Moreover, they underscore that supporting new gas transportation infrastructure is not a solution to the current energy crisis, given that new infrastructure would not come online for several years, well after the crisis has passed.
The signatories of the statement call on the EBRD to amend the Energy Sector Strategy to
fully exclude new investments in midstream and downstream gas projects;
avoid loopholes involving the use of unproven or uneconomic technologies, as well as aspirational but meaningless mitigation measures such as "CCS-readiness"; and
strengthen the requirements for financial intermediaries where the intended nature of the sub-transactions is not known to exclude fossil fuel finance across the entire value chain.
Source: iisd.org
Download the statement: https://www.iisd.org/system/files/2023-09/ngo-statement-on-energy-sector-strategy-2024-2028.pdf
Kigezi In Famine Scare After Drought Hits The Region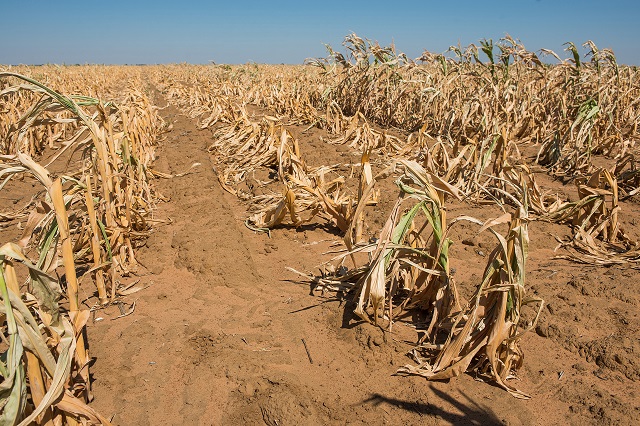 Farmers in Rubanda district are living in fear that they may be hit by famine due to the prolonged drought that has greatly affected the area. This comes after the area was hit by heavy rains in the month of May 2023, which left most of the gardens washed away, and since then the dry season has started up to date.
This is the first of its kind for Rubanda district and Kigezi at large to undergo such a prolonged drought.
According to farmers, this is the first of its kind for Rubanda to go through a long drought, adding that they are in fear that they may be hit by famine since they were used to receiving rains at the beginning of August, which is not the case this year. They add that even the seedlings that they had planted excepting that the rains would come have all dried up by the long spell.
Farmers also say that they don't know what could be the cause that has stopped the rains,adding that the government should come up with a program that provides them with seedlings.
Akampurira Prossy Mbabazi, a woman Member of Parliament for Rubanda District, says that the issue of drought is not only in Rubanda District; however, this is the first of its kind. She adds that the drought comes after the area was hit by heavy rains, which caused a lot of challenges, adding that now it is the drought that may affect the farmers.
Akampurira further says that, as a leader,she will continue to educate farmers on better methods of farming depending on climate change.
Kikafunda Evelyne, founder of Green Environment Promotion (GEP), says it's sad that farmers in Rubanda district and Kigezi at large are experiencing a long drought. She attributes it to problems of environmental degradation that include swamps being reclaimed, deforestation, and plastic pollution, adding that this is an indication that people don't mind about the environment.
Kikafunda calls upon all people to take part in protecting the environment, adding that environmentalists should devise means on how to protect the environment.
It's now been four months since it last rained in the districts of greater Kabale, that is, Rubanda, Kabale, and Rukiga districts, as well as other parts of the Kigezi Subregion.
Source: chimpreports.com