Behind the sugar zoning politics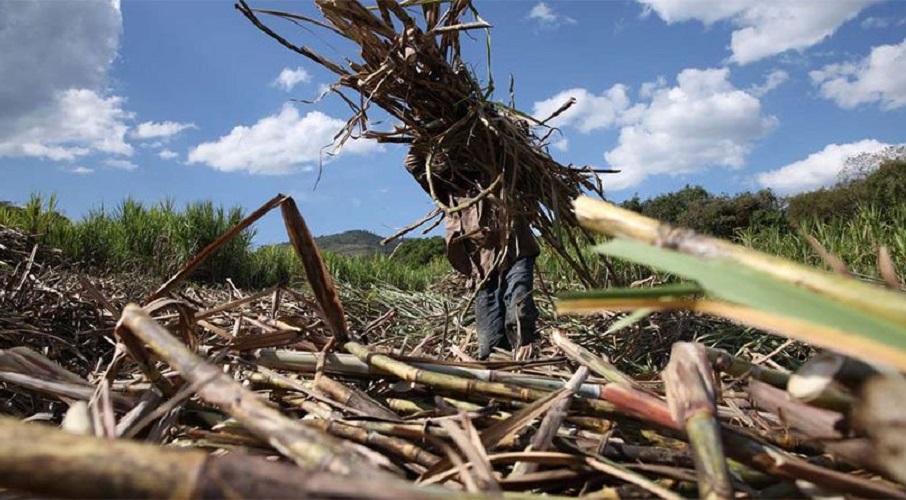 Kampala, Uganda | ISAAC KHISA | Ugandan sugar millers, cane farmers and the government have for sometime been at loggerheads over a proposal to introduce zoning in the sugar cane growing areas.
The proposed Sugar Bill, 2016, seeks to limit establishment of new sugar processing firms in the already existing ones within a radius of 25 kilometres.
It also seeks to force sugar cane farmers or out growers to supply their cane to the sugar processing firm within their zone.
This move is in response to complaints from large sugar producers – Kakira, Sugar Corporation of Uganda Limited (SCOUL) and Kinyara – companies which claim that small sugar producers are involved in buying cane from farmers that they have financed and developed.
The situation has become so tense that on April.30, the ruling National Resistance Movement Caucus chaired by President Yoweri Museveni decided to shelve the controversial Bill as negotiations continue.
Parliament had in November, last year, passed the proposed law but President Museveni refused to assent to it. He, instead, returned it to Parliament arguing that certain clauses, specifically on sugarcane zoning had been omitted in the proposed law.
"The way you (Parliamentarians) are behaving, you are antagonizing our old sugar people and I don't know the relationship you have with small sugar people. Some of you have got a suspicious relationship with the small sugar people and now you are sabotaging my plan," President Museveni is quoted as saying during the National Resistance Movement retreat at the National Leadership Institute in Kyankwanzi in March this year.
Museveni said he had plans to encourage big sugar producers to venture into production of refined sugar to be used in the manufacturing of medicines.
But research by The Independent in sugar producing countries in Africa, Asia and South America shows that sugar cane zoning has either failed, been met with strong resistance from farmers or threatened the existence of the entire sugar industry, in spite of its importance to a number of industries such as medicine, foods and confectioneries, among others.
Faced with such a situation, experts familiar with the industry said the government should not rush to protect the interests of large sugar producers at the expense of sugar cane farmers and the smaller millers.
"To introduce such an arrangement in the sugar industry, all stakeholders have to be involved," Stephen Biraahwa Mukitale, MP for Buliisa and a former procurement administrator at Kinyara Sugar Works, told The Independent in an interview.
"Farmers need to be allowed to own shares in the mills so that their interests are also catered for. Sugar cane farmers also need to have a sense of ownership of the sugar producers for them to succeed."
Fred Muhumuza, an economist based at Makerere University said the government should come up with a regulator that will deal with farmers' contracts they have signed with sugar processing firms instead of coming up with the sugarcane zoning initiative. Muhumuza said this move could end up enslaving and rendering sugar cane farmers poor.
But supporters of the new move led by large sugar processing firms under their umbrella, the Uganda Sugar Manufactures Association (USMA), claim that the regulation and zoning will allow the growth of a fruitful partnership and collaboration between millers and farmers.
Jimmy Kabeho, the chairperson of USMA wrote in the Daily Monitor on May. 16 saying sugar production in Kenya has dropped over the years due to lack of regulation and that a similar situation shouldn't happen in Uganda.
"Why should we reduce the production of one factory by licensing a new factory in the same area? Since 2015, Uganda sugar production has gone down despite having more factories on board. It is, therefore, not the number of factories, but how these factories operate and are managed," Kabeho said.
"We have also seen cane yields go down (20 tonnes per hectare) in the fields while sugar recoveries have dropped from 10 per cent to 6 per cent. This is a lot of sugar lost in production and loss in corresponding revenues, including government tax."
Kabeho said cane prices and sugar prices depend mainly on regional and world sugar markets and that in Uganda prices have been high for consecutive seasons.
Uganda's sugar industry that started way back in the 1920's, now boasts of nearly 20 licensed companies majority of which are located in the south-eastern Busoga region.
However, though the annual sugar production had increased from 140,000 in the 1960s to 240,000 tonnes in 2008 and 400.5 tonnes in 2014, it dropped to 365 metric tonnes in 2017, according to data from the Ministry of Trade, Industry and Cooperatives.
The local consumption of raw sugar stands at around 350,000 tonnes per annum, according to USMA, with the rest exported to neighbouring states.
But critics say sugar producers need to invest in early maturing high yielding canes as well as technologies to increase cane and sugar production rather than blame their woes on the absence of sugar zoning for their woes.
FAO launches solar powered irrigation systems in Kalungu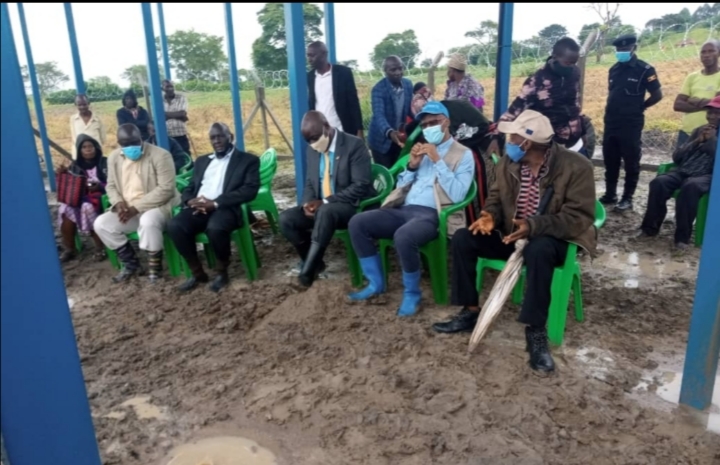 FAO Country Representative Dr. Antonio Querido, Agriculture Minister Vincent Ssempijja flanked by Kalungu District leadership during the commissioning of a solar irrigation system in Bugomola A, Lwebenge Sub County in Kalungu
KALUNGU — The Food and Agriculture Organization of the United Nations (FAO,) last week, launched two solar powered irrigation systems in Kalungu District. The projects are part of efforts to strengthen resilience of rural populations and agricultural production systems through the provision of water for irrigation in the the cattle corridor districts.
FAO, in collaboration with the Ministry of Agriculture, Animal Industry and Fisheries – MAAIF has been implementing a Global Climate Change Alliance (GCCA) Project on agriculture adaptation to climate change in Uganda since 2012 — through the establishment of small scale irrigation systems in the Central Cattle Corridor districts of Mubende, Nakasongola, Luwero, Kiboga, Nakaseke, Sembabule, Kalungu and Rakai amongst others, to help farmers cope with harsh climatic conditions by sustaining all season crop production, but mainly during the dry seasons.
Residents in Bugomola A, Lwebenge Sub County and Mabuyenzo village in Kalungu District were the first beneficiaries of the small scale micro irrigation system in the greater Masaka.
Agriculture Minister – Vincent Ssempijja and Dr. Antonio Querido – the FAO Country Representative in Uganda, jointly launched the solar powered irrigation systems, last week.
The area has been prone to water shortage, especially during drought spells, affecting both domestic and commercial agricultural activities.
The system is, according to Dr Querido, part of FAO and government of Uganda's efforts to build capacities of communities and farmers to cope with climate change and strengthen resilience of rural populations and agricultural production systems through provision of water for irrigation, particularly in districts vulnerable to drought and climate variability.
In Bugomola A, for instance, the Ugx260m solar powered irrigation project will provide water for the four-acre Lwabenge Integrated Group garden.
"Agriculture in the cattle corridor region of Uganda is rain-fed and highly dependent on local weather conditions. This means that farming activities have to be put on hold during the dry season.
"With the new sprinkles system, we are certain that farmers will have access to water for dry season agricultural activities," said Dr. Querido.
The FAO boss noted further that the system will not only increase agricultural production and returns to small scale farmers, but will also improve living conditions of the rural population.
Minister Ssempijja commended FAO for 'changing lives of my people,' adding that the solar irrigation systems in Kalungu will serve as a demonstration of modern agricultural practices to small scale farmers.
The Minister exclusively told PML Daily that historically, the government had been more engaged in promoting large-scale irrigation for commercial farmers due to a limited understanding of the business cases for small-scale irrigation.
He said that access to irrigation will provide farmers with a more reliable income, since one farm can produce several yields a year.
"Many will be ready in three months, which means farmers can gather three or four harvests in a year," he said.
FAO engineer Mr. Denis Besigye said solar was a great fit with irrigation, because on days when plants need the most water, 'you get the most water out of the pump.'
The engineer advised farmers' groups to advantage of the availaable opportunity ofsolar irrigation systems in their areas to change their lives as well as vigirously guarding the facilities against vandalism, noting that each facility cost FAO about Ugx 260m.
Josephine Namagga Muwanga, a member of the beneficiary group in Lwabenge-Bugomola said for tomato cultivation, timely irrigation was vital – cautining that even missing one day could severely affect the crop quality and yield. She said her group had depended on expensive diesel generators for irrigation – a scenario that presented one of the biggest challenges to the farmers.
The solar irrigation systems in Kalungu are some of such other similar projects under construction in 13 other districts in the cattle corridor.
In addition, other schemes such biogas construction are being done in the same area to support local communities.
In reference to Uganda solar water pumping report 2019, the ratio of cultivated area under irrigation to Uganda's irrigation potential is lower than the Sub Saharan Africa average at only 0.5 per cent, whereas approximately 15 percent of the country's surface area is covered by fresh water sources.
The land under irrigation in Uganda is almost exclusively under large-scale projects.
However, the national focus is increasingly shifting towards smaller projects, driven by a combination of demographics and rural realities.
Original Source: pmldaily.com
Kiruhura and Kazo lift ban on milk sale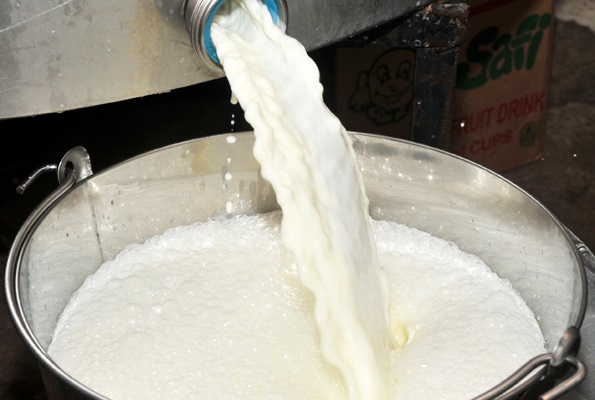 Ban on the sale of milk has been lifted for two weeks under strict regulations
Kiruhura, Uganda.  Authorities in Kiruhura and Kazo districts have reversed the earlier ban imposed on the sale of milk. The two districts that are under quarantine following the outbreak of Foot and Mouth disease had banned the sale of animal products and the movement of livestock.
However, in a meeting held between the dairy farmers and district Foot and Mouth disease task forces of both districts, it was agreed to lift the ban on the sale of milk for two weeks but under strict regulations.
Kiruhura District Resident Commissioner Aminadan Muhindo says they have stopped traders who move from house to house collecting milk on motorcycles, but asked them to set up collection centres where farmers will personally deliver their milk.
Kiruhura LC V chairperson Rev Samuel Katugunda welcomed the partial lifting of the ban. He also asked the residents to respect the regulation.
He says the districts are facing an economic crisis because of the total quarantine.
Kazo District Veterinary Officer Richard Kiyemba says they have agreed with dairy farmers to continue selling the milk. He says they are faced with the challenge of unscrupulous people who smuggle livestock out of the district at night.
The quarantine in these districts has increased the smuggling of livestock and its products which is done during the night. Recently, a trader was arrested carrying animals in a Fuso truck heading to Kampala.
Emmanuel Kyeishe, chairperson Kiruhura district Framers Sustainable Development Association, welcomed the lifting of the ban on the sale of milk but warned that the task force is to blame for the widespread of the disease.
He asked the team to ask for reinforcement to boost their monitoring and implementation of the quarantine.
Original Source: THE INDEPENDENT
Multi-billion cereal processing plant opens in Soroti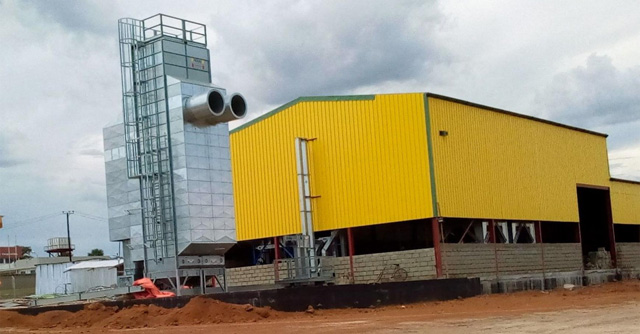 Pela Agro- Processing Factory in Soroti.
Soroti, Uganda. Soroti City will be home to a multi-billion agro-processing business for cereals, thanks to Pela Commodities Limited, a new industry being established in Arapai industrial area.  
Pela commodities has already started laying its machinery in the area near Soroti Fruit Factory. It is expected to handle 18 types of cereals and be able to sort, clean and dry 36 metric tonnes of cereals per hour, according to Isaiah Langa, one of the directors of Pela Commodities Limited. He adds that the plant will easily process over 600 metric tonnes of cereals in less than 24 hours.
Langa adds that they intend to start with maize, soya beans, millet and sorghum produced by farmers in the areas of eastern and northern Uganda, and that their first priority is to improve the quality of grains in the country and open a market for Ugandan grains in the region and beyond.  The cereals currently provide staple food for more than 50 per cent of the population and incomes for rural households. 
Maize is intensely grown in the eastern Uganda districts of Kapchorwa, Mbale, Kamuli, Jinja, and Iganga, the central districts of Masaka and Mubende as well as the western districts of Masindi, Kamwenge, Kyenjojo, Kasese, Kabarole, while the production of finger millet is concentrated in Apac, Lira, Gulu, Kitgum, Iganga, Kamuli, Soroti and Tororo districts. 
"…for now, we want to ensure quality in the production of grains. We have acquired a toxin scrubber machine that will wash away aflatoxin in the grains. By July/August, the issue of aflatoxin will be no more in our grains", he said. This pronouncement comes at the heels of a recent trade war between Uganda and Kenya arising from the quality of Maize on the Ugandan market. 
Kenya, the largest consumer of maize from Uganda stopped the importation of the crop on account that the levels of mycotoxins in the maize were above safety limits.
Amos Wekesa, a co-director of Pela Commodities Limited in Soroti says they made a decision to invest in Soroti because of the availability of land, which was offered to them by the Uganda Investment Authority, favourable weather conditions, availability of cereals and connectivity to South Sudan and Kenya markets. Wekesa added that the company is in the process of engaging farmers on how best to work to enhance production for the factory.
Annet Iyogil, a resident in Arapai welcomes the establishment of an agro-processing factory in the area with the hope that it will improve prices for the cereals. 
"We depend on cereals for survival these days. But the prices of maize and other foodstuffs are very low and unpredictable. If this factory sets a standard rate for cereals, that would really be good for us", she said. 
The factory, worth five billion shillings is expected to start operations by the end of April. 
*******
URN