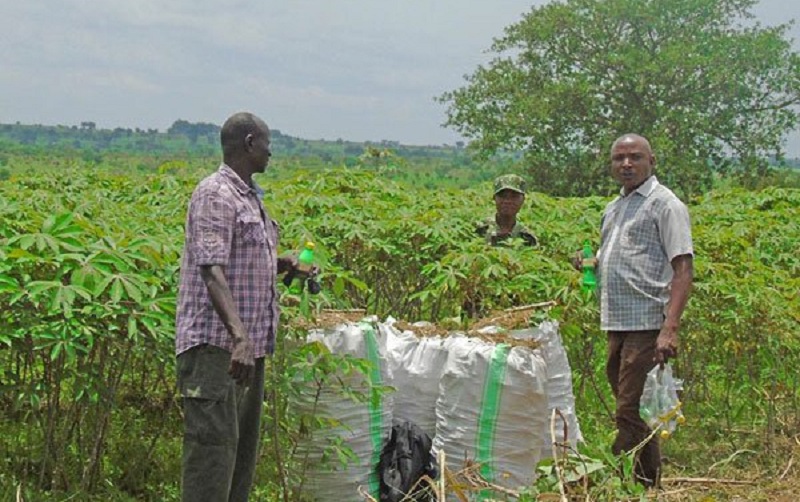 Inspection. Local leaders inspect a farm in Nwoya District where a group of farmers planted improved cassava varieties on March 20. PHOTO BY JULIUS OCUNGI
Omoro. Farmers in Omoro District have asked the National Agricultural Research Organisation (Naro), to supply crop varieties that are durable.
The farmers argue that whereas crop varieties, especially cassava that Naro supplies to farmers mature fast and give good yields they do not last long in gardens like the indigenous varieties.
Since cassava growing has proved to be profitable, farmers in the district have embraced Nase 14, Nase 19 and Naro Cass, cassava varieties.
But Mr Jimmy Okoi, a farmer in Acet Central Village, Odek Sub-county on Tuesday said improved cassava variety does not guarantee food security in the region.
"The new cassava variety is proving hard to grow at the moment. They grow fast and once they are matured, the tubers start rotting away, the tubers cannot last long unlike the indigenous cassava that stays for more than a year in the garden," Mr Okoi, who has a three-acre garden of cassava, said.
Mr Okoi said since Naro coordinates agricultural research activities in the country, it should look for alternative ways of improving durability of cassava in the garden.
According to Mr Okoi, improved cassava varieties are not resistant to pest and diseases as opposed to indigenous varieties.
Mr Tony Orach, a farmer in Lalogi Sub-county, said he lost half an acre of cassava, which he planted in his garden last year, after failing to harvest them in time.
"I bought Naro Cass 1 cassava cuttings last year which were released by Naro after being convinced of its high yield, but after eight months in the garden, the tubers started rotting away," he said.
Mr Orach said he had bought the improved cassava cuttings hoping to supply dried cassava to a distillery factory in Nwoya District.
"I have made a loss from the improved cassava variety. I call on the Agriculture ministry to pile more pressure on public bodies to beef up research on crop varieties that are long lasting for farmers," he said.
Dr Jimmy Lamo, a scientist at Naro, acknowledged that some improved cassava varieties are not durable in the garden because of their fast maturity.
"It is a good feedback that Naro has got. The farmers, however, should grow the variety on small area; it should help to take them through a lean period of famine," Dr Lamo said.
Speaking at the sidelines of a farmers and community leaders awareness meeting on agricultural research and technologies in Omoro on Friday, Dr Lamo advised farmers to plant more long term crop varieties.
He, however, refuted claims that the improved varieties are highly susceptible to pest and diseases, saying Naro released cassava varieties that are not only resistant to pest and diseases but also drought .
Dr Lamo instead encouraged the farmers to embrace the improved crop varieties for better quality yields.
The Omoro District production officer, Mr Godfrey Oyet Jomo, said many farmers are still focused on growing durable crop varieties despite the change in weather patterns.
The district chairperson, Mr Douglas Okello, asked the Agriculture ministry to set up an agricultural research centre in the area.
Last month a section of leaders under their umbrella body the Acholi Leaders Forum resolved to subject all seeds distributed under Operation Wealth Creation to a germination test, claiming that some of the seeds earlier distributed did not germinate.
Issues
Improved varieties. Farmers in Omoro District have embraced Nase 14, Nase 19 and Naro Cass, cassava varieties. However, despite the fast maturity, farmers with bulk harvests are finding it hard to store tubers as they easily rot away.