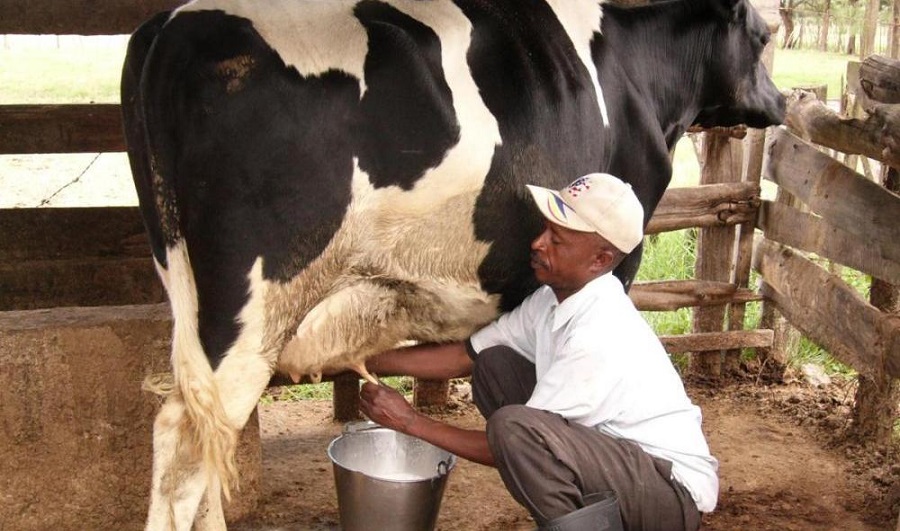 Dairy Farmers in Mbarara and Kiruhura districts are stuck with over 150,000 litres of milk following the closure of the biggest milk processing plants in the area. Pearl Dairies stopped buying milk six days ago while Amos Dairies stopped a week ago.
The closure of the two biggest milk processors has taken a huge toll on dairy farmers. James Rwamunahe, a manager at a milk collecting center in Biharwe trading center, says they collect over 15,000 litres each but only sell 5,000 litres leaving a balance of 10,000 litres.
He says the whole of Kashari A collects over 30,000 litres but only 15,000 litres are taken by Abesigana Farmers Dairy Cooperative Society leaving a balance of 15,000 litres. Wilson Bagatuzire, a farmer in Kashari says he is worried about where to take his milk because Pearl Dairies, which used to buy the bulk of the milk, closed yet cooperatives cannot consume what they produce.
David Rwancumi, a Dairy farmer in Kiruhura district, says due to lack of market a litre of milk has dropped between Shs 700 and 800 to Shs 300. He also notes that the few cooperatives buying milk don't give them a chance to negotiate for better prices. Alex Mubagizi, the Igongo farm manager says a litre of milk now costs between Shs 100 and Shs 300 s down from between Shs 700 and Shs 800.
Much as milk farm gate prices are low, a litre of milk in Mbarara business center costs between Shs 1000 and Shs 1200. Asaph Nagaba who owns a cooler at Fresh Milk Suppliers on Bulemba Road in Mbarara town says the closure of the milk plant doesn't mean that they should reduce prices because they also have expenses to cover.
"We cannot reduce our prices just because the Indian has closed, we have other expenses like transport, taxes, polythene bags for packing and other things so we keep our prices high but not exorbitant," he said.
Nathan Bahuku, a farmer in Biharwe has appealed to government to come up with a strategy of finding market for their milk to save them from losses.
Our reporter was denied access to Pearl Dairies. However, a source said that the factory has laid off three-quarters of its workers since it closed on grounds that they no longer export milk to Kenya. Pearl Dairies are the producers of Lato Milk products.
The company has been consuming over 300,000 litres per of milk each day collected from Kiruhura, Lyatonde and Mbarara districts.  Late last year, the then state minister for Animal Husbandry, Joy Kabatsi asked farmers to start cooperative societies to help them negotiate milk prices and find market for their products.
Source: The Observer