Dairy farmers struggle to find market for their milk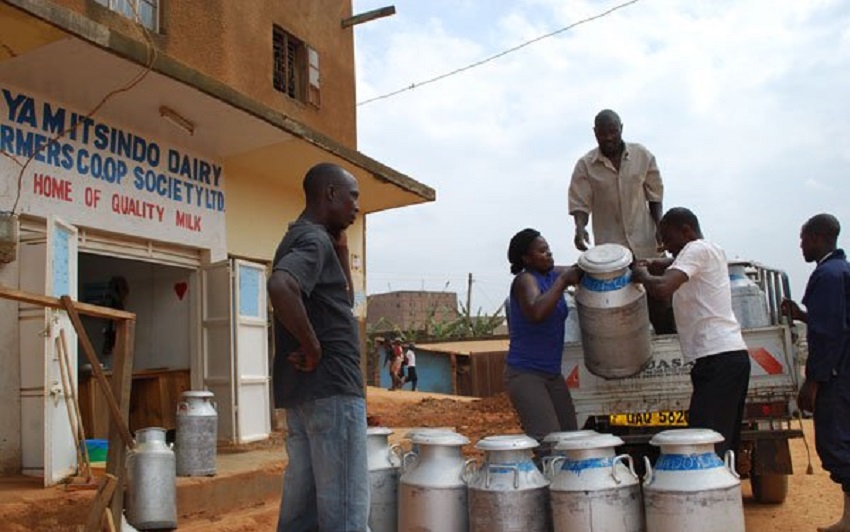 Preservation. Workers offload milk for chilling at a cooler owned by Nyamitsindo Dairy Farmers Cooperative Society Ltd in Mbarara District in February last year. PHOTO BY ALFRED TUMUSHABE 
Majority of the cattle keepers in Ankole and some parts of central Uganda have over the last three decades been investing heavily in dairy farming.
This involves clearing land of thicket and removing plant species that cows do not feed on in order to allow the right pastures flourish.
The farmers in this endeavour have to dig valley dams to ensure cows drink adequately. Farmers also have to acquire, breed and nurture cows of high milk yield. The cows have to be sprayed against ticks and other external parasites at least once a week to guard against diseases such as east coast fever and babesiosis.
They have to be dewormed and injected at least every three months to check internal parasites and diseases. These are basic practices that farmers producing high quality and large volumes of milk have to do.
The revolution in dairy farming has resulted in high production of milk against the low domestic and fragile foreign markets.
Mr Ephraim Rwehooda, a farmer in Sanga Town Council, Kiruhura District, is one of the cattle keepers that abandoned traditional long horned cattle for exotic breeds. He milks 300 litres for sale every day.
"I cannot keep on my farm a cow that produces less than 10 litres," says Mr Rwehooda.
Kiruhura alone produces 1.2 million litres of milk every day, which is about 60 per cent of milk produced in the entire country, according to the LC5 chairperson and farmer, Rev Samuel Mugisha Katungunda.
During peak production (normally the wet season), the price of a litre of milk at the farm goes down to Shs300. Mr Katugunda says the cost of producing a litre of milk is about Shs600. "Shs300 a litre is nothing to a farmer. The minimum price should be Shs1,000; we are putting in quite a lot, about Shs600 is invested in producing one litre. Farmers are frustrated, some have started rearing cows for beef," says Mr Katugunda.
The Kiruhura Farmers Sustainable Development Union chairperson, Mr Emmanuel Kyeishe Mwesiga, says milk from Kiruhura accounts for 45 per cent of Uganda's milk exports but the farmer are not happy with the pay. He says the cost of producing a litre of milk is at least Shs500 and argues that it does not make economic sense when the price is below this amount. Farmers sell milk through their primary cooperative societies, some sell through middlemen, who sometimes collect milk from the farm and a few others sell directly to the processors.
Business dynamics
Ultimately, all the milk ends up in the hands of processors. The processors buying in Kiruhura, Mbarara and Isingiro are from Brookside Dairy Ltd, Pearl Dairy Farms Ltd, Jesa Farm Dairy Ltd, Amos Dairies Uganda Ltd, GBK Dairy Products Ltd, and Lakeside Dairies Ltd.
They make UHT milk, yoghurt, Casein, ghee and Lato Milk, among other products, which they sell in the local and international markets.
"Farmers are not involved in determining price, it is the processors that decide; we think they set the price jointly, we (farmers) take what they determine for us. We have decided to form this union to bring together farmers and be able to address the issue of price and market," says Mr Kyeishe.
The manager of milk procurement at Lakeside Dairies Ltd in Ruti Mbarara, Dr Ronald Bamundaga, says all the processors in the area are buying a litre at Shs600 at the plant. He says a farmer is given less than Shs600 (currently Shs300) because middle men and other players incur costs of chilling the milk and transport before it reaches the processor.
"There is a boda boda man who picks milk from the farm to the collection centre, that one will deduct something, there is truck that will transport milk from the collection centre and take it to a cooler, that will also deduct something. A lot of money is lost along the chain," says Dr Bamundaga.
He says currently Lakeside, which has intake capacity is 150,000 litres every day, is operating at 30-40 percent (45,000 to 60,000 litres) because Kenya, which has been their major export market, banned milk imports from Uganda.
Amos Dairies Uganda Ltd in Kiruhura, reportedly did not receive milk on Wednesday because of breakdown of the factory machines.
Ban on exportation
Kenya government banned milk products from Uganda (by Pearl Dairy Farms Ltd and Lakeside Dairies Limited) in December last year claiming they are sold cheaply and have flooded their market.
"As we talk now, all processors including us (Lakeside) are not operating fully or have shutdown operations because of closure of lack of market. Over 70 per cent of what we process is exported; we sell to South Sudan as well but the market is very small," says Dr Bamundaga.
He says the tax in Tanzania, at TZS2,000 per litre, is very prohibitive and that Rwanda is already producing and processing enough much milk. He says they are exploring DR Congo market.
"The local market is very poor, consumption of milk is very low, domestic market takes only 12 per cent of what we collect, here (in Uganda) there is no culture of consuming milk," says Dr Bamundaga.
Mr Frank Twine, a middleman in Kiruhura Town Council, on Wednesday said they were stuck with milk. "All coolers around are full, those transporting to factories have not come for two days now, we have stopped collecting milk from farmers," Mr Twine said.
Efforts to get comment from Pearl Dairy Farms Ltd were futile. The company general manager, Mr Bijoy Varghese, did not answer our calls or reply our text message. However, no serious activity was taking place at the company.
Mr Eric Rutahigwa, a farmer in Mbarara producing about 1,600 litres a day, has called on government to intervene. "The government should come in and ensure farmers get a fair price for milk," says Mr Rutahigwa.
Speaking at Nshwere Church of Uganda in Nyabushozi Kiruhura district on Christmas last year, President Museveni said low price of milk had been brought down by surplus production. He said Kenya which had been market for Uganda's milk is equally producing a lot of milk because they received a lot of rain though it (Kenya) had always been a dry area.
Mr Museveni, however, advised farmers to remain optimistic saying the prices will become normal.
Remedy
During the NRM/NRA 34th victory celebrations in Ibanda Municipality on January 26, Mr Museveni said three approaches of; market integration in Africa, promoting internal consumption and ensuring production of quality products, would be used to address the issue of lack of market for milk, maize, sugar, and cement.
Source: Daily Monitor
Kigezi In Famine Scare After Drought Hits The Region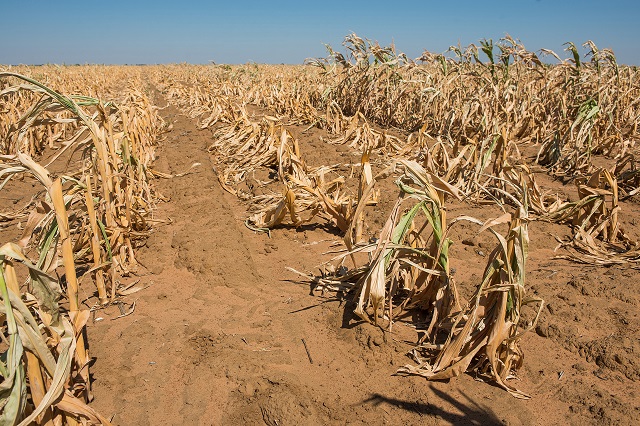 Farmers in Rubanda district are living in fear that they may be hit by famine due to the prolonged drought that has greatly affected the area. This comes after the area was hit by heavy rains in the month of May 2023, which left most of the gardens washed away, and since then the dry season has started up to date.
This is the first of its kind for Rubanda district and Kigezi at large to undergo such a prolonged drought.
According to farmers, this is the first of its kind for Rubanda to go through a long drought, adding that they are in fear that they may be hit by famine since they were used to receiving rains at the beginning of August, which is not the case this year. They add that even the seedlings that they had planted excepting that the rains would come have all dried up by the long spell.
Farmers also say that they don't know what could be the cause that has stopped the rains,adding that the government should come up with a program that provides them with seedlings.
Akampurira Prossy Mbabazi, a woman Member of Parliament for Rubanda District, says that the issue of drought is not only in Rubanda District; however, this is the first of its kind. She adds that the drought comes after the area was hit by heavy rains, which caused a lot of challenges, adding that now it is the drought that may affect the farmers.
Akampurira further says that, as a leader,she will continue to educate farmers on better methods of farming depending on climate change.
Kikafunda Evelyne, founder of Green Environment Promotion (GEP), says it's sad that farmers in Rubanda district and Kigezi at large are experiencing a long drought. She attributes it to problems of environmental degradation that include swamps being reclaimed, deforestation, and plastic pollution, adding that this is an indication that people don't mind about the environment.
Kikafunda calls upon all people to take part in protecting the environment, adding that environmentalists should devise means on how to protect the environment.
It's now been four months since it last rained in the districts of greater Kabale, that is, Rubanda, Kabale, and Rukiga districts, as well as other parts of the Kigezi Subregion.
Source: chimpreports.com
Ban GMOs in Africa, farmers urge govts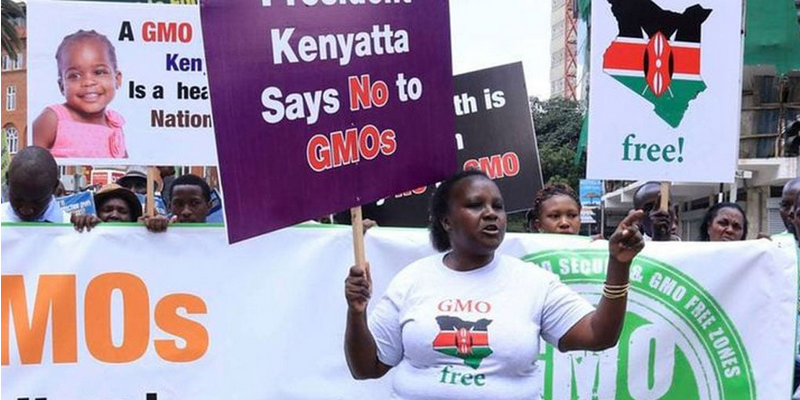 A cross section of residents from the oil-rich Albertine Region have petitioned African heads of state to ban genetically modified organism (GMOs) and crops across the continent to save Africa's indigenous crops and animal species from extinction.
The August 26, petition addressed to President William Ruto of Kenya, the Chairperson of the Committee of African Heads of State and Government on Climate Change, asks African heads of states who are meeting this week for Africa Climate Dialogue to pass strong resolutions to ban GMOs.
Africa Climate Dialogue kicks off today in Nairobi, Kenya under the theme "Driving green growth and climate finance solutions for Africa and the World."
Co-hosted by the Kenya and the African Union Commission, it brings together heads of state and Government, policymakers, civil society organisations, the private sector, multilateral institutions and the youth to design and catalyse actions and solutions for climate change in Africa.
The petitioners under the Uganda Oil Refinery Residents, have made a raft of recommendations including passing a strong resolution to immediately ban the use and promotion of GMO products in African countries, a resolution for promotion of indigenous species of plant seeds and animals in all African states and another resolution to increase budget allocation for agriculture with focus on research in preservation and conservation of indigenous species of plants and animals in Africa.
"This will contribute to knowledge sharing and awareness creation on the relevance of indigenous species as a response to climate change," the petition recommends, adding: "Lastly, pass resolution to integrate indigenous agriculture practices in education curriculum in some relevant subjects like agriculture and biology in all African countries. This will enable preservation and increased knowledge among the young people on the need to preserve and promote indigenous species."
The petitioners, drawn from Kabaale and Busheruka sub-counties in Hoima District Uganda where there are planned oil refineries and other infrastructure, say GMOs present a number of risks and their introduction onto the continent could have a huge negative impact on food security, indigenous crops and organisms, health risks and associated problems.
The petitioners say while different African states have made a number of policies, laws and commitments regarding climate change, including integrating the aspect of climate justice into their different state legislations, as a grass root community whose livelihood entirely depends on agriculture, they still believe that leaders have not done enough to respond to these calamities.
"The major concern is about the use and promotion of genetically modified organisms [for both plants and animals] in Africa.
Uganda, whose backbone is agriculture, once known for its indigenous plants and animals now faces many difficulties in dealing with these invasive species. Maintenance and management strategies of these species require a lot of capital in terms of purchasing inputs such as fertilisers, herbicides and pesticides, among others," the petition reads in part.
The petitioners say with the worsening climate change, the introduction of one season fast maturing plants has made it difficult for farmers to plan. They argue that GMOs, which they claim are invasive species onto the continent, cannot withstand climate change and weather vagaries and therefore increase food insecurity on the continent.
"As earlier stated, these species require many inputs in terms of chemicals like fertilisers, pesticides, herbicides, processed feeds, and vaccines, among others that are all expensive for the ordinary African farmers," they add in the petition.
The petitioners also contend that in Africa, more than 85 percent of grass root communities heavily rely on rain-fed agriculture and that the 'invasive species' are not resistant and not compatible with the local environmental conditions.
"As such, they require effective irrigation as an alternative, which is extremely expensive for grass root communities. Whereas these GMOs were initially introduced as a solution to enhance agricultural productivity and food security, there has been a concerning trend of a financial strain on communities due to the high costs associated with these invasive species," the petition states.
"Buying seasonal seeds for planting and agricultural inputs to manage these species among others is not sustainable and oftentimes leads to significant drain of limited financial resources within the communities. The local farmers are often compelled to divert funds from other essential needs such as education, healthcare and basic infrastructure development," the petition adds.
They also say there is an increased outbreak of pests and disease, which is attributed to the increase in temperatures caused by the changing climate. Unfortunately, they say, GMOs are prone to attack by these pests and diseases.
They also say the GMOs present huge health risks to the local communities, who are illiterate and do not understand the precautions to follow while using these pesticides and herbicides.
This, according to the petition, exposes the users to high risks of contracting diseases through ingestion, inhalation, or skin contact that can lead to acute and chronic health related issues.
"These include respiratory diseases, skin irritations, neurological disorders, and even certain types of cancers in the end. Most grass root women are also worried about the consumption of these genetically modified organisms since they are mainly treated with chemicals; others are injected with hormones to increase their shelf-life spans," the petition states.
Source: Daily Monitor
NEBBI: Livestock disease kills 14,000 goats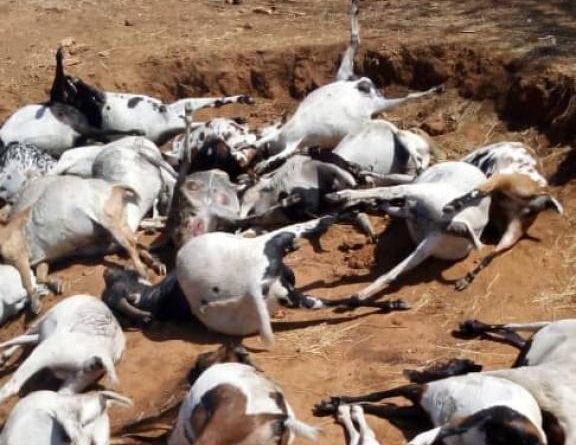 Nebbi, Uganda. The Nebbi district veterinary department is struggling to contain an outbreak of the Contagious Caprine Pleuropneumonia (CCPP), a disease which is highly fatal in cattle and other hoofed animals.
At least 14,650 goats have died and 53,397 goats have been infected following the outbreak of the disease which was first reported in 2022.
According to the local authorities, the disease has since spread to a cross all the sub counties like Erussi, Nebbi ,Alala Jupangira Atego ,Ndhew and Kucwiny as well as Nebbi Municipality.
Moreen Awekonimungu, a livestock farmer in Nebbi Municipality says that she has so far lost three goats since the outbreak was reported a year ago. She further notes that an infected animal dies within two weeks after presenting with signs and symptoms of the disease.
The Contagious Caprine Pleuropneumonia (CCPP) is an infectious disease caused by mycoplasmas and it mostly affects ruminants.
The diseases are transmitted through direct contact and inhalation of droplets from infected animals. Symptoms include fever, nasal discharge, coughing, difficult respiration, edema, and lung tissue abnormalities.
Emmauel Ongeitho, the Nebbi Municipality assistant veterinary officer blames the persistence of the diseases on the poor attitude of farmers against vaccination of their livestock. According to Ongeitho several farmers shunned the mass vaccination exercise which resulted in a spike in livestock deaths.
According to Dr. William Abedkane, the principal veterinary Officer for Nebbi district, the outbreak which started last year has been killing goats silently since farmers are hesitant to report the cases to the veterinary officers in their respective sub counties.
Abedkane further appealed to farmers to pay attention to animal health just like they do with their own health.
According to information from the Minister of Agriculture, Animal Industry and Fisheries (MAAIF), the outbreak of Contagious Caprine Pleuropneumonia (CCPP disease was first confirmed in Uganda in 1995 in Karamoja region.
Original Source: URA Via The Independent.