Why you must consider crossbreeding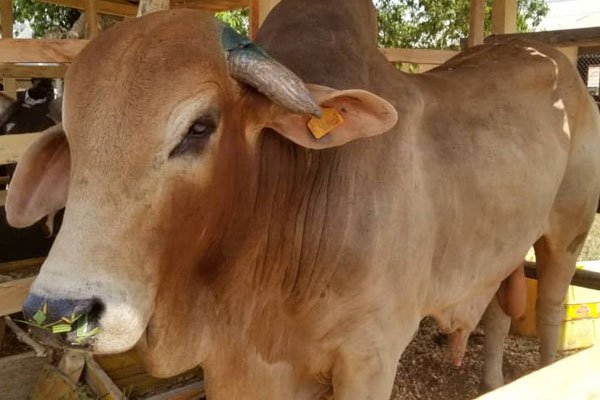 Exotic baron breed bred by scientists at Aswa Ranch for the last seven years weighing 900kg. Photo by Lominda Afedraru
Dairy and beef cattle production is certainly a daunting undertaking, especially for beginners, perhaps the reason many people opt for dairy farming, which they consider easy as they can readily learn from other farmers.
But just as in dairy, beef cattle production requires good knowledge and expertise.
Animal breeding technology is mainly using the traditional method but agricultural scientists specialised in livestock breeding are now sensitising farmers to use the improved methods and embracing best practices for increased productivity.
One such initiative is by experts from the National Animal Genetic Resources and Data Bank Aswa Ranch in Pader District who are breeding both local and exotic breeds.
Seeds of Gold caught up with Alex Tumuhimbise a technician working at the ranch and he shares information about good management practices which his team embraced to revamp the breeding activities at the ranch.
Breeds
Tumuhimbise explains that his team is able to breed local species which are dual-purpose for milk and beef production namely Ankole long-horned cattle, the East African short-horned Zebu and Nganda.
Dairy breeds
Friesians
It is the biggest dairy breed characterized to be producing the highest amount of milk with the lowest butter content. It is the most delicate with a black and white patch in the face and a white end at the tail.
Jersey
It is the smallest dairy breed, brown in color or with stripes of black. It gives the least amount of milk among the dairy cows containing the highest butter content
Ganze
It is brown in color with white patches. It is a big animal like a Friesian but eats less.
Beef breed
Boran
It is grey in color and very hostile. They grow very fast and can weigh up to 300 kilograms at the age of 18 months.
Crossbreeding
The team has been carrying out cross-breeding of local species with exotic ones in order to improve the health status since the local breeds have the capacity to resist diseases more than the exotic ones. Once the animals are crossbred, the commercial value will go high.
Its growth period will shorten to 2- 3 years ready for mounting. For a cow, the lactation rate will be high and it is advisable for farmers to milk the cow three times a day
Exotic breeds
Exotic breeds grow faster and in 15 months they go on heat ready for mounting. Usually, the Boran breed will weigh 860 kilograms in the growth period of four years and a farmer will be able to sell it at Shs5m.
The team has bred one such breed of Boran and Braham breed of American origin which is weighing 900 kilogrammes in growth period of seven years. It can now be sold at Shs7m.
The scientists do process semen from both the local and exotic breeds to carry out artificial insemination for cross breeding. Farmers access this service at a fee.
Feeds and nutrition
According to Tumuhimbise all animals obtain the following nutrients from feeds; proteins for growth, maintenance and energy, carbohydrates and fat for energy, Vitamins; for building the defensive mechanism against diseases, minerals for vital metabolic processes in body and skeleton, roughage for good digestion and water for cooling body and functions of cells.
This will enable fast growth and high milk production. Free-range grazing is highly encouraged through supplementary feeds are also important.
Supplementary feeds can be homemade or commercially obtained from feed dealers.
Diseases
East Coast Fever
This is one of the major diseases that attacks cattle. The signs include loss of appetite, high body temperature, lowering of head, swelling of the lymph nodes especially those below the ear, standing hair and general body weakness, not active, difficult breathing and sometimes coughing.
"You can use ox tetracycline, butalex and parvexion to treat this disease," says the agronomist.
Heart water
This disease leads is characterised by animals moving the opposite direction from the rest, then in circles with bent neck. Upon death, post-mortem shows a heavy heart and fluid around the heart. Farmers are advised to apply sulfadimidine as treatment.
Anaplasmosis
The symptoms of animals infested with Anaplasmosis indicate loss of appetite, high body temperature and constipation. The cow dung will appear such as the goat droppings. This disease will also lead to the swelling of the lymph nodes and high fever. Famers are advised to use Ox tetracycline for treatment.
Babesiosis
This disease is characterised by loss of appetite, high body temperature, and bloody urine. Farmers are advised to treat it with berenil and veriben for treating. All the above are tick bone diseases.
Nagana
It is caused by tsetse flies and it leads to loss of weight but with good appetite because the animals will keep eating till the last hour.
Farmers are advised to use berenil, veriben, novidium, ethidium, veridium, samorin and diminasan for treating.
All the above can be controlled by regular use of acaricides to kill ticks and farmers are advised to buy the acaricide from reputable drug shops.
Foot and mouth
It is a viral disease and the symptoms include loss of appetite, salivation, high body temperature, vesicle wounds in the mouth, tongue, throat, and hooves, poor gait and limping. There is no drug but nursing of wounds is advisable as well as vaccinating.
Mastitis
This leads to swollen painful udder, high body temperature, bloody spots in the milk, sometimes pus may come out of the teats
This can be controlled by using clean milking utensils, washing hands before milking and washing the udder before milking. Farmers are advised to treat this disease with intramammary infusion.
Other diseases include Contagious Bovine Pleural Pneumonia (CBPP), brucellosis and lumpy skin.
Statement: The Energy Sector Strategy 2024–2028 Must Mark the End of the EBRD's Support to Fossil Fuels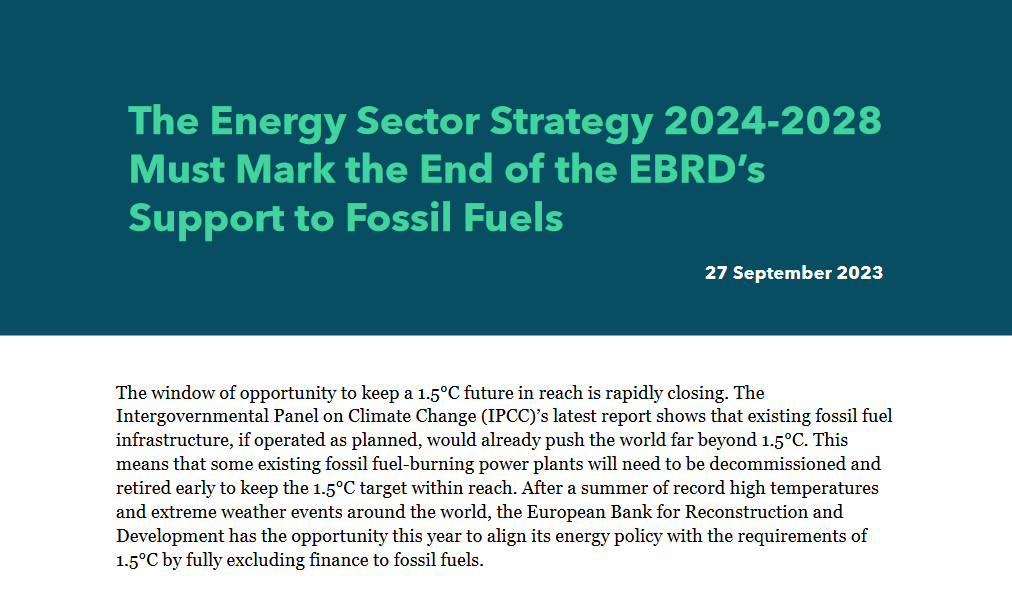 The European Bank for Reconstruction and Development (EBRD) is due to publish a new Energy Sector Strategy before the end of 2023. A total of 130 civil society organizations from over 40 countries have released a statement calling on the EBRD to end finance for all fossil fuels, including gas.
From 2018 to 2021, the EBRD invested EUR 2.9 billion in the fossil energy sector, with the majority of this support going to gas. This makes it the third biggest funder of fossil fuels among all multilateral development banks, behind the World Bank Group and the Islamic Development Bank.
The EBRD has already excluded coal and upstream oil and gas fields from its financing. The draft Energy Sector Strategy further excludes oil transportation and oil-fired electricity generation. However, the draft strategy would continue to allow some investment in new fossil gas pipelines and other transportation infrastructure, as well as gas power generation and heating.
In the statement, the civil society organizations point out that any new support to gas risks locking in outdated energy infrastructure in places that need investments in clean energy the most. At the same time, they highlight, ending support to fossil gas is necessary, not only for climate security, but also for ensuring energy security, since continued investment in gas exposes countries of operation to high and volatile energy prices that can have a severe impact on their ability to reach development targets. Moreover, they underscore that supporting new gas transportation infrastructure is not a solution to the current energy crisis, given that new infrastructure would not come online for several years, well after the crisis has passed.
The signatories of the statement call on the EBRD to amend the Energy Sector Strategy to
fully exclude new investments in midstream and downstream gas projects;
avoid loopholes involving the use of unproven or uneconomic technologies, as well as aspirational but meaningless mitigation measures such as "CCS-readiness"; and
strengthen the requirements for financial intermediaries where the intended nature of the sub-transactions is not known to exclude fossil fuel finance across the entire value chain.
Source: iisd.org
Download the statement: https://www.iisd.org/system/files/2023-09/ngo-statement-on-energy-sector-strategy-2024-2028.pdf
Kigezi In Famine Scare After Drought Hits The Region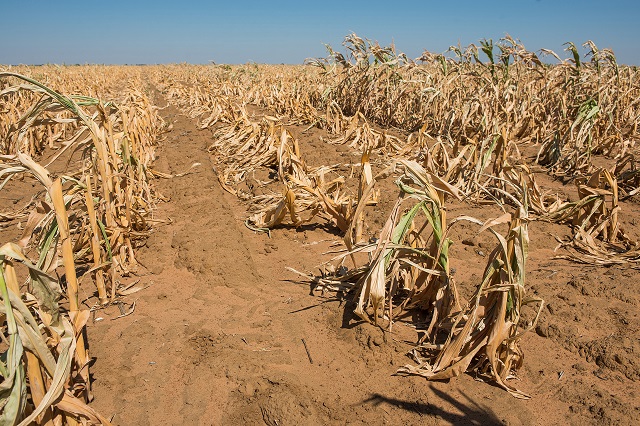 Farmers in Rubanda district are living in fear that they may be hit by famine due to the prolonged drought that has greatly affected the area. This comes after the area was hit by heavy rains in the month of May 2023, which left most of the gardens washed away, and since then the dry season has started up to date.
This is the first of its kind for Rubanda district and Kigezi at large to undergo such a prolonged drought.
According to farmers, this is the first of its kind for Rubanda to go through a long drought, adding that they are in fear that they may be hit by famine since they were used to receiving rains at the beginning of August, which is not the case this year. They add that even the seedlings that they had planted excepting that the rains would come have all dried up by the long spell.
Farmers also say that they don't know what could be the cause that has stopped the rains,adding that the government should come up with a program that provides them with seedlings.
Akampurira Prossy Mbabazi, a woman Member of Parliament for Rubanda District, says that the issue of drought is not only in Rubanda District; however, this is the first of its kind. She adds that the drought comes after the area was hit by heavy rains, which caused a lot of challenges, adding that now it is the drought that may affect the farmers.
Akampurira further says that, as a leader,she will continue to educate farmers on better methods of farming depending on climate change.
Kikafunda Evelyne, founder of Green Environment Promotion (GEP), says it's sad that farmers in Rubanda district and Kigezi at large are experiencing a long drought. She attributes it to problems of environmental degradation that include swamps being reclaimed, deforestation, and plastic pollution, adding that this is an indication that people don't mind about the environment.
Kikafunda calls upon all people to take part in protecting the environment, adding that environmentalists should devise means on how to protect the environment.
It's now been four months since it last rained in the districts of greater Kabale, that is, Rubanda, Kabale, and Rukiga districts, as well as other parts of the Kigezi Subregion.
Source: chimpreports.com
Ban GMOs in Africa, farmers urge govts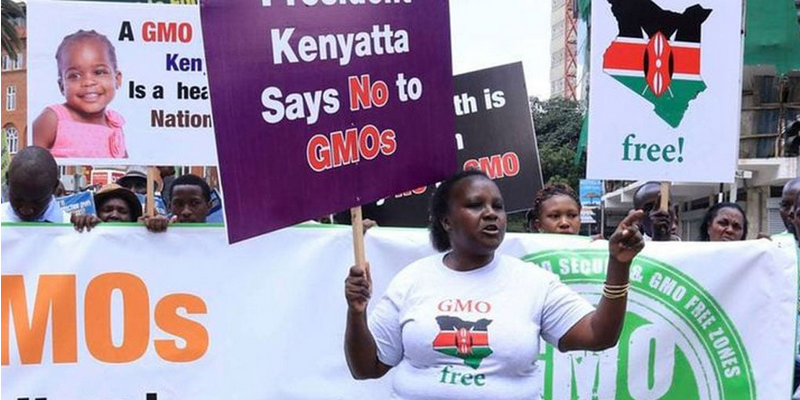 A cross section of residents from the oil-rich Albertine Region have petitioned African heads of state to ban genetically modified organism (GMOs) and crops across the continent to save Africa's indigenous crops and animal species from extinction.
The August 26, petition addressed to President William Ruto of Kenya, the Chairperson of the Committee of African Heads of State and Government on Climate Change, asks African heads of states who are meeting this week for Africa Climate Dialogue to pass strong resolutions to ban GMOs.
Africa Climate Dialogue kicks off today in Nairobi, Kenya under the theme "Driving green growth and climate finance solutions for Africa and the World."
Co-hosted by the Kenya and the African Union Commission, it brings together heads of state and Government, policymakers, civil society organisations, the private sector, multilateral institutions and the youth to design and catalyse actions and solutions for climate change in Africa.
The petitioners under the Uganda Oil Refinery Residents, have made a raft of recommendations including passing a strong resolution to immediately ban the use and promotion of GMO products in African countries, a resolution for promotion of indigenous species of plant seeds and animals in all African states and another resolution to increase budget allocation for agriculture with focus on research in preservation and conservation of indigenous species of plants and animals in Africa.
"This will contribute to knowledge sharing and awareness creation on the relevance of indigenous species as a response to climate change," the petition recommends, adding: "Lastly, pass resolution to integrate indigenous agriculture practices in education curriculum in some relevant subjects like agriculture and biology in all African countries. This will enable preservation and increased knowledge among the young people on the need to preserve and promote indigenous species."
The petitioners, drawn from Kabaale and Busheruka sub-counties in Hoima District Uganda where there are planned oil refineries and other infrastructure, say GMOs present a number of risks and their introduction onto the continent could have a huge negative impact on food security, indigenous crops and organisms, health risks and associated problems.
The petitioners say while different African states have made a number of policies, laws and commitments regarding climate change, including integrating the aspect of climate justice into their different state legislations, as a grass root community whose livelihood entirely depends on agriculture, they still believe that leaders have not done enough to respond to these calamities.
"The major concern is about the use and promotion of genetically modified organisms [for both plants and animals] in Africa.
Uganda, whose backbone is agriculture, once known for its indigenous plants and animals now faces many difficulties in dealing with these invasive species. Maintenance and management strategies of these species require a lot of capital in terms of purchasing inputs such as fertilisers, herbicides and pesticides, among others," the petition reads in part.
The petitioners say with the worsening climate change, the introduction of one season fast maturing plants has made it difficult for farmers to plan. They argue that GMOs, which they claim are invasive species onto the continent, cannot withstand climate change and weather vagaries and therefore increase food insecurity on the continent.
"As earlier stated, these species require many inputs in terms of chemicals like fertilisers, pesticides, herbicides, processed feeds, and vaccines, among others that are all expensive for the ordinary African farmers," they add in the petition.
The petitioners also contend that in Africa, more than 85 percent of grass root communities heavily rely on rain-fed agriculture and that the 'invasive species' are not resistant and not compatible with the local environmental conditions.
"As such, they require effective irrigation as an alternative, which is extremely expensive for grass root communities. Whereas these GMOs were initially introduced as a solution to enhance agricultural productivity and food security, there has been a concerning trend of a financial strain on communities due to the high costs associated with these invasive species," the petition states.
"Buying seasonal seeds for planting and agricultural inputs to manage these species among others is not sustainable and oftentimes leads to significant drain of limited financial resources within the communities. The local farmers are often compelled to divert funds from other essential needs such as education, healthcare and basic infrastructure development," the petition adds.
They also say there is an increased outbreak of pests and disease, which is attributed to the increase in temperatures caused by the changing climate. Unfortunately, they say, GMOs are prone to attack by these pests and diseases.
They also say the GMOs present huge health risks to the local communities, who are illiterate and do not understand the precautions to follow while using these pesticides and herbicides.
This, according to the petition, exposes the users to high risks of contracting diseases through ingestion, inhalation, or skin contact that can lead to acute and chronic health related issues.
"These include respiratory diseases, skin irritations, neurological disorders, and even certain types of cancers in the end. Most grass root women are also worried about the consumption of these genetically modified organisms since they are mainly treated with chemicals; others are injected with hormones to increase their shelf-life spans," the petition states.
Source: Daily Monitor