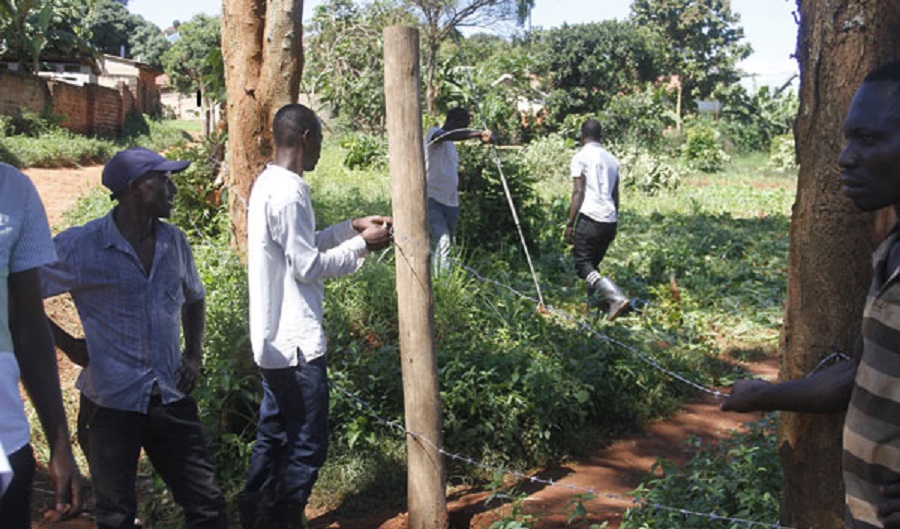 Maj Gen Muhwezi claimed ownership of the one-acre land in Kyamula Zone, but another claimant, Mr James Mubiru, said the retired army general and one Mr William Hitimana wanted to take his land.
Maj Gen Muhwezi's desperate attempts to stop his eviction by calling the Inspector General of Police Martins Okoth-Ochola did not yield any relief as the police boss was unreachable by telephone and the court bailiffs proceeded with the demolition of property on the disputed land.
He turned to Katwe Division Police Commander Assistant Superintendent Kato Mugira Yeko, but his move was met with further frustration.
The police commander said he was complying with a court order to remove Mr Hitimana from the land and reinstate Mr Mubiru as the owner.
Court bailiffs demolished houses and cut down trees and a plantation on the land as police officers oversaw the exercise.
Gen Muhwezi told journalists at the scene that he had bought the land from Mr Hitimana.
After police officers and court bailiffs took over the land, Gen Muhwezi left, saying he would return to court.
No proof
However, perusal of the court documents does not show Gen Muhwezi as the owner or party to the land.
The armed private guards deployed on the land were left stranded at the scene after the eviction.
Mr Mubiru said Mr Hitimana had threatened to take the land by force and had illegally caused his arrest in January 2016 after which he was detained in a toilet for five days at Katwe Police Station.
"They hit my teeth. They said I was trespassing on that land. They also charged me with treason and attempt to kill Maj Gen Muhwezi. I am still on a police bond," Mr Mubiru said.
He claimed that at one point Mr Hitimana asked to buy him out of the land but he refused.
"I told him that I am a poor man, but I cannot sell the land I inherited. He said he would fight me," Mr Mubiru said, adding that he was happy justice had finally prevailed.
Execution order
According to the court's execution order arising from High Court case 58 of 2014 between Mr Mubiru and Mr Hatimana, the court ruled that Mr Mubiru should repossess the property. "You are hereby directed to remove the said defendants and their agents/servants from the suit property comprised at Kyamula Zone…and put James Mubiru in possession of the said property," reads the eviction order by Mr Baker Rwatooro, the Deputy registrar for Execution and Bailiff's Division, signed on April 23, 2018.
Extracted from Daily Monitor
…