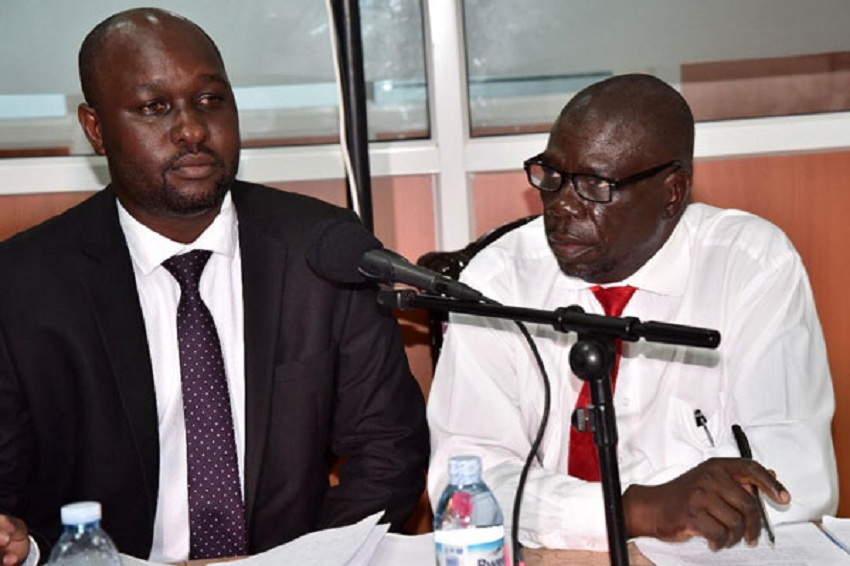 Interrogated. The acting director of geology in the Energy ministry, Mr Zachary Baguma (right), with his lawyer Geoffrey Ojok before the land probe commission yesterday. PHOTO BY BY EPHRAIM KASOZI 
Kampala. A senior government official has been interrogated over Shs600 billion compensation claims for rock and sand reserves on land purchased by government to pave way for the construction of Isimba Dam in Kayunga District.
Mr Zachary Baguma, the Acting Director in charge of Geological department in the Energy ministry, was quizzed in connection with authoring of an assessment report that formed basis for the interdicted senior government valuer Moses Magara to award billions to claimants who were already paid.
Mr Magara was interdicted in 2016 over accusations in regard to questionable valuations over a swamp that was excised by government in Wakiso District for construction of Entebbe-Kampala Expressway.
Genesis
It is alleged that in 2014 during his tenure as assistant commissioner in charge of geology, Mr Baguma in collusion with Mr Magara authored the assessment report for sand and rock reserves affected by the construction of Isimba hydro power project.
The disputed report in favour of claimants, Mr Tom Kazibwe, a former Member of Parliament for Ntengeru County and Entebbe Municipality Town Clerk, Mr Charles Magumba, who have since sued government for payment of Shs132 billion, which is part of the Shs600 billion claim.
Appearing before the Justice Catherine Bamugemereire–led commission in Wandegeya, Kampala, Mr Baguma was quizzed over accusations of committing financial fraud, telling lies on oath, collusion, compromising the professional ethics and working against the interest of his employer, which actions risked Shs600 billion.
Tasked to explain the basis of his decision to assess a property that was already valued and owners compensated, the methods used to determine quantities of the rock, Mr Baguma testified that the actions were taken basing on instructions from a letter from the Ministry of Lands to the commissioner and that no facilitation was provided for the work.
Mr Baguma admitted that he nominated a five-member team of geologists without the consent and authorisation of then permanent secretary, Mr Kabagambe Kaliisa.
"I took instructions from my immediate supervisor and I stand by the report," testified Mr Baguma who was accused of flouting the legal guidance in carrying out the disputed assessment," he testified.
Accused of setting a dangerous precedent for the economy, Mr Baguma insisted that the geologists have done similar work and has since been approved.
"The decision we took was wrong, it was an oversight that we did not consult the permanent secretary," said Mr Baguma who denied working against the laws.
He amused the commission when he admitted that the claimants were paid for surface interest but his report is accurate and that his accusers did not carry out an assessment.
The commission lead counsel, Mr Ebert Byenkya, said the investigation is in line with terms of reference in connection with assessing the legal and policy framework on government land acquisition.
Source: Daily Monitor