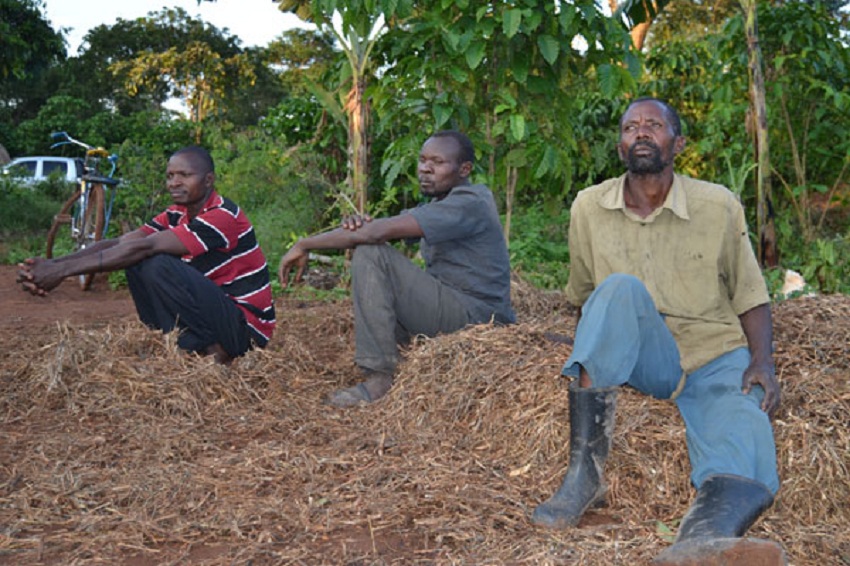 LUWEERO- Dozens of people that live in fear of being evicted from a 125-acre piece of land that was sold to government by Mr Pius Bigirimana, the Ministry of Gender Permanent Secretary, have camped at the resident of their Local Council 1 chairperson at Nakigoza Village, Zirobwe Sub-county in Luweero District.
The residents, who include elderly persons claim to have entered a consent agreement with Mr Bigirimaana, their landlord, to process land titles on the land which he sold to government under the Land Fund programme.
They want assurance on their fate after getting information that they are likely not to benefit from the Land Fund programme which implies that there is a possibility of Mr Bigirimaana evicting them.
"We have been hoping to get land titles for our respective land after we got assurance from Mr Pius Bigirimaana. The news that we are not likely to have the land titles and possibly face eviction is the reason why we have camped at the chairperson's home for a solution," Mr Abdallah Kakwanga, one of the affected residents said on Tuesday.
The residents are from the villages of Nakabiito and Katolobuzi in Zirobwe Sub-county.
The residents say they are likely to be evicted by Mr Bigirimaana following a directive by Justice Catharine Bamugemereire's land probe committee to have the transaction between government and Mr Bigirimaana cancelled.
Mr Nicholas Nahimaana, 72, claims that local leaders should intervene before they are evicted from their ancestral land.
"I have stayed on this land for more than 40 years. It is unfortunate that we may not get the land titles as had been promised. We want assurance from government regarding the true status of this land because Bigirimaana is likely to force us to buy the land yet we do not have money to purchase it. In 2012, we entered an agreement to have land titles processed," he said.
Nakigoza Village Local Council chairperson, Mr Erinesto Ssekitoleko said the government should resolve the issue.
"We have some elderly people who should be considered before any move to force them off the land. They are waiting for their land titles," Mr Ssekitoleko said.
Mr Bigirimaana, in a telephone interview said he does not plan to evict the residents from the land.
"You know what is going on and I am not the type of person to make these people suffer. We were in advanced stages of processing their respective land titles as negotiated. Our challenge is now with the recent development on the same piece of land," Mr Bigirimaana said.
The land in question is located at Nakigoza Parish in Zirobwe Sub-county, on Block 103, Plot 5.
Mr Bigirimaana bought the land  from Mr Fenakansi Kalyesubula in 2002.  In 2016, government through the Uganda Land Commission bought the land from Mr Bigirimaana at Shs500 million under the Land Fund programme.
Mr Bigirimaana insists that the transaction was genuine because government involved its valuer to come to the figure.
Source: Daily Monitor