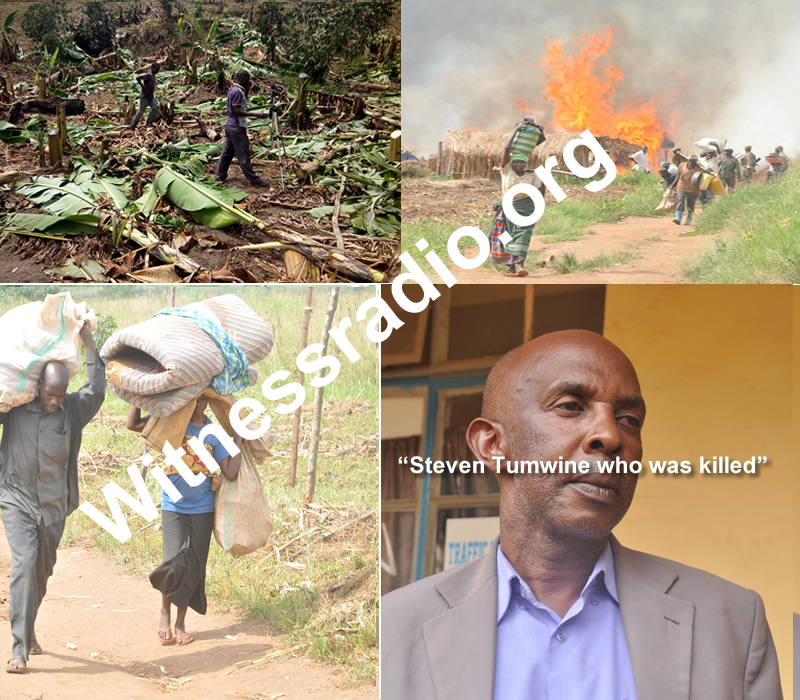 A community of six villages; Nakasozi, Butoro, Kicucuro, Namayindi, Lwamagwa and Kyedikyo, located in Madudu and Butorogo Sub-counties in Mubende district remains in a state of limbo over a month after the gruesome murder of Steven Tumwine, the former manager of a Chinese tree-planting FORMASA ltd.
Tumwine was murdered by unknown people on July 18th 2017 while clearing residents' gardens to enable expansion of a tree farm before dully compensating the land owners.
But since his death, the residents are engulfed in tension, despair, despair and sorrow as FORMASA workers are terrorizing locals.
Residents say that since Tumwine was murdered, his colleagues have unleashed terror at them through committing a range of atrocities including; kidnapping girls and women, blocking children from going to schools, smashing residents' houses at night and taking over land by force without consent.
The situation is worsened by police's involvement in conducting mass arrests of even innocent individuals.
As a result, the residents who have been victims of a long reign of terror spearheaded and executed by the workers of the Chinese national often with the assistance of both some civil servants and police for a couple of years now, resorted to fleeing their homes to save dear lives.
The houses remained locked as helpless residents wore long faces, gathering in groups to whisper about the havoc that is being orchestrated by FORMASA workers and police. Indeed, some of the poor residents were seen moving their belongings away to undisclosed locations though signs were clear that they were headed to bushes.
Edward Habyaremye, the Madudu Sub County chairperson confirmed to witnessradio.org that "my residents have fled their houses for fear of being arrested by police because the officers are netting whoever they come across without screening thinking that all residents are responsible for the Tumwine's killing."
However, Patrick Byaruhanga, the Mubende District Commander, downplayed the fear, saying that residents had no reason to fear.
He said that "As police, we are calling on our people to get back to their houses because we are only arresting those suspected to have participated in the murder of the manager but not all residents."
Formasa is seeking to evict over 1000 native families on the land measuring 10-square mile covering twelve (13) villages including; Kaziragoma, Nakasozi, Butoro, Kyedikyo, Kamagwa, Kicucuulo, Namayindi, Kiguluka, Kabuwuka, Kaswa, Kitebi, Kyabbogo and Kisiigwa located in Madudu and Butoloogo sub counties in Mubende district.
Dozens of community leaders opposing illegal land evictions in Mubende district are apparently languishing in prisons yet their cases have been concluded on pre-bargaining method after prisoners stayed on remand for a period not less than three years without trial.