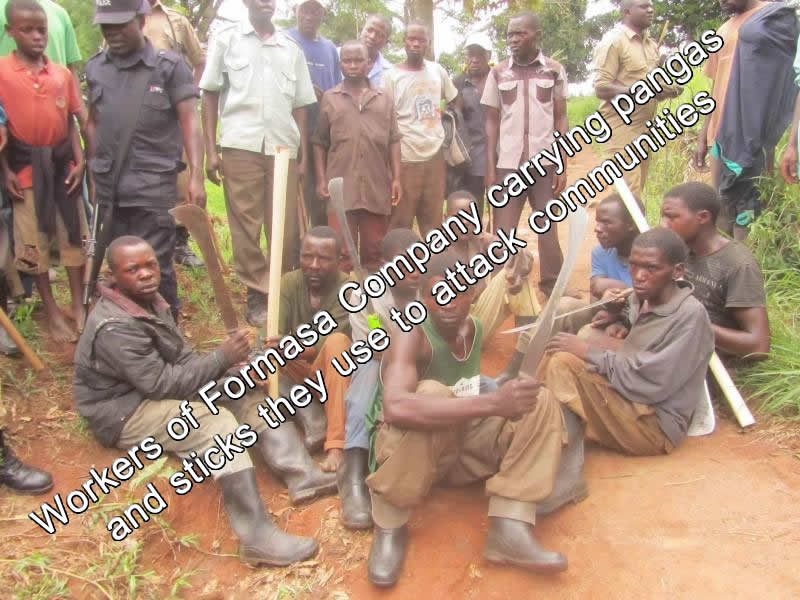 By Witnessradio.org Team
Close to a decade now, thousands of families that have been facing gross human rights abuses to surrender their land to an investor without compensation are currently being targeted. Mubende police is randomly arresting their leaders who have been at the forefront opposing the grabbing.
The land being forcefully taken by Formasa, a Chinese tree planting company is totaling to over ten (10) square miles covering 12 villages namely; Kazirangoma, Nakasozi, Kyedikyo, Kamagwa, Kicucuulo, Namayindi, Kiguluka, Kabuwuka, Kaswa, Kitebi, Kyabbogo and Kisiigwa in Maddudu and Butoloogo Sub Counties in Mubende.
Since Formasa picked interest in this land, dozens and dozens of families were stopped by Mubende police and office of the Resident District Commissioner from cultivating their land causing food insecurity, famine, unbearable suffering, poverty and families breaking down.
The unsystematic arrests and incarcerating of community leaders intensified shortly after a Formasa company manager Steven Tumwine was hacked to death.  Late Tumwine was killed on July 18th 2017 by unknown people while in a garden of one of the residents cutting down plantations to plant trees without owner's consent.
The Witnessradio.org has been raising warning bells about the possible conflicts as a result of failing to protect natives' land rights. https://witnessradio.org/lawlessness-angry-natives-kill-a-farm-manager-to-protect-land/
Since then, over a dozen of leaders have been arrested and charged with murder while others have been arrested with police extorting the victims' hard earned money before being released on police bond.
Some of the leaders in prison include; Sinamenye Paul, 54, Kaberuka Finolo, 60, Ssalongo Ssemboobwe, 57, Butoro local council one chairperson and Hategeka Esau, a LC III male youth councillor of Maddudu sub county among others. The trio was arrested on 19th/ 07/17 while Hategeka was arrested on 25th/07/2017 detained for several days at Mubende police station before being transferred to Chief magistrate court and charged with murder. They were remanded at Kaweeri Prison. All prisoners are residents of Butoro village, Naluwondwa Parish – Maddudu Sub County in Mubende district.
Others that have been released on police bond include; Kibenja Dan, Seggujja Jimmy, Ssekabira Homisdasi, Ssebunya Yonah, and Sserugo Sam among others claiming that they experienced police's extortion before being granted a police bond.
Maddudu Sub County chairperson, Habyaremye Edward testified that residents have deserted their home for fear of being arrested by police. "Mostly village are mostly affected villages where residents cannot stay in their home include Nakasozi, Buttoro Namayindi, Kicucuro, Lwamagwa and Kyedikyo" said Habyaremye.
Witnessradio.org has also recorded testimonies of residents accusing workers of Formasa Tree Planting Company for being part of police to cause mayhem to communities.