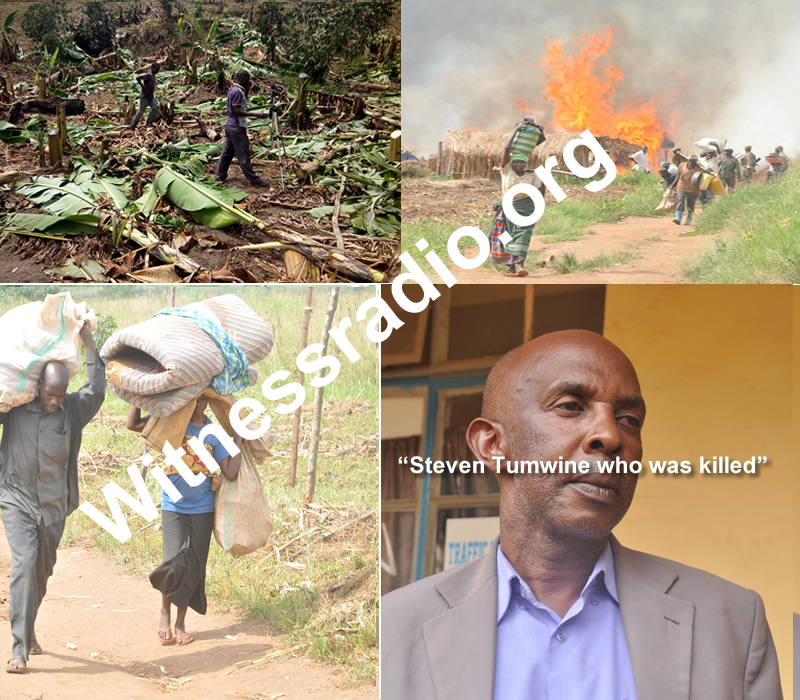 By witnessradio.org team
After years of crying out loud to district leaders, area police and local leaders to rescue thousands of natives from being evicted by a Chinese tree-planting farm in vain, frustrated evicted communities have resorted to violence after brutally murdering the farm manager.
Both elected leaders and police in Mubende district are being accused of conniving with companies and powerful land grabbers to terrorize poor communities to surrender their land rights.
Several community members opposed to the eviction are constantly illegally imprisoned or buttered under the watchful eye of the police into submitting to the land grabbers' demands.
To some landless evicted individuals the pain was unbearable, on July 18th 2017; unknown people gruesomely murdered Steven Tumwine, a manager of FORMASA LIMITED, a Chinese company dealing in tree planting. Formasa has been accused of grabbing community land under the protection of Mubende district leaders including the police. Hundred of natives since early 2000s' have been left landless, living on the brink of famine, hunger and impoverishment.
Witnessradio.org findings indicate that natives have suffered torture, illegal arrests and detention, imprisonments, alleged gang rape, destruction of property, and arson without being heard by authorities at Mubende district.
Dozens of community leaders opposing illegal land evictions in Mubende district are apparently languishing in prisons yet their cases have been concluded on pre-bargaining method after prisoners stayed on remand for a period not less than three years without trial.
Although the attackers were unidentified, it was reported that by the time he met his unexpected death, Tumwine was clearing people's gardens to plant rubber trees at Butoro village, one of the 13 villages that FORMASA is forcefully evicting the natives.
Formasa is evicting over 1000 native families on the land measuring 10-square mile covering twelve (13) villages including; Kaziragoma, Nakasozi, Butoro, Kyedikyo, Kamagwa, Kicucuulo, Namayindi, Kiguluka, Kabuwuka, Kaswa, Kitebi, Kyabbogo and Kisiigwa located in Maddudu and Butoloogo sub counties in Mubende district.
Mubende district is among hotbeds of land grabs in Uganda, with many big companies including Formasa carrying out illegal and forceful evictions of the natives particularly the poor farmers without or inadequate compensation.
Most intriguingly, the vulnerable poor people can hardly get remedy as justice systems side with land grabbers to incarcerate natives opposed to the evictions, perhaps the spark for the newly adopted method of violence against those they call land grabbers.
See: https://witnessradio.org/when-agony-as-justice-systems-side-with-land-grabbers-in-mubende-district-to-incarcerate
Mubende District Police Commander Byaruhanga Patrick said land conflicts in Mubende are not different from those at national level. "The land Act of 1998 gives both landlords and Bibanja holders/owners same rights, which has been the source of conflict," said Byaruhanga.
He added that Tumwine's neck was hacked with a pang.
Witnessradio.org has learnt that shortly after the incident, the entire village was deserted and four group leaders who have been on the frontline opposing the eviction have since been arrested.