Another Rich Man Besieges Villages With Heads of Cattle to Destroy Food Crops For 1000 Residents in Mubende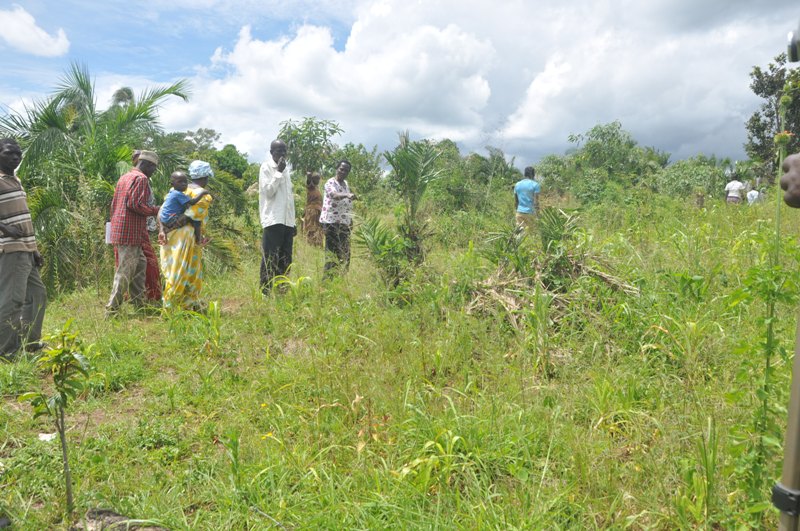 By witnessradio.org team
Like any other parts of the world, agriculture forms the most source of livelihood especially to the pleasantly community at the countryside.
However, it has become increasingly hard for the farmers in Mubende district for the common peasants to survive after rich men claiming to be the owners of the land residents settle on to make it a normal practice to destroy their food crops using their heads of cattle.
In practicing this method, rich men turn the residents' gardens into grazing lands which deprive the residents the right to food.
The latest residents to feel the heat of this practice are from Kabende and Katente villages in Ketente Parish, Kiyuni Sub-county Mubende district.
Edward Ssemanda, who claims ownership of land measuring 294.3 hectares located on plot 10 Block 123 Buweekula Mubende.
Residents say that they have occupied the said land since 1965.
But tragically, their home areas and gardens were besieged by huge heads of cattle which destroyed all their crops therein-and the land was fenced off by barbed wire in its entirety by the hostile goons on Ssemanda's orders.
Speaking to witnessradio.org, Ssemanda insisted that the land in question belongs to him and that he had issued numerous warnings to residents that he had intended to use his land for among other purposes graze his heads of cattle in vain.
He doesn't deny fencing off the land with residents' food crops saying that he took it that residents were rewarding him for giving them land for such a long time.
Ssemanda is the second rich man to use his heads of cattle against the residents he is seeking to forcibly push off land after Peter Muhanguzi used the same method to make his case in evicting people in Kalungi village, Buswabera parish, Kitenga Sub-county in Mubende district.
Robusta coffee hits record high to trade at sh7,500 per kilo in Ibanda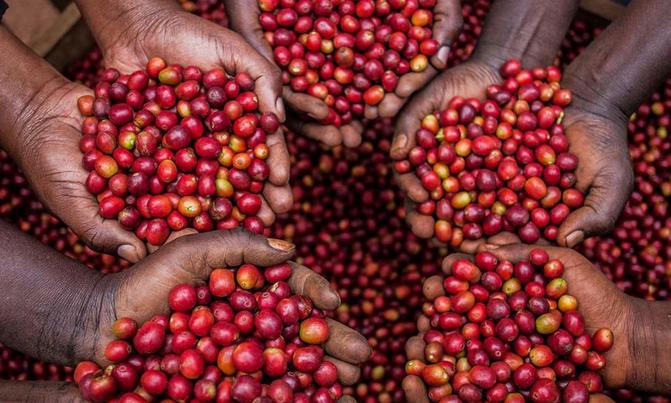 Robusta coffee prices have continued their upward trend by gaining sh1,000 in value over the past month. 
Robusta is trading at a high of sh7,500 per kilogramme of quality beans in Ibanda, while traders quoted low-grade robusta coffee beans at sh7,200 per kilo.
This compares to sh6,500 a kilo four weeks ago and sh5,600 recorded two months back. The sh7,500 per kilo is the highest for Robusta coffee in a long time in Ibanda and surpasses the sh6,900 recorded during the last harvest season.
Deogratias Tihwayo, a coffee trader in Ibanda town, attributed the increase to the quality of this season's coffee beans compared to previous seasons. He said this has attracted more buyers and, hence, pushed up the prices.
David Kiiza, the chairperson of Kashangura Coffee Co-operative in Kashungura, Kagongo Division, said farmers were observing the recommended agronomical practices that have improved quality and out-turn. 
Meanwhile, Arabica coffee was unchanged over the reporting period, trading between sh8,000 and sh8,500 per kilogramme in Ibanda town and Kashangura. Arabica coffee hit a record high of sh12,000 a kilo last season. 
However, there has been subdued demand over the past months with the crop out of season.
UCDA daily market prices
Uganda Coffee Development Authority (UCDA) indicative figures for March 20 quoted robusta (clean) at between sh7,000 and sh8,000 a kilo, Arabica parchment sh8,500 – sh9,500, and Kiboko ranged from sh2,300 to sh2,600 per kilogramme, among others.
Source: New Vision
Falling coffee prices, reduced output forecasts rattle Uganda farmers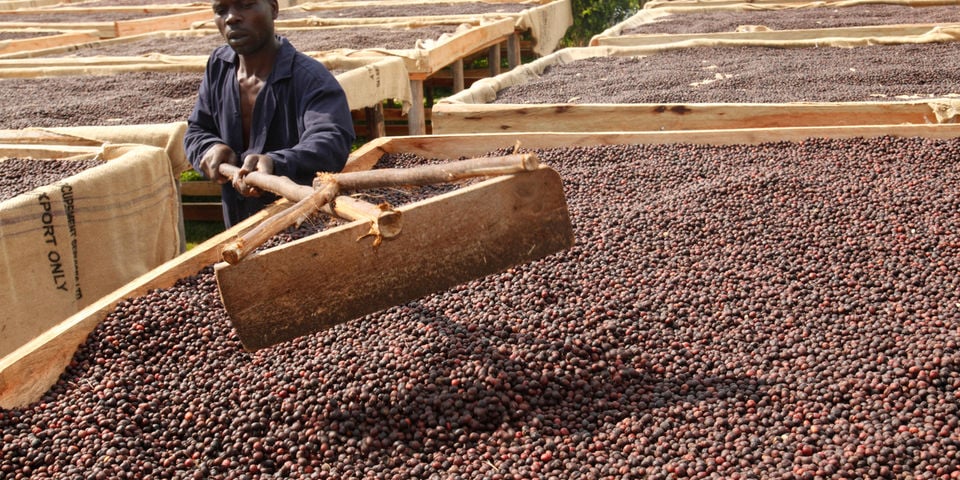 There has been a slump in international coffee prices and shipping costs in the last quarter of 2022
Uganda's coffee industry is walking into a challenging 2023 defined by falling prices and diminished output forecasts following the recent dry spell that hit major growing areas.
While the sector enjoyed a boom between 2020 and 2022 – with surging coffee prices, rising export volumes and considerable incomes for farmers – decline in international shipping costs and improved production forecasts in Brazil triggered a slump in coffee prices in the last quarter of 2022, according to industry players.
International shipping costs dropped from record highs of $10,000 per container charged on certain sea routes in January 2022 to less than $2,000. Shipping fees charged per 20-foot container ferried from Indonesia to North America, for example, are estimated at $800-$1,000 currently.
Consequently, local and international coffee prices have dropped since October 2022.
International robusta coffee prices fell from an average price of $2,400 per tonne to $1,856 per tonne towards the end of last year, according to industry data. Local robusta coffee prices declined from Ush7,200 ($1.9) per kilogramme to Ush5,800 ($1.6) per kilogramme during the second half of 2022 while Arabica coffee prices fell from Ush11,000 ($2.9) per kilogramme to Ush8,000 ($2) per kilogramme in the period.
In 2021, average coffee prices stood at more than Ush15,000 ($4) per kilogramme.
Robusta coffee production accounts for more than 60 percent of Uganda's overall coffee output.
Besides gloomy coffee price forecasts for 2023, a severe dry spell in the past six months could pose a huge threat to coffee production levels. The weather affected major coffee-growing areas like the Central region and risks cutting this year's output to around 5.5 million bags, industry players forecast.
"Brazil and Vietnam are headed for a bumper coffee harvest this year while India and Indonesia have discounted their local coffee prices in a way that has undercut Uganda's growth momentum on the international market," said Robert Byaruhanga, chief executive of local exporter Funzo Coffee Ltd.
Asian and Latin American coffee exporters are regaining dominance in European and North American markets after the lockdown period because of the lower coffee prices, reduced freight charges, shorter port clearance turnaround times and reasonable coffee quality grades, Byaruhanga explained.
Ugandan farmers are now holding onto their coffee produce in anticipation of better prices.
Overall coffee exports stood at 6.26 million bags valued at $862.28 million in 2021/22 compared to 6.08 million bags worth $559.16 million registered in 2020/21, data from the Uganda Coffee Development Authority shows.
An estimated 447,162. 60 kilogramme bags of coffee valued at $64.1 million were exported in November 2022 at an average price of $2.39 per kilogramme — 6 US cents lower than the average price of $2.45 per kilogramme posted in October 2022.
Original Source: Daily Monitor
Over 40 goats die of PPR disease in Madi-Okollo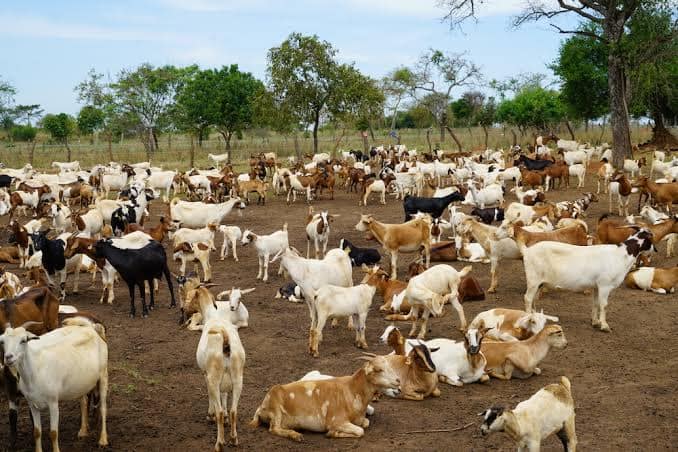 At least 43 goats have died of Peste des Petits Ruminants (PPR) disease, also known as 'goat plague' and several others are undergoing treatment in Madi-Okollo district.
Madi-Okollo district veterinary officer, Dr Charles Onzima, says the viral disease, which is related to rinderpest in sheep as well as goats, has claimed the lives of goats in Olali parish in Ogoko sub-county.
He adds that PPR disease was confirmed in the district after 500 local and 94 Boer goats were supplied to families in Olali parish under a poverty eradication programme that he suspects infected the local goats.
43 of the boar goats died while 10 of the local goats of the communities also died of PPR disease.
Onzima says immediately after receiving information about the disease, the veterinary officers got the goats manifesting the signs of PPR that include sudden onset of depression, fever, discharge from the eyes and nose, sores in the mouth, breathing difficulty and death among others.
He says that they have already had three rounds of vaccination for the available goats in the affected area.
Original Source: New Vision Via harvestmoney.co.ug