Kampala residents lack food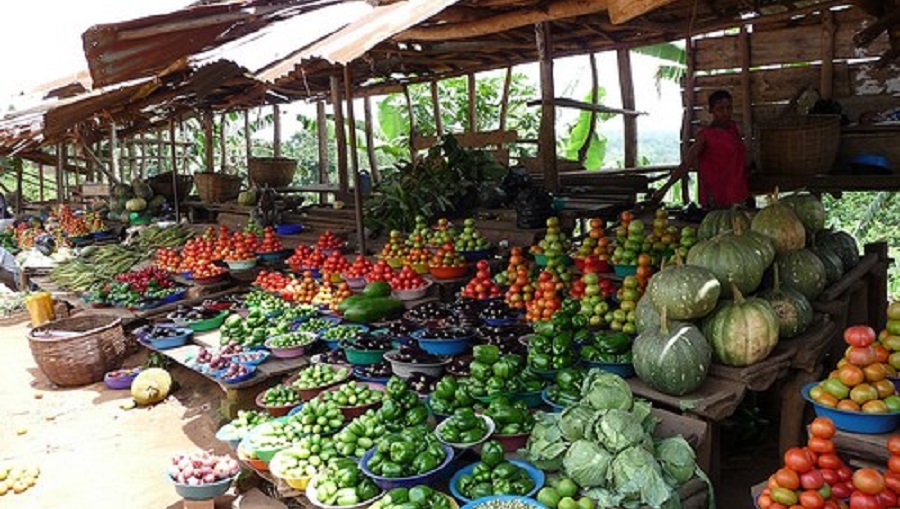 Kampala, Uganda | PATRICIA AKANKWATSA | People living in towns are likely not to have food in the right amounts and nutritious value in the coming months, according to experts from 15 international organisations is who monitor such issues.They include United Nations agencies like the World Food Programme (WFP) and the Food and Agriculture Organisation (FAO).
Together they produce country-specific reports called the Integrated Food Security Phase Classification (IPC) which analyse the food situation in each country.
The IPC system provides a standardised scale that integrating food security, nutrition, and livelihood information to produce a clear statement regarding the nature and severity of food insecurity, as well as implications for potential strategic responses to periods of food crisis.
The Uganda IPC which was released in Kampala says the most affected urban areas will be Kawempe and Rubaga municipalities in Kampala city in addition to Arua, Gulu, Jinja, Masaka, Mbale, Hoima, Kasese, Lira and Mukono municipalities.
The experts estimate 640,000 people representing 38% of the population in Kampala citywill between September and December face acute food insecurity and 799,000 people representing 47% will be living on the margins of food scarcity; what they call "minimally food secure". The findings are based on research conducted between June and August 2020.
The projections appear odd because September and December correspond to the harvest period national wide, when it is expected that there is a lot of food.
But the main reason for the lack of food will not be because there is no food in the markets. The main reason will be that these people will not have money to buy the food because, according to the research, their ability to make money was blocked by the COVID-19 containment measures like the lockdown.
According to the IPC analysis, at the time research was done from June to August 2020, 17 % of Kampala residents (equivalent to 292,330 people) were experiencing worse levels of acute food insecurity and have increasing food consumption gaps and reduced dietary diversity.
But Priya Gujadhur; the deputy country director Food and Agriculture Organisation (FAO), says that the main assumption for the projection is that the COVID-19 containment measures have gradually eased which has allowed some informal and formal businesses to resume.
"Boda-boda activities, other road transport, specific tourism activities, saloons have started their operations allowing households to gain revenue and secure their employment", Gujadhur says.
Alex Lwakuba the assistant commissioner for crop production and marketing at the Ministry of Agriculture, Animal husbandry and Fisheries (MAAIF) says that crop production is expected to be normal and food is also expected to be available in the markets.
Lwakuba also says that the prices of food are likely to stay stable or reduce because of indicative signs in that direction.
"In September the trends of prices normally decline due to increased availability of food to the markets", he says.
"It is also likely that because of poor purchasing power caused by COVID-19 restrictions, there will be less or limited demand in the market, resulting in decreased prices of staple food", he adds.
However, Dr. Esau Galukende the deputy director of Gender, community services and production at Kampala Capital City Authority (KCCA) says although food security is going to increase, it is important to continue monitoring the health side of the pandemic and its impacts on food security.
"Decision makers should continue monitoring how the pandemic is affecting employment, business, and education and understand the household level," Galukende says.
He also says that since the establishment of COVID-19 measures and restrictions, most of the companies have turned virtual and online-based.
"It would be interesting to monitor what would be the impact of such transformations on employment and local economy", he adds.
The Minister for Disaster Preparedness and Refugees, Hillary Onek, said that the Government is committed to ensuring food and nutrition security and well-being for all people in Uganda, including those in urban areas.
"With these new findings, we now know, reliably, who the most food-insecure people are in Uganda, where they are and what we can do to save lives and preserve livelihoods. Such knowledge is critical before we take any decisions," Onek said.
" We thank our partners for working with us to come up with this very important analysis. We now must continue to work together to find solutions to the issues raised in the study", Onek added.
"As part of the UN Uganda's Emergency Appeal launched earlier this year, FAO has appealed $7.8 million for food security, nutrition and livelihoods interventions", Gujadhur said.
"This will allow FAO to provide agricultural livelihood support and training in climate-smart agricultural practices to help up to 10,000 of the most vulnerable households produce for their own consumption and diversify income sources through value chain development, thereby strengthening their resilience", she added.
*The IndependentUg
FAO launches solar powered irrigation systems in Kalungu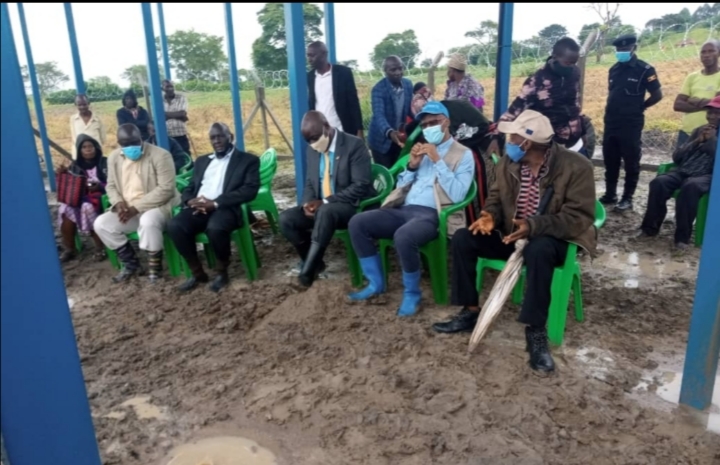 FAO Country Representative Dr. Antonio Querido, Agriculture Minister Vincent Ssempijja flanked by Kalungu District leadership during the commissioning of a solar irrigation system in Bugomola A, Lwebenge Sub County in Kalungu
KALUNGU — The Food and Agriculture Organization of the United Nations (FAO,) last week, launched two solar powered irrigation systems in Kalungu District. The projects are part of efforts to strengthen resilience of rural populations and agricultural production systems through the provision of water for irrigation in the the cattle corridor districts.
FAO, in collaboration with the Ministry of Agriculture, Animal Industry and Fisheries – MAAIF has been implementing a Global Climate Change Alliance (GCCA) Project on agriculture adaptation to climate change in Uganda since 2012 — through the establishment of small scale irrigation systems in the Central Cattle Corridor districts of Mubende, Nakasongola, Luwero, Kiboga, Nakaseke, Sembabule, Kalungu and Rakai amongst others, to help farmers cope with harsh climatic conditions by sustaining all season crop production, but mainly during the dry seasons.
Residents in Bugomola A, Lwebenge Sub County and Mabuyenzo village in Kalungu District were the first beneficiaries of the small scale micro irrigation system in the greater Masaka.
Agriculture Minister – Vincent Ssempijja and Dr. Antonio Querido – the FAO Country Representative in Uganda, jointly launched the solar powered irrigation systems, last week.
The area has been prone to water shortage, especially during drought spells, affecting both domestic and commercial agricultural activities.
The system is, according to Dr Querido, part of FAO and government of Uganda's efforts to build capacities of communities and farmers to cope with climate change and strengthen resilience of rural populations and agricultural production systems through provision of water for irrigation, particularly in districts vulnerable to drought and climate variability.
In Bugomola A, for instance, the Ugx260m solar powered irrigation project will provide water for the four-acre Lwabenge Integrated Group garden.
"Agriculture in the cattle corridor region of Uganda is rain-fed and highly dependent on local weather conditions. This means that farming activities have to be put on hold during the dry season.
"With the new sprinkles system, we are certain that farmers will have access to water for dry season agricultural activities," said Dr. Querido.
The FAO boss noted further that the system will not only increase agricultural production and returns to small scale farmers, but will also improve living conditions of the rural population.
Minister Ssempijja commended FAO for 'changing lives of my people,' adding that the solar irrigation systems in Kalungu will serve as a demonstration of modern agricultural practices to small scale farmers.
The Minister exclusively told PML Daily that historically, the government had been more engaged in promoting large-scale irrigation for commercial farmers due to a limited understanding of the business cases for small-scale irrigation.
He said that access to irrigation will provide farmers with a more reliable income, since one farm can produce several yields a year.
"Many will be ready in three months, which means farmers can gather three or four harvests in a year," he said.
FAO engineer Mr. Denis Besigye said solar was a great fit with irrigation, because on days when plants need the most water, 'you get the most water out of the pump.'
The engineer advised farmers' groups to advantage of the availaable opportunity ofsolar irrigation systems in their areas to change their lives as well as vigirously guarding the facilities against vandalism, noting that each facility cost FAO about Ugx 260m.
Josephine Namagga Muwanga, a member of the beneficiary group in Lwabenge-Bugomola said for tomato cultivation, timely irrigation was vital – cautining that even missing one day could severely affect the crop quality and yield. She said her group had depended on expensive diesel generators for irrigation – a scenario that presented one of the biggest challenges to the farmers.
The solar irrigation systems in Kalungu are some of such other similar projects under construction in 13 other districts in the cattle corridor.
In addition, other schemes such biogas construction are being done in the same area to support local communities.
In reference to Uganda solar water pumping report 2019, the ratio of cultivated area under irrigation to Uganda's irrigation potential is lower than the Sub Saharan Africa average at only 0.5 per cent, whereas approximately 15 percent of the country's surface area is covered by fresh water sources.
The land under irrigation in Uganda is almost exclusively under large-scale projects.
However, the national focus is increasingly shifting towards smaller projects, driven by a combination of demographics and rural realities.
Original Source: pmldaily.com
Kiruhura and Kazo lift ban on milk sale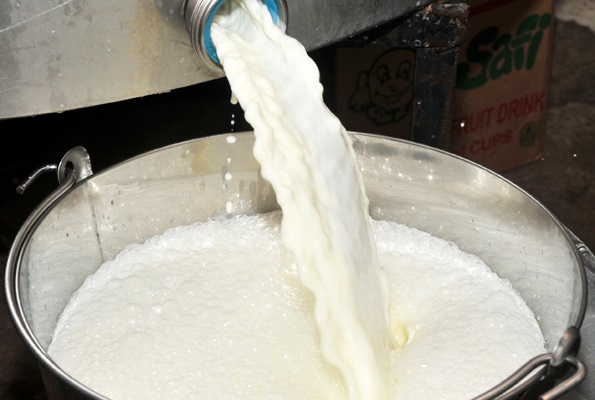 Ban on the sale of milk has been lifted for two weeks under strict regulations
Kiruhura, Uganda.  Authorities in Kiruhura and Kazo districts have reversed the earlier ban imposed on the sale of milk. The two districts that are under quarantine following the outbreak of Foot and Mouth disease had banned the sale of animal products and the movement of livestock.
However, in a meeting held between the dairy farmers and district Foot and Mouth disease task forces of both districts, it was agreed to lift the ban on the sale of milk for two weeks but under strict regulations.
Kiruhura District Resident Commissioner Aminadan Muhindo says they have stopped traders who move from house to house collecting milk on motorcycles, but asked them to set up collection centres where farmers will personally deliver their milk.
Kiruhura LC V chairperson Rev Samuel Katugunda welcomed the partial lifting of the ban. He also asked the residents to respect the regulation.
He says the districts are facing an economic crisis because of the total quarantine.
Kazo District Veterinary Officer Richard Kiyemba says they have agreed with dairy farmers to continue selling the milk. He says they are faced with the challenge of unscrupulous people who smuggle livestock out of the district at night.
The quarantine in these districts has increased the smuggling of livestock and its products which is done during the night. Recently, a trader was arrested carrying animals in a Fuso truck heading to Kampala.
Emmanuel Kyeishe, chairperson Kiruhura district Framers Sustainable Development Association, welcomed the lifting of the ban on the sale of milk but warned that the task force is to blame for the widespread of the disease.
He asked the team to ask for reinforcement to boost their monitoring and implementation of the quarantine.
Original Source: THE INDEPENDENT
Multi-billion cereal processing plant opens in Soroti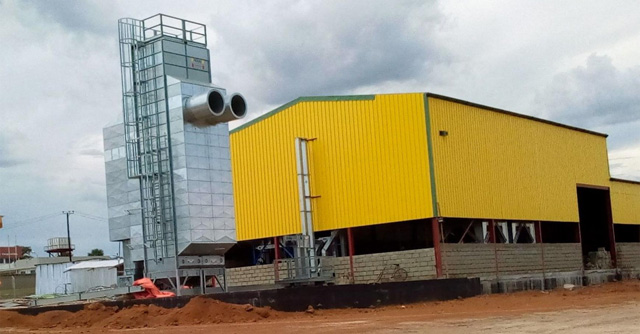 Pela Agro- Processing Factory in Soroti.
Soroti, Uganda. Soroti City will be home to a multi-billion agro-processing business for cereals, thanks to Pela Commodities Limited, a new industry being established in Arapai industrial area.  
Pela commodities has already started laying its machinery in the area near Soroti Fruit Factory. It is expected to handle 18 types of cereals and be able to sort, clean and dry 36 metric tonnes of cereals per hour, according to Isaiah Langa, one of the directors of Pela Commodities Limited. He adds that the plant will easily process over 600 metric tonnes of cereals in less than 24 hours.
Langa adds that they intend to start with maize, soya beans, millet and sorghum produced by farmers in the areas of eastern and northern Uganda, and that their first priority is to improve the quality of grains in the country and open a market for Ugandan grains in the region and beyond.  The cereals currently provide staple food for more than 50 per cent of the population and incomes for rural households. 
Maize is intensely grown in the eastern Uganda districts of Kapchorwa, Mbale, Kamuli, Jinja, and Iganga, the central districts of Masaka and Mubende as well as the western districts of Masindi, Kamwenge, Kyenjojo, Kasese, Kabarole, while the production of finger millet is concentrated in Apac, Lira, Gulu, Kitgum, Iganga, Kamuli, Soroti and Tororo districts. 
"…for now, we want to ensure quality in the production of grains. We have acquired a toxin scrubber machine that will wash away aflatoxin in the grains. By July/August, the issue of aflatoxin will be no more in our grains", he said. This pronouncement comes at the heels of a recent trade war between Uganda and Kenya arising from the quality of Maize on the Ugandan market. 
Kenya, the largest consumer of maize from Uganda stopped the importation of the crop on account that the levels of mycotoxins in the maize were above safety limits.
Amos Wekesa, a co-director of Pela Commodities Limited in Soroti says they made a decision to invest in Soroti because of the availability of land, which was offered to them by the Uganda Investment Authority, favourable weather conditions, availability of cereals and connectivity to South Sudan and Kenya markets. Wekesa added that the company is in the process of engaging farmers on how best to work to enhance production for the factory.
Annet Iyogil, a resident in Arapai welcomes the establishment of an agro-processing factory in the area with the hope that it will improve prices for the cereals. 
"We depend on cereals for survival these days. But the prices of maize and other foodstuffs are very low and unpredictable. If this factory sets a standard rate for cereals, that would really be good for us", she said. 
The factory, worth five billion shillings is expected to start operations by the end of April. 
*******
URN