Kampala residents lack food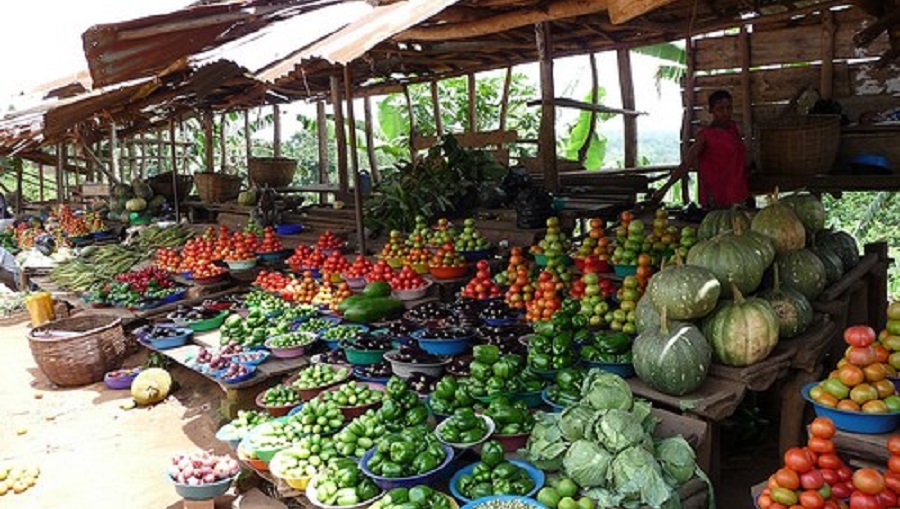 Kampala, Uganda | PATRICIA AKANKWATSA | People living in towns are likely not to have food in the right amounts and nutritious value in the coming months, according to experts from 15 international organisations is who monitor such issues.They include United Nations agencies like the World Food Programme (WFP) and the Food and Agriculture Organisation (FAO).
Together they produce country-specific reports called the Integrated Food Security Phase Classification (IPC) which analyse the food situation in each country.
The IPC system provides a standardised scale that integrating food security, nutrition, and livelihood information to produce a clear statement regarding the nature and severity of food insecurity, as well as implications for potential strategic responses to periods of food crisis.
The Uganda IPC which was released in Kampala says the most affected urban areas will be Kawempe and Rubaga municipalities in Kampala city in addition to Arua, Gulu, Jinja, Masaka, Mbale, Hoima, Kasese, Lira and Mukono municipalities.
The experts estimate 640,000 people representing 38% of the population in Kampala citywill between September and December face acute food insecurity and 799,000 people representing 47% will be living on the margins of food scarcity; what they call "minimally food secure". The findings are based on research conducted between June and August 2020.
The projections appear odd because September and December correspond to the harvest period national wide, when it is expected that there is a lot of food.
But the main reason for the lack of food will not be because there is no food in the markets. The main reason will be that these people will not have money to buy the food because, according to the research, their ability to make money was blocked by the COVID-19 containment measures like the lockdown.
According to the IPC analysis, at the time research was done from June to August 2020, 17 % of Kampala residents (equivalent to 292,330 people) were experiencing worse levels of acute food insecurity and have increasing food consumption gaps and reduced dietary diversity.
But Priya Gujadhur; the deputy country director Food and Agriculture Organisation (FAO), says that the main assumption for the projection is that the COVID-19 containment measures have gradually eased which has allowed some informal and formal businesses to resume.
"Boda-boda activities, other road transport, specific tourism activities, saloons have started their operations allowing households to gain revenue and secure their employment", Gujadhur says.
Alex Lwakuba the assistant commissioner for crop production and marketing at the Ministry of Agriculture, Animal husbandry and Fisheries (MAAIF) says that crop production is expected to be normal and food is also expected to be available in the markets.
Lwakuba also says that the prices of food are likely to stay stable or reduce because of indicative signs in that direction.
"In September the trends of prices normally decline due to increased availability of food to the markets", he says.
"It is also likely that because of poor purchasing power caused by COVID-19 restrictions, there will be less or limited demand in the market, resulting in decreased prices of staple food", he adds.
However, Dr. Esau Galukende the deputy director of Gender, community services and production at Kampala Capital City Authority (KCCA) says although food security is going to increase, it is important to continue monitoring the health side of the pandemic and its impacts on food security.
"Decision makers should continue monitoring how the pandemic is affecting employment, business, and education and understand the household level," Galukende says.
He also says that since the establishment of COVID-19 measures and restrictions, most of the companies have turned virtual and online-based.
"It would be interesting to monitor what would be the impact of such transformations on employment and local economy", he adds.
The Minister for Disaster Preparedness and Refugees, Hillary Onek, said that the Government is committed to ensuring food and nutrition security and well-being for all people in Uganda, including those in urban areas.
"With these new findings, we now know, reliably, who the most food-insecure people are in Uganda, where they are and what we can do to save lives and preserve livelihoods. Such knowledge is critical before we take any decisions," Onek said.
" We thank our partners for working with us to come up with this very important analysis. We now must continue to work together to find solutions to the issues raised in the study", Onek added.
"As part of the UN Uganda's Emergency Appeal launched earlier this year, FAO has appealed $7.8 million for food security, nutrition and livelihoods interventions", Gujadhur said.
"This will allow FAO to provide agricultural livelihood support and training in climate-smart agricultural practices to help up to 10,000 of the most vulnerable households produce for their own consumption and diversify income sources through value chain development, thereby strengthening their resilience", she added.
*The IndependentUg
Robusta coffee hits record high to trade at sh7,500 per kilo in Ibanda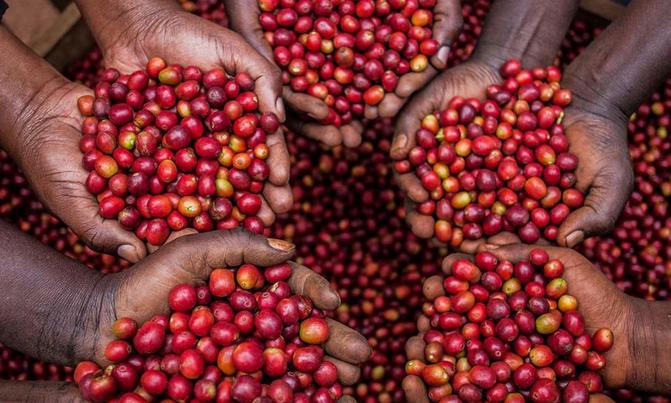 Robusta coffee prices have continued their upward trend by gaining sh1,000 in value over the past month. 
Robusta is trading at a high of sh7,500 per kilogramme of quality beans in Ibanda, while traders quoted low-grade robusta coffee beans at sh7,200 per kilo.
This compares to sh6,500 a kilo four weeks ago and sh5,600 recorded two months back. The sh7,500 per kilo is the highest for Robusta coffee in a long time in Ibanda and surpasses the sh6,900 recorded during the last harvest season.
Deogratias Tihwayo, a coffee trader in Ibanda town, attributed the increase to the quality of this season's coffee beans compared to previous seasons. He said this has attracted more buyers and, hence, pushed up the prices.
David Kiiza, the chairperson of Kashangura Coffee Co-operative in Kashungura, Kagongo Division, said farmers were observing the recommended agronomical practices that have improved quality and out-turn. 
Meanwhile, Arabica coffee was unchanged over the reporting period, trading between sh8,000 and sh8,500 per kilogramme in Ibanda town and Kashangura. Arabica coffee hit a record high of sh12,000 a kilo last season. 
However, there has been subdued demand over the past months with the crop out of season.
UCDA daily market prices
Uganda Coffee Development Authority (UCDA) indicative figures for March 20 quoted robusta (clean) at between sh7,000 and sh8,000 a kilo, Arabica parchment sh8,500 – sh9,500, and Kiboko ranged from sh2,300 to sh2,600 per kilogramme, among others.
Source: New Vision
Falling coffee prices, reduced output forecasts rattle Uganda farmers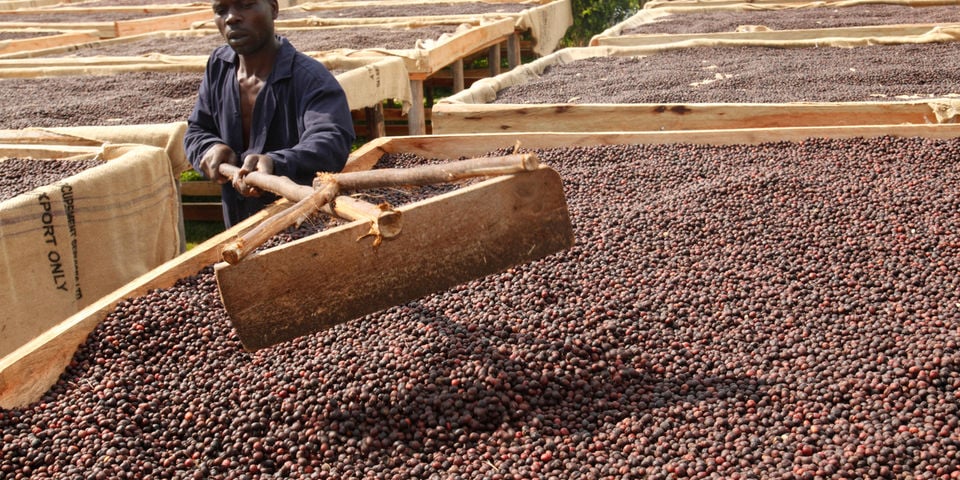 There has been a slump in international coffee prices and shipping costs in the last quarter of 2022
Uganda's coffee industry is walking into a challenging 2023 defined by falling prices and diminished output forecasts following the recent dry spell that hit major growing areas.
While the sector enjoyed a boom between 2020 and 2022 – with surging coffee prices, rising export volumes and considerable incomes for farmers – decline in international shipping costs and improved production forecasts in Brazil triggered a slump in coffee prices in the last quarter of 2022, according to industry players.
International shipping costs dropped from record highs of $10,000 per container charged on certain sea routes in January 2022 to less than $2,000. Shipping fees charged per 20-foot container ferried from Indonesia to North America, for example, are estimated at $800-$1,000 currently.
Consequently, local and international coffee prices have dropped since October 2022.
International robusta coffee prices fell from an average price of $2,400 per tonne to $1,856 per tonne towards the end of last year, according to industry data. Local robusta coffee prices declined from Ush7,200 ($1.9) per kilogramme to Ush5,800 ($1.6) per kilogramme during the second half of 2022 while Arabica coffee prices fell from Ush11,000 ($2.9) per kilogramme to Ush8,000 ($2) per kilogramme in the period.
In 2021, average coffee prices stood at more than Ush15,000 ($4) per kilogramme.
Robusta coffee production accounts for more than 60 percent of Uganda's overall coffee output.
Besides gloomy coffee price forecasts for 2023, a severe dry spell in the past six months could pose a huge threat to coffee production levels. The weather affected major coffee-growing areas like the Central region and risks cutting this year's output to around 5.5 million bags, industry players forecast.
"Brazil and Vietnam are headed for a bumper coffee harvest this year while India and Indonesia have discounted their local coffee prices in a way that has undercut Uganda's growth momentum on the international market," said Robert Byaruhanga, chief executive of local exporter Funzo Coffee Ltd.
Asian and Latin American coffee exporters are regaining dominance in European and North American markets after the lockdown period because of the lower coffee prices, reduced freight charges, shorter port clearance turnaround times and reasonable coffee quality grades, Byaruhanga explained.
Ugandan farmers are now holding onto their coffee produce in anticipation of better prices.
Overall coffee exports stood at 6.26 million bags valued at $862.28 million in 2021/22 compared to 6.08 million bags worth $559.16 million registered in 2020/21, data from the Uganda Coffee Development Authority shows.
An estimated 447,162. 60 kilogramme bags of coffee valued at $64.1 million were exported in November 2022 at an average price of $2.39 per kilogramme — 6 US cents lower than the average price of $2.45 per kilogramme posted in October 2022.
Original Source: Daily Monitor
Over 40 goats die of PPR disease in Madi-Okollo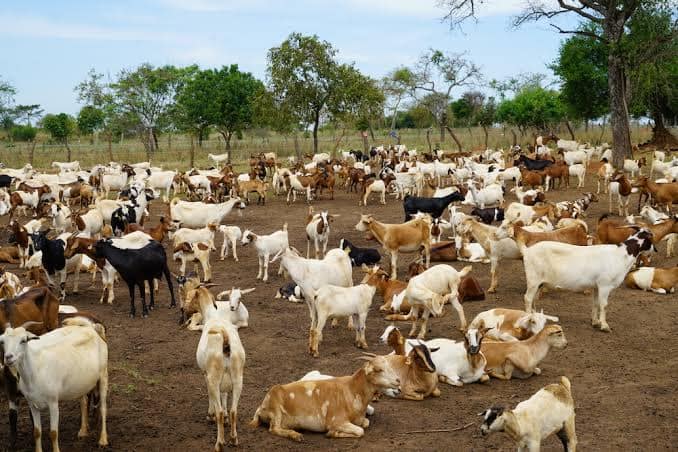 At least 43 goats have died of Peste des Petits Ruminants (PPR) disease, also known as 'goat plague' and several others are undergoing treatment in Madi-Okollo district.
Madi-Okollo district veterinary officer, Dr Charles Onzima, says the viral disease, which is related to rinderpest in sheep as well as goats, has claimed the lives of goats in Olali parish in Ogoko sub-county.
He adds that PPR disease was confirmed in the district after 500 local and 94 Boer goats were supplied to families in Olali parish under a poverty eradication programme that he suspects infected the local goats.
43 of the boar goats died while 10 of the local goats of the communities also died of PPR disease.
Onzima says immediately after receiving information about the disease, the veterinary officers got the goats manifesting the signs of PPR that include sudden onset of depression, fever, discharge from the eyes and nose, sores in the mouth, breathing difficulty and death among others.
He says that they have already had three rounds of vaccination for the available goats in the affected area.
Original Source: New Vision Via harvestmoney.co.ug