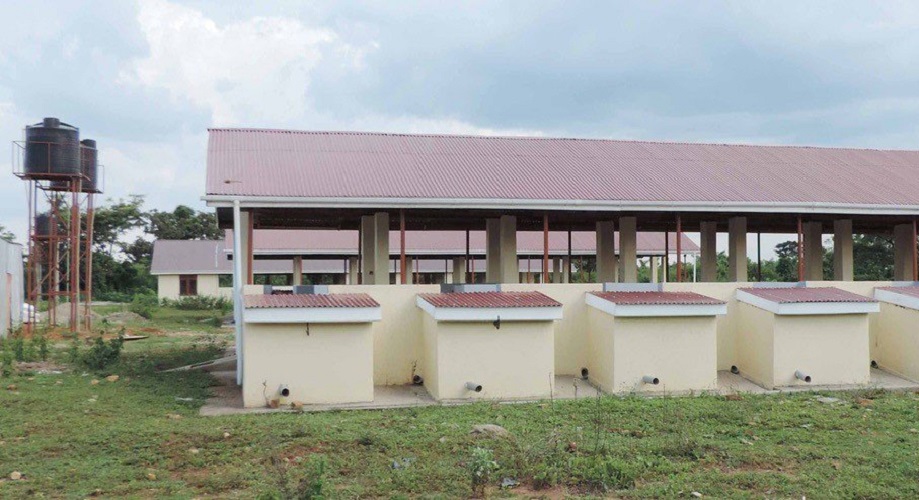 The piggery project at Kasolwe Livestock Farm in Kasolwe Village, Kagumba Sub-county in Kamuli District. PHOTO/OPIO SAM CALEB
About 300,000 livestock farmers in Busoga Sub-region are set to benefit from a Shs42b project at Kasolwe Livestock Farm in Kasolwe Village, Kagumba Sub-county in Kamuli District.
The Ministry of Agriculture, Animal Industry and Fisheries project was formulated to improve the livelihood of Busoga Sub-region residents.
It is being handled by the National Animal Genetic Resources Centre and Data Bank (NAGRC&DB).
Sitting on 1,984 acres, the project was introduced in 1965 but following the ousting of president Idi Amin in 1979, it remained idle until 2018 when it was rejuvenated.
Mr David Kazungu, the former National Agriculture Advisory Service chairperson, oversees the project implementation and site supervision works.
"This is purely a Busoga project although hosted by Kamuli District and it is incumbent upon all stakeholders to ensure that it succeeds and serves as a model project.
"We are bringing on board regional balancing, professionals, business and expertise representation of people, who have Busoga and development at heart," he said on Wednesday.
Mr Kazungu said they are advancing farmer mobilisation and infrastructure development that will help farmers market as outgrowers, engage in value-addition and training.
Mr Kazungu said so far l60 technicians have been trained in artificial insemination, adding that 470 cows have received artificial insemination and 60 calves have been born.
He added that the poultry hatchery has a capacity of 60,000 chicks per month and through public private partnership, 4,000 kroilers have been supplied to Nawanyago Technical Institute and Namasagali College.
The Busoga king (Kyabazinga), Mr William Nadiope Gabula IV, lauded the community and the Kamuli leadership for protecting the government ranch.
Kyabazinga Nadiope also encouraged his subjects to engage in commercial farming.
"We must embrace the project in order to increase food security, household incomes and development," he said.
The Speaker of Parliament, Ms Rebecca Kadaga,  said the project was designed to provide an enabling environment for enhanced livestock productivity and contribute to poverty alleviation in Busoga Sub-region.
Ms Sheila Butungi, the national project coordinator, during a tour of the farm last month, said: "Kasolwe project will increase production through introduction of community breeding services, establishment of market information systems and serve as a centre of excellence for animal resources."
Mr Robert Lugwe, the site engineer at JOFAH Associates Limited, the contractor, said the project has lost a year to lockdown that was brought about by the Covid-19 pandemic.
**Daily Monitor