Transforming Africa's livestock sector is key to food security-Report
| THE INDEPENDENT | Africa will be unable to meet demand for meat and milk by 2050 and benefit from growth in the livestock sector unless countries adopt new policies and innovations, according to a new report.
Meat consumption per capita across Africa is expected to increase from 19kg a year to 26kg a year by 2050 while demand for milk is likely to increase from 44kg per person per year to 64kg.
But while Africa's livestock sector accounts for as much as 80 per cent of agricultural GDP in some countries, on current projections, the continent is likely to need to import 20 per cent of the beef, pork, poultry and milk needed by an estimated population of 2.2 billion in 2050.
Agricultural experts at the Malabo Montpellier Panel analyzed lessons from four African countries that have sustainably grown their domestic livestock sectors to provide recommendations for unlocking the economic potential of animal agriculture and becoming self-sufficient.
"With rising incomes and urbanization quickly shifting dietary habits across Africa towards increased meat consumption, the livestock sector will play a crucial role in ensuring food and nutrition security and fostering economic growth in the years ahead," said Ousmane Badiane, co-chair of the Malabo Montpellier Panel.
"In this new report, we review the policy and institutional innovations that can strengthen Africa's livestock sector and provide a major opportunity to boost economic growth, improve livelihoods and advance progress towards development targets."
The Panel highlighted options for promoting sustainable growth in the livestock sector, drawing on the experiences of Uganda, Ethiopia, Mali and South Africa in terms of institutional and policy innovation as well as programmatic interventions.
For example, Uganda was found to have bolstered its dairy sector to maintain self-sufficiency in milk through dedicated policies, including the Dairy Master Plan, which involved restructuring and privatizing the state-owned dairy processing company Dairy Corporation.
In Ethiopia, the livestock sector was made a national priority with its own government department when the Ministry of Livestock and Fisheries was established in 2013, while the Ministry of Agriculture coordinated a Livestock Master Plan, covering livestock production and fisheries, veterinary services, and pastoral development. Carefully adapted policies for pastoralist and non-pastoralist producers and an integrated approach to building capacity in animal health, research, and marketing attracted significant investment both from the private sector and development partners, further ensuring that the sector thrives.
Surge in incomes
"The expansion of Africa's livestock sector will create new opportunities for the continent's rural populations, especially women," said Noble Banadda, Panel member and Professor and Chair of the Department of Agricultural and Bio Systems Engineering at Makerere University.
"For example, households in Uganda saw their dairy income rise by more than 150 per cent through the establishment of regional collection and quality control hubs under the East African Dairy Development project, which allowed farmers to negotiate better prices."
The report also reviewed challenges facing Africa's livestock sector ranging from feed quality to animal health and food safety issues, as well as highlighting the role of livestock in the empowerment of women.
"Productivity, health, and sustainability of livestock must be jointly addressed" said Joachim von Braun, co-chair of the Malabo Montpellier Panel. "This requires broad based innovations especially in animal nutrition, vet services, and digitization of markets."
The report made 11 recommendations covering policy, trade and finance as well as resolving conflict between pastoralists and crop farmers. Among these were recommendations to harmonize regulations and recognize the rights of herders as well as designing tailored financial services such as livestock insurance.
Panel members highlighted Nigeria's Grazing Bill, which legalized the grazing rights of pastoralists as part of efforts to end ongoing deadly disputes between farmers and herders.
"Understanding the interactions between livestock and the environment is essential to developing a thriving, sustainable livestock sector, including assessing the extent of grassland degradation, land and water pollution, water scarcity, biodiversity loss, and emissions," said Nachilala Nkombo, Panel member and country director for the World Wildlife Fund (WWF), Zambia.
"With rangelands accounting for an estimated two-thirds of Africa's land surface, rangeland degradation from overgrazing is an important threat that can also contribute to conflict between farmers and pastoralists.
"Lessons can be drawn from past livestock growth in other developing regions to design and implement policies that effectively manage the trade-offs associated with livestock sector transformation and the environment. With human and livestock populations going up, regenerative approaches to livestock production and management will secure both key environmental services and the sector long-term."
Elsewhere, countries such as Zimbabwe have responded to the need for more, better quality feed to sustainably grow the livestock sector. Some farmers who received training in the production of forage seeds in eastern Zimbabwe earned up to US$800 each for producing lablab, or Hyacinth bean, which also improved the quality of meat.
And simple mobile technology has been used in Ghana to provide veterinary information and advice to livestock farmers. Within two years of the information service CowTribe launching, vaccine coverage among its users increased from less than 20 per cent to 65 per cent, reducing livestock disease and loss, and adding an estimated US$300 to their annual household income.
Source: The Independent
Kiruhura and Kazo lift ban on milk sale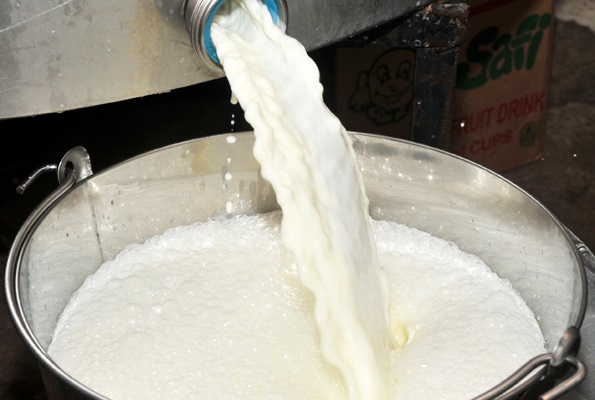 Ban on the sale of milk has been lifted for two weeks under strict regulations
Kiruhura, Uganda.  Authorities in Kiruhura and Kazo districts have reversed the earlier ban imposed on the sale of milk. The two districts that are under quarantine following the outbreak of Foot and Mouth disease had banned the sale of animal products and the movement of livestock.
However, in a meeting held between the dairy farmers and district Foot and Mouth disease task forces of both districts, it was agreed to lift the ban on the sale of milk for two weeks but under strict regulations.
Kiruhura District Resident Commissioner Aminadan Muhindo says they have stopped traders who move from house to house collecting milk on motorcycles, but asked them to set up collection centres where farmers will personally deliver their milk.
Kiruhura LC V chairperson Rev Samuel Katugunda welcomed the partial lifting of the ban. He also asked the residents to respect the regulation.
He says the districts are facing an economic crisis because of the total quarantine.
Kazo District Veterinary Officer Richard Kiyemba says they have agreed with dairy farmers to continue selling the milk. He says they are faced with the challenge of unscrupulous people who smuggle livestock out of the district at night.
The quarantine in these districts has increased the smuggling of livestock and its products which is done during the night. Recently, a trader was arrested carrying animals in a Fuso truck heading to Kampala.
Emmanuel Kyeishe, chairperson Kiruhura district Framers Sustainable Development Association, welcomed the lifting of the ban on the sale of milk but warned that the task force is to blame for the widespread of the disease.
He asked the team to ask for reinforcement to boost their monitoring and implementation of the quarantine.
Original Source: THE INDEPENDENT
Multi-billion cereal processing plant opens in Soroti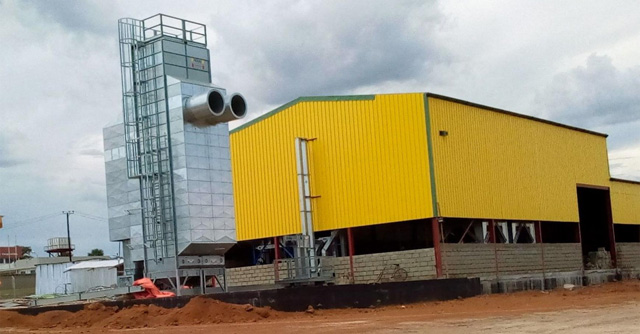 Pela Agro- Processing Factory in Soroti.
Soroti, Uganda. Soroti City will be home to a multi-billion agro-processing business for cereals, thanks to Pela Commodities Limited, a new industry being established in Arapai industrial area.  
Pela commodities has already started laying its machinery in the area near Soroti Fruit Factory. It is expected to handle 18 types of cereals and be able to sort, clean and dry 36 metric tonnes of cereals per hour, according to Isaiah Langa, one of the directors of Pela Commodities Limited. He adds that the plant will easily process over 600 metric tonnes of cereals in less than 24 hours.
Langa adds that they intend to start with maize, soya beans, millet and sorghum produced by farmers in the areas of eastern and northern Uganda, and that their first priority is to improve the quality of grains in the country and open a market for Ugandan grains in the region and beyond.  The cereals currently provide staple food for more than 50 per cent of the population and incomes for rural households. 
Maize is intensely grown in the eastern Uganda districts of Kapchorwa, Mbale, Kamuli, Jinja, and Iganga, the central districts of Masaka and Mubende as well as the western districts of Masindi, Kamwenge, Kyenjojo, Kasese, Kabarole, while the production of finger millet is concentrated in Apac, Lira, Gulu, Kitgum, Iganga, Kamuli, Soroti and Tororo districts. 
"…for now, we want to ensure quality in the production of grains. We have acquired a toxin scrubber machine that will wash away aflatoxin in the grains. By July/August, the issue of aflatoxin will be no more in our grains", he said. This pronouncement comes at the heels of a recent trade war between Uganda and Kenya arising from the quality of Maize on the Ugandan market. 
Kenya, the largest consumer of maize from Uganda stopped the importation of the crop on account that the levels of mycotoxins in the maize were above safety limits.
Amos Wekesa, a co-director of Pela Commodities Limited in Soroti says they made a decision to invest in Soroti because of the availability of land, which was offered to them by the Uganda Investment Authority, favourable weather conditions, availability of cereals and connectivity to South Sudan and Kenya markets. Wekesa added that the company is in the process of engaging farmers on how best to work to enhance production for the factory.
Annet Iyogil, a resident in Arapai welcomes the establishment of an agro-processing factory in the area with the hope that it will improve prices for the cereals. 
"We depend on cereals for survival these days. But the prices of maize and other foodstuffs are very low and unpredictable. If this factory sets a standard rate for cereals, that would really be good for us", she said. 
The factory, worth five billion shillings is expected to start operations by the end of April. 
*******
URN
Foot and mouth quarantine, drought push milk prices up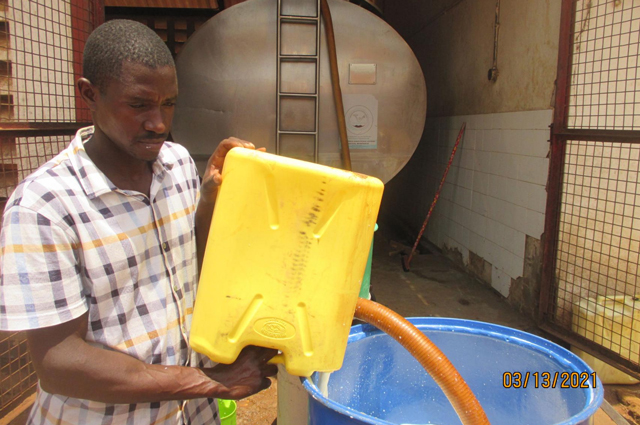 A farmer delivers his milk at Nabiswera Collection Centre in Nakasongola
Isingiro, Uganda. Drought and the outbreak of foot and mouth disease have led to a sharp rise in the prices of milk.
In the districts of Isingiro, Sembabule, Kazo and Kiruhura, farmers have seen their incomes plummet as they have nowhere to sell the milk.   Many are giving back the milk to the calves where possible, as even the local people are avoiding its consumption for fear of contracting the disease.
Unfortunately, it is even more expensive than before to treat animals, as private veterinary officers have increased the cost of drugs and treatment. 
Esther Oineababo, a dairy farmer in Kiruhura district says that in the sub-counties which are under quarantine, some people have resorted to smuggling animals and products at night, which she says in increasing the risk of the spread of the FMD.
Allan Aruho, a farmer in Kiruhura Sub-county, Rwomugina Cell says the milk prices have gone a little up, but he decries the middlemen who buy the milk from the farmers and take it to the cooling plants.  Aruho says he cannot take the milk or hire someone to take it to the cooling plant or collection centre, because of the new regulations. 
According to the regulations, the districts have been divided into cells, and each cell allocated only two milk traders or transporters, to limit the spread of the disease. He says that otherwise, he would be getting more than the 800 Shillings for a litre that they now give him amidst the scarcity. 
While in the southwest, they are battling foot and mouth disease, and not-so-harsh weather, in the northern part of the cattle corridor, the drought is becoming almost unbearable, especially for farmers who had improved their stock to hybrids. 
In Nakaseke and Nakasongola, the dams have long-dried up and those who are in the hardest-hit areas have resorted to migrate to areas that are slightly not as dry, or near natural water sources. 
Those who can afford are buying water, but a water tanker of 150,000 litres costs 150,000 Shillings, which can hardly last two weeks because, much of it evaporates from the ponds or dams, due to the heat.
The cheaper option is to look for areas to rent near water sources, at 1 Million Shillings or more for five acres, depending on the location.  This has led to a sharp decline in the productivity of animals. 
An average local cow now produces two to three litres of milk a day from six under normal circumstances, while the hybrid ones are now producing an average of six litres, half the normal capacity. 
Robert Lwanga, a mixed farmer in Nabiswere Sub-county, Nakasongola district says a litre of milk at the farm has gone up to 1,000. But he says half of the price goes to the direct costs like herdsmen wages, water, pasture and treatment. 
Another farmer, Robert Namara at Kagiyo Village sells his milk through Nabiswere Cooperative Society which has a collection centre. He says the cooperative buys a litre at 1,000 Shillings and sells it to buyers from Kampala at 1,100 Shillings, which is exciting but that unfortunately, milk production has fallen by half. 
He says that the farmers hardly have any say on the price of the milk because it is determined by the demand and prices in Kampala, the reason, it can drop to as low as 300 Shillings a litre. 
The picture on the prices in the North is the same as in the quarantine-free areas in the southwest, where the litre currently goes for 1,000 Shillings when the cooperative society, which owns a cooling plant, buys it. 
Loyce Kahwa, a worker at the Rusheere Cooperative Society collection centre says they are now buying as low as 5,000 litres a day, yet they used to buy up to 10,000 before the outbreak of foot and mouth. 
When the tank owners buy the milk at 1,100 to 1,200 Shillings a litre by the time it reaches the wholesale buyers in Kampala, the cost of a litre had gone up 1,450 Shillings and these sell a litre to a vendor at 100 Shillings more. 
David Rugumaho, an owner of a small dairy in Kisenyi says they are finding it hard to get enough milk, as all their sources are affected by different factors, hence the final cost of 1,800 to 2,000 Shillings a litre.
Aruho, the farmer in Kiruhura advises the government to vaccinate whole districts at once which he says would be more effective in controlling the disease. 
He also urges the government to complete the electricity connection projects that they seem to have abandoned, which would help them get coolers closer to the farming areas.
Original Source: independent.co.ug