Farmers suffer double pain of Covid, foot-and-mouth disease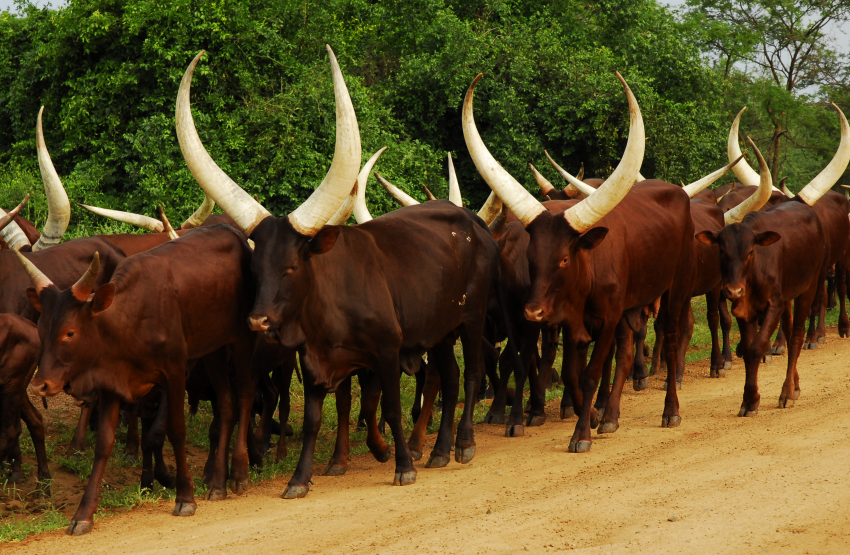 Hundreds of pastoralists around the cattle corridor, whose livelihood is mainly from the sale of animals, are feeling the squeeze as a result of Covid-19 and foot-and-mouth disease (FMD) quarantine that has made it impossible for them to sell animals.
The cattle corridor districts in Uganda sit in Lango, Ankole, Karamoja, Teso, Luweero sub-regions.
In Karamoja, cattle is the source of all livelihood during times of grain shortage. The proceeds from animal sales enable pastoralists secure grains but this has been limited during the lockdown as law enforcers tighten their grip against movement of animals and operation of markets.
Mr Mark Abuko, the Kaabong District chairperson, for told Daily Monitor that pastoralists in his district are struggling with the double tragedy of livestock quarantine and Covid-19 pandemic guidelines as they cannot sell in open markets.
"I belief the most disadvantaged people in this era of Covid-19 have been pastoralists in areas of Karamoja, where livestock quarantine has affected pastoralists. Before we could cope with effects of foot-and-mouth disease, another human disease struck," he says.
Mr Abuko says the pastoralists have had to rely on relief from the World Food Programme (WFP), adding that these rations are not proportionate to the food needs of families.
"I thank WFP, but during normal days, such food ration would be supplemented with other grains bought using proceeds from animal sale. It is not the case now," the Kaabong District chairperson says.
Illegal markets
A clan elder in Kotido Sub-county, Mr Joel Lomongin, says some unscrupulous pastoralists have been prompted to set up illegal markets, which has increased tension in Karamoja, adding that stolen animals are always sold in these markets that are unknown to the district authorities.
He adds that this has left the community at crossroads of both veterinary and law enforcement officers.
Mr John Dengel, a pastoralist in Nadunget, Moroto District, says ever since the quarantine caused by the foot and mouth disease was imposed, vaccination exercises have not been done.
Mr Fredrick Eladu, the Kaabong District Veterinary Officer, told Daily Monitor that vaccination was completed a week ago, adding that as veterinary officer, all they are waiting for are officers from the diagnostic department from Entebbe to carry out zero surveillance.
Mr Eladu adds that even though the quarantine gets lifted, the other hurdle standing in the way of pastoralists will be the closed markets.
"For the time we have been in this double quarantine, pastoralists have been selling chicken, charcoal," he says.
Mr Eladu says a great deal of livelihood among pastoralists has been lost, adding that the outcome in the next few weeks from the diagnostic team at Entebbe will inform when FMD will be lifted by the commissioner-in-charge of animal health.
He adds that FMD is a contagious viral disease, which affects animals which have divided hooves, and severely affects production of livestock.
Mr Robert Kennedy Okuda, the production officer in Kotido, says the ministry delivered limited vaccines to the tune of only 10,000 doses against 5,578,000 head of cattle in Kotido alone.
"It means we only vaccinated 0.5 per cent of animals in the entire Kotido," he adds.
Mr Okuda says because of delayed vaccination, pastoralists in protest started setting up illegal cattle markets, which law enforcement officers have clamped down, and animals sold in such settings have been confiscated and sold locally upon our advice as technical officers.
In Kazo District, there are seven monthly cattle markets, some operating once a month and others twice, each giving the district Shs8 million every financial year which translates into Shs56 million.
Livestock and general merchandise markets have been closed for five months now, which has rendered the district short of money.
"Local revenue finances 14 per cent of the district budget; this means we have to adjust the budget because there is no compensation. Trading licence collections are very low; shops and other businesses in trading centres have been closed," Mr Laban Kanyohora, the Kazo interim vice chairperson, said on Monday.
He added: "We hope the central government will find a way of covering this shortfall. It should consider giving us money to compensate for the revenue we have lost."
The chairperson of Butuku Cattle Marketing Cooperative Society in Ntoroko District, Mr Charles Kasoro, says the situation is very difficult for them because selling cattle is their only income generating activity. He adds that cattle markets are vital for their survival.
"We do not dig, so if we cannot sell our cattle, we cannot get food," Mr Kasoro says.
"We have been selling our cows to the neighbouring districts of Bundibugyo and Kabarole and in return, they also sell us food; but now we are stuck," he says.
He adds that although there is food in the market, they have no money to buy it.
Mr Kasoro wants the President to consider opening cattle markets to allow Ntoroko people to resume their earnings.
"We can manage separating food and cattle if the President considers reopening our markets. We are ready to adhere to all measures," Mr Kasoro says.
Protests
In Sembabule, quarantine has been in force since August 7, 2019.
This forced Lwemiyaga County legislator Theodore Ssekikubo to mobilise farmers to defy quarantine restrictions and this led to his arrest in January.
But a July 7 letter by the commissioner of Animal Health, Ms Anna Rose Ademun, lifted quarantine restrictions which brought excitement among livestock farmers in the affected sub-counties of Mitima and Lugusulu.
"The purpose of this communication is, therefore to inform you that the quarantine restrictions imposed on have been lifted," Ms Ademun's letter reads in part.
Although the quarantine was lifted, farmers still cannot sell their animals since cattle markets are closed as one of the measures to curb spread of coronavirus.
Mr Ezekiel Gumisiriza, a cattle farmer in Kabukongote Village, Malongo Sub-county in Sembabule District, says due to coronavirus restrictions middlemen are taking advantage of farmers.
Mr Robert Kanyete, the chairperson of Nyekundiri Farmers Association in Kyalulangira Sub-county, Rakai District, said the lock down has greatly affected farmers since cattle dealers no longer come.
"Cattle dealers come from Kampala, Masaka and other urban areas, but since Rakai District is among border districts and public transport is still restricted, farmers have no one to buy," he said
In Lyantonde, Mr Fred Muhangi, the district chairperson, said although the quarantine has been lifted in the area, farmers still have to wait for the government to reopen cattle markets.
"People are free to sell their animals from the farms provided they can observe social distancing," he said.
In Nakasongola, Mr Sam Kigula, the district chairperson, says the unending quarantine status that covers 80 per cent of the district continues to cripple the different development and service delivery sectors that depend on the local revenue resource envelope from the livestock industry.
"Nakasongola was hit hard. We had anticipated that the sub-counties of Nabiswera, Wabinyonyonyi and Nakitoma could have a partial lifting of the cattle quarantine but it has not been possible," he adds.
The district local revenue resource envelope has dropped to the lowest in the past three years.
"We now post an estimated Shs150m unlike the years before the cattle quarantine when the district registered Shs400m," Mr Kigula told the Daily Monitor.
Vaccination
Authorities respond. Dr Robert Ojala, the regional veterinary inspector for Teso and Karamoja sub-regions, says the country has done vaccination, saying some of this vaccination was selectively done in areas with pronounced Foot and mouth disease.
He admits that in Kotido, the vaccine delivered was not commiserate to the numbers, and it is the reason that selective vaccination was carried out.
"For the case of Katakwi, Karamoja, a team of doctors from the diagnostic department from Entebbe are expected to carry out tests this week for zero surveillance, and when the tests come out negative, the commissioner in charge animal health will lift the quarantine," Mr Ojala says.
He adds that although this lifting is anticipated, he is not sure how cattle keepers will sell their animals because the Covid-19 strain lives on.
Mr Ojala says he understands the anxiety among pastoralists and businessmen dealing in cattle, but they will have to wait a little longer to sell their products.
Compiled by Simon Peter Emwamu, Steven Ariong, Alfred Tumushabe, Scovia Atuhaire, Al-Malahdi Ssenkabirwa, Wilson Kutamba, Paul Ssekandi, Dan Wandera.
Kiruhura and Kazo lift ban on milk sale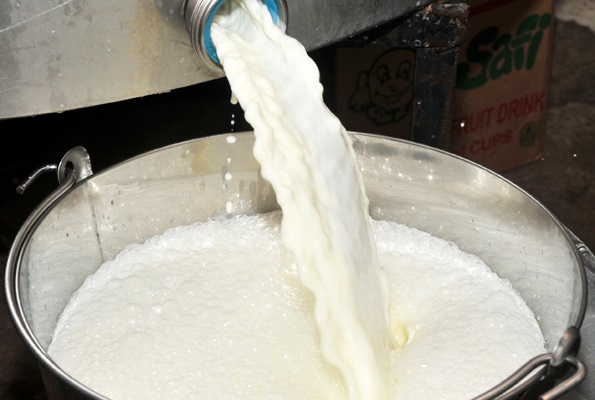 Ban on the sale of milk has been lifted for two weeks under strict regulations
Kiruhura, Uganda.  Authorities in Kiruhura and Kazo districts have reversed the earlier ban imposed on the sale of milk. The two districts that are under quarantine following the outbreak of Foot and Mouth disease had banned the sale of animal products and the movement of livestock.
However, in a meeting held between the dairy farmers and district Foot and Mouth disease task forces of both districts, it was agreed to lift the ban on the sale of milk for two weeks but under strict regulations.
Kiruhura District Resident Commissioner Aminadan Muhindo says they have stopped traders who move from house to house collecting milk on motorcycles, but asked them to set up collection centres where farmers will personally deliver their milk.
Kiruhura LC V chairperson Rev Samuel Katugunda welcomed the partial lifting of the ban. He also asked the residents to respect the regulation.
He says the districts are facing an economic crisis because of the total quarantine.
Kazo District Veterinary Officer Richard Kiyemba says they have agreed with dairy farmers to continue selling the milk. He says they are faced with the challenge of unscrupulous people who smuggle livestock out of the district at night.
The quarantine in these districts has increased the smuggling of livestock and its products which is done during the night. Recently, a trader was arrested carrying animals in a Fuso truck heading to Kampala.
Emmanuel Kyeishe, chairperson Kiruhura district Framers Sustainable Development Association, welcomed the lifting of the ban on the sale of milk but warned that the task force is to blame for the widespread of the disease.
He asked the team to ask for reinforcement to boost their monitoring and implementation of the quarantine.
Original Source: THE INDEPENDENT
Multi-billion cereal processing plant opens in Soroti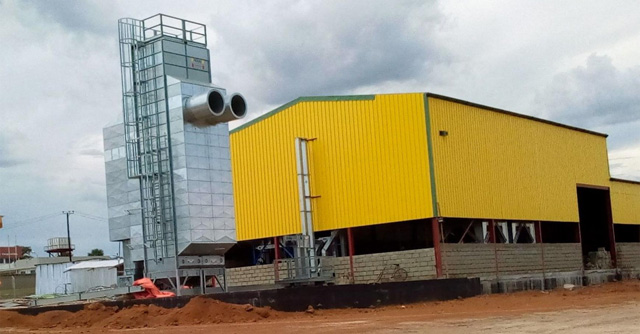 Pela Agro- Processing Factory in Soroti.
Soroti, Uganda. Soroti City will be home to a multi-billion agro-processing business for cereals, thanks to Pela Commodities Limited, a new industry being established in Arapai industrial area.  
Pela commodities has already started laying its machinery in the area near Soroti Fruit Factory. It is expected to handle 18 types of cereals and be able to sort, clean and dry 36 metric tonnes of cereals per hour, according to Isaiah Langa, one of the directors of Pela Commodities Limited. He adds that the plant will easily process over 600 metric tonnes of cereals in less than 24 hours.
Langa adds that they intend to start with maize, soya beans, millet and sorghum produced by farmers in the areas of eastern and northern Uganda, and that their first priority is to improve the quality of grains in the country and open a market for Ugandan grains in the region and beyond.  The cereals currently provide staple food for more than 50 per cent of the population and incomes for rural households. 
Maize is intensely grown in the eastern Uganda districts of Kapchorwa, Mbale, Kamuli, Jinja, and Iganga, the central districts of Masaka and Mubende as well as the western districts of Masindi, Kamwenge, Kyenjojo, Kasese, Kabarole, while the production of finger millet is concentrated in Apac, Lira, Gulu, Kitgum, Iganga, Kamuli, Soroti and Tororo districts. 
"…for now, we want to ensure quality in the production of grains. We have acquired a toxin scrubber machine that will wash away aflatoxin in the grains. By July/August, the issue of aflatoxin will be no more in our grains", he said. This pronouncement comes at the heels of a recent trade war between Uganda and Kenya arising from the quality of Maize on the Ugandan market. 
Kenya, the largest consumer of maize from Uganda stopped the importation of the crop on account that the levels of mycotoxins in the maize were above safety limits.
Amos Wekesa, a co-director of Pela Commodities Limited in Soroti says they made a decision to invest in Soroti because of the availability of land, which was offered to them by the Uganda Investment Authority, favourable weather conditions, availability of cereals and connectivity to South Sudan and Kenya markets. Wekesa added that the company is in the process of engaging farmers on how best to work to enhance production for the factory.
Annet Iyogil, a resident in Arapai welcomes the establishment of an agro-processing factory in the area with the hope that it will improve prices for the cereals. 
"We depend on cereals for survival these days. But the prices of maize and other foodstuffs are very low and unpredictable. If this factory sets a standard rate for cereals, that would really be good for us", she said. 
The factory, worth five billion shillings is expected to start operations by the end of April. 
*******
URN
Foot and mouth quarantine, drought push milk prices up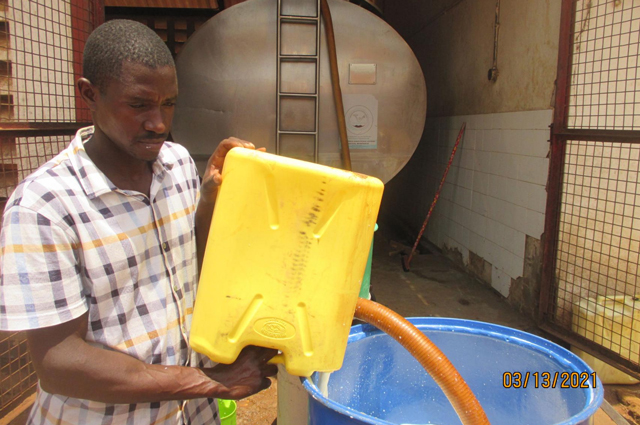 A farmer delivers his milk at Nabiswera Collection Centre in Nakasongola
Isingiro, Uganda. Drought and the outbreak of foot and mouth disease have led to a sharp rise in the prices of milk.
In the districts of Isingiro, Sembabule, Kazo and Kiruhura, farmers have seen their incomes plummet as they have nowhere to sell the milk.   Many are giving back the milk to the calves where possible, as even the local people are avoiding its consumption for fear of contracting the disease.
Unfortunately, it is even more expensive than before to treat animals, as private veterinary officers have increased the cost of drugs and treatment. 
Esther Oineababo, a dairy farmer in Kiruhura district says that in the sub-counties which are under quarantine, some people have resorted to smuggling animals and products at night, which she says in increasing the risk of the spread of the FMD.
Allan Aruho, a farmer in Kiruhura Sub-county, Rwomugina Cell says the milk prices have gone a little up, but he decries the middlemen who buy the milk from the farmers and take it to the cooling plants.  Aruho says he cannot take the milk or hire someone to take it to the cooling plant or collection centre, because of the new regulations. 
According to the regulations, the districts have been divided into cells, and each cell allocated only two milk traders or transporters, to limit the spread of the disease. He says that otherwise, he would be getting more than the 800 Shillings for a litre that they now give him amidst the scarcity. 
While in the southwest, they are battling foot and mouth disease, and not-so-harsh weather, in the northern part of the cattle corridor, the drought is becoming almost unbearable, especially for farmers who had improved their stock to hybrids. 
In Nakaseke and Nakasongola, the dams have long-dried up and those who are in the hardest-hit areas have resorted to migrate to areas that are slightly not as dry, or near natural water sources. 
Those who can afford are buying water, but a water tanker of 150,000 litres costs 150,000 Shillings, which can hardly last two weeks because, much of it evaporates from the ponds or dams, due to the heat.
The cheaper option is to look for areas to rent near water sources, at 1 Million Shillings or more for five acres, depending on the location.  This has led to a sharp decline in the productivity of animals. 
An average local cow now produces two to three litres of milk a day from six under normal circumstances, while the hybrid ones are now producing an average of six litres, half the normal capacity. 
Robert Lwanga, a mixed farmer in Nabiswere Sub-county, Nakasongola district says a litre of milk at the farm has gone up to 1,000. But he says half of the price goes to the direct costs like herdsmen wages, water, pasture and treatment. 
Another farmer, Robert Namara at Kagiyo Village sells his milk through Nabiswere Cooperative Society which has a collection centre. He says the cooperative buys a litre at 1,000 Shillings and sells it to buyers from Kampala at 1,100 Shillings, which is exciting but that unfortunately, milk production has fallen by half. 
He says that the farmers hardly have any say on the price of the milk because it is determined by the demand and prices in Kampala, the reason, it can drop to as low as 300 Shillings a litre. 
The picture on the prices in the North is the same as in the quarantine-free areas in the southwest, where the litre currently goes for 1,000 Shillings when the cooperative society, which owns a cooling plant, buys it. 
Loyce Kahwa, a worker at the Rusheere Cooperative Society collection centre says they are now buying as low as 5,000 litres a day, yet they used to buy up to 10,000 before the outbreak of foot and mouth. 
When the tank owners buy the milk at 1,100 to 1,200 Shillings a litre by the time it reaches the wholesale buyers in Kampala, the cost of a litre had gone up 1,450 Shillings and these sell a litre to a vendor at 100 Shillings more. 
David Rugumaho, an owner of a small dairy in Kisenyi says they are finding it hard to get enough milk, as all their sources are affected by different factors, hence the final cost of 1,800 to 2,000 Shillings a litre.
Aruho, the farmer in Kiruhura advises the government to vaccinate whole districts at once which he says would be more effective in controlling the disease. 
He also urges the government to complete the electricity connection projects that they seem to have abandoned, which would help them get coolers closer to the farming areas.
Original Source: independent.co.ug