Impact of Covid-19 on small farmers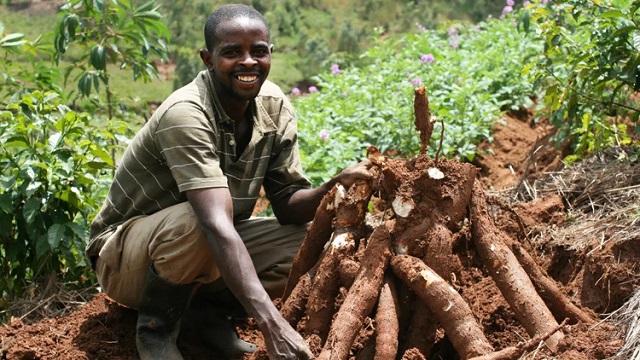 COMMENT | MUKOTANYI ALEX | It was in December 2019 in a Chinese city of Wuhan that a new human coronavirus now popularly known as COVID-19 emerged.
As of Friday July10, 2020 all over global Televisions like BBC, Aljazeera among others reported 7.5 million confirmed cases of the coronavirus and in Uganda according to the Ministry of Health, as of 10th July 2020, the cumulative total confirmed cases of Ugandans reached 1,013.
When COVID-19 emerged, Uganda quickly joined the rest of the world with measures to contain the spread of the disease. I must say, not once since 01 January 1992 when I was born in Mpororo now Ntungamo District, nor even recently as an adult living in Lyantonde District, could I have imagined I could witness something that could bring the whole world or my village to its knees. The lockdown as a result of COVID19 has.
With the total  lockdown , schools at all levels were shut down, workers we were told to work from home, and in some instances major markets were closed down.
Before I forget I would like to thank our President, Yoweri Museveni, for the way he continued to guide the country despite the fact that Covid-19 pandemic caught us unprepared as a country.
With the impact of Covid-19 on all areas of human endeavors, a global health crisis has now become global economic crisis. As food is the mainstay of any nation it has now become imperative to look into the impact of the virus on food supply system and; especially, on smallholder farmers -the poor.
About 75% of Uganda's population is in agriculture and close to 70% are smallholder farmers who derive their livelihood from agriculture. These cultivate less than five hectares of land.
The measures to combat the spread of COVID-19 have worsened the situation of this group. They have failed to get easy access to both their land and markets to sell their products or buy seeds and other essential inputs. They have also been left at the mercy of the middlemen giving them low food prices.
Although the magnitude of the impact cannot be ascertained as at the moment, special consideration needs to be given on how to cushion effects of Covid-19 on the most vulnerable and bottom-down of the pyramid in the society-the poor.
It is noteworthy that the government has shown commitment to sustain her aricultural activities like farms, cargo imports and exports despite the crisis. However, this has not solved the problem of lack of market and fair prices in relation to the production costs for the smallholder farmers in the country.
In order for the government to protect and sustain food systems and markets for smallholder farmers, it needs to collaborate with Uganda National Farmers Federation to establish collection centres' set up by small holder farming cooperatives as a way of keeping the supply chain functioning through market closures.
At these centres, members of the cooperative manage the sales to consumers and buyers. They are proving an effective way of keeping farmer produce flowing to market – but more are needed; at least one or two collection centres per district. The cooperative trading model, for example, could provide more direct producer-consumer relations that enable producers to secure better prices and more influence over the value chain.
Establishing models for equitable market linkages for small-scale producers could help the country become more self-sufficient, rather than depending on cheaper imports that depress prices. This will help secure producer's rights to fix the price of their produce in relation to costs of production so that they get a fair deal.
Special intervention funds should also be injected into agriculture sector. Such funds should be used to develop alternative food production system such as greenhouse technology and hydroponic farming. These technologies have the capacity to withstand restrictions in movements than the traditional system of agriculture and as well have potentials for higher yield. It is also possible to extend cash entitlements from the intervention fund to the bottom-down of the pyramid that may be worst hit by the pandemic.
If we consider the above suggested measures, as a country we shall not only cope with possible effects of COVID-19 pandemic on the food supply system but also we shall solve key problems that have hampered the agricultural sector for long, like the existence of fragmented markets and unreasonable prices of most of the Agricultural products.
Source: The Independent
Robusta coffee hits record high to trade at sh7,500 per kilo in Ibanda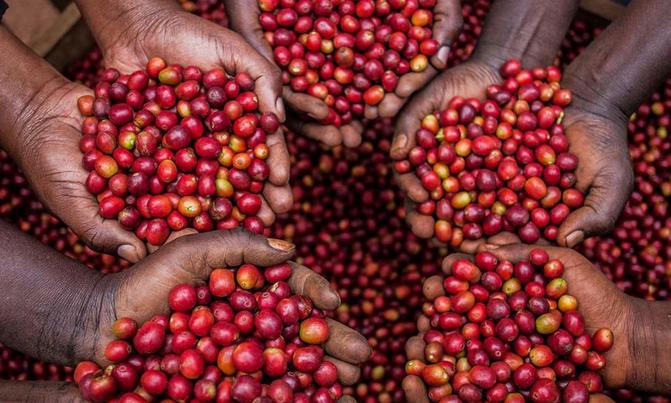 Robusta coffee prices have continued their upward trend by gaining sh1,000 in value over the past month. 
Robusta is trading at a high of sh7,500 per kilogramme of quality beans in Ibanda, while traders quoted low-grade robusta coffee beans at sh7,200 per kilo.
This compares to sh6,500 a kilo four weeks ago and sh5,600 recorded two months back. The sh7,500 per kilo is the highest for Robusta coffee in a long time in Ibanda and surpasses the sh6,900 recorded during the last harvest season.
Deogratias Tihwayo, a coffee trader in Ibanda town, attributed the increase to the quality of this season's coffee beans compared to previous seasons. He said this has attracted more buyers and, hence, pushed up the prices.
David Kiiza, the chairperson of Kashangura Coffee Co-operative in Kashungura, Kagongo Division, said farmers were observing the recommended agronomical practices that have improved quality and out-turn. 
Meanwhile, Arabica coffee was unchanged over the reporting period, trading between sh8,000 and sh8,500 per kilogramme in Ibanda town and Kashangura. Arabica coffee hit a record high of sh12,000 a kilo last season. 
However, there has been subdued demand over the past months with the crop out of season.
UCDA daily market prices
Uganda Coffee Development Authority (UCDA) indicative figures for March 20 quoted robusta (clean) at between sh7,000 and sh8,000 a kilo, Arabica parchment sh8,500 – sh9,500, and Kiboko ranged from sh2,300 to sh2,600 per kilogramme, among others.
Source: New Vision
Falling coffee prices, reduced output forecasts rattle Uganda farmers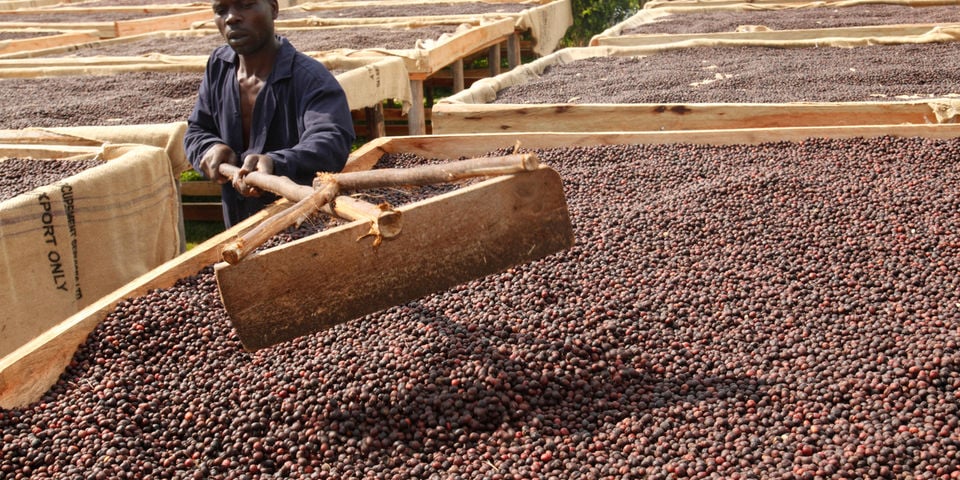 There has been a slump in international coffee prices and shipping costs in the last quarter of 2022
Uganda's coffee industry is walking into a challenging 2023 defined by falling prices and diminished output forecasts following the recent dry spell that hit major growing areas.
While the sector enjoyed a boom between 2020 and 2022 – with surging coffee prices, rising export volumes and considerable incomes for farmers – decline in international shipping costs and improved production forecasts in Brazil triggered a slump in coffee prices in the last quarter of 2022, according to industry players.
International shipping costs dropped from record highs of $10,000 per container charged on certain sea routes in January 2022 to less than $2,000. Shipping fees charged per 20-foot container ferried from Indonesia to North America, for example, are estimated at $800-$1,000 currently.
Consequently, local and international coffee prices have dropped since October 2022.
International robusta coffee prices fell from an average price of $2,400 per tonne to $1,856 per tonne towards the end of last year, according to industry data. Local robusta coffee prices declined from Ush7,200 ($1.9) per kilogramme to Ush5,800 ($1.6) per kilogramme during the second half of 2022 while Arabica coffee prices fell from Ush11,000 ($2.9) per kilogramme to Ush8,000 ($2) per kilogramme in the period.
In 2021, average coffee prices stood at more than Ush15,000 ($4) per kilogramme.
Robusta coffee production accounts for more than 60 percent of Uganda's overall coffee output.
Besides gloomy coffee price forecasts for 2023, a severe dry spell in the past six months could pose a huge threat to coffee production levels. The weather affected major coffee-growing areas like the Central region and risks cutting this year's output to around 5.5 million bags, industry players forecast.
"Brazil and Vietnam are headed for a bumper coffee harvest this year while India and Indonesia have discounted their local coffee prices in a way that has undercut Uganda's growth momentum on the international market," said Robert Byaruhanga, chief executive of local exporter Funzo Coffee Ltd.
Asian and Latin American coffee exporters are regaining dominance in European and North American markets after the lockdown period because of the lower coffee prices, reduced freight charges, shorter port clearance turnaround times and reasonable coffee quality grades, Byaruhanga explained.
Ugandan farmers are now holding onto their coffee produce in anticipation of better prices.
Overall coffee exports stood at 6.26 million bags valued at $862.28 million in 2021/22 compared to 6.08 million bags worth $559.16 million registered in 2020/21, data from the Uganda Coffee Development Authority shows.
An estimated 447,162. 60 kilogramme bags of coffee valued at $64.1 million were exported in November 2022 at an average price of $2.39 per kilogramme — 6 US cents lower than the average price of $2.45 per kilogramme posted in October 2022.
Original Source: Daily Monitor
Over 40 goats die of PPR disease in Madi-Okollo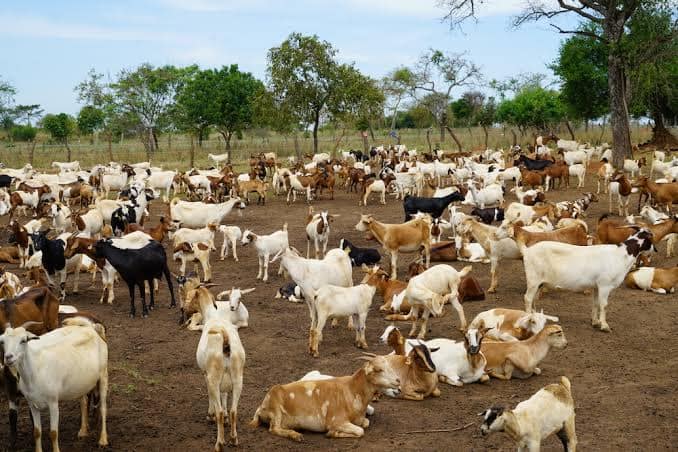 At least 43 goats have died of Peste des Petits Ruminants (PPR) disease, also known as 'goat plague' and several others are undergoing treatment in Madi-Okollo district.
Madi-Okollo district veterinary officer, Dr Charles Onzima, says the viral disease, which is related to rinderpest in sheep as well as goats, has claimed the lives of goats in Olali parish in Ogoko sub-county.
He adds that PPR disease was confirmed in the district after 500 local and 94 Boer goats were supplied to families in Olali parish under a poverty eradication programme that he suspects infected the local goats.
43 of the boar goats died while 10 of the local goats of the communities also died of PPR disease.
Onzima says immediately after receiving information about the disease, the veterinary officers got the goats manifesting the signs of PPR that include sudden onset of depression, fever, discharge from the eyes and nose, sores in the mouth, breathing difficulty and death among others.
He says that they have already had three rounds of vaccination for the available goats in the affected area.
Original Source: New Vision Via harvestmoney.co.ug