Namanve forest loses '80 hectares' to land grabbers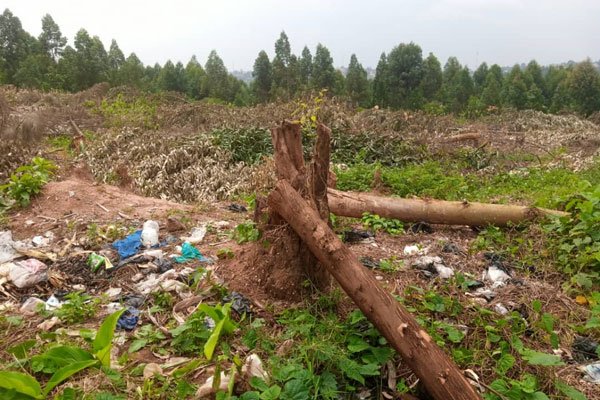 Some of the trees that were cut down in Namave forest on July 16. Photo | Damali Mukhaye 
A section of tree farmers who were given licences by the National Forestry Authority (NFA) to plant trees in Namanve Forest Reserve have raised the red flag after unknown people destroyed their trees without their knowledge.
The secretary general of the Namanve tree farmers group, Mr Wilson Rubayiza, told Daily Monitor yesterday in an interview that a number of unknown people have been claiming to have land titles in the forest reserve since 2016.
"They usually come at night, but for the recent one, they came when it was raining. Government should come to our rescue because we are also local investors," he said.
The incident happened last week on Thursday when unknown people came and destroyed 10 hectares of trees.
Mr Rubayiza said in total, 80 hectares of trees have been destroyed since 2016 and nothing has been done to stop the land grabbers from taking government land.
Mr Rubayiza also said it is evident that some people in 'big offices' are involved in the land grabbing because their plight has gone unresolved for years.
Tree farming licences
"We were licensed by the forest department and later taken up by NFA to grow trees. We have been growing trees in compartment 8, 9 and 14. It is the government that brought us here, so why should someone come claiming the land that belongs to the government?" Mr Rubayiza said.
Mr Joram Gayola, one of the growers, said seven hectares of his trees worth Shs70 million, were cut down last week on Thursday.
Mr Gayola said he got his licence to plant trees in the forest reserve in 2005 and he has been paying Shs50,000 to NFA per hectare, per year as ground rent.
"We do not know who is destroying our trees. We are not safe anymore because we do not know where they are going to destroy next. No one has a right to cut down our trees," he said.
Paul Lunakwita, another tree grower, said his five hectares were cleared in 2016 by unknown people and to date, he has not gotten any compensation.
He said if the government wants to take back the land, they should come out in the open, compensate the tree farmers and take over the land officially.
According to one of the licences Daily Monitor has seen between NFA and Paul Lunakwita, the grower was given 10 hectare of land to plant trees and his licence expires in 2032.
When contacted by the Daily Monitor yesterday, the executive director of NFA, Mr Tom Obong Okello, said he is aware that the trees were destroyed last week and he was heading to the police to have this resolved.
The NFA boss said part of this forest reserve was given to Uganda Investment Authority (UIA) and the other part is supposed to be a forest reserve.
"I am aware of that situation and there are some issues that have not been resolved because there are people claiming that land. They are saying the land belongs to them but as NFA, that land belongs to the government," Mr Okello said.
"When I got a call last week that there were people cutting trees, I called the police and they intervened and arrested all the people who were cutting the trees. I am going to meet them at the police station right now and we have to go on the ground and ascertain what they are talking about," he added.
Hopeful
When I got a call last week that there were people cutting trees, I called the police and they intervened and arrested all the people who were cutting the trees. I am going to meet them at the police station right now and we have to go on the ground and ascertain what they are talking about," Mr Tom Obong Okello, the executive director of NFA.
Farmers in Napak want security forces deployed in gardens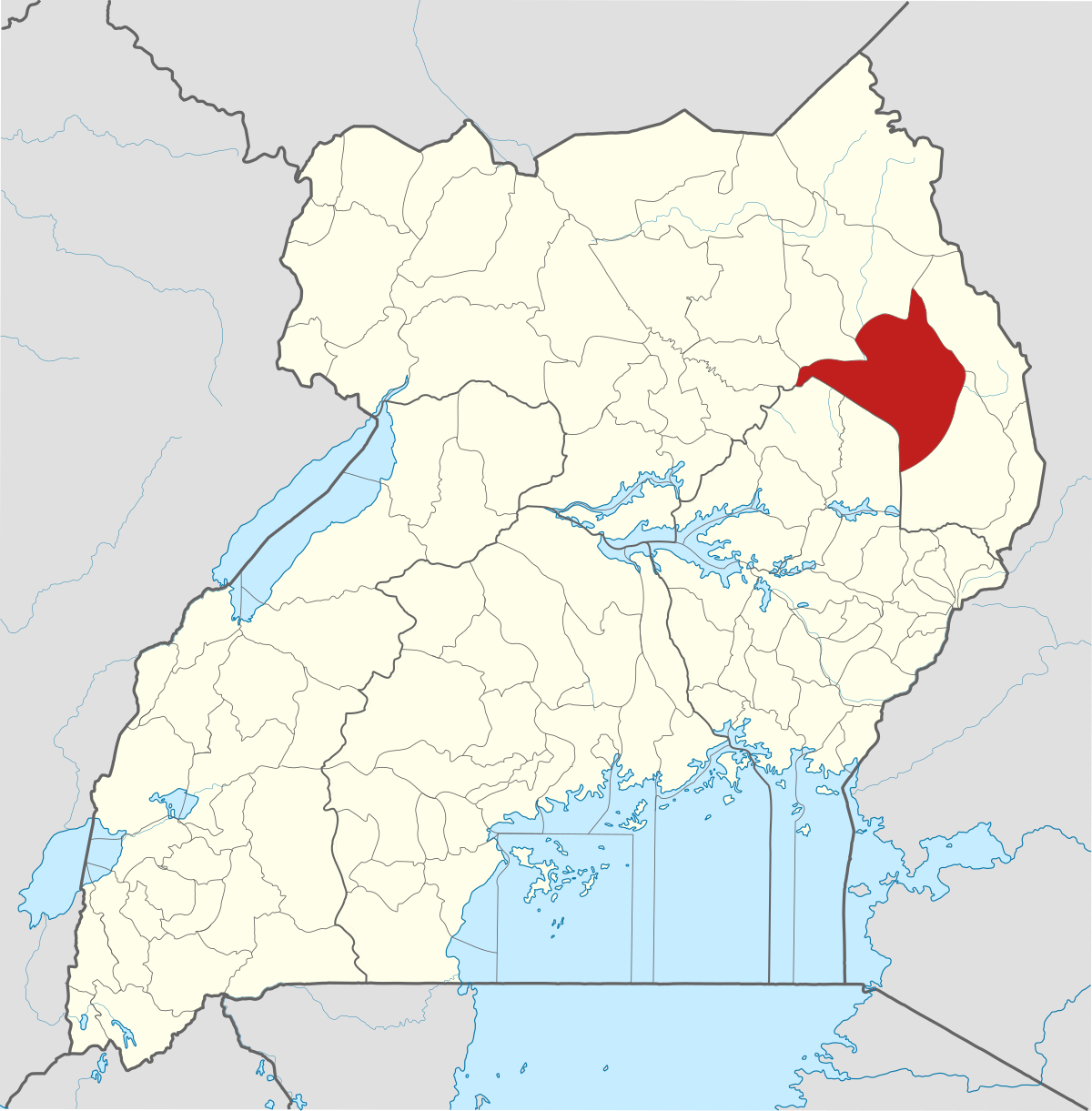 A section of farmers in Napak District is demanding for the deployment of security personnel in gardens to prevent attacks by suspected Karamojong warriors.
This follows a message that was sent to one of the phones belonging to the community member in Nabwal sub county threatening people to stop cultivation or else their cattle will be stolen. Suspected warriors have also been dropping leaflets in the villages warning farmers of possible attacks in case they risk going to cultivate in their gardens.
Robert Koryang, a resident of Lotome trading center, says that they are worried of going to their farm gardens which are far away from their home because of threats from the cattle raiders.
Koryang said the warriors are still hunting for cattle and they see the farming season as an opportunity to target farmers who use oxen for ploughing.
He observed that the persistent insecurity in the region frustrated their efforts to cultivate last year leading to a hunger crisis.
Judith Anyakun, another farmer recalls that early last year a suspected raider chased them out of their farms before making off with four oxen that were used for ploughing.
She suggested that the security forces should be deployed in their settlements nearer to the fields so that they are able to respond to any attack that may occur during farm activities.
John Paul Kodet, the LCV Chairperson for Napak, says that they are taking the threats seriously because the warriors have been issuing warnings to the communities before attacking.
Kodet said they have distributed seeds to the farmers but he is skeptical if communities shall be able to cultivate due to threats from suspected warriors.
He noted that some villages in the sub-counties of Lopei, Lokopo, and Lotome are very distant from the military installations and this puts them at high risk of being attacked.
Kodet appealed to the government to tighten security in the targeted areas such that people will be able to cultivate without fear.
Denis Okori, the Napak Resident District Commissioner said that the security forces already have the intelligence about the planned attacks and measures have been put in place to protect the communities.
Okori said they have designed strategic plans on how the deployment will be conducted and therefore farmers should not get worried because the government is trying everything possible to ensure there is peace.
He also confirmed receipt of the phone used for sending threats and it has been taken to the Internal Security Organization for tracking.
Okori urged the communities not to worry but instead clear the gardens for farming in order to fight hunger in the families as security does its part to protect them.
Last year, the residents of Napak district suspended the use of oxen for ploughing over fears of being attacked by suspected warriors. The cattle were only kept from the confined kraals and only released during the day for grazing, and returned in the evening when the army took responsibility for keeping them.
Original Source: URN via The Independent
Mbarara struggling to contain Rift Valley Fever, no livestock quarantine yet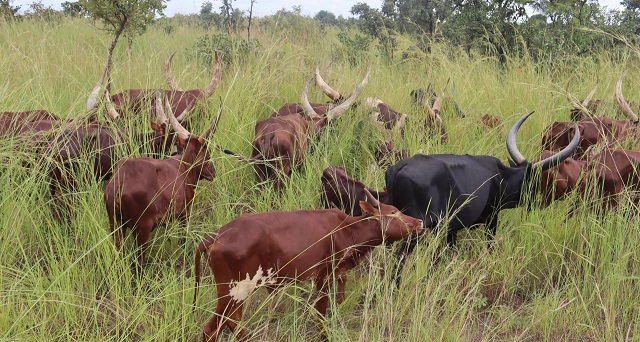 The government is reluctant at imposing the livestock quarantine on Mbarara despite registering five confirmed cases of death among humans resulting from Rift Valley Fever, the Resident District Commissioner, Emmy Turyabagyenyi Kateera has revealed.
According to Kateera , when they informed the Ministry of Agriculture, Animal Industry and Fisheries about the outbreak, they deployed a team on the ground to manage the situation. Mbarara District Veterinary Officer, Andrew Bakashaba, says that registered fifty cows infected by Rift Valley Fever in Rwanyamahembe Sub County on different farms.
He, however, says that they are currently managing the situation through sensitization. Bakashaba has warned residents against eating meat from animals that have died on their own, noting that Rift Valley Fever is only transmitted from animals to humans through infected meat.
He has also asked people to always watch out for meat that has a veterinary medical stamp as proof that it's been tested and found to be clean. Turyabagyenyi said that they have directed extension workers to hold engagement and sensitization meetings with farmers and livestock traders on how to do self-preservation on their farms and the movement of animals.
He said they asked the Ministry of Agriculture to hold on imposing a quarantine as they monitor the situation on the ground noting that if the situation goes out of hand they would be left without any choice but to announce the quarantine.
He says they have deployed veterinary doctors at all known slaughter slabs and asked them to double-check the meat before and after it is delivered to butchers.  Dr. Richard Atuhairwe, the in-charge of Bwizibwera Health Centre IV, says that the disease was detected among 30 people, and results from Uganda Virus Research Institute returned positive.  He says that five of the thirty have since died.
Rift Valley Fever is an acute viral hemorrhagic fever that is most commonly seen in domesticated animals such as cattle, sheep, and goats and can also cause illness in people. It is caused by the Rift Valley Virus. Meanwhile, a Quarantine has been imposed on Byembogo Village in Nyabisirira Town Council after a case of foot and mouth disease was confirmed on one farm.
Turyabagyenyi says a farm belonging to one Mr. Mungonya with over 1500 cattle had been stopped from sending out cattle and animal products like milk from the farm. He says that they have also temporarily closed the Kyeshema livestock market that is shared between Kiruhura and Mbarara districts noting that Kiruhura had last week closed its side.
He says they are now moving to vaccinate all animals in the village as they monitor the situation.
Original Source: URN via  The independent
Kamwenge closes livestock markets to halt spread of Foot and Mouth Disease from Kazo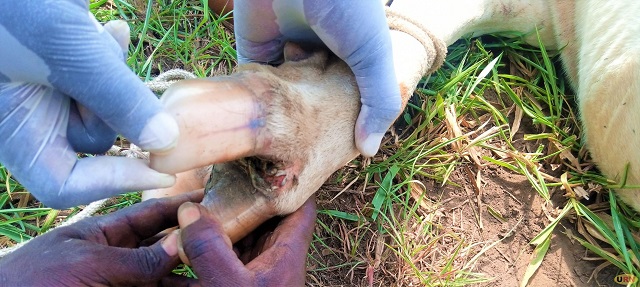 Kamwenge District Veterinary Department has ordered the temporary closure of all livestock markets in the district to curb the spread of Foot and Mouth Disease-FMD to the area.
The District Veterinary Officer, Dr. Paul Mbago told URN that the decision follows the outbreak of FMD in the neighboring Kazo district.
He explains that his office held a meeting with stakeholders and livestock farmers in the district and they came up with guidelines to stop the spread of the disease to the district.
According to Mbago, they have written to the Ministry of Agriculture, Animal Industry and Fisheries requesting 10,000 doses of the FMD vaccinate to vaccinate livestock in Bihanga and Nkoma sub-counties, which border Kazo district.
Last week, Kazo district confirmed the outbreak of the highly contagious livestock disease at a farm in Bwatama village in Buremba Town Council.
Original Source:URN via The Independent