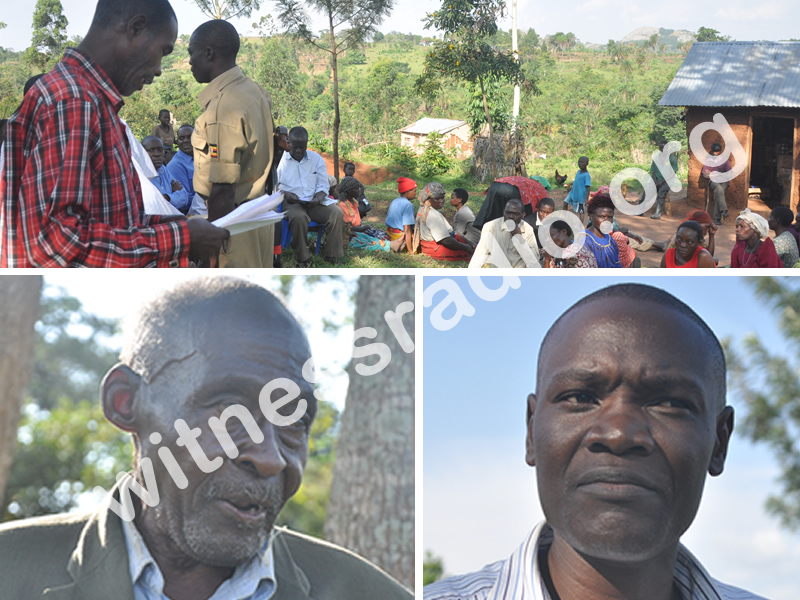 By witnessradio.org team
It was a normal morning as always when Resty Nabakooza (50) woke up to trek to her maize-garden for the routine tilling of the land, which is the source of her livelihood.
But as she arrived in her garden, she was engulfed by shock as 10 acres out of her 20-acre piece of land had been fenced off with sharp barbed wire by unknown land grabbers.
A widow with orphans to look after, said that it's from this land which her late husband "left me with that I used to grow crops", particularly maize to sell and earn children's school fees, and other types of food-crops for their survival.
"I was so shocked to find part of my maize farm fenced off overnight. The remaining part of my land was also taken over by Rwandese who uses it to graze heads of cattle." Nabakooza said.
"I could not stop them from using my land as they want because they are many and connected with a powerful rich man," Nabakooza said. "My children have since dropped out of schools because I don't have money to pay for their fees and we are about to die of hunger because all our food has been eaten by cows."
Nabakooza represents over 1,500 poor residents of two villages; Kabende LC1 and Katente LC1 all in Katente parish, Kiyuni Sub County, Mubende district.These two villages, occupy 1.5 square miles which originally belonged to late Alwoki Lumonde.
All the poor residents, are indigenous and had peacefully settled on their land until recently, when Edward Ssemaganda, a rich man came to disturb them.
Ssemaganda, claims ownership of the entire land and he is apparently seeking to forcefully evict locals who have settled on the land for decades without any compensation.
Ssemaganda's push is against article 26 (1) which provides that "Every person has a right to own property either individually or in association with others."
But, Ssemaganda wants to override that dictate to evict residents who have settled on the threatened land for so long like Suleiman Ssenyingo.
"I settled on this land in 1945 and it's the only place I call home," said a teary old man. "I wonder how someone who found me on land can evict me. He is now grazing his cows in my garden, I have no food, I have nowhere to go."Ssenyingo added.
The now impoverished Ssenyingo, said that the piece of land on which he seats was inherited from his father, who had also planted a tea garden, but it'sno more, after being slashed down by the Rwandese on Ssemaganda's orders.
"It's on this land that I bore all my children but Ssemaganda brought Rwandese who slashed the entire garden tea that we used earn money for survival." Ssenyingo said.
Although they made attempts to cry out for help, the victims of the rich man's criminality, watched helplessly as their reports to police and other authorities were ignored by the concerned officials.
"I reported the case to police against Ssemanda, but I wasn't helped and I think he [Ssemaganda] would find it easy in evicting all of us from our land." Ssenyingo said.
But on his part, Ssemaganda denied taking over residents' land forcefully, but acknowledged bringing of Rwandese to protect his land which he said was illegally being settled on by squatters without his consent.
On the issue of grazing his cows from people's gardens, Ssemaganda said that its residents who cut his barbed wire thus enabling animals to crossover to gardens.
Ssemaganda is not the first rich man to use cows against residents as several others have been employing the same tactic to evict poor people from their land in various parts of Mubende district which is one of the top hotbeds of land grabs in Uganda.