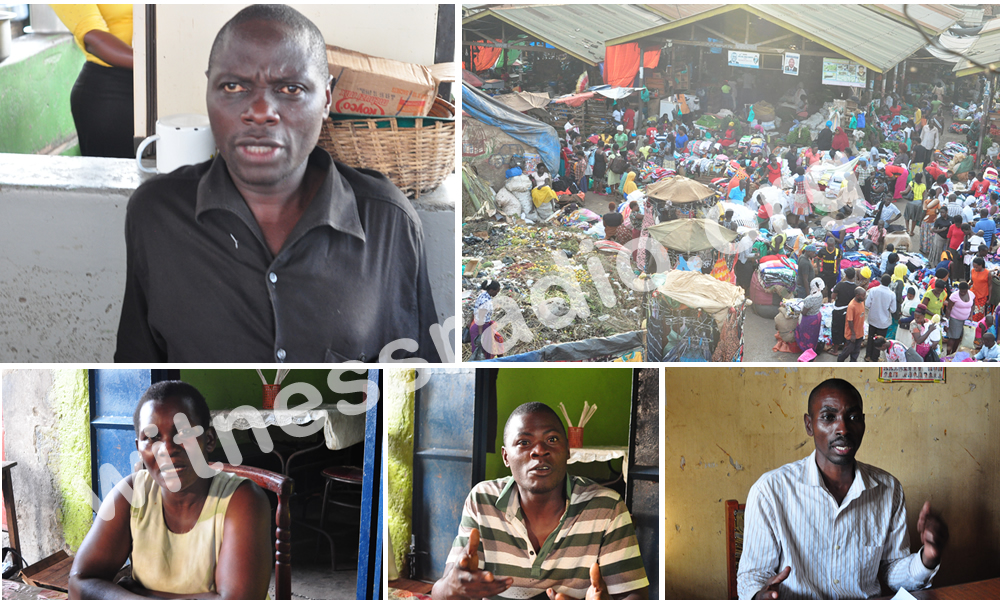 By witnessradio.org team
It's fulfilling for everyone to have where to call a workplace however little that working person could be earning from his job. When somebody has a job, bears hope of improving his status at a given stage.
However, that beacon of hope is speedily fading away for traders of Natete market as rumours about the looming demolition of their market gains momentum.
In June 2017, the traders say, they started to hear about some rumours that RR transporters had bought the land on which the market seats at Shs 3.5bn, after emerging the highest bidder in an auctioning process, allegedly ordered by the court.
It was found out that Musa Nnumba's family, which owns the biggest part of the land on which the market seats used the land title as collateral to get a Shs 250m loan equivalent to US $ 75,000 (seventy five thousand dollars) loan from a money lender, but failed to pay back.
However, the transaction has been secretive and disregarding traders.
"There is no communication about the selling of our market or explanations about what is happening to our market and even our businesses if the new owner takes over the market," says Bonny Kabugo, a longtime trader and the traders' chairperson who points out that many traders will lose their businesses in this transaction. "It's a disparaging way of treating traders."
It's on this background that angry traders of Natete market led by their leadership took to the streets on August 28th 2017, to protest the rumoured sell coupled with the impending demolition of their 89-year market that accommodates over 23,000 traders majority of whom are women and widows.
A protest was held and armed police deployed but almost to no avail because the traders seemed unstoppable, but what awaits them?
witnessradio.org, visited the market and spoke to numerous traders who expressed grievances, worried about their destiny.
25-year old Frank Kasirye, runs a chapatti stall where he deals in making lighter meals to the traders in and around the market. He has been working in this market for the last four years and he is a father of two children, one wife and his elder mother in the village courtesy of the proceeds amounting between Shs 15,000-Shs 20,000 everyday.
"I rent my house at Shs 70,000; I and my family depend on my business in this market. So, I don't know what I can do without this market." Kasirye said.
Hanifah Nambassa (45) is another trader, but she has worked from the threatened market for 25 years. She says that since time in memorial, Kampala Capital City Authority has been in charge of collecting dues from traders, until July 2017.
"KCCA has been the one collecting dues and we have receipts to that effect, but surprisingly, KCCA disowned us and when we run to our elected leaders, no one came to our rescue which forced us to demonstrate."
"I am what I am today because of this market because it has helped me to pay fees for my children to become graduates, two of my children have been able to fly out to Turkey using the money I earned from this market," said Nambassa.
Apart from those achievements, the single mother said that "I have my own house courtesy of this market, among other good things."
She said that on average, she earns a minimum of 250,000 and a maximum of 50,000 on a good day as clear profit out of a net working capital totaling to Shs 200,000.
If the market gets demolished, Nambassa says that "my life would be in danger because I should have lost the source of my livelihood yet I am an elderly who is unemployable because no one can accept me."
What has made the situation so hard; Nambassa said that "even in the villages have been taken by either land grabbers or speculators. So, I am wondering what I can do without this market."
"I have seven workers all depending on this restaurant on a daily basis. So, just imagine what would happen to them if this market is demolished."
Shifrah Namuyanja (35) who has worked from market since 2001 runs a restaurant in the same placewith two workers who depend on that restaurant and their families.
"I have four children that I'm looking after and I can earn over 40,000 a day.This market is the only source of income I have. So, when it gets demolished, I don't know where else I can go to get financial assistance to sustain my family because we don't even have an alternative." Namuyanja said.
For George Nyenda  (40), the market where he has been for  more than 13 years  while selling bananas, is the "mother and the father."
"This market is the source of everything I am supposed to do as a man. It's where I get school fees, food, house rent and many others. If one person looks after 10 people, just imagine how many people would get affected if all these traders get evicted?" Nyende wondered.