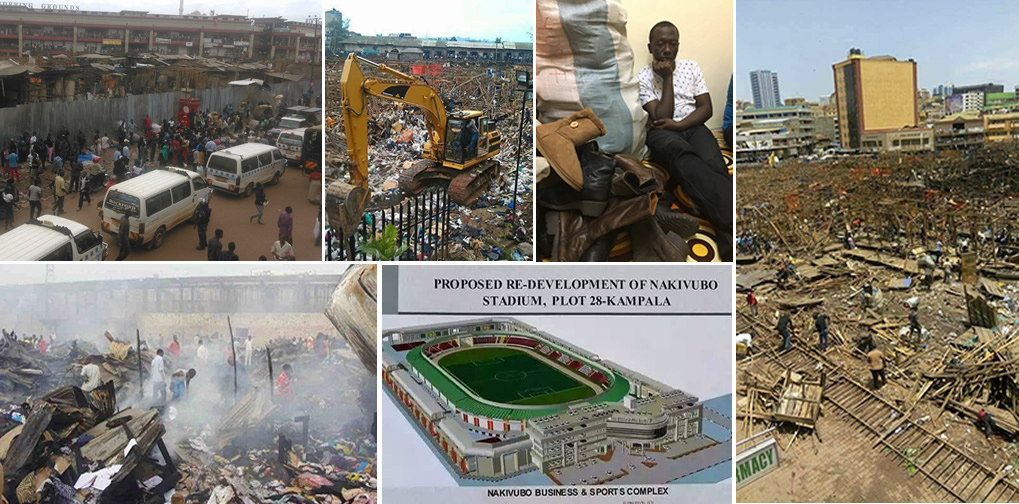 By Witnessradio.org Team
The agony of being evicted twice in less than 8 years might sound like a myth to many ears but Rashid Kasumba, 30, this is real life experience; Kasumba was first evicted off their ancestral land plus his siblings and little did he know that the same would follow him eight (8) years later.
The anguish befell onto Kasumba on 27th February 2017 when a businessman Hamis Kiggundu in his early 30s erased an open space Nakivubo Park Yard market that provided a livelihood to Kasumba and over ten thousand other traders with majority being youths from poor families who have been surviving on this market since 1980s. The market was sitting on three and half acres of land where traders there would deal in second hand commodities like shoes, clothes, and bags among others.
The market has been very popular among average Ugandans who would visit it regularly to buy cheaper stuff as poverty levels continue to skyrocket and bite citizens.
Kasumba says, the market was invaded during the wee hours of February 27th by hooligans under the protection of Uganda police and brought it down without any prior notice to traders. During the eviction, hooligans and police stole traders' merchandises worth billions of shillings. "I lost my entire business worth over eight (8) million shillings equivalent to USD 2,254 and guess what…more than 80% of my fellow traders did not recover anything and there's no one to account" said Kasumba.
Nakivubo Park Yard market being stationed in the central business district was accommodating majority of its traders as youths both graduates who had failed get formal employment and semi illiterate youths.
According to Uganda National Bureau of Statists (UNBS) 2014 census report indicates that Uganda's unemployed population stands at over 70% of Uganda's working category. Uganda has one of the youngest and fastest growing population rates in the world with its fertility rate of 3% one of the highest in Sub Saharan Africa.
Nakivubo Park Yard market is not the first market to be erased and traders are left to fight for their livelihood. Lately, land in the capital, which hosts informal businesses is becoming a target by businessmen. Markets that have been erased before include Kisseka market, New Taxi Park and Kalitunsi lorries' park evicting thousands of traders without provision of resettlement.
Uganda is witnessing an increasing demand for land in urban areas especially in the capital Kampala by mushrooming middle class whose business records cannot be traced.
Before erasing the market on the orders of the minister for Kampala Capital City Authority (KCCA) Hon. Betty Olive Namisango Kamya Turwomwe, traders under their umbrella organization "the New Agenda Traders' Development Association" and the management of Nakivubo War Memorial Stadium (the landlord) had entered into a Memorandum of Understanding to jointly develop the land. The understanding was that traders would remain on the land even after redevelopment of the land.
Under the Hamis Kiggundu re-development plan, which is expected to be a shopping mall, there's no evidence to resettle traders even after losing their businesses in billions of Uganda shillings.
Government programs; its estimated that over 1000 youths running small businesses in the Nakivubo Park Yard Market received loans through the government Youth Fund which they hadn't been repaid by the time the market was erased.
Kasumba says, he got a loan of four million Uganda Shillings equivalent to about USD 1300. He said he offered his house and a small plot of land he bought from his small savings for years as a collateral to secure a bank loan. "The demolition of our market left me with nothing and the bank expects me to pay back the loan in the next four months" Said Kasumba. He said his stall of second hand shoes was able to feed his family of two children and a wife, pay school fees for his siblings and make monthly saving of UGX 200,000 equivalent to about USD 57 after deducting a loan's monthly settlement fees.
He said, since the demolition of his stall, he cannot meet his previous family obligations and all his children and siblings cannot afford going to school.