Urban poor eviction: Poverty and Profit in Kampala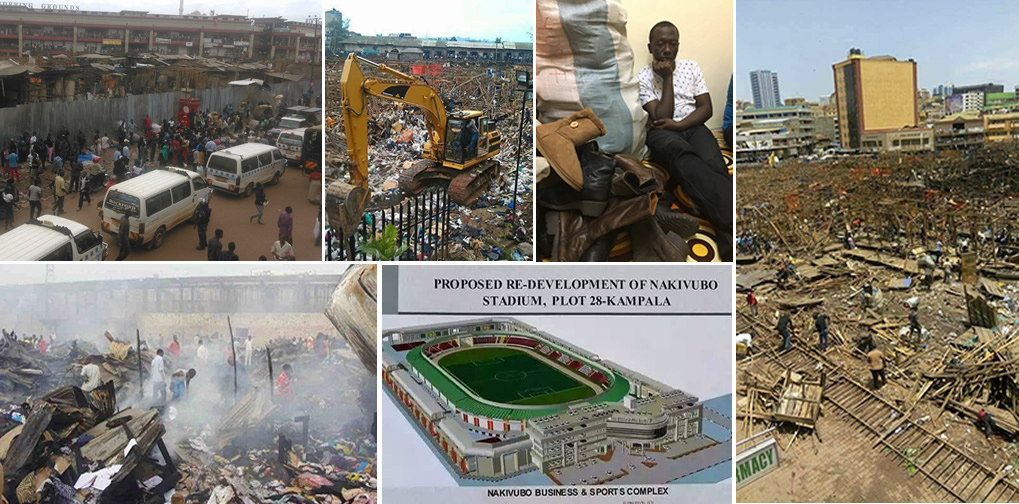 By Witnessradio.org Team
The agony of being evicted twice in less than 8 years might sound like a myth to many ears but Rashid Kasumba, 30, this is real life experience; Kasumba was first evicted off their ancestral land plus his siblings and little did he know that the same would follow him eight (8) years later.
The anguish befell onto Kasumba on 27th February 2017 when a businessman Hamis Kiggundu in his early 30s erased an open space Nakivubo Park Yard market that provided a livelihood to Kasumba and over ten thousand other traders with majority being youths from poor families who have been surviving on this market since 1980s. The market was sitting on three and half acres of land where traders there would deal in second hand commodities like shoes, clothes, and bags among others.
The market has been very popular among average Ugandans who would visit it regularly to buy cheaper stuff as poverty levels continue to skyrocket and bite citizens.
Kasumba says, the market was invaded during the wee hours of February 27th by hooligans under the protection of Uganda police and brought it down without any prior notice to traders. During the eviction, hooligans and police stole traders' merchandises worth billions of shillings. "I lost my entire business worth over eight (8) million shillings equivalent to USD 2,254 and guess what…more than 80% of my fellow traders did not recover anything and there's no one to account" said Kasumba.
Nakivubo Park Yard market being stationed in the central business district was accommodating majority of its traders as youths both graduates who had failed get formal employment and semi illiterate youths.
According to Uganda National Bureau of Statists (UNBS) 2014 census report indicates that Uganda's unemployed population stands at over 70% of Uganda's working category. Uganda has one of the youngest and fastest growing population rates in the world with its fertility rate of 3% one of the highest in Sub Saharan Africa.
Nakivubo Park Yard market is not the first market to be erased and traders are left to fight for their livelihood. Lately, land in the capital, which hosts informal businesses is becoming a target by businessmen. Markets that have been erased before include Kisseka market, New Taxi Park and Kalitunsi lorries' park evicting thousands of traders without provision of resettlement.
Uganda is witnessing an increasing demand for land in urban areas especially in the capital Kampala by mushrooming middle class whose business records cannot be traced.
Before erasing the market on the orders of the minister for Kampala Capital City Authority (KCCA) Hon. Betty Olive Namisango Kamya Turwomwe, traders under their umbrella organization "the New Agenda Traders' Development Association" and the management of Nakivubo War Memorial Stadium (the landlord) had entered into a Memorandum of Understanding to jointly develop the land. The understanding was that traders would remain on the land even after redevelopment of the land.
Under the Hamis Kiggundu re-development plan, which is expected to be a shopping mall, there's no evidence to resettle traders even after losing their businesses in billions of Uganda shillings.
Government programs; its estimated that over 1000 youths running small businesses in the Nakivubo Park Yard Market received loans through the government Youth Fund which they hadn't been repaid by the time the market was erased.
Kasumba says, he got a loan of four million Uganda Shillings equivalent to about USD 1300. He said he offered his house and a small plot of land he bought from his small savings for years as a collateral to secure a bank loan. "The demolition of our market left me with nothing and the bank expects me to pay back the loan in the next four months" Said Kasumba. He said his stall of second hand shoes was able to feed his family of two children and a wife, pay school fees for his siblings and make monthly saving of UGX 200,000 equivalent to about USD 57 after deducting a loan's monthly settlement fees.
He said, since the demolition of his stall, he cannot meet his previous family obligations and all his children and siblings cannot afford going to school.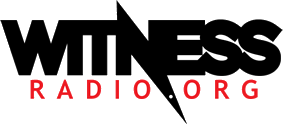 Double tragedy as KCCA uses the World Bank's money to evict a Kawaala resident from both his home and place of work: TALES OF A BUSKER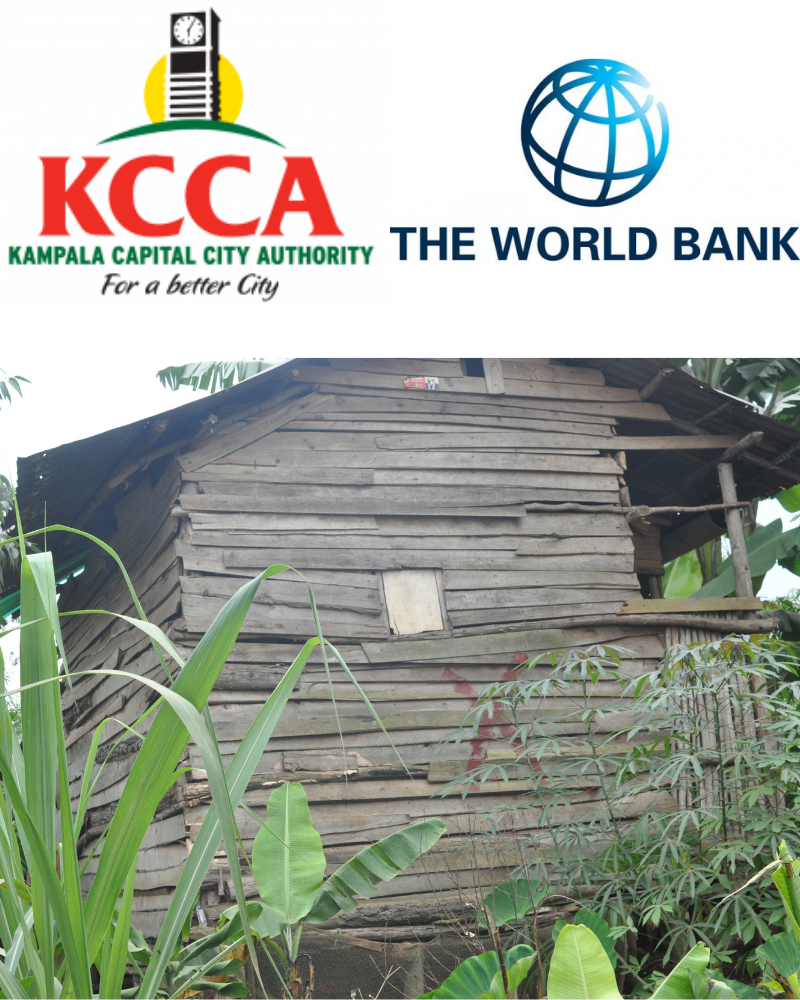 Mr. Mutaasi's house marked with "X" by KCCA for demolition.
By witnessradio.org Team
"…Ekuba omunaku tekya…", loosely translated as "The rain that falls on a down-and-out is a relentless deluge," is one of the adages applied among the Baganda, and its equivalent among the English is, "it never rains but it pours", highlight the 12 years of misery of 42-year-old Mutaasi Ali.
Mutaasi, a resident of Kawaala zone II in Kampala had a dream of living a better life, but it has never turned out as he had envisioned it. His suffering started way back from the fire-outbreak that twice gutted his merchandise in the Owino-Park Yard market. A market that mothered the urban poor. That Market is no more. It was replaced with a gigantic mall whose construction was preceded by a brutal night of forced eviction carried out with impunity by Kampala Capital City Authority (KCCA). The Authority is the governing body and administers the Capital City of Uganda.
Now the ghosts of the past are back, he hardly sleeps. A nightmare of a looming eviction to give way to the expansion and construction of Lubigi-Channel under a World-Bank funded project, KIIDP-1or 2, pre-occupies his mind. And the outbreak of the pandemic is another setback that has kept him on tenterhooks waiting for the Covid-19 relief from the government.
The father of ten (10), has spent about a half of his age on the streets of Kampala trying out different odd jobs to feed his family.
Before the pandemic, he was a maid of all work. He gurgled busking, farming, singing, and playing aback-up artist role. Mutaasi who is now a backup artist moved from his home village in Mpigi town in Mpigi district, 50 km from the western side of Uganda's capital Kampala for greener pasture in the capital at the age of 18.
"I was born to in an extended poor family; we had little chances of getting the basic needs we wanted because of being poor. I had to look for a livelihood elsewhere to support my needs and those of my family," Mutaasi narrated.
Mutasi said a village friend who had come earlier in Kampala informed him of a job. "A friend of mine in Kamwokya, a Kampala suburb helped me to get it. It was a hawking job. I did it for about 4 years on the streets of Kampala. In 1997, we shifted to the Park Yard market," he added.
When he was moved to Park Yard market, it was a great achievement. "Because we were expanding, and our second hand-clothing business was showing signs of success, he (my boss) decided we move to Park Yard since it was busier and had enough space. And after making some little money, I parted ways with him (my boss) and I started a similar business in the same market in 2004," he added.
He was determined to learn and worked hard. He becomes an inspiration not only to his peers but also to his former coworkers. "Mutaasi was a promising bright child that everyone wanted to be with. We looked up to him for inspiration," a close friend confirmed in an interview with Witness Radio.
His business continued to boom, but misfortune struck.  Mutaasi and many other traders suffered big blows when merchandise, worth billions of Ugandan shillings was razed in the fire that first gutted the market in 2009.
"I had shopped a day before the fire, so I was left with nothing and no capital to start again with," he said.
But as the saying of the Banna Kampala (people living in Kampala) that "Kampala kuyiiya," literally meaning that to thrive in Kampala you have to hustle.  Mutaasi and two of his friends moved onto the city streets as buskers with a reggae music version.
"I would practice singing in my free time and some friends of mine had described my voice as euphonious. Because I had nothing to do at home at that time, we formed a group of three, went to the streets, and started entertaining people. Some of us were even employed as backup artists during shows," Mutaasi reveals.
He says the little money they earned helped them to cater to their needs. "At least on a good day, we could earn 6000 Shillings (USD 1.7) each, which I would use to look after my family in the village. In about a year, I had also saved some money and went back to Park Yard market to give selling clothes a second-shot," he shares with a nostalgic look.
According to Mutaasi, initially, his business had failed to pick up, but the desire for better life kept him soldiering on.
"I had to limit on other roles, so I left the street entertainment and concentrated much on growing my business in Park Yard and recording music. Every single coin I would get from music would be invested in my second-hand clothing business," he added.
Whereas it had grown, fire gutted the market on 31st July 2011 and destroyed traders' merchandise worth millions of shillings. It did not spare his business either. And according to Mutaasi, this was the second fire in one year and subsequent fire outbreaks until Park Yard Market land was forcefully grabbed by KCCA, politically connected investors, and police in 2017 without any prior consultation or compensation.
"When this happened, I felt like I had lost my senses. Asking myself why I don't succeed yet others do, and why my businesses collapse yet others stand the taste of time," he recounts.
In an interview with the Sunday Monitor, a local newspaper in March 2017, Mr. Kiggundu acknowledged being behind the eviction of Park Yard vendors. He said he demolished the temporary structures at Park Yard to make it a better place. Mutaasi was left grasping at straws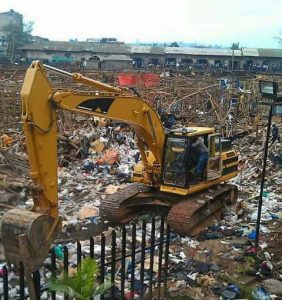 Helpless traders watch as their merchandise are destroyed by an excavator during an eviction in march 2017.
After a double loss, he had to pick up his broken pieces and focus on music and entertainment which had been his initial source of income, but the ghosts of the past continued to haunt him. In July 2020, a countrywide lock-down was imposed and the entertainment industry was hit hard. No concerts! No bars! No clubs! This was later lifted except for the entertainment industry.
Then when he thought the state would lift the ban on the music industry, there was a surge in COVID-19 cases, the government of Uganda imposed a second lockdown. This continued to pile misery upon him.
"Backing up other artists pays less and it is what I used to rely on now. We depend on God's mercy to survive. I have not even received the government's COVID relief ever since the lockdown started." he added.
As he still recounts his ordeal; the misery in Park Yard market and the heart-wrecking lockdowns, the father of 10 is now facing forced eviction from his 27×40 piece of land by a World Bank-funded project. Mutaasi bought his piece of land 10 years ago from his hard-earned money.
In all that he has gone through his land without a doubt is being grabbed by Kampala Capital City Authority (KCCA) officials to pave way for the Lubigi primary channel expansion.
He said, "I started working in 1991. Look, my merchandise perished and the only thing I have is a piece of land that I have, and now is being taken away without any compensation.
"KCCA's imminent eviction has taken me aback. I remember when I was evicted from a rental. I was verbally abused in front of my children, wife, and neighbors, my household items were thrown out and others confiscated. I was forced to move out of the house since the rent arrears had accumulated," he shares the distressing memories. That day, he and the rest of the family had to brave the cold night outside.  The following day, he could not bear the embarrassment and scorn that came with the eviction.  He took it upon himself to construct a makeshift shelter, without walls, on his piece of land to temporarily serve as a house.
Good times may not last, but bad memories never fade, and Mutaasi, now penniless at the time, vividly remembers the price he had to pay to put up the make-shift shelter; "I had some sugarcane on the land, and on the second day, I requested my neighbors to give me eucalyptus poles to in exchange for the sugarcane. That is how I started a new life without a coin."
He wonders why KCCA, the project implementer, is using the World Bank project to grab his land without being compensated. He is among the 120 households being evicted to pave away for the Lubigi drainage channel expansion project.
"You cannot tell me that you want my land on which you have found me living and you don't want to compensate me for it. You want to take it and you don't want to prepare for me who owns it. Why don't they first prepare for the people affected by the project and then think of taking the land?" He questioned.
He also blames KCCA for the corrupt networks under the Buganda Land Board (BLB), a company that manages the Kabaka's land who solicit money from them in rewards to a letter taken to KCCA to carry out the surveying and valuation of their property.
"We are required to clear UGX 250,000 (USD 70.46) for a letter proving your ownership in Mengo, the Busuulu (ground rent) of UGX 550,000 (USD 155), and UGX 150,000 (USD 42.28) to the chairman for the stamp. This is a lot of money that some of us don't have. We are in a lockdown, and like me, I stopped working last year, where do they expect me to get all that money," he further wondered.
He wonders what will happen if the others pay the BLB fee and is valued and surveyed but he fails to clear the fee. "It seems I am losing my land too, because if I lack what to eat, then where will I get the money to pay for the surveying and valuation," he said.
He proposes that KCCA uses its money to survey and value his land, clear BLB, and then deduct it from the compensation money instead of losing the property they have worked for generations.
"I have suffered a lot and I feel I am tired…, he painfully concluded.
LOCKDOWN LAND EVICTIONS: KCCA is using the World Bank funding to grab my land…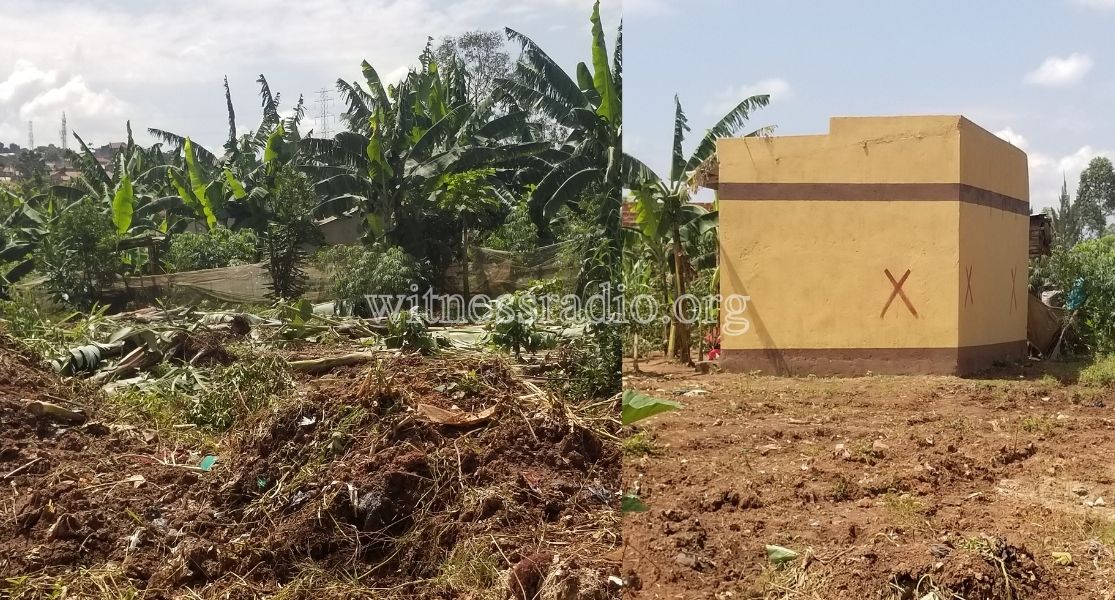 A joint image of a house marked with X for demolition and a garden that was razed down by KCCA during the eviction.
By witnessradio.org Team
On Thursday at 7 am, December, 3rd  2020 a group of 15 armed policemen cladding anti-riot uniforms together with several staff members of Kampala Capital City Authority (KCCA) raided Kawaala Zone II village, ordered hundreds of residents to vacate their properties after issuing eviction notices without any prior notice or consultations.
KCCA is established by an Act of Parliament, KCCA Act, 2010, which mandates it to provide the governance and administrative framework for Kampala, enhance infrastructure and institutional capacity of Kampala Capital City Authority (KCCA) and improve urban mobility for inclusive economic growth.
On a fateful day, KCCA staff under the protection of the anti-riot police moved to Kawaala and earmarked their property for demolition by affixing the letter X.
Ndola Simon, not real name due to fear of retaliation is one of the project affected community member remembers that KCCA raided their village at a time he was at his home preparing to go to the garden.
After receiving the shocking news from one of his neighbors, he rushed to where the KCCA team had reached to witness what was happening, only to find KCCA was issuing eviction notices in English to all village members with an ultimatum of 28 days.
"When I reached there, I asked them (KCCA) why they were doing it but they threatened to arrest me if I interrupted with their plans. I think these people had planned a land grab, they did not know which people to issue the notices to. They would just ask who you are, write the names on the notices and then serve you," he said.
Witness Radio – Uganda's findings reveal that the eviction notice was issued "under the section72 (1) of the Public Health Act cap 281 which states that, in the event of contravention of any of the public health rules related to the erection of buildings, the local authority, without prejudice has the right to take proceedings for a fine in respect of the contravention and may by notice require the owner either to pull down or remove the works" according to one of the Witness Radio – Uganda's legal officers, Ms. Joan Buryelari.
She further explained that the eviction notice stopped community members from carrying out any activity on the land and putting down their structures before the elapsing of 28 days.
Ndola said he's a bonafide occupant who inherited the property from his parents who lawfully lived and cultivated their land as early as the 1930s.
Barely two days after the issuance of an eviction notice, KCCA, under the protection of armed police proceeded to evict the residents from their land to pave way for the expansion and construction of the Lubigi drainage channel.
And, Ndola is one of those whose pieces of land were taken. The 50-year-old and a father of 8 said, confirmed that none of the residents were aware of the reasons behind the December 3rd eviction until Witness Radio – Uganda lawyers informed them that KCCA is using the World Bank funding to grab their land and construct a drainage channel.
He revealed that he was one of the victims of the Kampala Institutional and Infrastructure Development Project (KIIDP) phase 1 when KCCA diverted the channel from its originality into his property, which caused flooding and destroyed his properties.
"When we raised the alarm to KCCA administration during the first phase (KIIDP I) about the damage their project was causing to us, they instead offered to give us inconvenience fees and promised that KCCA will compensate us for other damages upon the resumption of the second phase (KIIDP 2), which they have been waiting to come but, see how they are stealing from the people they are supposed to serve…" said Ndola.
He further said that both projects have worsened his life, grabbed his land, and destroyed food crops including beans, cassava, coffee, maize, potatoes, bananas, and yams without compensation.
Following the interventions from Witness Radio – Uganda and their partners, which took the project affected people's concerns to the court and before the World Bank, KCCA instead moved to undertake a forceful survey.
"The unidentified surveyors upon coming to my land told me that they were not interested in measuring my entire land. They used uncoordinated methods and moved away. From the onset, I refused to accept the outcome of their exercise and since we do not have a committee to address my grievances, I decided to work with our lawyers to stop such illegalities" narrated Ndola.
He further expressed his happiness about the successful filing of the complaint by Witness Radio – Uganda with help from Accountability Counsel to the World Bank's Inspection Panel, which he said has put KCCA under the spotlight to account for its wrongdoing.
"We want the World Bank's Inspection Panel to ensure that we're fully included in the implementation of the project, fairly compensated and resettled" he stated.
Witness Radio – Uganda and partners welcome a public acknowledgment of the complaint lodged before the World Bank's Inspection Panel.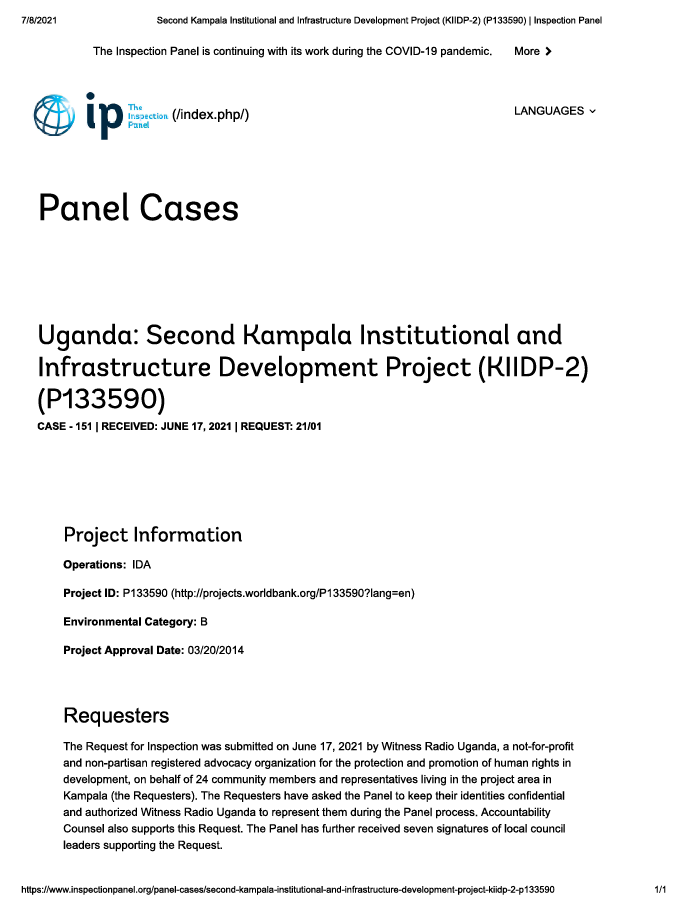 By witnessradio.org Team
Kampala – Uganda – Rights advocates including Witness Radio Uganda and a USA-based Accountability Counsel have welcomed the public acknowledgment of the complaint regarding the Kampala Institutional and Infrastructure Development Project (KIIDP-2) by the World Bank's Inspection Panel.
Amidst the COVID-19 pandemic, the Kawaala community through their representatives witnessradio.org with support from the Accountability Counsel on June, 17th 2021, filed a complaint to the World Bank's Inspection Panel following attempts to evict them from their homes and farmland without adequate compensation to make way for the Lubigi drainage channel expansion.
The complaint demands a fair and comprehensive resettlement process, following events last December when excavators accompanied by armed guards began to evict residents, destroying homes and crops in the process. One day before that, the Kampala Capital City Authority (KCCA) had distributed eviction notices throughout the area, requiring residents to vacate their land within 28 days.
The complaint alleges that residents were not consulted or provided compensation before evictions began, despite their recognized Kibanja landholding rights.
The area is being cleared to make way for the planned Lubigi drainage channel, a project being constructed by the KCCA with support from the World Bank.
The drainage channel is part of a broader road and infrastructure project, the Kampala Institutional and Infrastructure Development Project, which has been carried out in two phases. The project will cost USD 175 million, a loan Kampala Capital City Authority (KCCA) acquired from the World Bank.
This project first impacted Kawaala Zone II around 2014, when a channel diversion was constructed. The current planned expansion will widen that channel and require forced evictions across an area at least 70 meters wide and 2.5 km long.
The complaint alleges impacts from the 2014 channel diversion including increased flooding and a lack of safe walkways or bridges, which has led to at least one death. It also lists feared impacts from the planned expansion, including worsening flooding issues, loss of family gravesites, and loss of homes and farmland, the income from which is used to pay children's school fees.
In a press statement released today, Jeff Wokulira Ssebaggala, the Country Director of Witness Radio said, "Since last December, the KCCA has pushed residents through a rushed and problematic resettlement process, pressured them to sign documents in English that they do not understand, and used threats and other coercive tactics to convince them to relinquish their land rights. With the COVID-19 pandemic currently ravaging Uganda, residents are even more vulnerable to the impacts of forced displacement, yet the project and the forced displacement process have continued."
While Robi Chacha Mosenda of Accountability Counsel explained, "Since the project is receiving funding from the World Bank, it is subject to the Bank's commitments to providing fair compensation and resettlement assistance before evicting anyone for a project it finances. As these commitments have not been upheld, Kawaala community members are turning to the World Bank's independent accountability office, the Inspection Panel, to demand the right to resettle themselves with dignity."
The complaint includes demands that the World Bank respect community members' rights to meaningful consultation, compensation, and safe resettlement.
On July 2nd, 2021 the Inspection Panel via its website announced receipt of the complaint. See here: https://www.inspectionpanel.org/panel-cases/second-kampala-institutional-and-infrastructure-development-project-kiidp-2-p133590