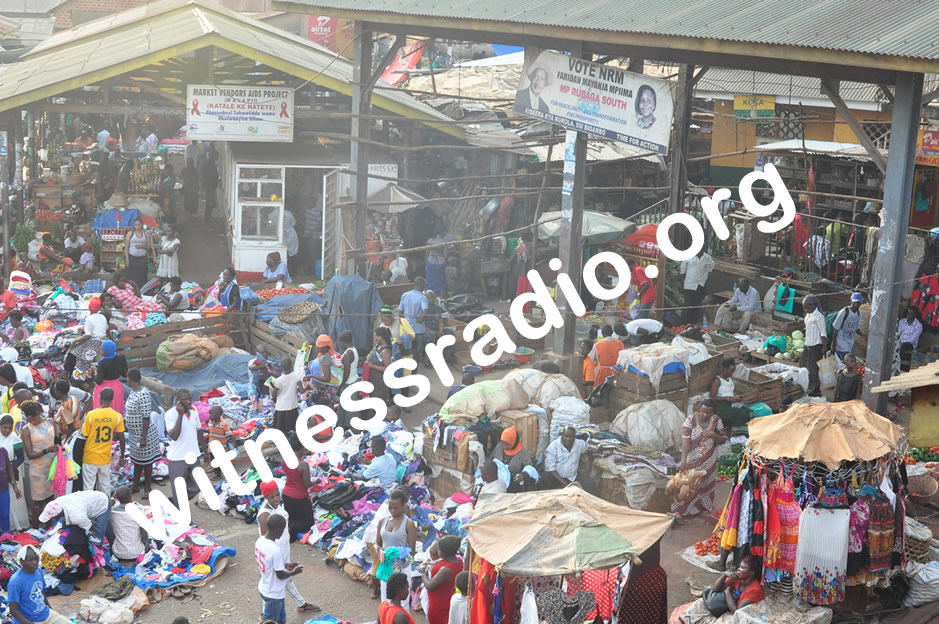 By witnessradio.org team
Barely three weeks after 23,000 traders at Nateete market received eviction threats, the market's two land titles have been reported to be missing, witnessradio.org has learnt.
65% of Nateete market's total population is women whose livelihoods and wealth is centered on this market.
According to witnessradio.org investigations, Kampala district leadership both elected and technical seem to have no idea of the period when these land titles moved out of their custody. Nateete market has joined a long list of markets on verge of demolition.
witnessradio.org has learnt that a committee to investigate Nateete market saga has been appointed by Lord Mayor Lukwago whose preliminary findings are still speculative. Nateete market is sitting on 1 acre and 48 decimals jointly owned by private individual and Kampala Capital City Authority.
The committee suspects that market title must have gone missing about 12 years ago. "During our investigations we heard that around 2006, when James Sseggane was the town clerk, he requested for those [Natete market] land titles from the office of the city advocate." A committee member, Murishid Kawalya said.
Started in 1928, Nateete market, is likely to join a long list of markets that have been razed down leaving the urban-poor communities jobless in an increasing land demand for investments across the country.
These include; Bakuli market, Kisekka market, Nakivubo Park Yard Market and Shauriyako market, among others.
Bruhan Byaruhanga, another committee member claims that, "the land appears to have been sold off at the time when Sseggane was the town clerk who had asked for the titles. So, what we have on record is that there are photocopies of the certificates of the titles but they disappeared while he was still the custodian."
Sseggane, was in September 2006, interdicted over mismanagement of and misappropriation of Shs 1.8bn, handing over the office to his deputy then, Muwonge Kewaza.
The market has currently received eviction threats from unnamed investors, a method has been experienced by several other city markets that have been demolished, behind the traders' backs.
Other methods applied included; use of fire to destroy traders' properties and arrest of market leaders among others. Earlier, witnessradio.org learnt that the family of Musa Nnumba which owned part of the market is accused of using the market title as collateral to obtain a Shs 250-million loan and failed to repay it.
In a letter dated September 4th 2017, the Kampala Capital City Authority and signed by one Caleb Mugisha disowned the existence market and its traders.
"In light of the ongoing investigation and in view of the ongoing court process and the fact that KCCA is currently not in actual or legal possession of the market, we are precluded from entertaining RR's request to assist the company to obtain vacant possession [of the market]" wrote Mugisha.
His contention didn't go down well with Erias Lukwago, the Lord Mayor, saying that there is noway KCCA could run away from its responsibility.
"How do we deal with this issue when KCCA disowns its tenants and I find it confusing for KCCA legal department to tell us that we don't have market ownership when we have been collecting dues from vendors RR wanted to takeover, but when I intervened two months ago, I halted the fees collections, but the two months have elapsed." Lukwago said.
In light of the inaccessibility of the titles, Joyce Nabbosa Ssebuggwawo, the mayor, Lubaga Municipality, proposed that KCCA should register a caveat on titles to avoid their disposal of without following the legal channels.
Her proposal was unanimously adopted by the extra-ordinary meeting which passed numerous resolutions including; further suspension of collection of dues from traders, resuming of routine collection of garbage from the market immediately.
However, a similar method had been used when KCCA registered a caveat on Natete market land under instrument No.00022828 before unregistering it later, withnessradio.org has established.
On November 18th, 2016, High Court judge Ezekiel Muhanguzi ordered that a caveat which KCCA had put on Natete market land be lifted hence enabling RR family transporters to access the land title for the disputed land.