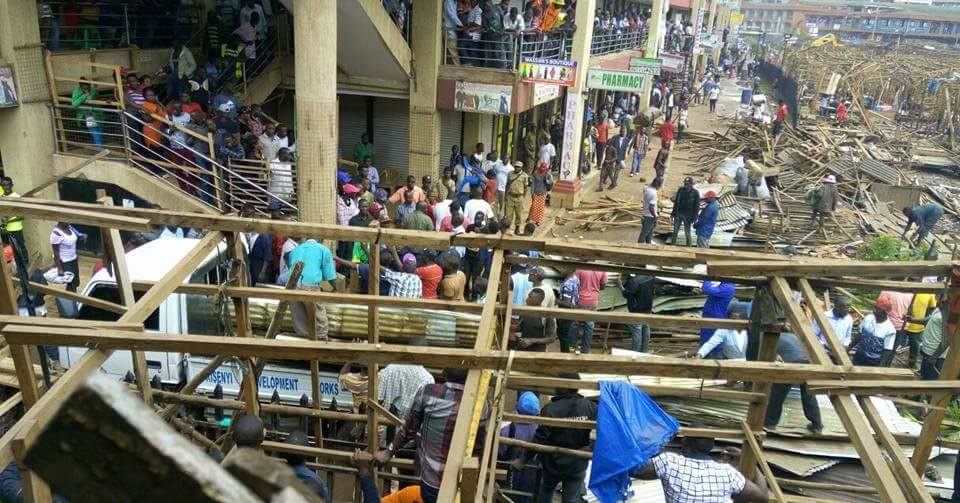 By witnessradio.org Team
Hearing of a case in which over 10,000 former Park Yard vendors accuse city Tycoon Hamis Kiggundu of violently and illegally evicting them, has not takeoff because the presiding judge Lydia Mugambe was away.
The case stems from a February 27, 2017, move by Kiggundu, the proprietor of Ham Enterprises (U) Ltd who forcefully evicted vendors with the full backing of state machinery. The operation which was launched by a combination of regular police and their anti-riot counterparts, in the wee hours of the morning, saw thousands of vendors displaced, with majority left uncertain of the next step and how they could fend for themselves. 
The vendors turned up at the High Court Civil division this morning for the long awaited hearing but were informed that the judge was away and set the 28th-May-2019 as the new hearing date.
The head of the vendors, Mr. Abdullah Bukenya says this is a set back to the long awaited Justice process.
"This is not the first time that investor's (Hamis Kiggundu) side is dodging court. He has always been absent during mediation talks at the commercial court and at the High court civil division but we will not give up." Said Mr. Bukenya while addressing journalists outside court.
He says that all they want is compensation for the merchandise lost and damages incurred. "We are not working right now, our children stopped going to school and some of our colleagues even died, we want justice, we could strike to achieve this, but we took the advice of the president to always use courts of law but the process is too long". He added.
Court documents show that initially, Kiggundu's Ham Enterprises did not bid to redevelop the market and the stadium and that the contract to do the job was awarded to Futureland Uganda Limited and Bestin Limited, which had responded to the bid.
But in a strange twist of events, the board changed its mind and awarded Ham Enterprises the deal. The operation which was punctuated by gross violence and callousness was reportedly Okayed by Kampala minister Beti Kamya even without the authorization of the Kampala Capital City Authority (KCCA).
This case has already been earmarked by land rights advocates as 'a test case' that will either officially leave the urban poor landless or set a precedent that will protect their rights and future in country whose economy is in shambles.