BY KIMAZI EXPERITO E MUBENDE.
Works has come to standstill as residents in Butoloogo subcounty set market ablaze and close the road during their protest over being evicted from their land.
Over 800 people that protested are residents in three villages that include Kisagazi, Kawololo and Kisagula in Butoloogo sub county Mubende district.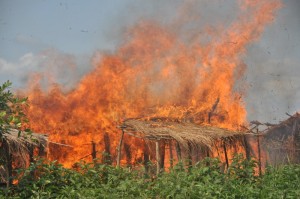 These set ablaze a market in this area identified as Kabanyara and closed a road joining Butoloogo sub county to Mubende district i.e. Ngabano-Butta road by placing big logs of trees in the middle of road and huge stones thus preventing cars and motorcycles from using this road.
Nerese Francis chairperson Kawololo lc 1 explained that;"we have received threats and intimidations from one Bivanju Samuel who recently approached us with armed police men that we illegally settled on his land and we should vacate it as soon as possible yet he has not compensated us thus triggering the residents into striking like this."

"For thirty years we have been staying on this land, we bought it with our own money but we are surprised that at this moment Bivanju is claiming ownership over our land, we have asked him to present documents to support his claims he refused deliberately."Nerese added.
Kwagala Juliet one of the residents explained that;" it's a pity that all our leaders at district have kept a deaf ear as we are being threatened over our land. We have a strong belief that they might be behind this activity. We are not going to leave this land unless we are all killed because we have nowhere to go."
"Am a widow of eight children, after losing the sole provider to my family i depend on my two acres my husband left me with to look after my children. Am really scared what is going to happen to my family when we are being evicted because i have nowhere to go."Kwagala added.
Friday Mutoni explained that; "we are ready to sit and negotiate with the land owner but Bivanju Samuel has failed to prove himself the rightful land owner of the land that occupies these three villages. On several occasions we have informed our leaders about the land eviction but they have failed to help us, we are confused."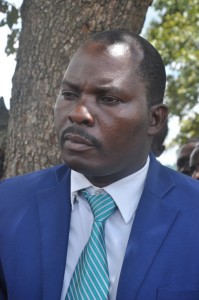 Balongo Christopher the district councillor for Butoloogo sub county explained that;" during my decision with the resident district officer mubende district Beyunga Florence, this land issue is being worked upon but the resident must be clam other than using mob justice which may worsen the situation."
Bivanju Samuel the alleged land owner explained that;" its true i have land in Butoloogo sub county that totals to 110 acres that i acquired in 1981 and i have no intentions of evicting any person on this land but i want to carry out a survey to identify its boundaries and know the number of people that occupy my land currently.