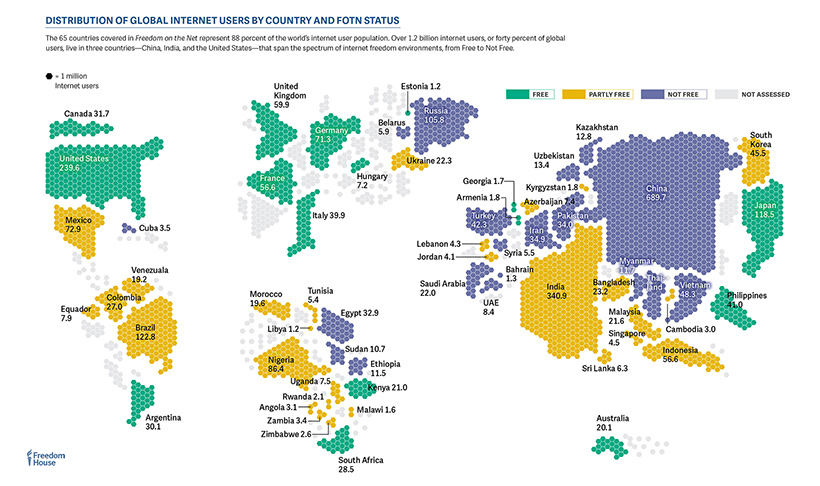 Internet freedom around the world declined in 2016 for the sixth consecutive year.
Two-thirds of all internet users – 67 percent – live in countries where criticism of the government, military, or ruling family are subject to censorship.
Social media users face unprecedented penalties, as authorities in 38 countries made arrests based on social media posts over the past year. Globally, 27 percent of all internet users live in countries where people have been arrested for publishing, sharing, or merely "liking" content on Facebook.
Governments are increasingly going after messaging apps like WhatsApp and Telegram, which can spread information quickly and securely.
by Sanja Kelly, Mai Truong, Adrian Shahbaz, and Madeline Earp
Internet freedom has declined for the sixth consecutive year, with more governments than ever before targeting social media and communication apps as a means of halting the rapid dissemination of information, particularly during anti-government protests.
Public-facing social media platforms like Facebook and Twitter have been subject to growing censorship for several years, but in a new trend, governments increasingly target voice communication and messaging apps such as WhatsApp and Telegram. These services are able to spread information and connect users quickly and securely, making it more difficult for authorities to control the information landscape or conduct surveillance.
Freedom on the Net 2016 Overall Scores
Scores:Countries not assessedScores:0-10Scores:11-20Scores:21-30Scores:31-40Scores:41-50Scores:51-60Scores:61-70Scores:71-80Scores:81-90
Freedom on the Net Score: 0=Most Free, 100=Less Free
Internet freedom has declined for the sixth consecutive year, with more governments than ever before targeting social media and communication apps as a means of halting the rapid dissemination of information, particularly during anti-government protests.
The increased controls show the importance of social media and online communication for advancing political freedom and social justice. It is no coincidence that the tools at the center of the current crackdown have been widely used to hold governments accountable and facilitate uncensored conversations. Authorities in several countries have even resorted to shutting down all internet access at politically contentious times, solely to prevent users from disseminating information through social media and communication apps, with untold social, commercial, and humanitarian consequences.
Some communication apps face restrictions due to their encryption features, which make it extremely difficult for authorities to obtain user data, even for the legitimate purposes of law enforcement and national security. Online voice and video calling apps like Skype have also come under pressure for more mundane reasons. They are now restricted in several countries to protect the revenue of national telecommunications firms, as users were turning to the new services instead of making calls through fixed-line or mobile telephony.
Other key trends
Social media users face unprecedented penalties: In addition to restricting access to social media and communication apps, state authorities more frequently imprison users for their posts and the content of their messages, creating a chilling effect among others who write on controversial topics. Users in some countries were put behind bars for simply "liking" offending material on Facebook, or for not denouncing critical messages sent to them by others. Offenses that led to arrests ranged from mocking the king's pet dog in Thailand to "spreading atheism" in Saudi Arabia. The number of countries where such arrests occur has increased by over 50 percent since 2013.
Governments censor more diverse content: Governments have expanded censorship to cover a growing diversity of topics and online activities. Sites and pages through which people initiate digital petitions or calls for protests were censored in more countries than before, as were websites and online news outlets that promote the views of political opposition groups. Content and websites dealing with LGBTI (lesbian, gay, bisexual, transgender, and intersex) issues were also increasingly blocked or taken down on moral grounds. Censorship of images—as opposed to the written word—has intensified, likely due to the ease with which users can now share them, and the fact that they often serve as compelling evidence of official wrongdoing.
Security measures threaten free speech and privacy: In an effort to boost their national security and law enforcement powers, a number of governments have passed new laws that limit privacy and authorize broad surveillance. This trend was present in both democratic and nondemocratic countries, and often led to political debates about the extent to which governments should have backdoor access to encrypted communications. The most worrisome examples, however, were observed in authoritarian countries, where governments used antiterrorism laws to prosecute users for simply writing about democracy, religion, or human rights.
Online activism reaches new heights: The internet remained a key tool in the fight for better governance, human rights, and transparency. In over two-thirds of the countries in this study, internet-based activism has led to some sort of tangible outcome, from the defeat of a restrictive legislative proposal to the exposure of corruption through citizen journalism. During the year, for example, internet freedom activists in Nigeria helped thwart a bill that would have limited social media activity, while a WhatsApp group in Syria helped save innocent lives by warning civilians of impending air raids.
Tracking the global decline
Freedom on the Net is a comprehensive study of internet freedom in 65 countries around the globe, covering 88 percent of the world's internet users. It tracks improvements and declines in governments' policies and practices each year, and the countries included in the study are selected to represent diverse geographical regions and types of polity. This report, the seventh in its series, focuses on developments that occurred between June 2015 and May 2016, although some more recent events are included in individual country narratives. More than 70 researchers, nearly all based in the countries they analyzed, contributed to the project by examining laws and practices relevant to the internet, testing the accessibility of select websites, and interviewing a wide range of sources.
Of the 65 countries assessed, 34 have been on a negative trajectory since June 2015. The steepest declines were in Uganda, Bangladesh, Cambodia, Ecuador, and Libya. In Uganda, the government made a concerted effort to restrict internet freedom in the run-up to the presidential election and inauguration in the first half of 2016, blocking social media platforms and communication services such as Facebook, Twitter, and WhatsApp for several days. In Bangladesh, Islamist extremists claimed responsibility for the murders of a blogger and the founder of an LGBTI magazine with a community of online supporters. And Cambodia passed an overly broad telecommunications law that put the industry under government control, to the detriment of service providers and user privacy. Separately, Cambodian police arrested several people for their Facebook posts, including one about a border dispute with Vietnam.
China was the year's worst abuser of internet freedom. The Chinese government's crackdown on free expression under President Xi Jinping's "information security" policy is taking its toll on the digital activists who have traditionally fought back against censorship and surveillance. Dozens of prosecutions related to online expression have increased self-censorship, as have legal restrictions introduced in 2015. A criminal law amendment added seven-year prison terms for spreading rumors on social media (a charge often used against those who criticize the authorities), while some users belonging to minority religious groups were imprisoned simply for watching religious videos on their mobile phones. The London-based magazine Economist and the Hong Kong–based South China Morning Post were newly blocked in mainland China, as were articles and commentaries about sensitive events including a deadly chemical blast in Tianjin in 2015.
Turkey and Brazil were downgraded in their internet freedom status. In Brazil, which slipped from Free to Partly Free, courts imposed temporary blocks on WhatsApp for its failure to turn over user data in criminal investigations, showing little respect for the principles of proportionality and necessity. Moreover, at least two bloggers were killed after reporting on local corruption. Turkey, whose internet freedom environment has been deteriorating for a number of years, dropped into the Not Free category amid multiple blockings of social media platforms and prosecutions of users, most often for offenses related to criticism of the authorities or religion. These restrictions continued to escalate following the failed coup in July 2016, in spite of the crucial role that social media and communication apps—most notably FaceTime—played in mobilizing citizens against the coup.
Just 14 countries registered overall improvements. In most cases, their gains were quite modest. Users in Zambia faced fewer restrictions on online content compared with the previous few years, when at least two critical news outlets were blocked. South Africa registered an improvement due to the success of online activists in using the internet to promote societal change and diversifying online content, rather than any positive government actions. Digital activism also flourished in Sri Lanka as censorship and rights violations continued to decline under President Maithripala Sirisena's administration. And the United States registered a slight improvement to reflect the passage of the USA Freedom Act, which puts some limits on bulk collection of telecommunications metadata and establishes several other privacy protections.
Major developments
Social Media and Communication Tools Under Assault
In the past year, social media platforms, communication apps, and their users faced greater threats than ever before in an apparent backlash against growing citizen engagement, particularly during politically sensitive times. Of the 65 countries assessed, governments in 24 impeded access to social media and communication tools, up from 15 the previous year. Governments in 15 countries temporarily shut down access to the entire internet or mobile phone networks, sometimes solely to prevent users from disseminating information through social media. Meanwhile, the crackdown on users for their activities on social media or messaging apps reached new heights as arrests and punishments intensified.
New restrictions on messaging apps and internet-based calls
In a new development, the most routinely targeted tools this year were instant messaging and calling platforms, with restrictions often imposed during times of protests or due to national security concerns. Governments singled out these apps for blocking due to two important features: encryption, which protects the content of users' communications from interception, and text or audiovisual calling functions, which have eroded the business model and profit margins of traditional telecommunications companies.
Whatever the justification, restrictions on social media and internet-based communication tools threaten to infringe on users' fundamental right to access the internet. In a landmark resolution passed in July 2016, the UN Human Rights Council condemned state-sponsored disruptions to internet access and the free flow of information online.
WhatsApp faced the most restrictions, with 12 out of 65 countries blocking the entire service or disabling certain features, affecting millions of its one billion users worldwide. Telegram, Viber, Facebook Messenger, LINE, IMO, and Google Hangouts were also regularly blocked. Ten countries restricted access to platforms that enable voice and video calling over the internet, such as Skype and FaceTime.
Nearly ubiquitous among internet and mobile phone users, these communication platforms have become essential to the way we connect with the world. Incidents of blocking have had far-reaching effects, preventing family members from checking in during a crisis, activists from documenting police abuses during a protest, and individuals from communicating affordably with social and professional contacts abroad.
While all users are adversely affected by restrictions, the harm is often disproportionately felt by marginalized communities and minority groups, who are more likely to be cut off from critical information sources and the ability to advocate for their rights. In the United Arab Emirates (UAE), for example, where migrant workers and other noncitizens make up 88 percent of the population, blocks on communication tools have made it difficult for these individuals to organize or seek support from their home countries.
App blocking aimed at protests, expressions of dissent
Authoritarian regimes most frequently restricted communication apps to prevent or quell antigovernment protests, as they have become indispensable for sharing information on demonstrations and organizing participants in real time. In Ethiopia, ongoing protests that began in November 2015 in response to the government's marginalization of the Oromo people have been met with periodic blocks on services including WhatsApp, Facebook Messenger, and Twitter. In Bahrain, Telegram was blocked for several days around the anniversary of the February 14, 2011, "Day of Rage" protests, likely to quash any plans for renewed demonstrations.
In Bangladesh, the authorities ordered the blocking of platforms including Facebook Messenger, WhatsApp, and Viber to prevent potential protests following a Supreme Court ruling in November that upheld death sentences for two political leaders convicted of war crimes. The longest block lasted 22 days. In Uganda, officials directed internet service providers to block WhatsApp, Facebook, and Twitter for several days during the presidential election period in February 2016 and again in the run-up to the reelected incumbent's inauguration in May. In both instances, the unprecedented blocking worked to silence citizens' discontent with the president's 30-year grip on power and their efforts to report on the ruling party's notorious electoral intimidation tactics.
New security and encryption features also trigger blocking
Governments increasingly imposed restrictions on internet-based messaging and calling services due to their strong privacy and security features, which have attracted many users amid growing concerns about surveillance worldwide.
In many countries, individuals are using messaging apps as private social networks where they can enjoy greater freedom of expression than on more established, public-facing social networks such as Facebook and Twitter. New messaging and calling apps also provide greater anonymity than conventional voice and SMS services that can be tracked due to SIM-card registration requirements, and several offer end-to-end encryption that prevents wiretapping and interception.
Activists and human rights defenders in repressive countries protect their communications by convening on WhatsApp, Viber, and Telegram to share sensitive information, conduct advocacy campaigns, or organize protests. Journalists in Turkey, for example, have established new distribution networks for their reporting via group channels on WhatsApp to avert censorship.
The same security features that appeal to users of the new platforms have brought them into conflict with governments in both democratic and authoritarian countries. In Brazil in 2015 and 2016, regional courts ordered a block on WhatsApp three times after it failed to turn over encrypted communications to local authorities during criminal investigations. On all three occasions, WhatsApp's parent company, Facebook, insisted that it did not have access to the information in question, since WhatsApp does not store the content of users' communications. Nevertheless, the judges chose to penalize not just the company, but also Brazil's 100 million WhatsApp users.
Authoritarian regimes targeted Telegram for its "secret chat" mode, which allows messages to self-delete after a period of time. The platform was blocked in China after the authorities learned of its popularity among human rights lawyers, joining a long list of other international communication apps that are unavailable to Chinese users. State-run news outlets in the country accused Telegram of aiding activists in "attacks on the [Communist] Party and government." Iran also targeted Telegram, blocking it for a week in October 2015 when it refused to aid officials' surveillance and censorship efforts. In May 2016, Iran's Supreme Council on Cyberspace ordered Telegram to host all data on Iranian users inside the country or face blocking.
Market threats to national telecoms lead to backlash
Internet-based messaging and calling platforms faced increasing restrictions from governments seeking to protect their countries' major state-owned or private telecommunications companies. Given the rising popularity of new communication services over the past decade, telecoms in some markets have become concerned about the future economic viability of their traditional text and voice services, particularly when the new competitors are not subject to the same regulatory obligations and fees.
Typically free to download, messaging platforms such as WhatsApp, Telegram, and Facebook Messenger have proliferated in emerging markets, where the advent of low-cost, internet-enabled mobile devices and smartphones have made sending messages, photos, and even videos via online tools much more affordable than traditional SMS, for which telecom carriers charge a variable rate per message. Indeed, app-based mobile messaging has surpassed SMS texting worldwide since at least 2013.
Similarly, Voice over Internet Protocol (VoIP) and internet-based video calling services such as Skype, Google Hangouts, and Apple's FaceTime have significantly reduced the cost of real-time audio and visual communication for users, resulting in the decreased use of traditional phone services that charge by the minute. Though telecom companies still profit from the data used by internet-based platforms, continual improvements in network infrastructure have only made data plans cheaper, threatening to leave traditional voice and SMS services further behind.
One of the first market-related restrictions on internet-based communication services was imposed by the American telecommunications company AT&T in 2007, when it partnered with Apple to become the sole mobile provider for the first iPhone and subsequently banned VoIP applications that could make calls using a wireless data connection. Google's Voice app was consequently rejected by the iPhone's app store, and Skype developed a version of its platform that only allowed iPhone users to make calls when connected to a Wi-Fi network. Under pressure from the Federal Communications Commission (FCC), AT&T changed course in 2009, setting a positive precedent and providing users with more freedom to choose from a suite of services based on quality and affordability.
In the past year, restrictions to protect market interests escalated most prominently in the Middle East and North Africa. The UAE had been an early mover, requiring VoIP services to obtain a license to operate as a telecom provider and subsequently blocking both the voice and video calling features of Skype, WhatsApp, and Facebook Messenger in 2014, in an effort to protect the profits of state-owned telecom companies. Most recently, Snapchat's calling function was disabled in April 2016. While circumvention tools such as virtual private networks (VPNs) were widely used to bypass the blocks, the government cracked down in July 2016, adopting amendments to the Cybercrime Law that penalize the "illegal" use of VPNs with temporary imprisonment, fines of between US$136,000 and US$545,000, or both.
Morocco's telecommunications regulator issued a directive in January 2016 that suspended all internet calling services over mobile networks, citing previously unenforced licensing requirements under the 2004 telecommunications law. The order seemed heavily influenced by the UAE's Etisalat, which purchased a majority stake in Maroc Telecom, the country's largest operator, in 2014. In Egypt, where long-distance VoIP calls on Skype have been blocked since 2010, voice calling features on WhatsApp and Viber have reportedly been inaccessible since October 2015. The calling functions of popular platforms were also disabled in Saudi Arabia, while Apple has been forced to sell its iPhone in the kingdom without the built-in FaceTime app.
Pressure to regulate mobile communication services in the past year threatened to impede access to such platforms in other regions, particularly sub-Saharan Africa, where mobile internet use has been growing rapidly. In Kenya, Nigeria, South Africa, and Zimbabwe, private telecommunications companies lobbied governments to regulate internet-based messaging and voice calling platforms such as Skype and WhatsApp, citing concerns over their profits. Meanwhile, Ethiopia's single telecommunications provider, state-owned EthioTelecom, announced plans in April 2016 to introduce a new pricing scheme for mobile users of popular communication applications. Companies in the European Union (EU) pushed EU officials throughout 2016 to regulate new communication services, calling for a "level playing field" that subjects messaging and calling platforms to the same regulatory framework, licensing fees, and law enforcement access requirements as traditional telecoms.
Social media users face unprecedented penalties
While many governments attempted to restrict access to social media and communication platforms, far more turned to traditional law enforcement methods to punish and deter users. Since June 2015, police in a remarkable 38 countries arrested individuals for their activities on social media[ME6] , compared with 21 countries where people were arrested for content published on news sites or blogs. The rising penetration of social networks in repressive societies has enabled discussion and information sharing on issues that governments deem sensitive, resulting in arrests of journalists, politicians, activists, and ordinary citizens who may not be aware that they are crossing redlines.
A Turkish man was handed a one-year suspended sentence for this meme juxtaposing President Reçep Tayyip Erdogan and a character from the Lord of the Rings films. In determining whether or not the image insulted the president, the judge assembled a panel of film experts. Another user is facing up to two years in prison for reposting the same memes.
Dramatic sentences for social media 'crimes'
Social media users were prosecuted for a range of alleged crimes during the coverage period. Some supposed offenses were quite petty, illustrating both the sensitivity of some regimes and the broad discretion given to police and prosecutors under applicable laws. Lebanon's bureau of cybercrimes interrogated a Facebook user for criticizing a Lebanese singer, while soldiers in the UAE were arrested for disrespecting the army after they shared a video of themselves recreating a popular dance craze in their uniforms.
While severe punishments for online speech are not new, their application to social media activities that many people engage in daily was a cause for serious concern. In February 2016, a Saudi court sentenced an individual to 10 years in prison and 2,000 lashes for allegedly spreading atheism in 600 tweets. In the harshest examples of the coverage period, military courts in Thailand issued 60- and 56-year sentences in separate cases involving Facebook posts that were deemed critical of the monarchy in August 2015, though they were reduced to 30 and 28 years after the defendants pleaded guilty. While sentences like these may not cause people to stop using social media entirely, they are likely to encourage self-censorship on sensitive topics, robbing the technology of its potential for galvanizing social and political change.
Many detentions were justified under criminal laws penalizing defamation or insult, but they often aimed to suppress information in the public interest. In Morocco, YouTube footage of a man lifting asphalt barehanded from a local road led to his arrest for allegedly defaming the official responsible for the poor construction.
Users punished for their connections and readership
One goal of social media is to allow users to share content with a wide circle of connections. Police in some countries seem determined to undermine that goal, specifically pursuing individuals whose content goes viral. In Zimbabwe, Pastor Evan Mawarire was arrested in July 2016 after his YouTube videos criticizing the country's leadership sparked the #ThisFlag social media campaign and inspired nationwide protests. Elsewhere, charges often multiplied as content was passed along: In November 2015, 17 people in Hungary were charged with defamation for sharing a Facebook post that questioned the legitimacy of the mayor of Siófok's financial dealings.
In a disturbing development, defendants whose content failed to spread widely were nevertheless punished as a warning to others. In Russia, mechanical engineer Andrey Bubeyev was sentenced to two years in prison in May 2016 for reposting material that identified the Russian-occupied Crimean Peninsula as part of Ukraine on the social network VKontakte. He shared the information with just 12 contacts.
Authorities in other cases scoured social media for a pretext to charge specific individuals, or were so intent on suppressing certain content that identifying the correct defendant was of secondary importance. In Ethiopia, charges against an opposition politician and student protesters principally cited evidence gleaned from social media. Pseudonymous accounts offered limited protection and raised the risk of mistaken identity. A man in Uganda was charged on suspicion of operating the popular Facebook page Tom Voltaire Okwalinga, but he denied being responsible for the page, which frequently accused senior leaders of corruption and incompetence. Some people were held responsible for posts clearly made by others. At least three criminal charges were filed in India against the administrators of WhatsApp groups based on offensive or antireligious comments shared by other group members.
A number of users were apparently targeted only to punish their associates. In Thailand, Patnaree Chankij, the mother of an activist who opposes Thailand's military government, was charged with insulting the monarchy based on a private, one-word acknowledgement she sent in reply to a Facebook Messenger post from her son's friend; police said she failed to criticize or take action against the antiroyalist sentiment in the post, instead replying "yes" or "I see." Patnaree told journalists that the charge was in reprisal for her son's activities. In China, police detained the local relatives of at least three overseas journalists and bloggers who produce online content that the Chinese government perceives as critical.
Governments censor more diverse content
This year featured new trends in the type of content that attracted official censorship. Posts related to the LGBTI community, political opposition, digital activism, and satire resulted in blocking, takedowns, or arrests for the first time in many settings. Authorities also demonstrated an increasing wariness of the power of images on today's internet.
A longer roster of forbidden topics
Latin AmericaEurasiaAustralia/Canada/EU/Iceland/USAMENAAsiaSub-Saharan AfricaSatireLGBTI IssuesBlasphemySocial CommentaryPolitical OppositionCorruptionConflictCriticism of AuthoritiesEthnic and Religious MinoritiesMob
Signs of harmful projects with financing from development institutions are spotted in Uganda…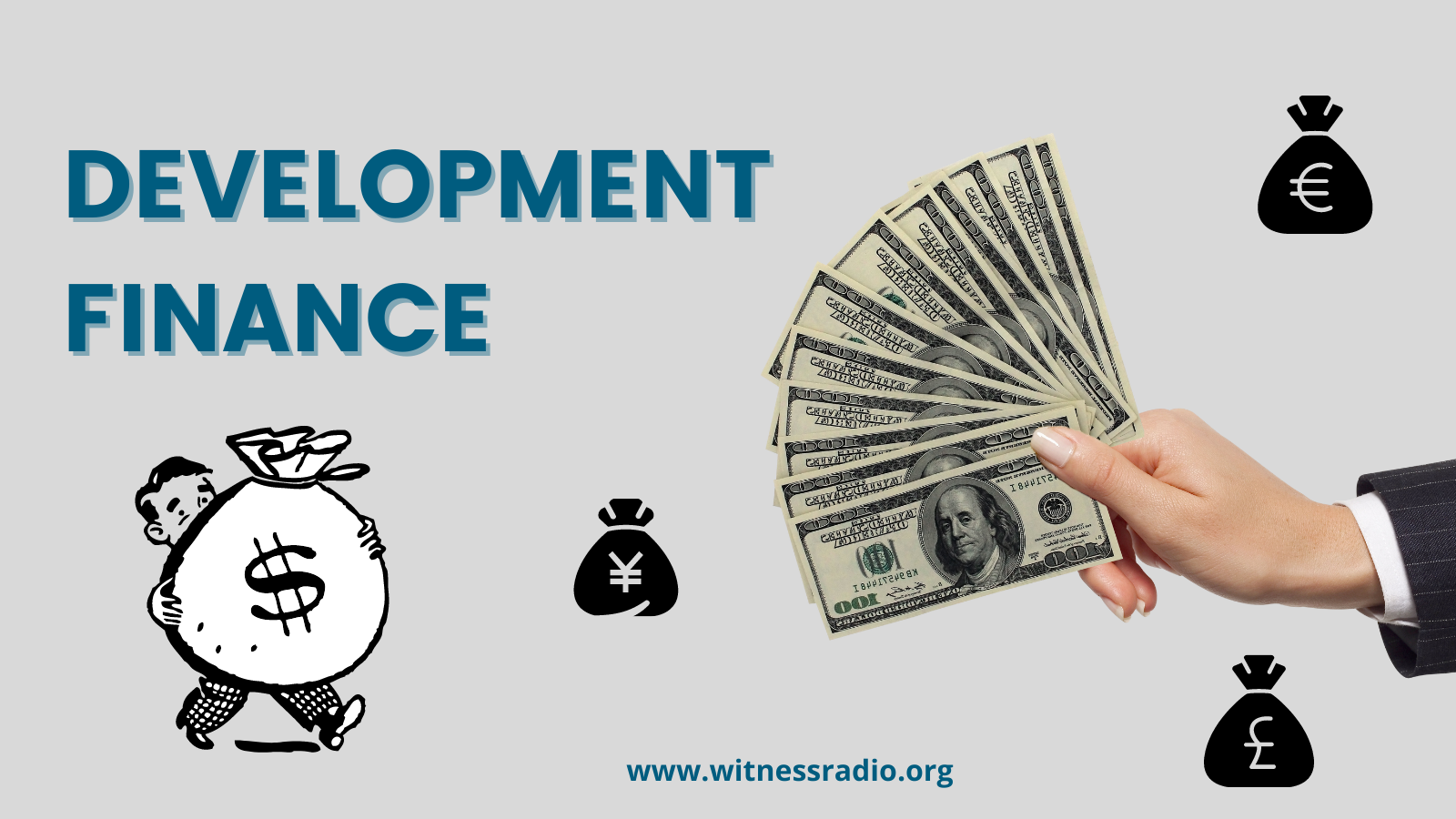 By Witness Radio Team.
The growth of a country is discerned by great leaders and innovators who see opportunities out of darkness and transform their areas from nothing to success. Those are great leaders whose interest is to see the developments in their countries and the well-being of their citizens.
Every single day, countries all over the world receive investors that acquire loans, grants, and donations to implement mega projects that are seemingly expected to develop host countries. countries and investors borrowing the money Often, countries and investors portray how these projects improve the livelihood of the browbeaten, au contraire, they have left many broken families, poor-dirty homesteads, and shattered dreams.
Uganda is one of those countries, whose citizens have paid a price for reckless or unsupervised and profit-led international investment. In a bid to implement its industrial policy, the country has welcomed both foreign and local investors with interests in the fields of extraction, industrial agriculture, carbon credit tree plantation, mining, infrastructural projects, and many others.
It has received billions of dollars from different financiers including commercial banks, Pension Funds, and International Development Finance Banks or institutions, among others. For instance, the World Bank has invested more than 20 Billion Dollars since 1963 and currently
Every project comes with its own chilling story. More often their stories are unheard by the World. Witness Radio – Uganda surveyed some projects in Uganda. This study revealed agony, illegal evictions, abject poverty, environmental degradation, and loss of life among others, as some of the consequences suffered by the would-be beneficiaries of these international funded projects across the country.
In the capital of Uganda, Kampala, over 1750 families were forcefully evicted from a city suburb, Naguru, for Naguru- Nakawa housing estates.  11 years down the road the project that was highly hyped is to take off on the grabbed land. Pleas from the victims of the eviction to regain their land have all fallen on deaf ears.
About 80km away from Kampala is the island district of Kalangala surrounded by the World's second-largest lake, Victoria, and known for palm growing. When the palm-oil project was introduced to residents they were given the impression that it would improve their livelihoods and create job opportunities.  Instead, it has dumped thousands into poverty after their land was grabbed by BIDCO, a Wilmer international-funded project. People lost land and now work on plantations as casual laborers. The neighboring communities are accusing BIDCO workers of sexual and gender-based violence.
In the South-Western District of Kiryandongo, multinational companies including Agilis Partners Limited, Kiryandongo Sugar Limited, and Great Seasons SMC Limited with funding from The United States Agency for International Development (USAID), The Department for International Development (DFID) of the United Kingdom, and Common Fund for Commodities among other financiers are forcefully evicting more than 35,000 people. The eviction has been on since 2017.
Workers that worked on a World Bank Project in Soroti, in the far east of the country, are accused of sexually harassing minors. Several young girls were defiled and left pregnant. Despite the government being aware of this none of the pedophiles have been brought to book, the World Bank-funded project in the Eastern Town of Soroti left several underage girls defiled and impregnated.
In late 2020, residents of Kawaala zone II woke up to the hail of armed men and graders evicting and destroying their properties to implement a multimillion-dollar project funded by the World Bank. The project is being implemented by the Kampala Capital city Authority (KCCA) on behalf of the government of Uganda.
The above-listed and other projects, on the other hand, continue to perpetuate violence and judicial harassment against leaders of Project Affected Persons (PAPs) and community land and environmental rights defenders because of their work that resists illegal evictions and destruction of the environment among others.
Although project implementers such as government entities accuse local communities of occupying land targeted for projects illegally, in most cases victim communities have rights over these pieces of land because their settlement on the same land can be traced to have happened generations ago.
No matter how people are negatively impacted being by these harmful projects, financiers continue to release more money to the government and investors. The banks aim at profit margins other than the livelihoods of the people. In Bulebi village, Mbazi parish, Mpunge Sub County in Mukono district, Akon's futuristic city is about to lead to the eviction of over 1000 residents whose entire lives have been built on their land.
In April last year, American rapper Aliaune Damala Badara well known for his stage name AKON visited Uganda in search of land for constructing the city. On the same business trip, he met President Museveni Yoweri Kaguta and expressed his interest in building a futuristic city with its currency. The president ordered the Ministry of Lands, housing, and urban development to look out for free land for his city.
However, on 7th Jan 2022, the Uganda Land Commission showed the Minister for Lands, Housing, and Urban Development "Hon Judith Nabakooba" land that was proposed for the Akon city. According to the Uganda land commission, the land is Freehold Volume 53 Folio 9 measuring I square mile.
This has sparked outrage amongst the affected as they were never consulted or consented to allow the project in their community. According to community members that Witness Radio interviewed, they said they heard the distressing news of Akon city through the Media.
The community said no official from the ministry has ever approached them about their land giveaway. "Our country is full of land evictions and evictors begin in that way. There has been no official coming on the ground to officially inform us about the project and neither have we heard any official communication of compensation." Obori said.
Residing in the attractive village surrounded by freshwaters, the community asserts this has been the source of livelihood and advised the government to get alternative land for the City.
Controversies surrounding the land giveaway and ownership of the area still exist. A section of residents have protested and vowed not to surrender their land for the City. They claim to have acquired freehold titles from the Mukono lands board.
Breaking: over 350,000 acres of land were grabbed during Witness Radio – Uganda's seven months ban.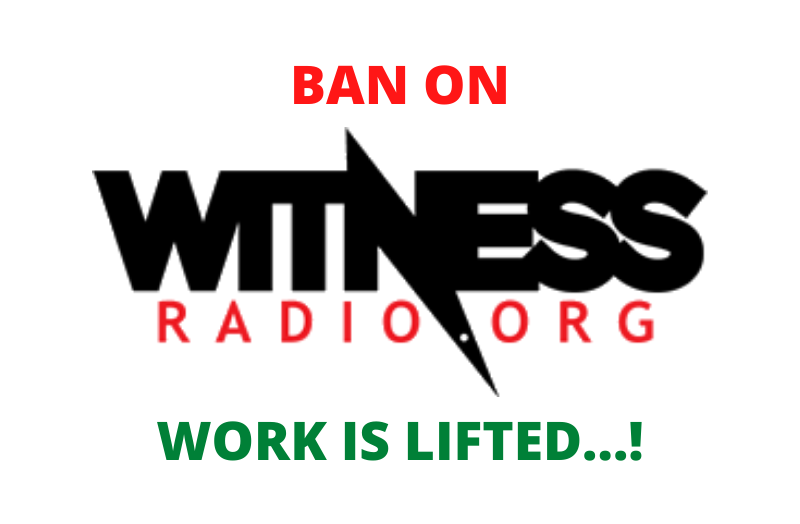 By Witness Radio Team.
As the onslaught on civil society heightens, its space continues to shrink which has bearing on the services they render to the communities. Witness Radio, was among the 54 organizations suspended by Uganda's National Bureau for Nongovernmental Organizations on August 20th, 2021. The actions are amongst the recent forms of attack on civil societies in Uganda. Other numerous attacks include arrests of rights activists, harassment, tortures, and office- break-ins at night by security operatives who move away with valuables.
The effects of this suspension were felt by communities facing land grabs across the country. For seven months while the organization was suspended, over 300,000 people were evicted from their land and couldn't access specialized and prompt legal assistance.
Witness Radio Uganda, globally known for its campaign against community land-grabs couldn't assist these victims of land grab since it risked facing further sanctions from the Bureau in case it intervened. However, last week, there was some relief, when Uganda's National Bureau for NGOs lifted suspension and certified its operation.
According to Mrs. Bulyerali Joan, the Head Legal at Witness Radio – Uganda, the organization conducted a review of the evictions that happened during the suspension. With information and assistance from some lawyers, local journalists, and community land and environmental rights defenders across the country, the evictions watchdog was able to document cases of hundreds of thousands of Ugandans that were either forcefully evicted or received threats of evictions while in its limbo.
The ban imposed on Witness Radio coupled with the disruptive impacts of COVID- 19 resulted in the surge of eviction cases, especially in areas where the organization had a presence. Throughout the ban, without access to swift and prompt legal support, the communities resorted to sharing with the world their ordeal.
She further noted that the evictions were conducted in disregard of the law on evictions. "I was shocked to see powerful people and companies take advantage of our suspension to escalate the evictions of vulnerable communities that received our assistance. The evictions did not comply with the land eviction practice directives. None of them was preceded by legal court orders."  She noted.
According to the Land Eviction directives, issued by the former Chief Justice of Uganda, Bart Katureebe, evictions shall be preceded by valid court order, properly identifying the persons taking part in the eviction, and upon presentation of formal authorizations. The police and local authority of the area shall be notified and shall be present to witness the evictions, among others.
Based on the data gathered by the team, various communities across the country were left dispossessed by land grabbers without any form of assistance. Others have received threatening messages with intentions of dispossessing them off their land.
During the period under review, over 300,000 people across the country are believed to have been threatened with evictions, while 350,000 acres of land were either grabbed or on verge of being grabbed.
"However much, we gathered this information, we expect the cases to be higher because some evictions go unreported either due to the remoteness of the areas or other related factors." One of the collaborators observed.
The evictions were extremely violent.  They were characterized by kidnaps, arrests and detentions, torture that often-caused unexpected grief to the communities.
Among the most affected districts include Kyankwanzi, Mubende, Kassanda, Hoima, Buikwe, Wakiso, Kikuube, and Bulambuli districts.
In some of the mentioned districts, the Lands, Housing, and Urban Development Minister toured and halted the evictions but the evictors continued unabated.
Mr. Kimazi Experito, a journalist based in Mubende, attributed the rise of evictions to the organization's suspension which denied the evictions-affected communities access to specialized legal assistance.
He said Witness Radio has offered support to over 20 land-grab-affected communities in Mubende with legal support. "Witness radio is a game-changer that brought back lives of evicted communities to normal," he lauded.
"Mubende is one of the fastest-growing areas because of gold and other minerals as well as factors related to fertile soils. Currently, it is one of the hotspots of evictions. Opportunists used this chance to grab land from people with full attention. Without the defenders, it's often hard for people to get justice since local people are not much informed about land laws." Kimazi explained.
Engineered by powerful people in public offices, multinational companies, and politicians using state machinery including the army and national police, forced evictions to continue to affect food sovereignty and threaten the role of indigenous communities to protect the environment.
During the same period, President Yoweri Museveni stopped any eviction without the approval of the Resident District Commissioners. However, legal experts warned that the move is to usurp the powers of the Judiciary. In a statement signed by Pheona Nabasa Wall, the Uganda Law Society President noted that the directive undermined the role and independence of courts in handling eviction matters.
That notwithstanding, "Occasionally, the residents are not given any opportunity to negotiate with the landlords. Even when the government obliges to pay landowners, neither does the government nor the evictor compensate for the damaged property. During evictions, properties that were made for their life end up being destroyed in seconds which causes lifetime misery." Paul Kasoozi, a community land rights defender stated.
With different tactics aimed at alienating the poor from their land, it has been established that the police and the army continued to play a huge role in the largest forms of violent evictions through torture, arbitrary arrests, and detention and instilling fear and pressurizing the local communities to vacate their land on orders of the evictors.
Many of those community members who oppose land evictions end up being kidnapped, tortured, or arrested and detained to silence the community. It takes support from an organization defending communities' land rights to intervene for such communities to get justice.
Days before the lifting of the suspension imposed on Witness Radio, communities neighboring the Katta Barracks in Bulambuli district, were violently evicted by the Uganda People's Defense Forces under the alleged command of Lieutenant Colonel Mukiibi Julius without offering alternative resettlement.
Google Internet project closes in Uganda.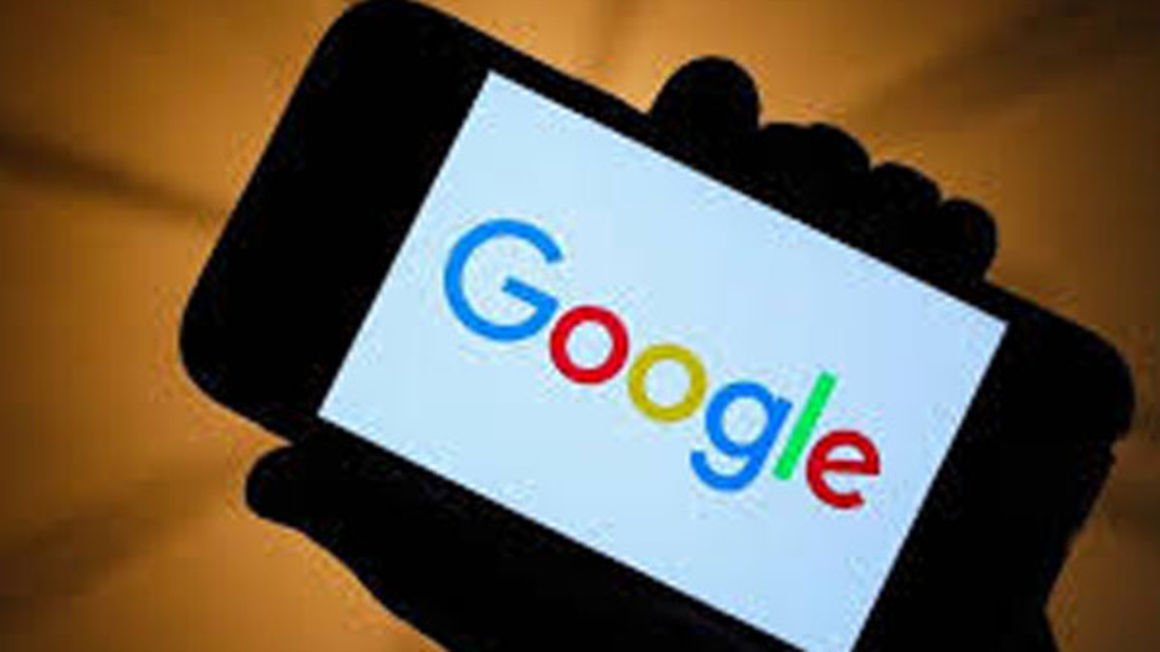 Uganda will be among the 10 African countries that will lose out as Google winds up its Internet Balloon Project. 
The closure follows an announcement in which Google said the project was "an unsustainable business model".
In 2019, Loon LLC, a subsidiary of Alphabet, Google's parent company, signed a Letter of Agreement in Kampala with officials from Uganda Civil Aviation Authority, in which high altitude solar powered Internet balloons with floating masts over Uganda's airspace, would be established at an altitude of 500,000 feet.
The balloons would create an aerial wireless network to provide Internet and telecom network connectivity to rural and remote areas.
Dr Anna Prouse, the Loon LLC head of government relations, had said then that Google would partner with telecoms to tap into their technology to allow connectivity.
However, Alastair Westgarth, the team lead of the project, last week announced in a statement the project would be closed.
"We talk a lot about connecting the next billion users, but the reality is Loon has been chasing the hardest problem of all in connectivity – the last billion users: The communities in areas are too difficult or remote to reach, or the areas where delivering service with existing technologies is just too expensive for everyday people," he said.
While Loon had found a number of willing partners along the way, he said, they had not found a way to get the costs low enough to build a long-term, sustainable business.
"Developing radical new technology is inherently risky. I am sad to share that Loon will be winding down," he said.
Loon had had similar arrangements in Botswana, Nigeria, South Africa, Mauritius, Seychelles, DR Congo, Congo Brazzaville, Mozambique and Kenya, but are expected to close as well.
The Loon project was expected to be a game changer in Uganda's telecomm sector through enhancing connectivity in remote areas, and contributing to the development of the national backbone infrastructure project.
The demand for Internet among Ugandans has grown exponentially in the recent past with Covid-19 being a serious catalyst.
Internet status  
A UCC report published recently indicated telecom and Internet service providers registered an increase in demand for data in the third quarter of 2020 with more than 20 million subscriptions – nearly 50 per cent of the population being connected.
The growth was mainly attributed to the shifting work culture driven by Covid-19, which led many businesses to adopt remote working methods.
Original Source: Daily Monitor